Public Awareness and Communal Events
Participation in Jewish and Ukrainian cultural festivals
UJE mounts booths and exhibits at the Ashkenaz Festival and the Ukrainian Cultural Festival in Toronto, and at KlezKanada in Quebec's Laurentians. All attracted large audiences and have been very well received. UJE is planning to continue such participation in future years.
Major public awareness events
UJE has promoted greater recognition of Metropolitan Andrei Sheptytsky, the spiritual leader of the Ukrainian Greek-Catholic Church who helped save more than 150 Jewish lives during World War II, sheltering a number of Jews in his own residence and arranging for Greek Catholic monasteries to protect over a hundred Jewish children.
In April 2012, UJE sponsored a visit to North America of Ukraine's principal religious leaders, including the Metropolitans of the Ukrainian Greek Catholic Church, of the Ukrainian Orthodox Church (Kyivan Patriarchate), and of the Ukrainian Autocephalous Orthodox Church; the Chief Rabbi of Ukraine; the Chief Imam; and leaders of Ukraine's Evangelical communities.
They participated in events that brought together the Jewish and Ukrainian communities, in Toronto, Ottawa, Washington, and New York, and were present when the Parliament of Canada unanimously passed a motion to honour the courageous and compassionate actions of Metropolitan Sheptytsky. UJE's efforts to advance recognition of the legacy of Metropolitan Sheptytsky as a model worthy of celebration and emulation, and as providing a basis for building trust and bridges between communities were further advanced when the Jewish Confederation of Ukraine created the Andrei Sheptytsky Medal.
The first awardee was UJE Chair James Temerty at a ceremony in Kyiv in June, in the presence of prominent Ukrainian, Jewish, and Israeli leaders (political, lay, and religious), in recognition of his dedication to fostering Ukrainian-Jewish understanding.
Met. Andrei Sheptytsky Tour Program and Participants
Click to open PDF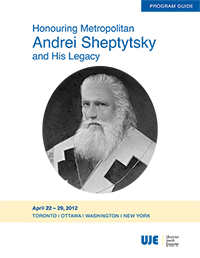 Wide public engagement through an interactive website
UJE's website is designed to serve as the 'go-to' portal for everyone interested in the story of Ukrainian-Jewish interaction, past and present. In addition to links to germane content on other sites, a wide range of original audio-visual content has been and continues to be developed for the website, including an interactive and illustrated Historical Timeline on the history of Jews and of Ukrainian-Jewish interaction on Ukrainian lands from earliest times to the present; historical maps; a "Virtual Tour" of centres of Jewish life in Ukraine, past and present (which permits visitors to choose a town or region and call up visuals depicting the art, architecture, landscape and community histories); the story of Hasidism on the territory of Ukraine (presented through maps, images, music, and text); and a series of multi-media presentations on cross-cultural influences and interaction in the realms of music, art, architecture, literature, theatre, film, folklore, and cuisine.