Ukrainian "Ethno-khutir" Celebrated in Tel Aviv
Posted In: Israeli Friends of Ukraine, Sponsored Projects, Other Programs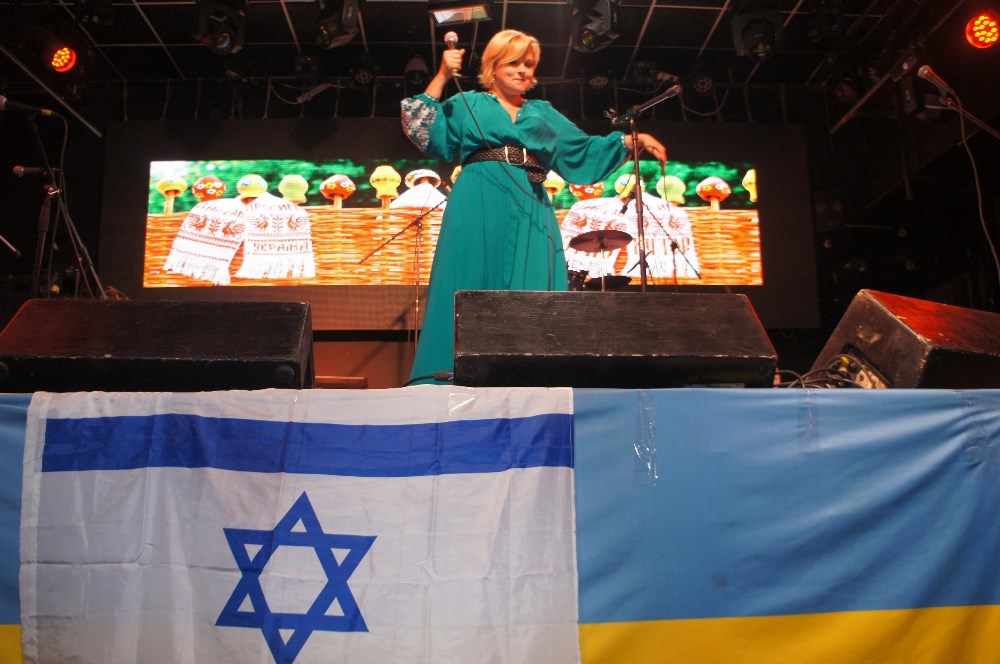 More than a thousand Israelis attended the third annual "Ethno-khutir" Ukrainian cultural heritage festival in Tel Aviv on 12 May 2017. The non-profit organization Israeli Friends of Ukraine, with the assistance of the Canadian charitable organization Ukrainian Jewish Encounter, was the organizer of this cultural event.
The "Ethno-khutir" festival has already become a tradition and a symbol of friendship between Israel and Ukraine. This year the festival was marked by the theme "New Ukraine" and became a platform for young art masters from Ukraine and modern Ukrainian brands.
Ukrainian guests of the festival included the "ot Vinta" music band and the Honored Actress of Ukraine, Maria Burmaka. The Ukrainian singer impressed audiences not only with her traditional Ukrainian-language songs, but also with songs performed in Yiddish. From the Israeli side, "Gefilte Drive" and the "Tom Shapira Band" rock group inspired the public.
The masterpieces of Ukrainian national cuisine were of particular interest to Israelis, who formed long lines to sample dishes. Hundreds of people could also buy goods at a charitable fair where Ukrainian and Israeli handmade products (painting, ceramics, jewelry, souvenirs) as well as the products of modern Ukrainian designers were featured.
"Vyshyvanka," or embroidered clothing, was an essential attribute of this holiday event. Folk Moda, one of the contemporary brands most known in Ukraine for embroidered clothes, was presented at the festival in Tel Aviv.
The Ambassador of Ukraine to Israel Hennadii Nadolenko, who attended the festival with his spouse and children, greeted the public.
Participants in the fair included volunteer organizations from Ukraine such as Chance for Life and the Land of Wonderful Dreams charity foundation (which helps children undergoing treatment in Israel). Anna Lysakova, the initiator of the Warm the Soul psychological rehabilitation program, and Natalia Popova, the initiator for the creation of the Kovel rehabilitation center for soldiers of Ukraine's anti-terrorist operation, were also present.
"Traditionally our festival is charitable. This year we decided to support projects dedicated to the rehabilitation of wounded Ukrainian military and those suffering from post-traumatic stress disorder. These people, who have sacrificed their health so that peace may come to Ukraine, need our help most of all," declared Mila Margolin, one of organizers of the Ukrainian festival and an activist from Israeli Friends of Ukraine.
An informal youth-oriented style—combining music, cuisine, and crafts fair masters—has become the defining factor of success of this pro-Ukrainian festival among Israelis.
Videos of Maria Burmaka singing at the Tel-Aviv "Ethno-khutir" festival can be seen here and here.
Text, photos and videos: Shimon Briman (Israel).
Edited by Peter Bejger.
A photo gallery from the "Ethno-khutir" Ukrainian Festival in Tel-Aviv: