New UJE museum catalogue to debut in Canada at Toronto Ukrainian Festival
Posted In: UJE Initiatives, A Journey through the Ukrainian-Jewish Encounter, Exhibits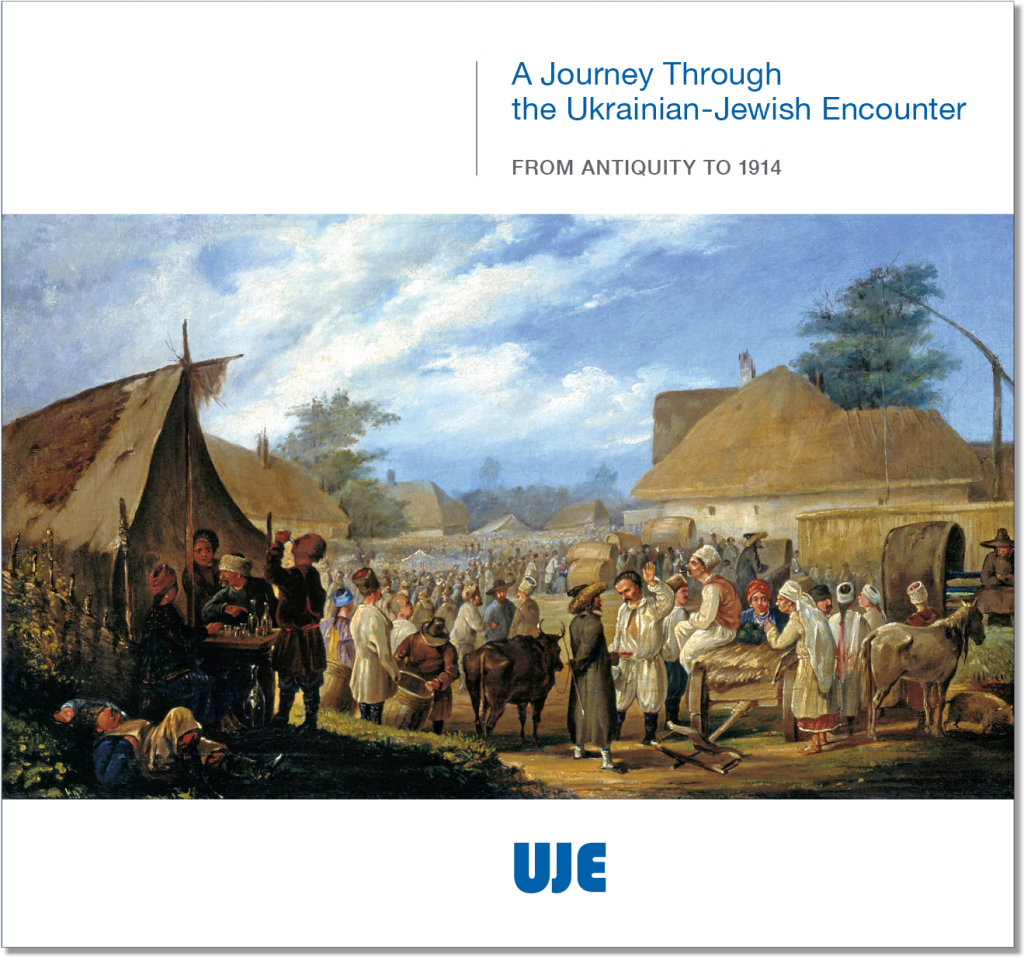 UJE's traveling exhibit A Journey Through the Ukrainian-Jewish Encounter: From Antiquity to 1914 visited four major Canadian cities in 2015, winning wide acceptance and praise from both Ukrainian and Jewish communities and general audiences.  Now, a catalogue by the same name builds on the exhibition's narrative and more intricately explores the many-sided relationship between Ukrainians and Jews, two peoples who for nearly two millennia have inhabited the land that comprises contemporary Ukraine.
The goal of the 168-page richly illustrated catalogue "is to present an integrated narrative that looks at the experience of these two peoples together, in all its complexity–through periods of crisis and episodic violence, as well as long stretches of normal co-existence and multifaceted cultural interaction," writes UJE Co-Director Alti Rodal, who both authored the catalogue and curated the 2015 exhibit.
"The territory of modern-day Ukraine has been for many centuries the home of diverse peoples, including one of the oldest and most populous Jewish communities in the world," Rodal notes.
The Jewish presence on Ukrainian lands dates back to antiquity.  By the fifteenth century, Yiddish-speaking Jews from Central European lands began to migrate eastward in significant numbers and formed communities alongside the local Christian Ukrainian and other populations. This accessible volume, designed for a general audience, explores the many historical, political, religious, cultural, and literary influences that defined the communal life of Ukrainians and Jews and their interaction over the centuries.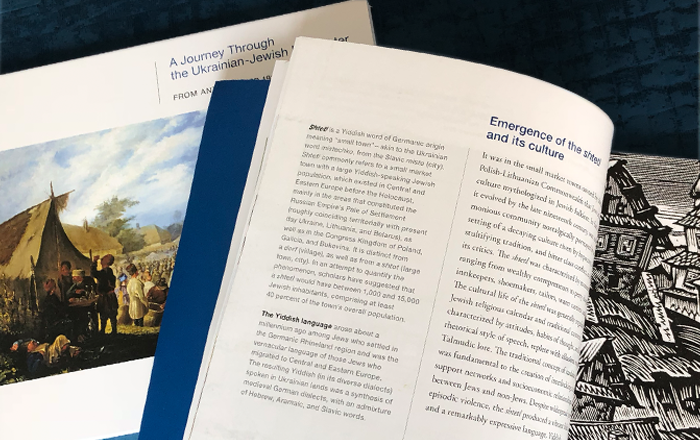 The first section of the publication highlights the Ukrainian-Jewish experience and its broader context up to the Partitions of Poland (1772–95). The two following sections treat the cultural and political transformations experienced by these two stateless peoples and their interactions with each other and others in the course of the "long nineteenth century" (1772–1914) in the Russian Empire and under Austrian Habsburg rule.

While focused on the encounter between Jews and Ukrainians, the publication also highlights aspects of the rich Jewish culture, both religious and secular, that flourished on lands that are today Ukraine—encompassing the birth and development of Hasidism, Yiddish and modern Hebrew literature, and Zionism.

A Journey Through the Ukrainian-Jewish Encounter: From Antiquity to 1914 is published in both English and Ukrainian. The English language edition will make its debut at the Toronto Ukrainian Festival, September 14 –16. The Ukrainian-language edition will make its debut on 20 September at two separate events in Ukraine: at the 25th Book Forum in the western Ukrainian city of Lviv and at the 5th All-Ukrainian Museum Festival in Dnipro further east.

The English-language PDF file of the catalogue is available here in reader spreads or single pages.

The Ukrainian-language PDF file of the catalogue is available here in reader spreads or single pages.

Do communicate with UJE if you are keen to have a hard copy (or, for community or educational purposes, copies) of this special publication.

Please visit UJE's booth at the Toronto Ukrainian Festival Sept 14 – 16 to receive your complimentary copy and learn more about UJE.

Posted On: September 13th, 2018