A city of the past and the future
Posted In: Sponsored Projects, Agnon Literary Centre, Other Programs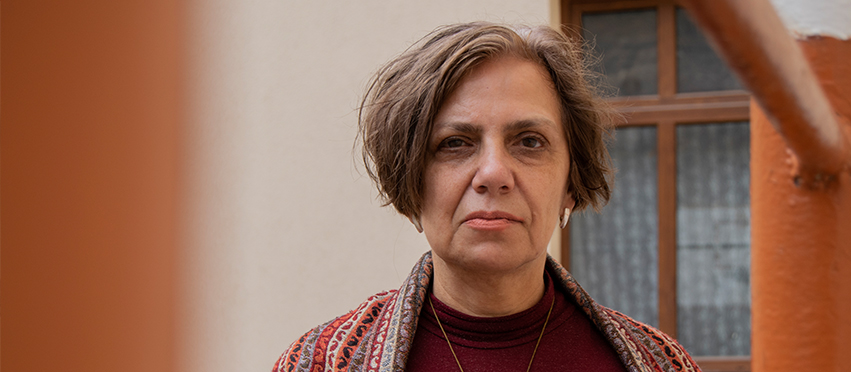 The small cities of western Ukraine truly amaze the residents of eastern Ukraine, which also has beautiful and unforgettable large cities: Odesa, Kharkiv—and Kyiv, after all. But the former provincial cities of eastern Ukraine, if they ever had their own face, became mostly faceless and dull during the Soviet period. Meanwhile, the small cities of Lviv and Ivano-Frankivsk oblasts, and particularly those of the Ternopil region, with castle ruins on the outskirts and market squares downtown, have preserved the breath of ancient times to this very day.
Buchach is an especially precious pearl in the necklace of small towns in Ternopil oblast, even though its architecture also suffered significantly beneath the wheels of ruthless History. Buchach was destroyed during the military operations of the First World War. The unique houses of Halytska Street, two-storeyed from the facade, four-storeyed from the courtyard, were built during the period of Polish rule in the interwar period. The Buchach hills act as a powerful modeling system for its landscape. Soviet-era panels on the ends of Polish houses fit into a non-Soviet ensemble and even lose their Soviet character to a certain extent. Even Khrushchev's five-storey buildings, the most complete embodiment of Soviet impersonality, fit into the Buchach landscape. They do not decorate, but they do not distort either.
Buchach is the birthplace of the world-famous writer Shmuel Yosef Agnon. It is not just his homeland. Buchach is whimsically and peculiarly present in the texts of the Nobel laureate. In the churches and streets of Buchach there are sacred and secular sculptures created by the mysterious [Johann Georg] Pinzel, about whom much is being written and spoken these days. Also preserved in Buchach are the paintings by the equally whimsical impressionist Volodymyr Voronyuk, a native of Buchach, who realized himself as an artist in a foreign land. But at the end of his life, he returned to rest in Fedir Cemetery in his native city, where he brought his artistic heritage, which will certainly gain a grateful audience.
All these factors illustrate that Buchach has something that makes cities not just tourist destinations, but also international tourist brands. Buchach can probably become a city of international festivals and conferences. The torches of hotels will blossom above the Buchach hills. There will be an influx of funds, and the number of jobs for residents will increase…
This is both good and bad. Of course, tourism saves historical areas from destruction—better tourism than desolation and oblivion. But any positive contains a negative. If the mysterious spirit of a place begins to attract travelers, then gradually the mystery and the spirit itself are eroded, and their masterful imitation appears instead.
So, for now, Buchach is not threatened by the prospect of becoming a tourist Mecca. But events are developing rapidly and unexpectedly. And in Buchach, unlike in some other towns in western Ukraine, this potential is present. That's why I really want Buchach (a city that contributed to my own creative realization to a certain extent) to maintain a balance and not fade into oblivion, the fate of so many beautiful cities. Let the restoration of the sculptures on the Buchach town hall be successfully completed and an art center start working in this building, where Volodymyr Voronyuk's paintings will be exhibited. But may this unique city never become a polished imitation of its own historical memory, or of its own essence.
Yevhenia Kononenko
This essay was written during the author's literary residency in Buchach, with the support of the Canadian philanthropic fund Ukrainian Jewish Encounter.
Originally appeared in Ukrainian @litcenter.in.ua.
Translated from the Ukrainian by Marta D. Olynyk.
Edited by Peter Bejger.