"A city on hills in a green dress": How did the Jews live in Chernivtsi during the Romanian period?
Posted In: Jews on Ukrainian Lands, Hromadske Radio, Sponsored Projects, Audio/Visual Media, History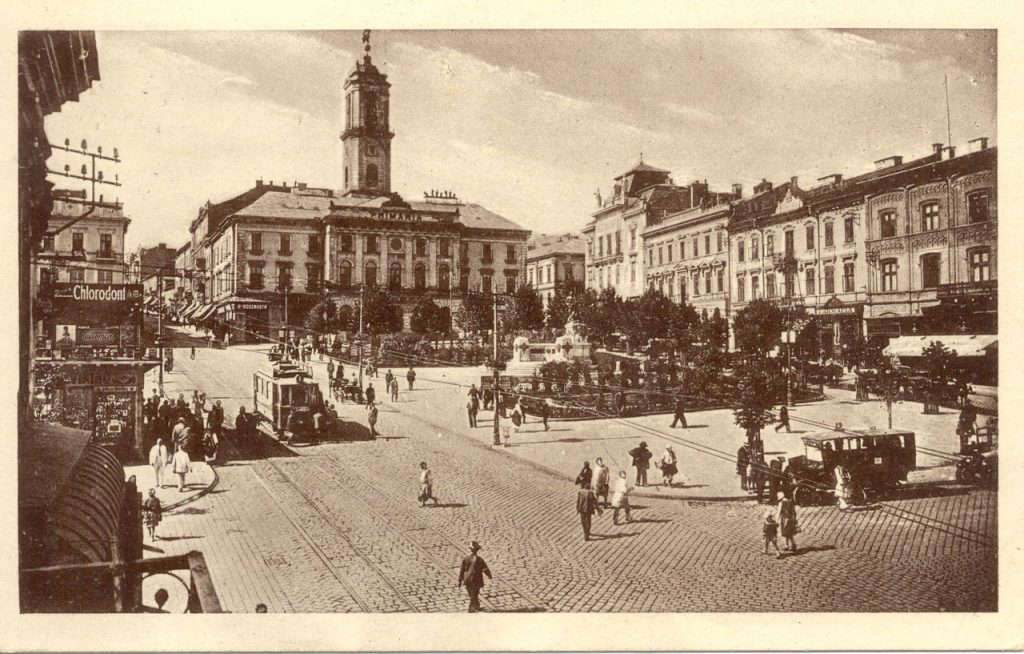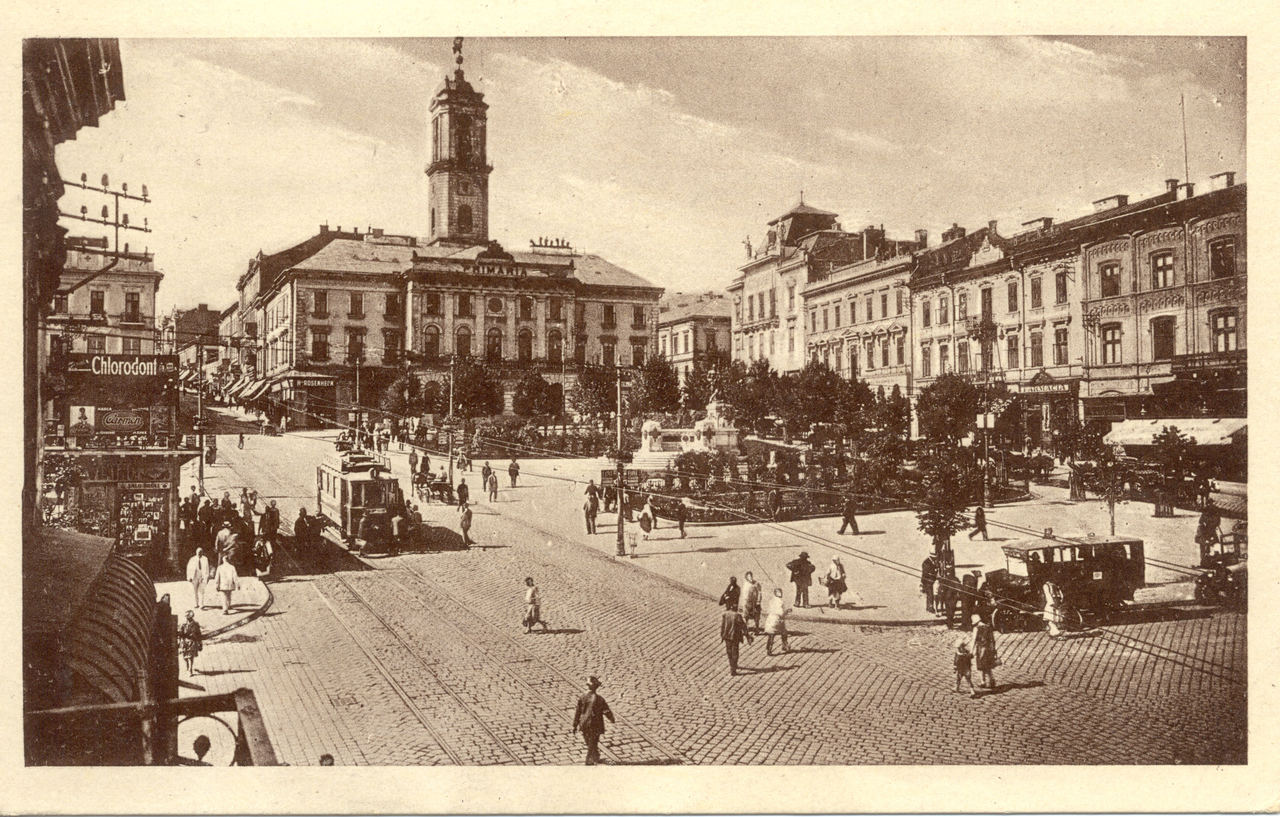 The historians Daniel Hrenciuc and Maria Nykyrsa discuss the political and everyday dimensions of life in Chernivtsi between the two world wars.
Andriy Kobalia:  This small frontier city was initially part of the Principality of Moldavia, and later, it ended up under Turkish control for more than two hundred years. Due to the constant wars between the Moldavian, Turkish, Polish, and Russian armies, the city in the 1760s had a couple of hundred wooden buildings. However, within ten years the Austrian monarchy would come to Bukovyna, and eventually integrated these lands into the Habsburg Empire. Chernivtsi is transformed from a large village into a city with its own university, political movements, and a railroad linking Vienna with the provinces.
However, the empire falls immediately after the end of the First World War, and various nationalities begin fighting over its remnants. Although a public assembly took place in the first days of November 1918 and the participants voted in favor of uniting with the Western Ukrainian People's Republic, the city was occupied by Romanian troops a week later. That is why Chernivtsi spent the interwar period as part of Romania. At the conference on Yiddish language and Jewish culture, the Romanian historian Daniel Hrenciuc said that the Romanian authorities were less tolerant toward minorities in their lands.
Daniel Hrenciuc:  The year 1918 was very difficult for Chernivtsi and local Jews. Many anti-Jewish incidents and pogroms took place at the time. A considerable number of Jews lost their jobs, while others ended up in a situation where they were not recognized as possessing the status of Romanian citizens; Jewish schools were in the same situation. The compulsory study of the Romanian language worsened the cultural situation of other groups.
At the same time, during this era Bukovyna gave the world such distinguished writers as Paul Celan and Rose Ausländer. Paul Celan, a much-cherished German-language poet of the second half of the twentieth century, had a specific relationship with Bukovyna. All this speaks much about the fate of Jews during the interwar period.
Andriy Kobalia:  In contrast to Paul Celan, in whose texts Chernivtsi is encountered quite rarely, Rose Ausländer returned to this motif in various years. For example, she wrote about the Chernivtsi that disappeared after the Second World War.
"A city on hills in a green dress
The humble warblings of thrushes
A glassy carp seasoned with pepper
Was silent in five languages
A gypsy woman
read our fortune
with cards
Children of the monarchy
beneath a black-and-yellow flag
dreamed about German culture."  
—Translated by Marta D. Olynyk
Andriy Kobalia:  When she was twenty years old, Ausländer and her husband moved to the United States, but she returned to Chernivtsi in 1931 to take care of her ailing mother. In 1941 and the next three years she lived in the Chernivtsi ghetto, where, incidentally, she became acquainted with Celan. The historian Daniel Hrenciuc says that besides German-language writers, interwar Chernivtsi was home to many writers who wrote in the Yiddish language.
Daniel Hrenciuc:  During this period Chernivtsi is called "Jerusalem on the Prut River." I should mention Dan Mattis, who was born in the southern part of historic Bukovyna, which is part of Romania today. Later in Israel he became a famous writer, who wrote in Yiddish.
Where should these isolated and insulted poets have gone, to which European cities, in order to hide from persecution? They didn't just live in Vienna. From Bucharest to London. Paris, Prague, New York, Jerusalem. One well-known exception is Klara Blum, who was born in Chernivtsi, lived for a long time in Austria, and later moved to China, where she adopted a new name, Zhu Bailan (White Orchid).
The Kingdom of Romania politicized the citizenship of Jews, despite the fact that the latter contributed to the development and modernization of the region and society. In 1924 Jews finally obtained Romanian citizenship by a special law. This happened however after much debate. A large number of Jews were outside this law. This legislation also affected Ukrainians, Germans, and Poles.
A separate component of the persecution waged by the new government consisted of articles that were published in the press during election campaigns. In these circumstances, a peaceful atmosphere in once-tolerant Bukovyna could not exist. The evolution of Romanian democracy during the interwar period is a cliché and a stereotype. The state persecuted the Jews by means of various legislative acts that were adopted as early as the 1920s. All this led to the rise to power of Marshal [Ion] Antonescu. The exclusion of Jews from the economic and political life of Greater Romania led to the disappearance of a huge number of Jews from schools, businesses, newspapers, and banks. And the Holocaust and the Second World War changed the face of multiethnic, historical Bukovyna.
Andriy Kobalia:  War came to the lands of Bukovyna in 1940, when these lands were captured by Soviet troops. However, a year later the Romanians, together with their allies, the Nazis, returned to Chernivtsi. Celan's parents were deported to Transnistria, and Paul himself hid in a factory owned by the Romanian industrialist Valentin Alexandrescu, and later worked in the village of Tabaresti, in Moldova.
In Chernivtsi he saw the Red Army. In one of his poems Celan mentions his departure to Romania with his relatives in the spring of 1945:
 "A fiery cloud is lost in the mist: We escaped from our native land. Three immense enemies are bringing us ruin. The bloody wrath of the Niebelungens… And we laughed: And we laughed and made our way into foreign valleys. It is all the same to us: we burned all the tents."
Andriy Kobalia:  According to Maria Nykyrsa, a Chernivtsi-based historian and researcher of local archives, several blocks of new buildings connected with Jewish architects appeared at once in interwar Romania despite Bucharest's generally aggressive policies toward national minorities in the new territories that became part of the state after the First World War. And Ukrainian and Jewish political organizations were able to unite, in order to influence the political life of the region.  
Maria Nykyrsa:  Jews settled in Chernivtsi rather compactly; for example, in the Lower City, which was actually called the "Jewish Quarter." This is in the vicinity of today's Synagogue Street. Incidentally, we restored the name of this old street. Earlier, it was called Henri Barbusse Street. For the most part, the Jewish underclass lived there, which, once it became more prosperous and wealthy, moved to the Upper City.
In the center of Chernivtsi there is a lot of architecture that is connected with wealthy Jews. Among them are quite a few who completed our industrial school. They were the ones who built up Chernivtsi. Many of the owners of buildings on Olha Kobylianska Street, formerly known as Panska Street, were Jews. There are entire groups of income-generating buildings that were rented out.
An address book was published in Chernivtsi on the initiative of the well-known mayor of our city, Antin Kokhanovsky. All building owners were listed in these documents; they also included everyone who owned property and those who rented. Opposite the names of those who owned real estate was the letter E, for Eigentümer, German for "owner." Most people rented.
Andriy Kobalia:  In other words, most residents of Chernivtsi did not own their own house and rented apartments?
Марія Никирса:  Yes, a large number of residents rented and never owned their own house.
Andriy Kobalia:  You mentioned your industrial school. Was this some sort of separate Chernivtsi school of architecture?
Maria Nykyrsa:  It was a school that trained architects. It was opened in 1873; something along the lines of an architecture academy, if you compare it to today. Later these people built up Chernivtsi. Its director was the Austrian architect Josef Laizner, who came to Bukovyna and stayed on permanently. The institution trained high-level specialists; even during their practicum, they were constantly at building sites throughout the city. Laizner himself designed several buildings in Chernivtsi. One of his most famous protégés was Julius Bochner, who was born in 1857. From 1883 he was the architect of Chernivtsi. He died in the interwar period, in 1929.
If you go by surnames, then the bulk of them were Jews, a few Germans, Poles. There were not all that many Ukrainians.
Andriy Kobalia:  Have the buildings from these eras in Chernivtsi been preserved?
Maria Nykyrsa:  Nearly all of them are still standing. I am most impressed by the former Chamber of Industry and Commerce. Today it houses the Chernivtsi Medical Academy. This fantastic architectural masterpiece was built by Friedrich Gottesman, who, unfortunately, lived only until the age of 42. He died in Vienna in 1921. Little is known about him; for years we have been collecting one fact after another.
I should also mention the Jewish House, which was built according to a design by Julius Bochner in 1908. That is how the Jews of Chernivtsi showed that they were in the city and manifested their presence on the territory of this land. The building of the Jewish religious community is practically in the center of the city. Not every community was able to do this. This building, shaped like a ship, is very famous. Moses Schlefer, an ordinary Jewish man from Galicia, became prosperous and was able to erect this building in the downtown core, and the design was by Elias Pabst, who was also Jewish. Julius Bochner also constructed buildings. Pabst became famous once the project was completed. Right now, unfortunately, few people know about him.
Andriy Kobalia:  Speaking about the Romanian period, were there Jews who built up the city in these years?
Maria Nykyrsa:  There are quite a few of those buildings, especially our current Lesia Ukrainka Street, where the Jewish Theater, school, and orphanage are located; all of them appeared during the Romanian period; like the buildings of various societies; in fact, the entire complex of the Lower City. The Jewish Hospital, unfortunately, is not functioning because this area was affected by a landslide. The hospital was moved, but a wall was erected in this part of the street. But the development during the Romanian period is quite dense.
Andriy Kobalia:  During Romanian rule, were both the Ukrainians and the Jews in the same situation in this state? Both were minorities.
Maria Nykyrsa:  Without a doubt, but I think that Jews had more money than Ukrainians. The latter also developed Chernivtsi; all the nationalities had their own people's homes. And the Romanian government respected its own, above all. They closed down Ukrainian schools, settled Romanian teachers in the borderlands of the country. The Romanians dismissed Jewish civil servants. Their destinies were similar because both peoples were left without jobs and had to move from one territory to another.
In the archives for this period there are many documents about the issuance of foreign passports to Jews. There are thousands of documents. To researchers they are fascinating because they contain biographical data and photographs. We can imagine those people who lived in Bukovyna. However, a lot disappeared. The impression is that the Soviet government wanted to erase [them]. We know about Julius Bochner, Elias Pabst, Josef Proske, and Friedrich Gottesman from these documents as well.
Andriy Kobalia:  In your presentation you said that during this period the Zionists issued a lot of appeals for people to return to Palestine. Can one say that the emigration movement from Bukovyna was a mass one?
Maria Nykyrsa:  I can't say that it was on a large scale, but quite a few Jews did indeed immigrate to Palestine during the interwar period. Toward the end of his life, Benosh Trauger, the leader of the Bukovynian Jews, also considered moving to Palestine, but he was probably at an age that made it impossible for him to do this. In those years the city offered special courses and preparation for immigrating. Films about Palestine were screened.
Andriy Kobalia:  Did Jews and Ukrainians cooperate on political matters, perhaps in Romanian representative organs?
Maria Nykyrsa:  There were situational alliances. There was even a "Freethinkers' Alliance" of Jews and Ukrainians—Mykola Vasylko and Benosh Trauger. Subsequently, the organizations of both peoples continued to cooperate. Both Ukrainians and Jews were elected as senators to the Romanian parliament.
Andriy Kobalia:  Although the Holocaust and the destruction brought about by the Second World War changed the face of Bukovyna, the late 1940s in the city are known for the "Jewish literary renaissance."  Of course, these were not local Jews, but in the few years after 1945 Jewish culture blossomed in Chernivtsi once again, perhaps for the last time.  On this, read/listen here.
This program was made possible by the Canadian non-profit organization Ukrainian Jewish Encounter.
Originally appeared in Ukrainian (Hromadske Radio podcast) here.
Translated from the Ukrainian by Marta D. Olynyk.
Edited by Peter Bejger.
NOTE: UJE does not necessarily endorse opinions expressed in articles and other materials published on its website and social media pages. Such materials are posted to promote discussion related to Ukrainian-Jewish interactions and relations. The website and social media pages will be places of information that reflect varied viewpoints.