A first since the start of the war: A high-ranking Israeli politician visits Kyiv and expresses solidarity with the people of Ukraine
Posted In: Diverse Voices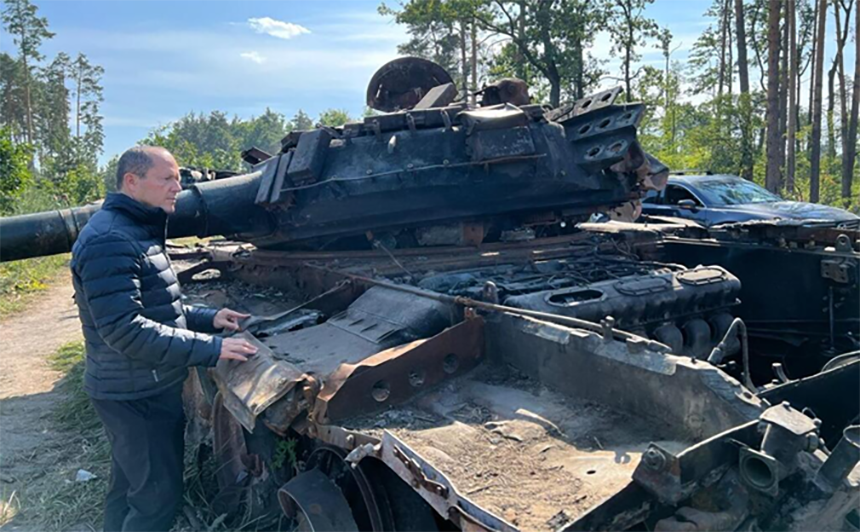 In the past, Israeli politicians sought photo ops at the Wailing Wall. Today, the wisest visionary leaders are starting to have their photos taken near the "wall of tears" in Bucha and Irpin. 
The photo above shows Nir Barkat, ex-mayor of Jerusalem and member of the Knesset from the Likud Party, who, on 8 September 2022, became the first high-ranking Israeli politician to be photographed next to a burned-out tank of the Russian occupiers in a Kyiv suburb.
Meanwhile, no other high-ranking Israeli politicians have ventured to carry out a similar act of "non-honoring" the rusty remnants of the Russian colossus with feet of clay. Defense minister Gantz is (still) blocking any weapons deliveries — even purely defensive ones — to Ukraine, and Prime Minister Lapid, in a conversation with President Zelensky on 1 September 2022, managed to force out only a message of congratulations on the occasion of Ukrainian Independence Day, along the lines of "there will be no deliveries, but you hang in there."
Okay, Ukraine is holding on without deliveries from Israel. But it remembers everything.
Pro-Ukraine voters in Israel, who will be heading to the polls on 1 November 2022, are also committing everything to memory.
In the meantime, Barkat declared in Ukraine: "I came to Ukraine on the invitation of the Chief Rabbi of Ukraine, Moshe Reuven Azman, in order to support the Jewish community and, of course, to support the Ukrainian people, who are experiencing brutal attacks on the civilian population. Women, children, and elderly people have been bombed, and we must act in order to help save lives. I have come here in order to express my support and to help."
Barkat's office told Ynet News: "Unfortunately, it is precisely the Israeli government that is absent in Ukraine during this difficult time of war, in which innocent people are suffering. The atrocities that have taken place in Ukraine are shocking, and we as Jews should be the first to express support to the Ukrainian people and the Jewish community of Ukraine."
In Kyiv, Barkat met with Ruslan Stefanchuk, Speaker of the Verkhovna Rada, and spoke for more than two hours with the mayor of Kyiv, Vitaly Klitschko.
The visit to Ukraine by the ex-mayor of Jerusalem may be a harbinger and the start of an important process that may include other steps on the part of Israel and its politicians.
I expect that with every liberated Ukrainian city and every ten kilometers of the Ukrainian counteroffensive, Lapid's government will begin to reflect more seriously on whether this style of cold, detached neutrality toward a country and its people who are bleeding to death in their struggle for freedom reflects badly on Israel.
I am waiting for our politicians to embrace at least this cynical notion: "We have to be on the side of the victor in this war." Because the victor will be Ukraine — with the support of the entire Western civilization, which includes Israel.
Text: Shimon Briman (Israel).
Photo: Nir Barkat's Facebook page.
Translated from the Ukrainian by Marta D. Olynyk.