A historian reveals who built the Actor's House
Posted In: Hromadske Radio, Sponsored Projects, Culture, Audio/Visual Media, Architecture, Ethnography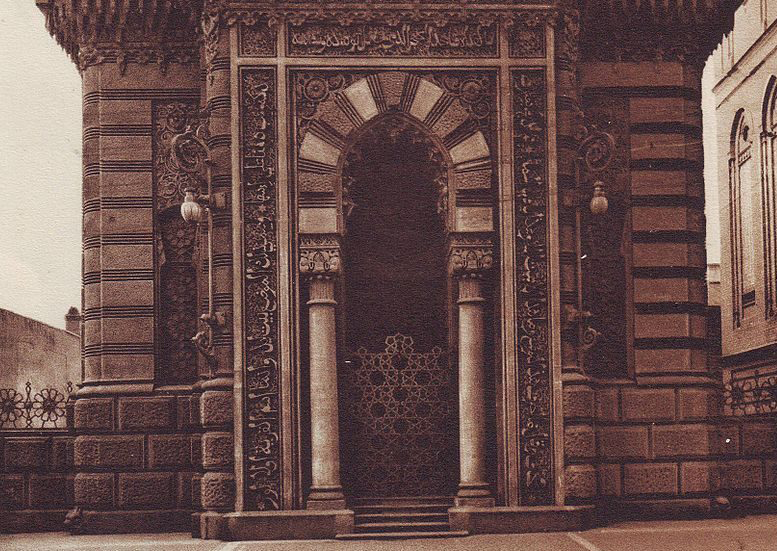 Kyiv expert Mykhailo Kalnytsky discusses Moorish architecture in Kyiv, the Karaites, and a mysterious building on Yaroslaviv Val Street. 
Andriy Kobalia:  In Kyiv, not far from the Golden Gates, is an extraordinary old building. It does not resemble a Soviet building from any period or the typical architecture of the Russian Empire. One hundred and twenty years ago 200,000 rubles was spent on its construction by a community of people that hardly exists today in the city. That is why it is now a symbol or detail of an epoch that no longer exists. This building is a Karaite temple, the Kenasa, that is known today as the Actor's House.  
This Turkic-speaking people that practiced a religion similar to Judaism appeared in Crimea in the fourteenth century. In imperial Russia some well-to-do Karaites moved to Kyiv. Regional historian Mykhailo Kalnytsky described how in the nineteenth century Karaite businessmen discovered their niche in the economy of the Ukrainian lands.
Mykhailo Kalnytsky:  We are talking about events that took place in the late nineteenth to early twentieth centuries. There was a Karaite community in Kyiv at the time. It was not a large one. In the late nineteenth century, it consisted of several hundred people, between 500 to 800. How did they come to be in Kyiv? The main habitat of the Karaites was Crimea. Many Karaites hailed from there. Later due to historical events they also moved to Lithuania and the lands of western Ukraine. Many Karaites were engaged in the tobacco business, which they "held" throughout the Russian Empire.
Andriy Kobalia:  In other words, this was their traditional sphere? Like the Belgians, who were involved in metallurgy, steamships, and streetcars in the [Russian] empire. In Ukraine it was tobacco. How did that come about?
Mykhailo Kalnytsky:  This is connected with location. At the time, the majority of tobacco plantations were situated in the southern gubernias, in Crimea. Perhaps it stemmed from there. In any case, they were the ones who were involved in the tobacco business in various cities. It was the same story in Kyiv. The Kyiv Tobacco Factory, which was not far from Ploshcha Peremohy [Victory Square]—now it's in the suburbs—belonged to a Karaite family called the Kogens. For a long time, they had a factory on Luteranska Street, but the space there was limited. They acquired a significantly larger plot on Bibikov Boulevard at the time; now it's called Prospekt Peremohy. This happened after the death of Solomon Kogen, one of the leading members of this family. We remember him because he was the founder of the Kyiv Kenasa.
Andriy Kobalia:  Let's turn to the main subject of our conversation, the Kenasa. How did it appear in Kyiv? Is this the only building of its kind in our city?
Mykhailo Kalnytsky:  Today it is probably the only one. Earlier in Kyiv there were Karaite cemeteries on the territory of today's Hryshko National Botanical Garden, right next to the Jewish Cemetery. And in the 1890s a similar cemetery appeared in Lukianivka, next to a large Jewish cemetery. Near the small Karaite cemetery was a small building. All of this was situated in roughly the same area as the Avangard Sports Complex. Since then, only one structure has been preserved: the Kenasa. The tobacco factory that belonged to the Kogens no longer exists, although a certain number of income-generating buildings that once belonged to the Karaites are left. In Kyiv they were not only owners of tobacco businesses; they were also wealthy owners of residential buildings. And the Kogen, Meikapar, and Duvan families built some things in Kyiv.
The Karaite religion reminded Kyivites a bit about ancient times. As the Karaites themselves believe, although not all scholars support this notion, they were descendants of the Khazars. And the early history of Kyiv is rather closely connected with them.
I would also like to emphasize that a certain similarity can be found between the Karaite community and Jews. In tsarist Russia the concept of "nationality" did not exist; instead, there was "confession." That is why people said, "a person of the Judaic creed," not "Jew," аnd Russians and Ukrainians were often lumped into the same category because they were "Orthodox." It is telling that the Jews were restricted in their rights. This was discrimination on the basis of religion in questions of habitation, occupation, and education. But this did not affect the Karaites! Perhaps because they did not abide by the Jewish Talmud. This is a book of precepts and rules that pious Jews were supposed to obey. And it was precisely compliance with Talmudic norms that separated them from other ethnic groups. But the Karaites did not share this and respected the Torah. For Christians, this is the Old Testament.
Andriy Kobalia:  In other words, can one say that the Karaites were Jews or close to them? But they had privileges accorded to non-Jews?
Mykhailo Kalnytsky:  They were close because they had one holy book, but for the Jews the Talmudic norms are very important; the Karaites do not comply with them. It is incorrect to place an equal sign between them.
Andriy Kobalia:  The Kenasa was the heart of the Karaite community exclusively?
Mykhailo Kalnytsky:  Of course. They could maintain contact with each other. For example, the Kenasa itself was built by a Jewish contractor, the illustrious Lev Ginsburg, who built many extraordinarily beautiful and sturdy buildings in Kyiv in the 1890s, right until the Revolution. So, the Karaite community came to a normal understanding with him. And the design was done by a Roman Catholic architect, a Pole named Władysław Horodecki, who was the darling of all of Kyiv.
Andriy Kobalia:  The creators of the building were popular figures who commanded fees that were far from low at the time. I saw in documents that 200,000 rubles were spent on building the Kenasa! As far as I know, this was a huge sum.
Mykhailo Kalnytsky:  Yes, at the time this was a rather significant sum. I can't say that it was fantastically high, but with this money you could build a normal, income-generating building…or this beautifully designed kenasa. I say "designed" because a lot of money was spent on the interior décor, on its beautification. Initially, they thought about spending 30,000–40,000 rubles. This was the sum that Solomon Kogen himself wanted to allocate. He died early, but in his last will and testament this amount was increased, and his relatives donated their own funds. So, construction began in 1898, and in 1900 Solomon Kogen died. The Kenasa was completed and opened in 1902.
Andriy Kobalia:  The exterior of the Karaite Kenasa is reminiscent of temples in North Africa or the Alhambra. This is because the building is constructed in the neo-Moorish style. There are many such buildings in Spain, where the Arabs ruled for 700 years. Jews often built in this style, too. In addition to the exotic Kenasa on Yaroslaviv Val Street, there are several more income-generating buildings with Eastern features in Kyiv. According to the Kyiv expert Mykhailo Kalnytsky, the exterior of the Kenasa changed over more than a hundred years, as did the epoch.
Mykhailo Kalnytsky:  First and foremost, the Jews followed the Moorish style because Judaism is an Eastern religion. Some income-generating buildings in this style belonged to Jews. Even one of the synagogues in the Podil district of Kyiv, on Shchekavytska Street, has features of this style. It is interesting that what happened to this synagogue, which is still called the "Rosenberg synagogue," would never happen to the Kenasa on Yaroslaviv Val…
Andriy Kobalia:  It became functional?
Mykhailo Kalnytsky:  No, in 1929 it was closed by the Soviet authorities, but it has been operating non-stop to this day since 1945. But when it was being constructed, the Russian architect Nikolai Gordenin submitted a design in the Eastern style. He wanted to crown the structure with a cupola, but later, so that there would be no opposition and unpleasantness, he removed the cupola from the design. However, during the restorations in 2002–2003, it was decided to create a dome in keeping with the old design. It is there to this day on the façade of the building on Shchekavytska Street. From the beginning the Kenasa was crowned with a very fine dome with fluted segments. Władysław Horodecki added this part to the design.
But in the postwar years a lot of things suffered and were destroyed; both the inner ceiling and the dome. It was simply dismantled. Perhaps it had rusted, and it was decided that it would be better to remove it and build a new roof. The ceiling also leaked. I read records of experts from the 1950s, who researched it. They said that details of the ceiling made out of alabaster were simply attached to the roof with the aid of screws. But these details simply did not hold on; they were literally falling onto visitors. All this was dismantled, smashed, and thrown out. Then simplified repairs took place. There is now an artistically distinct roof, but it is not as beautiful as it once was.
Andriy Kobalia:  When we go inside, to what extent does it correspond to the year 1902?
Mykhailo Kalnytsky:  If you take the total volumetric spatial resolution, it corresponds by 95 percent, excluding the cupola. I don't know whether it corresponds exactly to the original paint work. It is built of brick, but cement and concrete were used there. The portal of the Kenasa, with beautiful doors, is embellished with stalactite-like decorations. This is also part of Moorish décor. All this was done by the renowned sculptor Elio [Emilio] Sala, who was born in Milan and was a friend of Horodecki's. Sala completed a lot of projects with Horodecki, including the House with Chimaeras.
Andriy Kobalia:  What traces are left of the Karaite community in Kyiv?
Mykhailo Kalnytsky:  As far as I know, there is a Karaite cultural society. Maybe they want to acquire this building, but according to censuses, there are not even fifty Karaites in Kyiv. It is highly unlikely that they are in a position to maintain such a solid building. Although at one time there was a Presidential Decree about returning sacred buildings, this did not concern the Kenasa. As for the other heritage, there are no longer any Karaite businesses, tobacco manufactories, or guild factories that produced preparations for cigarettes. Only a handful of income-generating buildings that were built by wealthy Karaites are left. But we don't have a law on restitution, so it is unlikely that they can be taken away.
However, there are interesting reminiscences about the activities of some Karaites. For example, an ethnic Karaite headed the Kyiv Drama Theater. Today it is called the Lesia Ukrainka Theater. This was the magnificent theater of Mykola Solovtsov, a director and businessman. Sometime around the 1900s this theater was headed by the businessman and actor Isaac Duvan-Tortsov. Tortsov is the surname of one of the characters in a play by Alexander Ostrovsky: Liubim Tortsov. Perhaps this was a role that the actor himself revered. He was a lawyer by education and came from a Karaite family. His brother was the mayor of Yevpatoria.
While engaged in the family business, he became so enthralled by the theater that he was able to donate his own money to the theater. The theater was not always profitable. However, according to plans, it is supposed to be profitable. After all, actors otherwise have no other way to earn a living, and businessmen have no reason to pursue this type of occupation. But sometimes Duvan-Tortsov was not afraid of expenses because he loved the theater. That is why in the history of Kyiv theaters he is the one who attracted actors and guaranteed interesting productions.
Andriy Kobalia:  You mentioned the wealthy Kogens and others. Where did they disappear? Were they killed during the Holocaust? According to the 1897 census, there were several hundred of them, but right now there are at best only a few dozen in Kyiv.
Mykhailo Kalnytsky:  This compactness and religious self-identification disappeared during Soviet times. Religious expression was not allowed. Ordinary assimilation led to the dispersal of this nation. Of course, to this day there are communities in Crimea—in Symferopil. In Ukraine, there may be a hundred in Odesa. There was a certain number in Lutsk. But if you go to Trakai, in Lithuania, even though they do not comprise the majority of the city population, there are functioning kenasas, a Karaite history museum, and even Karaite cuisine. This culture has not disappeared there.
This program was made possible by the Canadian non-profit organization Ukrainian Jewish Encounter.
Originally appeared in Ukrainian (Hromadske Radio podcast) here.
Translated from the Ukrainian by Marta D. Olynyk.
Edited by Peter Bejger.
NOTE: UJE does not necessarily endorse opinions expressed in articles and other materials published on its website and social media pages. Such materials are posted to promote discussion related to Ukrainian-Jewish interactions and relations. The website and social media pages will be places of information that reflect varied viewpoints.