How Can an Act of Terrorism Affect the Work of a Museum?
Posted In: Hromadske Radio, Sponsored Projects, Audio/Visual Media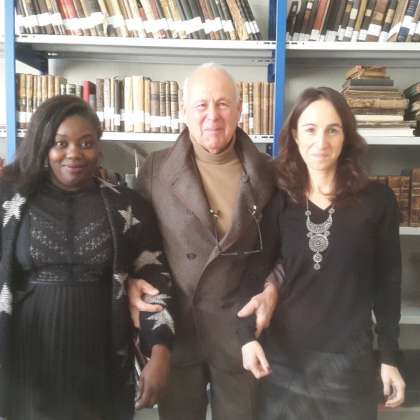 You are listening to Hromadske Radio and Iryna Slavinska is in the studio.
Today's broadcast of the program "Encounters" on Hromadske Radio continues our encounters in Brussels. Our focus is the work of the Jewish Museum of Belgium located in the richly historic center of Brussels, adjacent to the gorgeous Grand Synagogue.
The Jewish Museum of Belgium provides a wide scope of geography and time for researchers. For instance, the Museum's ketubot [historic Jewish prenuptial agreements—Ed.] collection has relics from Ukraine. This geography can be explained by the migration of families trying to escape from the Holocaust who fled Eastern Europe and settled in Belgium. Besides personal items, the Museum also maintains a frightening archive from the days of the Holocaust: documents containing information on when and where people were executed or exiled.
This conversation was recorded in the office of Philippe Blondin, the Museum's President. Pascale Alhadeff, chief Museum Curator, and Chouna Lomponda, the head of the Communications Department and editor of the Museum's newsletter, also participated in the discussion. The Ukrainian translation of their remarks is read by Andrii Kulikov, Tetyana Troshchynska and Iryna Romaliiska.
Iryna Slavinska: At the beginning of our conversation I ask Philippe Blondin, the Museum's President, to talk about the history of the founding of the Museum.
Philippe Blondin: The Museum has a short history. The Museum owes its existence to an idea that appeared twenty-five years ago. The aim was to highlight the fact that Belgian Jews have a long history, and that they participated in the development of the country. So it was clear that we had to establish a museum of Jewish history similar to those that already exist in Paris and other cities.
Pascale Alhadeff: We have to taken into account that major European Jewish museums had been established at the beginning of the twentieth century. I have in mind museums in Berlin and Vienna, which have excellent collections. They also had a larger Jewish population.
Jews have been living in Belgium since the thirteenth century. From the thirteenth to nineteenth century they numbered only a few hundred people, that is just very few families, unlike in Germany or Poland, where Jews were much more numerous. Only at the beginning of the nineteenth century, especially in the twentieth century, did tens of thousands of Jews from Central and Eastern Europe come to Belgium.
Philippe Blondin: The majority of these Jews came from Poland, and from 1938 a tide of refugees arrived from Austria and Germany seeking asylum in Belgium.
Pascale Alhadeff: All this illustrates the fact that during the interwar period there was the will to establish a Jewish Museum in Belgium reflective of the ethnographic focus of that period, that is, Jews as a separate ethnic group. A collection had been assembled for the future museum, which had not been established yet. That collection had been assembled by major donors, who had contacts in all the Belgian cities where the Jewish community had been living in the 1920s and 1930s. This part of the collection is now in New York.
So the creation of our Museum three decades ago was caused by a clear perception that we had to preserve traces of this community, to bring together and maintain scattered collections, and preserve archives.
Philippe Blondin: Indeed, we had to preserve the archives of prominent personalities whose activity affected the entire country and had an impact on society and the economic, cultural, and banking development of Belgium. It was necessary to preserve the archives of prominent families and gather scattered collections. At the beginning of the foundation of the Museum we were putting together a puzzle, as we had nothing.
Pascal Alhadeff: A part of the collection was donated to us, and another part was loaned to us for exhibition. We also purchase new items that we believe are important for the Museum.
Iryna Slavinska: And that collection of the interwar period you mentioned? Is it part of the Museum?
Pascal Aladeff: No, it is still being discussed. We negotiated with Erasmus House in Anderlecht on the purchase of the remains of the collection that was gathered at that time and is currently being kept in this museum. A large part of the collection is housed in New York, it is fully digitized, and researchers often use the collection in their work.
The collection there in particular contains quite an interesting selection of posters from the interwar period. But since different institutions own the collection, it's difficult to acquire them. It is important for the Museum to insist on keeping custody of the collection in a proper manner, as it is being stored in Brussels and Antwerp, where the archives are publicly open. This is our main goal, and there we have secured a victory.
Iryna Slavinska: Given that the Jewish Museum in Brussels is quite new, how does this affect the Museum's work—on the logic of the expansion and representation of the collection?
Philippe Blondin: We at first received a small room on Stalingrad Street (300 or 350 square meters) for our use. The first exhibitions were organized there as we got established. One of the first exhibitions featured illustrations by Charlotte Salomon. In the course of time our collection has been enriched by charitable donations and new acquisitions.
And fifteen years ago the city authorities decided that the building we occupied was too small, and thanks to the assistance of Baron [George] Schnek and others we got this large building on the rue des Minimes. It is perfectly located near the Sablon neighborhood and the Central Synagogue of Brussels. Here we were able to present our collection, establish a permanent exhibition, and begin organizing temporary exhibitions to reinforce the visibility and value of the Museum.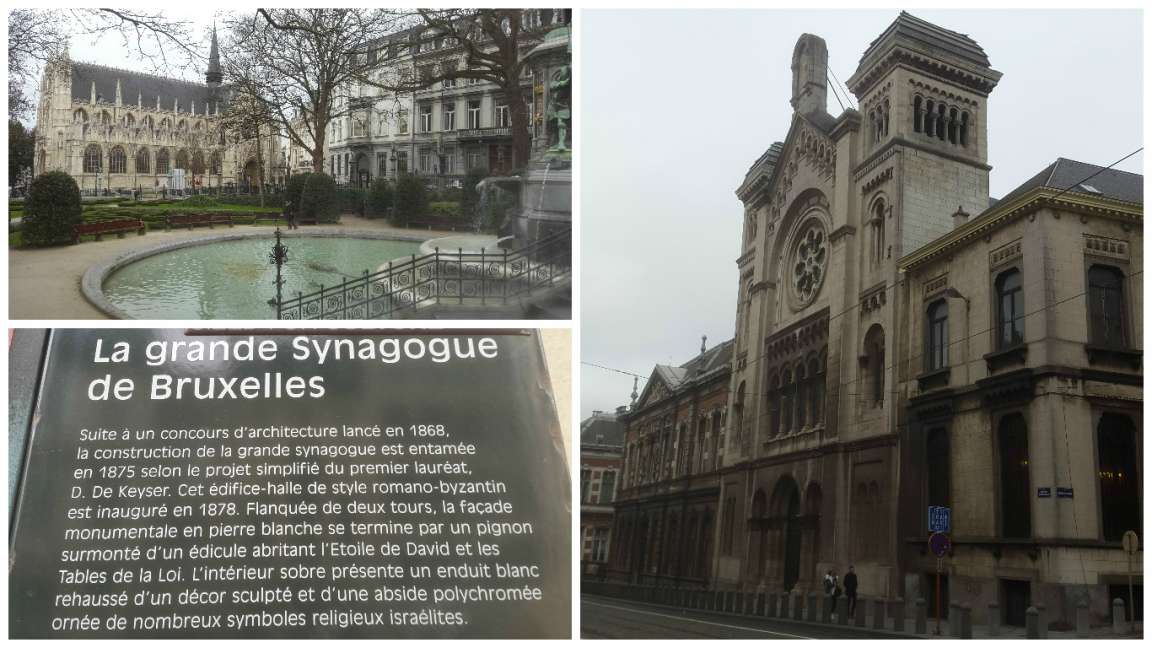 This is an old and obsolete building, and the last four years we along with the local authorities have been scrutinizing possibilities to demolish it and construct a new museum in the same location. We are currently waiting for the building permit to be issued in February. The facade is to be retained despite the fact that it is not registered as an architectural landmark. We have decided to keep the facade because it is monumental and of good quality, and imposing. The entire interior will be demolished and rebuilt to create a modern museum to meet public expectations.
It is important to understand that the Museum has been funded by the state from the very beginning. We report to the Minister of Culture and operate independently of any Jewish organizations. For example, we work on Saturdays and do not depend on the Synagogue. We depend only on our sponsors who annually allocate amounts for our presence and work.
Iryna Slavinska: To continue our discussion on the collection—what kind of art is the Museum focused on? Folk art, decorative, or the avant-garde? What period is in the limelight?
Pascal Alhadeff: First of all we are focused on Belgium and we are trying to present the specificity of the work of local artists—not only Jewish artists, but also those who use Jewish themes in their work. It's obvious that there are not as many artists as in France or Germany, but….Also we have quite interesting Judaica items: not all are from Belgium, some come from neighboring countries. The collection is expansive: we have artwork (sculpture, painting, and engraving), everyday items (postcards and porcelain), and also a collection of postcards, posters, and periodicals.
Iryna Slavinska: In this context it is also interesting to know how you select artists for exhibitions. What does the Jewish artist mean to you? Is it a person who identifies himself as a Jewish artist, or is it one who has Jewish origin—but in what sense? By religion or by ethnic background? Perhaps, it's quite a delicate question, and I don't know if it is easy to reply.
Pascale Alhadeff: Outside our permanent exhibition the Museum presents not only Jewish artists. There could be different definitions, but the artist's message is first of all of a great importance for us. As with other museums, we adhere to the ideas of humanism, openness to the world, and dialogue. The Museum is trying to bring these ideas and the artists' messages to the public.
Philippe Blondin: For instance, we somehow organized an exhibition of Henri Cartier-Bresson. We were interested in the universal message of his works. The exhibition was a great success and attracted numerous visitors.
Pascale Alhadeff: The exhibition's message was life in all of its aspects, the importance of life and beauty in every moment, the enjoyment of every moment here and now, the beauty of happiness. And this was very important.
Philippe Blondin: It is inherent to our Museum's message, our tradition, and the Talmud. Cartier-Besson speaks about life that should be lived with pleasure and enthusiasm. This is very important in the Jewish tradition.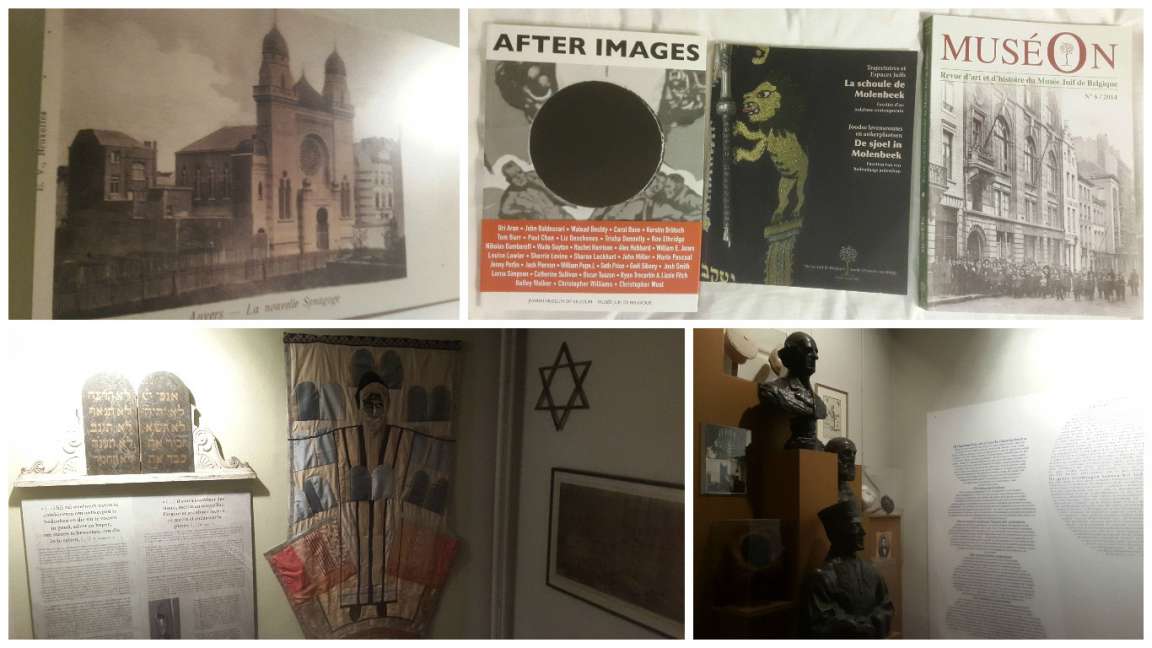 Pascale Alhadeff: Cartier-Besson worked with numerous Jewish photographers who also exhibited in our Museum. Thus this includes the history of photography, where it is possible to discover links between Jewish art and photography, and relations among prominent artists.  But for us the idea is of the most importance.
Also we are talking about attracting visitors to the Museum by organizing such exhibitions to draw their attention to our values, and also to stimulate interest in visiting our permanent exhibition. We pay attention to those artists who are considered to be Jewish, to those who feel themselves Jewish, and those who consider themselves Jewish. We perceive this in the widest sense, because the quality of the artist's creative work and the message are highly valued by us. An artist's "label" means nothing to us.
Iryna Slavinska: Chouna Lomponda, head of the Communication Department and editor of the Museum's newsletter, joins our conversation. She discusses if the Museum has its own message to be delivered, and explains if there is a general idea to be stated through all the exhibitions they organize.
Chouna Lomponda: Any exhibitions and the idea of openness to the world are important. The Museum is open to the world, but it is ready to be open to other cultures and perceive links between them.
Pascale Alhadeff: You know, in Jewish culture it is important to pose a good and correct question. If visitors attending the exhibition have questions and express a willingness to think, to learn more, to discover Jewish culture and its links to other cultures, links with Christianity or Islam, to learn more about Jews in Africa, Poland, and other countries, if they search for answers on Google and Wikipedia, we have achieved our goals.
Iryna Slavinska: The President of the Museum, Philippe Blondin, joins our conversation with some remarks on the openness of the Museum as a space to promote tolerance.
Philippe Blondin: More than ever we have to offer an idea that we could share a number of things with all the various people coming to Belgium with their own culture and history—for example with Turks and Moroccans who came to Belgium in the 1950s.
Like them, we have come here, and Belgium accepted us. We were trying to give our children a better education, to achieve a better life and prosperity that was not possible to have, let's say, in Poland or any other country. Just the same as people of other nationalities. It is important to demonstrate that we, the Jews, have traveled this path, and they, today's migrants, can use our experience as a model for integration into the Belgian population, accepting common values such as secularism, and all the other elements that make up the beauty of our civilization.
Pascale Alhadeff: This path could be, or could not be, a model. I think we need to talk about the freedom of speech, which is important. When a person reaches a certain maturity, he/she is able to be self-critical. It is even necessary. It is important to say to oneself that there were good and unsuccessful experiences. There were Jews involved in arms smuggling, human trafficking, and the trafficking of women from Eastern Europe. I think it is important to let yourself discuss such things. There were a lot of virtues, but there were criminals also.
Philippe Blondin: This is diversity.
Pascale Alhadeff: Yes, diversity. Not all the people had an ethically irreproachable path to integration. We are talking about people, and all people are different. We can permit ourselves the freedom of speech. We can also mention the changing status of women in Jewish culture. For instance, there are female rabbis today who are allowed to read sacred texts. Women were granted the right to divorce, and access to many things. We are able to discuss this, and this is very important. It is especially important to talk about it today, as there is often a threat to freedom of speech. I think this is a relevant and important topic for your listeners.
We are financed by the state and therefore we are responsible for our actions in the educational and cultural spheres. But the state does not affect our choice of exhibitions and collections to be purchased. The state also does not interfere with exhibitions and curatorial work. Certainly, we avoid radical and racist statements falling under the law on incitement of interethnic and racist hostility. The state generally does not interfere in our work. We are able to choose the tone of our statements. We often forget about this, but it needs to be emphasized.
We have immense respect for our designated mission—to establish a museum to be valued for its openness. We respect the idea of an open and intelligent museum.
Iryna Slavinska: I recall that the Jewish Museum in Brussels suffered an act of terrorism. How has this experience affected your work? I saw armed military men at the entrance of the building. Perhaps, something has changed? Something less noticeable? Chouna Lomponda responded to this question.
Chouna Lomponda: It [the terrorist attack] has affected the work on staging exhibitions. After the reconstruction we will rebuild in line with requirements for a contemporary museum. We are also aiming to discuss the themes of similarities mentioned by Mr. Blondin. In future exhibitions we are planning to emphasize common features we have with different cultures. This decision is one of the consequences of the disgusting terrorist attack the Museum has suffered. This act of terror, it must be noted, has motivated us to work even harder.
I assume that any other museum could have closed or suspended its work for a long time. But our team stood its ground, consolidated, and we've started working even more to fulfill the mission placed on us. We have a lot of projects. For example, lectures on Tuesdays that take place in one of the nearby museums, and exhibitions outside the Museum's premises. We continue our work.
At the same time, we remember the loss of our close colleagues—volunteers and a tourist couple who were killed having opened the door of the museum. We would like to honor the death of these people by continuing our mission.
Iryna Slavinska: You were listening to the program "Encounters" on Hromadske Radio. Today our program was in Belgium where I met with the staff of the Jewish Museum in Brussels. Listen. Think.
The program was created with the support of the non-profit organization Ukrainian Jewish Encounter.
Originally appeared in Ukrainian (Hromadske Radio podcast) here.
Translated from the Ukrainian by Marina Shramko
Edited by Peter Bejger. 
Additional translation and editing by Peter Bejger