UJE Participates in the Limmud FSU Anniversary Conference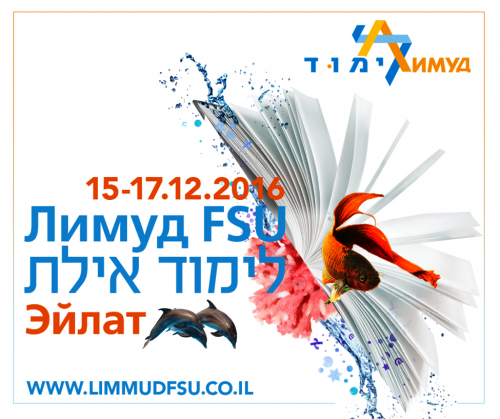 The Ukrainian Jewish Encounter has become a traditional participant in conferences organized by Limmud FSU. This organization aims to revive the tradition of Jewish education and strengthening of the Jewish identity. Limmud's educational festivals and conferences provide a unique cultural and educational platform for young Jews in the former Soviet Union, Israel, America, Canada, and around the world. Join us for UJE's panel discussions in Eilat, Israel at a conference marking the 10th anniversary of Limmud FSU. Our program is:
Jews and Ukrainians: A Millennium of Co-Existence, Babyn Yar and Beyond
Friday, Dec. 16, 17:50 – 18:50, Resort – Pink Hall, Presentation in Russia
September 28, 2016 marked the 75th anniversary of Babyn Yar. The panel discusses the atrocities that took place in Kyiv in late September 1941, how Babyn Yar has emerged as a historical symbol both before and after the Holocaust, will shed new light on highly controversial moments of Ukrainian-Jewish relations, and will argue that the historical experience in Ukraine not only divided ethnic Ukrainians and Jews but also brought them together. Discussants: Dr. Paul Robert Magocsi, Dr. Yohanan Petrovsky-Shtern and Dr. Vladyslav Hrynevych.
Ukrainian-Jewish Cultural Interaction and Mutual Representation
Saturday, Dec. 17, 14:00 – 15:00, Resort – Pink Hall, Presentation in Hebrew
In what ways did Ukrainians and Jews, living side by side over centuries, influence each other's cultures? How did they depict each other in art, folklore, and literature? Are there common sources and parallels in their respective cultural expression? What do the answers to these questions tell us about their shared history and Ukrainian-Jewish relations? Discussants: Dr. Wolf Moskovich and Alti Rodal.
Related Event:
Jewish Painters in Ukrainian Art: Integrating the Other, Reimagining Oneself
Saturday, Dec. 17, 16:20 – 17:20, Club – Blue Hall, Presentation in Russian
Considering Eastern European turn-of-the-nineteenth century (Secession) painters of Jewish descent against the backdrop of contemporary Ukrainian art, this presentation will explore how Jewish and Ukrainian painters learned from one another, how they shared the same artistic vocabulary and made sense of similar artistic tropes, and how modern Ukrainian scholars seek to integrate the legacy of Jewish artists into the narrative of Ukrainian art. Discussant: Anastasiia Simferovska.
The full program of events is available in Russian here: