Explaining the location of the mass shootings at Babyn Yar on September 29-30, 1941
Posted In: Ukraina Moderna, Sponsored Projects, The Holocaust in Ukraine, Other Programs, History

Martin Dean, Historical Consultant to the BYHMC 9/28/2020

Where exactly did the SS and Police conduct the mass shootings at Babyn Yar on September 29-30, 1941, in which more than 33,000 Jews were shot, and how were they organized?

Surprisingly, in the summer of 2017, when I started to work with the Babyn Yar Holocaust Memorial Center (BHYMC), these two questions had still not been answered satisfactorily. It was clear that the Jews were shot at Babyn Yar, but the precise location still remained a subject of debate. The topography of the site had changed so completely since the war that the terrain was simply unrecognizable. Conflicting theories had been put forward as to where the shootings took place, but the evidence presented to support these theories was limited and unconvincing. In particular, descriptions of how the shootings were organized did not make clear reference to the distinctive features of the terrain. Most surprisingly, the dramatic photographs of Johannes Haehle, showing prisoners of war working in a ravine and clothing piled up in front of a steep cliff wall could not be located satisfactorily on a map. Where were these photos taken and how do they help us to understand what happened at Babyn Yar? These were the initial research tasks envisioned by Dutch historian Karel Berkhoff, which we sought to answer using aerial photographs, ground photographs, historical maps, and witness testimony. In particular, where was this most iconic photograph taken?1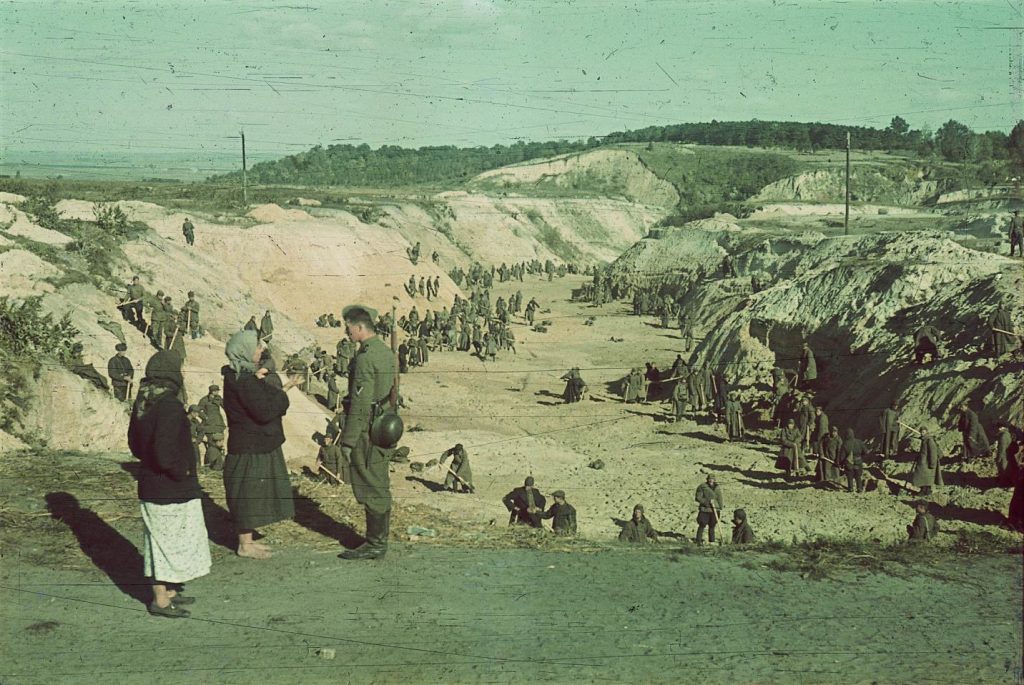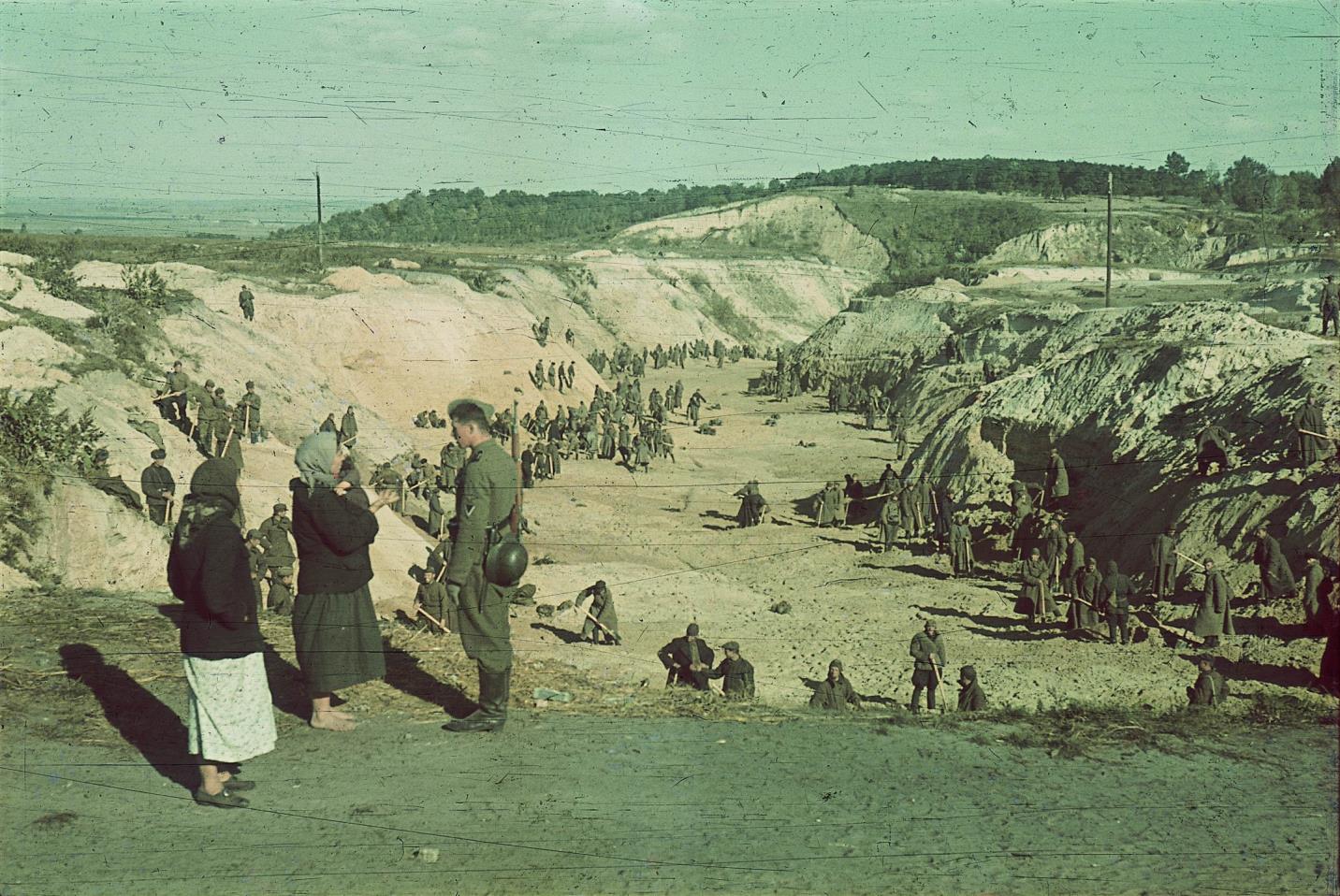 Initially the BYHMC Scientific Council, of which I was a member, was focused on preparing a Basic Historical Narrative as an outline and framework for the planned exhibit. This work was completed in late 2018. Therefore, it was not until the summer of 2019 that Karel Berkhoff's original challenge regarding the topography of Babyn Yar was taken up. Karel then put together a team of historians and researchers to examine this question in detail. Waclaw Godziemba-Maliszewski was tasked with attempting to locate additional aerial photographs of Babyn Yar and analyzing them. He had previously found the most significant photographs of the area, taken by the Germans on September 26, 1943; but he was convinced that additional images could still be found. My role was to compare the results from the aerial photographs with the considerable amount of available witness testimony and then to use this, as well as an extensive collection of historic maps and ground photographs, to assist in pin-pointing the correct locations for the Haehle photographs. Ukrainian historians, including Alexander Kruglov and Mikhail Kalnitsky, advised us on the current state of research on the topic and sent us additional relevant information and reports on specific issues. Beyond identifying the location of the Haehle photos, the project aimed to create a new more comprehensive explanation of the topography of the mass shootings on September 29-30, 1941. We wanted to confirm clearly the route taken by the Jews, the sites where property was discarded and clothing had to be removed, as well as the actual location of the shooting site within the network of ravines at Babyn Yar.
Originally appeared in Ukrainian @Ukraina Moderna
NOTE: UJE does not necessarily endorse opinions expressed in articles and other materials published on its website and social media pages. Such materials are posted to promote discussion related to Ukrainian-Jewish interactions and relations. The website and social media pages will be places of information that reflect varied viewpoints.