He is our "Ukrainian Schindler": Yuriy Skira on the monks who rescued Jews during the Holocaust
Posted In: Hromadske Radio, Sponsored Projects, Audio/Visual Media, The Holocaust in Ukraine, History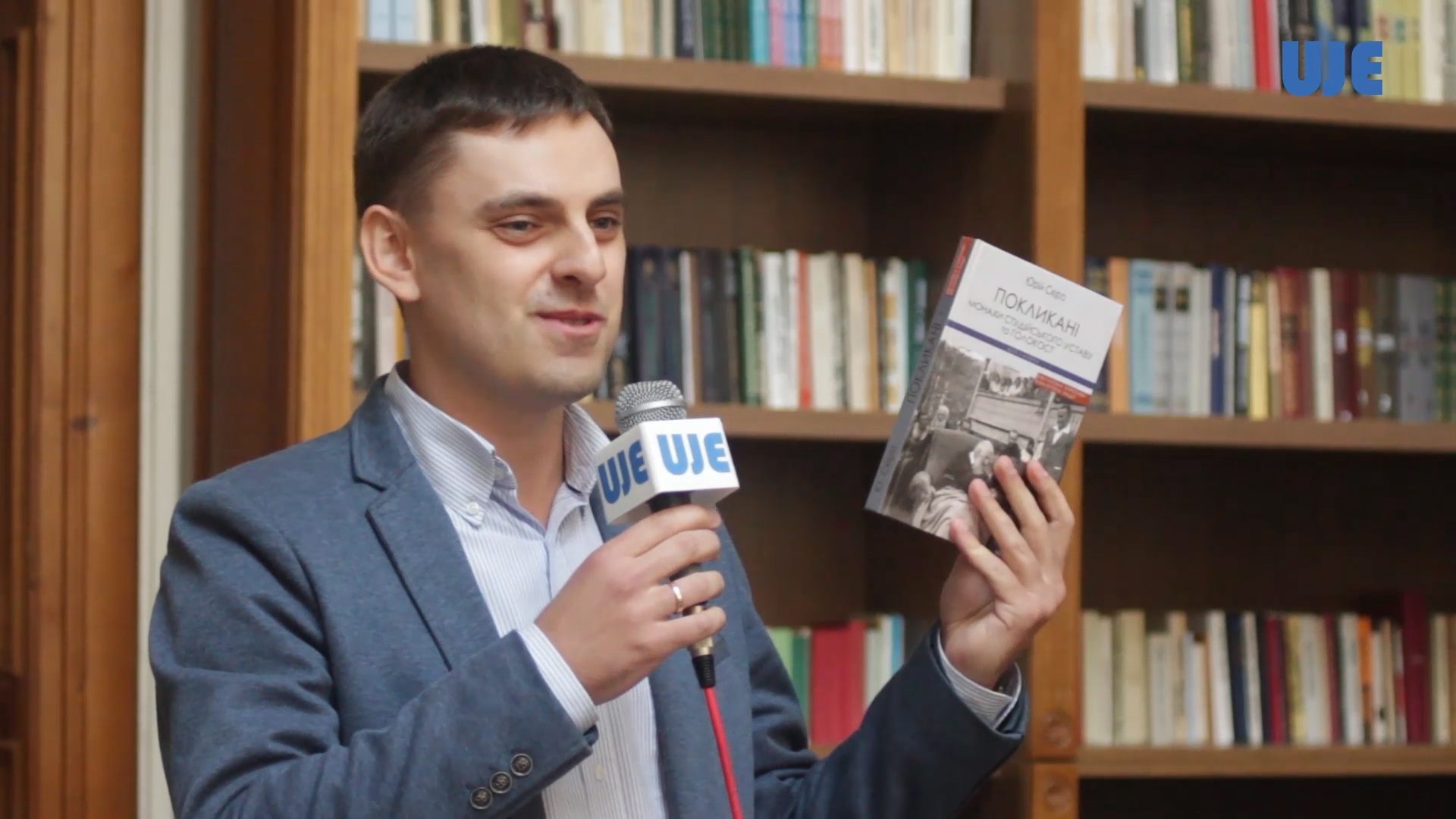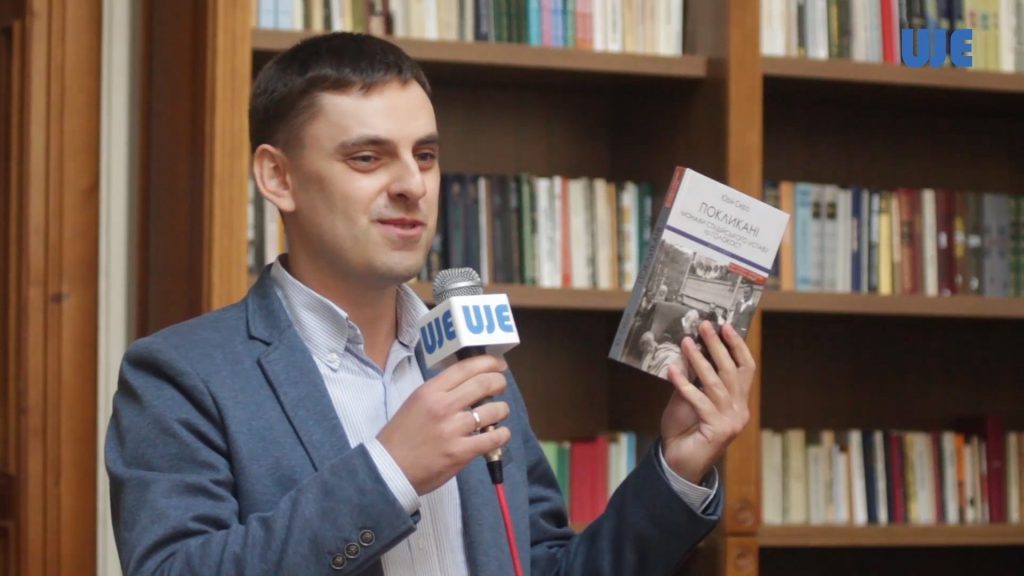 The researcher we interview today recounts how In Eastern Europe, if you were caught hiding a Jew, you were both shot on the spot.
Our guest today is Dr. Yuriy Skira, the head of projects and programs at the Center for the Study of the Ukrainian-Polish-Slovak Border Region at the Ukrainian Catholic University and the author of the book Beckoned: Studite Monks and the Holocaust.
Vasyl Shandro: Yuriy Skira's book came out two years ago. We are not presenting it today, but this is an opportunity to talk about it because this topic has not been fully discussed, even by specialists, and also because Mr. Skira received a prize, the Martin Feller and Zhanna Kovba Award instituted by the Ukrainian Association for Jewish Studies. Congratulations! Perhaps this is just as important a celebration of your work.  [Editor's note: Skira's book was also a 2021 finalist for 'Encounter: The Ukrainian-Jewish Literary Prize' ™.]
Yuriy Skira: Of course, I am very grateful to the jury members who read and thought about this book. This is a big step forward because the topic really does need to be discussed more and more because, during the Soviet period, it was not possible to discuss this topic. But once Ukraine became independent, unfortunately, most researchers of the [Ukrainian] Greek Catholic Church rushed to study the underground, that is, the repressions against the Greek Catholic clergy during the period of the Soviet Union.
However, the question concerning the Second World War — how priests, monks, and laypeople of the Greek Catholic Church helped Jews during the Holocaust — somehow remained overlooked. And this is a terrible catastrophe because, in the early 1990s, there were many people still alive who had rescued Jews, who had helped them. But no one was interested in them. That is why, when I came upon this topic and began to study it, I did not find anyone alive. This generation passed away. Thank God this generation left behind some interviews, some testimonies. All this had to be gathered. That is how the book came to be.
Vasyl Shandro: I think that an explanation of who the monks of the Studite Order were should be offered to people who are not engaged in Religious Studies and in the subtleties behind the organization of the Greek Catholic Church.
Yuriy Skira: From the standpoint of terminology, we are talking about a monastic community whose traditions were revived by Metropolitan Andrei Sheptytsky at the beginning of the twentieth century. Studite monasticism, if you look at its genesis, is very old; it originated in the Middle Ages in Byzantium. During the Kyivan Rus′ period, these traditions were brought here to these lands. However, over time, these traditions declined and completely disappeared.
At the beginning of the twentieth century, Metropolitan Sheptytsky longed for the revival of this fine tradition of Eastern monasticism in Ukraine. He supported these young people who wanted to live in accordance with this tradition. Gradually, over a period of forty years, this community became so unified and organized that not only was it able to cope with spiritual and everyday life, it also extended a hand to those who needed it — to Jews, whom the Nazis were destroying.
Vasyl Shandro: What are the basic principles of this Studite Order? How is it different from others? To what extent is this tradition clearly different from other monasteries or orders?
Yuriy Skira: Each order, every congregation has its own specific tasks. Some care for orphaned children; others are engaged in education (going to study in universities, high schools, schools). Still, others engage in missionary activities. In other words, they go where there is no priest, and they preach the Word of God. But Studites are called to live in prayer, to uphold the traditions of Eastern Christianity. This is an entire spectrum, a unique world that, thank God, the metropolitan revived, and the Soviet authorities did not manage to suppress it.
When Soviet power arrives, all this goes underground. But even in the underground, they continued monastic practices, the daily prayer circle. I even met people who recalled the Brezhnev Stagnation — there was nothing worse for religion… But, they say, "when we crossed this threshold of the apartment where the Studite monks lived, you entered an absolutely different world," where there was prayer, the prayer regulation. This is a treasure of our people.
Vasyl Shandro: Regarding the topic of the Holocaust and the Christian church in Ukraine: To what extent is this a researched field and phenomenon? Is there something to research here?
Yuriy Skira: When we talk about Christians and Jews who became caught up in the Second World War, we are talking about various confessions: Roman Catholics, Greek Catholics, Orthodox, and Protestants. I see that today some very solid researchers have appeared, who are filling in each of these confessional spheres.
I think that concerning Greek Catholics, research into the help given to the Jews during the Holocaust is more developed today. This topic was being discussed by the beginning of the century. However, there was no separate monograph, and this was a problem.
We are in a process. This is not the middle and not the end. We are approaching the middle. God Willing, we will reach it.
Vasyl Shandro: How long have we been talking about the concrete actions of the Studites, the monks of the Studite Order, in connection with rescuing Jews? Obviously, you relied on certain documents. Is there, perhaps, evidence that may be found in diaries or letters or in other records?
Yuriy Skira: The year 1942 was a turning point, specifically, the end of the summer. At this time, the Nazis and their helpers carried out a huge operation in Lviv, the so-called "August Operation."
As a result, approximately forty thousand Jews were arrested and sent by train to Bełżec, where there was a terrible death camp.
In the late summer of 1942, many people came to Metropolitan Sheptytsky for some assistance. He agreed. He took these people and handed them over to the Studite monks. Even if twenty people came, they still had to be dispersed in various cities, populated areas, and monasteries. A secret network was created so that if someone spotted that this individual was not one of us, s/he would be moved.
This was terrible, responsible, immense work. The Studite monks became the nucleus — specifically the Studites because they were the closest to Metropolitan Sheptytsky. The metropolitan's own brother, Rev. Klymentii Sheptytsky, was the head of the Studite community. He was Andrei Sheptytsky's shadow because no one knew about his plans and thoughts as much as he did.
Vasyl Shandro: Can one say that this was a mass meshwork of assistance in the rescuing of Jews? Was this a local, one-time operation?
Yuriy Skira: What do we mean by Studite monks in 1942? This is the Univ Holy Dormition Lavra, two monasteries in Lviv, a monastery in Zarvanytsia, a small monastery in Dora, where a Studite monk lived, a priest who served the village (often with one other monk). It was not a very large monastic community in which there was a monastery in each county. That is why all these possibilities were enlisted.
Wherever they could, they hid people. This was not a one-time operation. We see that in 1943 new people turned to them, and they were helped. There was constant circulation: There are those who need this — and they must be helped.
Vasyl Shandro: Did you succeed — and I realize that this is sometimes a thankless task — in discovering at least some approximate numbers? Are there extant records, specifically in the archives of the Studites themselves? Was it a period in which recording information in documents could lead to dramatic and tragic consequences?
Yuriy Skira: If we look at the Catholic Church, on the whole, monks and nuns hid Jews in many different countries. There were people who, say, realized that this must be recorded. Even during the Holocaust, they recorded the surnames of those whom they hid. It was the same, for example, in Italy, where monasteries kept so-called guest books. That is why it is possible to recreate statistics more or less because we have at least something in our hands.
Where the Studite monks are concerned, the situation was much more complicated. That is why Western Europe and Eastern Europe, with regard to hiding Jews, are different worlds.
Whereas in Western Europe, you could be sent to a camp, a prison, or receive a fine, in Eastern Europe, if you were caught hiding a Jews, it was game over — you were shot on the spot together with that person.
You had to be five times more careful — and not expect that, since you are a monk, some exception will be made for you. They would shoot everyone. That is why the Studite monks (as far as I know, I did not locate any traces of a list covering the years 1942–1944) did not do this. They were afraid.
Because if, God forbid, it had ended up in the hands of the German SD [Sicherheitsdienst, the Nazi Party intelligence and security organization — Ed.], that would have been the end. A detective story begins after the end of the German occupation. Because grateful Jews, when they were released, compiled such a list. There were around 150 people, as Kurt Lewin recalls. But at present, this list does not exist. Was it destroyed by the Soviet state security organs? This is an open question. The historian who answers the question of numbers should think carefully about what to say.
At the moment, we do not know the exact number of people who were saved by the Studite Monks by Metropolitan Andrei Sheptytsky. In my book, I tried to identify them. But the people whom I found are just a small fragment, a small part of this mosaic.
I think that we may never know how many of these people were saved.
So, you need to be careful in order to avoid speculation. Sometimes I see a book that says five hundred, seven hundred, a thousand. But this is history scholarship; we are responsible for what we write. We very much need to be serious and treat the past with respect; hence accurately.
Vasyl Shandro: Did those who were saved leave behind any records? Do you know the stories of the people who later left memoirs about those who had saved them or about the places where they had stayed?
Yuriy Skira: In fact, the situation is good because we have a lot of memoirs. They may be divided into two parts.
The first part consists of published memoirs that you can go and buy as a book: the unique memoirs of Rabbi David Kahane, his Lvov Ghetto Diary, which was published in Ukrainian in 2009. It paints a wonderful picture of what was taking place in Studite monasteries. I really recommend you read it. There is another excellent book: Kurt Lewin's A Journey through Illusions, which was translated from the English and published in Ukrainian in 2007. It also contains incredible things. He very nicely described the entire process. These two books are fundamental. David Kahane was forty years old when he was hidden; Kurt Lewin was around seventeen.
There is also Leon Chameides's interesting book about his family; it was published in English in the United States. In it, he writes very effectively about being hidden, but he was a child at the time; he was not even seven years old. And there is a fourth book that has just appeared in the English-speaking world. This is an account by an author writing under the pseudonym of Zwi Barnea. His real name is Herbert Chameides; that is, he is Leon Chameides's brother. This is an incredible, 600-page-long memoir. We are waiting for it to come out in English in the Western world.
The second part is comprised of unpublished documents: a variety of testimonies written by Jews who were rescued by Sheptytsky and the Studites. They are held at the United States Holocaust Memorial Museum in Washington, DC and the archives of Yad Vashem. I also read them.
My book exists because there are many documents, which provide a solid basis.
Vasyl Shandro: Who was Johannes Peters?
Yuriy Skira: Peters was a unique individual, a German who came here, to Lviv, in the early 1930s, when Hitler came to power in Germany. He said that he wanted to become a Studite monk. And he did. Metropolitan Sheptytsky consecrated him as a priest in 1937. In 1939, when the Soviets came, Peters left for Germany, where he began doing great things for the church. In Cracow he became the chargé d'affaires of the Greek Catholic bishopric in Hans Frank's Generalgouvernement. Later, in 1941, he arrived in Lviv after the Soviet army had retreated. He went into business here and founded the Solid Shoe Factory.
In the eyes of the German authorities, he was a businessman who dressed in civilian clothing. But in fact, he was a monk. He simply did not want to betray what he was doing. In 1942 he began rescuing Jews with the Studite monks at this shoe factory.
At one point, there were sixteen people there; later, there were fewer. But in general, many people passed through that factory. He is our "Ukrainian Schindler." Later, in 1942, he was arrested by the Germans, admittedly, not for hiding [Jews] but for other things. In a nutshell, he came out of the concentration camp; he was a priest. He died in 1995, not so long ago. I met many people who had spoken with him, associated with him, who knew him very well.
Vasyl Shandro: What happened next with those people who were in hiding? Were there channels through which they could escape into the conditionally safe — or definitely safe — world? Because obviously, in Europe during this period, it was quite dangerous to remain in any part of it.
Yuriy Skira: During the German occupation, the Greek Catholic Church was quite isolated from the outside world. If the metropolitan needed to transmit letters to Pope Pius XII, various possibilities were sought out; there was no direct communication.
If we are talking about Jews, then there was no possibility of moving them to Switzerland or a more neutral country. This was out of the question at the time. All of them were sitting in their hideouts and waiting to see how things developed. Until 1943 there was a perception the Nazis would win the war.
Vasyl Shandro: In connection with the phenomenon of Righteous Among the Nations and the monks of the Studite Order, the story with Sheptytsky is complicated. As I understand it, these discussions will last long, but it is important, perhaps, that similar research is appearing, which illustrates this story with concrete facts.
Yuriy Skira: If we are talking about the Studite monks and the Righteous Among the Nations, then if I am not mistaken about seven monks are Righteous. They are Lazar Shyian, Teodozii Tsybrivsky, Bishop Nykanor Deineha, Rev. Marko Stekh, Rev. Klymentii Sheptytsky, and Rev. Tymchyna. And the seventh is Mother Superior Yosyfa Viter [Josefa Helena Witer], who was a Studite. Studite nuns also rescued Jews. They rescued women and girls and the Studite monks — men and boys.
Yosyfa Viter was granted the title of Righteous while she was still alive, by the way. All the others were recognized posthumously.
Vasyl Shandro: Is the women's part of the history of male and female monasticism and the Holocaust also inadequately studied?
Yuriy Skira: I would say yes, it is under-researched. And it is twice as difficult to research. There were many girls of approximately seven years of age. Mother Yosyfa made a huge impression on the women who were saved by Studite nuns; she eclipsed all the other nuns. Although she was the head of monasteries, and there were nuns who did this directly, it was an entire system. Unfortunately, there is very little data on this.
I would probably not write a book exclusively about the Studite nuns because it is very difficult.
Vasyl Shandro: To summarize our conversation, what offers us more knowledge about this period, about communication and two religions and two worlds, which in a different set of circumstances could behave completely differently? Today, we, people of the twenty-first century, looking back at this risky behavior, what do we take from this?
Yuriy Skira: During the Second World War and the interwar period, every nation lived in its own world. What the Studite monks did is the prototype of how things should be. We should live in a world of solidarity, where there are no religious and ethnic barriers. Here is a person, and that person must be helped. And when we start seeing the human in each person — that is the message which Sheptytsky offers us. We ourselves must be humans and see the human in other people.
This program is created with the support of Ukrainian Jewish Encounter (UJE), a Canadian charitable non-profit organization.  
Originally appeared in Ukrainian (Hromadske Radio podcast) here.
Translated from the Ukrainian by Marta D. Olynyk.
Edited by Peter Bejger.
Related: Presentation of Yuriy Skira's Book "Beckoned", Lviv, 26 Book Forum, 19 September 2019. (In Ukrainian with English CCs)
NOTE: UJE does not necessarily endorse opinions expressed in articles and other materials published on its website and social media pages. Such materials are posted to promote discussion related to Ukrainian-Jewish interactions and relations. The website and social media pages will be places of information that reflect varied viewpoints.