"In the past 16 years, there have been many challenges but none like the present one": Director of the Antykvar Publishing House
Posted In: Hromadske Radio, Literature, Sponsored Projects, Audio/Visual Media, Culture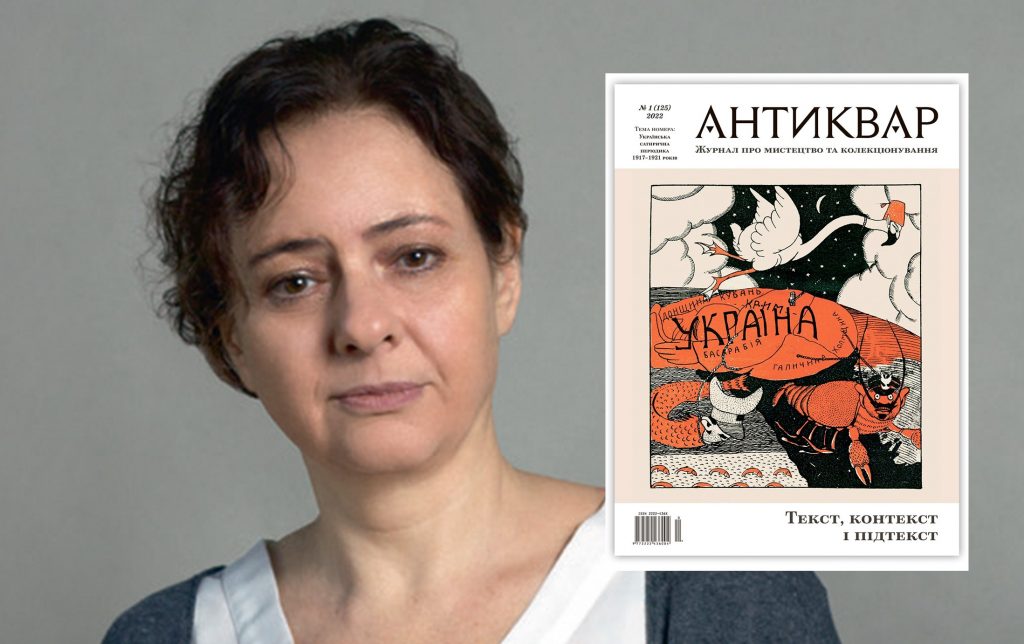 A conversation with Hanna Sherman, editor-in-chief of the Antykvar magazine, director of the Antykvar Publishing House, theater specialist, and lecturer at the Kyiv National I. K. Karpenko-Karyi University of Theatre, Cinema, and Television.
Antykvar [Antiquarian] is a Kyiv-based publishing house that puts out an eponymous magazine devoted to art and collecting and publishes specialized books.
Yelyzaveta Tsarehradska: If we were to bring together all your experience in publishing — and that's sixteen years — what would you single out as the guarantee of the survival of your business, despite everything that has happened these past years?
Hanna Sherman: There have been many challenges during this period, but none like the present one. Challenges appeared with the rise of tensions and tribulations. Our opportunities for us as a team, for me as a female manager, and as a person have truly increased with experience.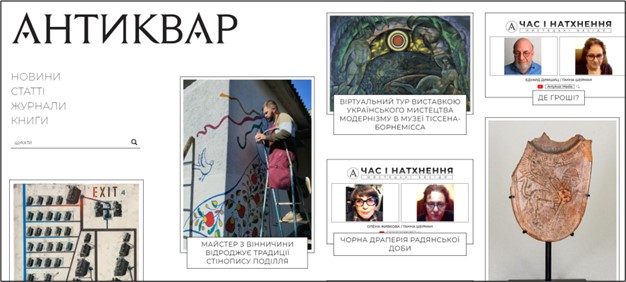 Although this may sound strange, the hard times today for our publishing house, like for the entire country, are not the most difficult. This is due to the experience we have gained and our confidence in our genuine need to do what we are doing.
"Self-perception of the importance of what we are doing in the cultural community has taken place."
Yelyzaveta Tsarehradska: Is there a demand right now for Ukrainian culture? It always existed in survival mode. Today, it seems to have left behind the notion that "it is not really the time for culture and cultural content."   
Hanna Sherman: The relevance of culture and cultural content for the media space is always an urgent topic for me. This is the paradox in which our society, media space, and culture are always positioned. I found myself in the cultural information space in the mid-1980s. That was when I began writing my first articles for Soviet Ukrainian publications, such as the newspapers Moloda Hvardiia and Kultura i zhyttia. This paradox has been preserved in all those years, decades, and global changes. The Ukrainian media space spurns and scorns cultural content as something that brings nothing. This is the biggest shortcoming of the Ukrainian sociopolitical construct. By overcoming this paradox and achieving harmony and constructiveness in the relationship between the media and culture, we will be able to thrive and achieve peace, harmony, and every benefit we are dreaming of today.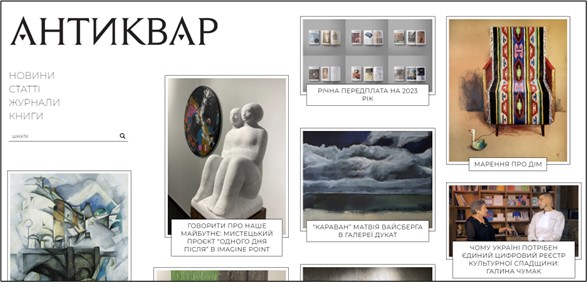 Yelyzaveta Tsarehradska: After the full-scale invasion, do you, perhaps, have a different countdown? It seems that Ukrainian culture, despite constant discussions about whether it is a very limited bubble and "our own for our people," is definitely no longer like that. Do you see this in your work and in Antykvar?
Hanna Sherman: I have been observing this. Nothing really has changed in the structure of the relationship between cultural content and the general informational media space. But cultural figures and the cultural milieu have developed confidence in the importance of and need for what we are doing — as well as confidence in the fact that we have always done everything correctly. And our cultural, artistic, and universal human dimension, as well as our Ukrainian resilience, which has become a global meme, is immense. But people said the whole time that it's a "small bubble" and "uninteresting, uncompetitive, and unrated."
All this shit that was poured into determining why cultural content is not marketable enough to be disseminated by the highest-rated and capable Ukrainian media, in fact, turned out to be untenable. But it continues to exist. There is no cultural news on the Yedyni novyny telemarathon, or it is very limited. The public has yet to develop awareness of the crucial need, importance, and strategic significance of cultural content. But self-perception of the importance of what we are doing in the cultural community has taken place. And that's the main thing. It means that we will break down all other barriers.
"Specialized art periodicals are an instrument that will allow the Ukrainian cultural milieu to unite even more."
Yelyzaveta Tsarehradska: What is your system of values?
Hanna Sherman: From the moment that our magazine and publishing house were founded, the dissemination, popularization, and analysis of the Ukrainian cultural heritage have always been our priorities. This is the definition of our format. We are a magazine dedicated to art and collecting. The dissemination of our cultural heritage and Ukrainocentric view of the world's cultural heritage is our editorial priority.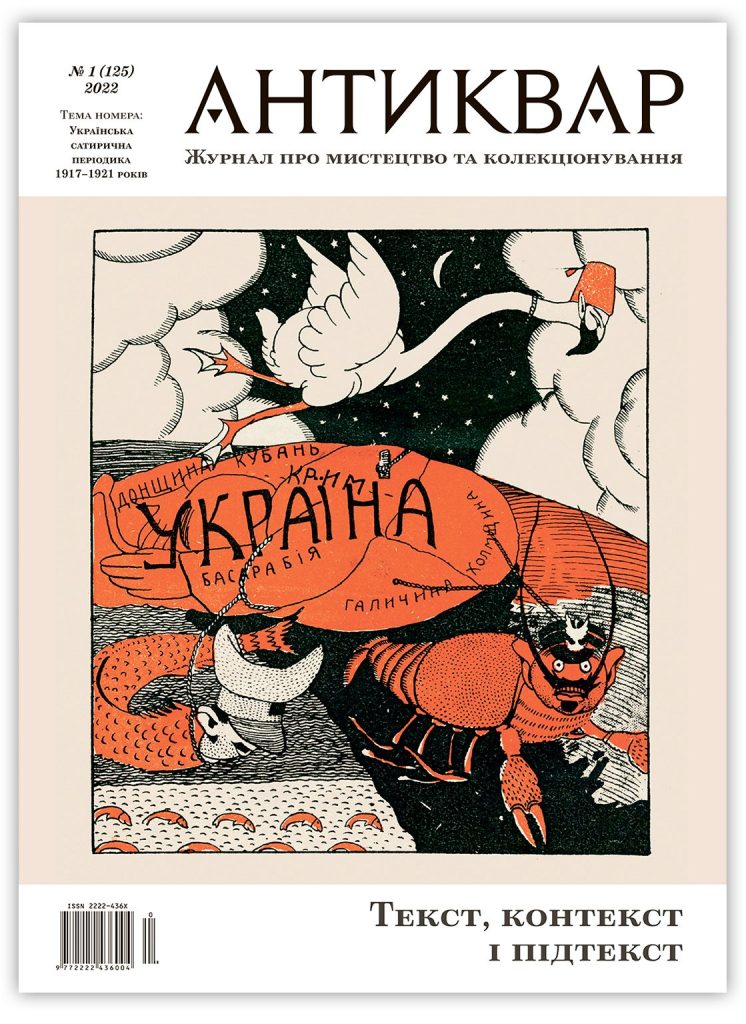 Lately, we have been taking steps to expand our activities. On the eve of Russia's full-scale invasion of Ukraine, our publishing house announced that the publication of two other art periodicals was being resumed: Ukrainskyi teatr (Ukrainian Theater) and Kinokolo (Cinecircle). These are specialized art publications that cover other sectors of culture and art. At the moment, because of all these trials and tribulations, we have not been able to print the first issues of these magazines. However, the run-up to printing them is ongoing. We are typesetting the issues and not abandoning our plans. I am convinced that specialized art periodicals are an instrument that will allow the Ukrainian cultural milieu to unite even more and will strengthen our ability to affect society and the information space.
"It is only recently that I have gratefully recognized the complexity of my personal history and that of my family."
Yelyzaveta Tsarehradska: You are a third-generation Kyivite. Can you tell us how you recall the Kyiv of your childhood and the atmosphere in which you grew up?
Hanna Sherman: The Kyiv of my childhood is cozy, intimate, and limited to my relatives. I was born and raised on Shota Rustaveli Street. Our place was opposite the Kinopanorama Cinema. It was a typical, cozy Kyiv house. We knew all the neighbors and socialized with them. We washed and dried clothes in the yard and went for walks with Granny to the square next to the Sports Palace. Now the Gulliver Shopping Mall stands on the former site of the square. Nothing is left of my childhood recollections in today's reality.
Streetcars used to run along Shota Rustaveli Street. Today they are gone. As soon as the streetcar tracks were removed, a trolleybus ran for some time in the 2000s. When I saw the trolleybus on Shota Rustaveli, I had the impression that a cutter or a steamboat had passed. It was something unnatural. Instead of the synagogue, there was a puppet theater. The Kinopanorama Cinema was operating; it was called Komunar at the time.
Yelyzaveta Tsarehradska: Your maternal grandmother's family fled to Kyiv from Vasylkiv in 1919. How was the history of your family and family values articulated? Do you remember what was talked about, how this history was presented to you? How did it influence you? Does it still affect you today?
Hanna Sherman: It influenced my formation during my childhood and adolescence. I come from a Jewish family in Kyiv. Both my grandmothers spoke Yiddish whenever they didn't want the kids to know what they were saying. Yiddish words were prominent in our everyday life, and there were many people and families with whom we socialized. They, too, used these expressions. They have been dear to me since my childhood.
My grandmother's family fled Vasylkiv in 1919. According to the interpretation at the time, they had fled the Petliura pogroms. In the last while, I have realized that this was a creation of Soviet propaganda, a distortion, and incomplete information that people possessed at the time. We know that these "Petliurite pogroms" were absolutely unconnected to Petliura's name.
The Antykvar magazine does a lot of work on the UNR [Ukrainian People's Republic], the period of the liberation struggles that took place a century ago. It is fascinating for me to study current research on this topic and compare it to the narratives promoted during my Soviet childhood, not just to construct my own history, which is not simple. It is only recently that I have gratefully recognized the complexity of my personal history and that of my family. My entire family — my brother and his family — immigrated to Germany in 1998. The whole time — over twenty years — I have had to defend my position and explain to my family and friends why I stayed here and what I am doing here when all my relatives have left.
I have told everyone that it feels like this is where I belong and that I am doing what I have dreamed of since childhood. That answer is enough for me. Whether it is enough for those who question me is a different story. My children grew up here. At one time, I was certain that my children would go abroad to study, to their grandfather and grandmother, to their cousins. But they have remained in Ukraine. They are fluent in English and have realized themselves professionally. They did not leave the country, which astonished me.
"I never felt any pressure because of my Jewish origins."
Yelyzaveta Tsarehradska: Did you feel pressure in your childhood and youth because of your background? If so, how was it manifested?
Hanna Sherman: Today's atmosphere is radically different from the atmosphere of interethnic communication in which I grew up. I never felt any pressure because of my Jewish origins. If it did exist, it was very indirect.
Some topics that were essentially antisemitic were on the level of jokes, rumors, and sayings that circulated among the public. However, I would not say that I personally was deprived of anything or was unable to achieve something because of my Jewish background.
Of course, there was a time when I was embarrassed to acknowledge my nationality. I remember clearly that during some event at my kindergarten when we had to stand up and state our name and nationality so that the teacher could record them in her documents, I said that I didn't know, even though I did.
Yelyzaveta Tsarehradska: I am grateful for our talk. I am sure that this "I don't know" about us Ukrainians will disappear and that everything that is happening to us ensures that in the future, we will know perfectly well who we are and will respond to this question in a clear-cut manner.
Hanna Sherman: We have learned and continue to learn this daily. The great meaning and majesty of these days which we are experiencing lie in this.
This program is created with the support of Ukrainian Jewish Encounter (UJE), a Canadian charitable non-profit organization. 
Originally appeared in Ukrainian (Hromadske Radio podcast) here.
Translated from the Ukrainian by Marta D. Olynyk.

NOTE: UJE does not necessarily endorse opinions expressed in articles and other materials published on its website and social media pages. Such materials are posted to promote discussion related to Ukrainian-Jewish interactions and relations. The website and social media pages will be places of information that reflect varied viewpoints.