International jury announced for the 2023 'Encounter' prize
Posted In: 'Encounter' Literary Prize, UJE Initiatives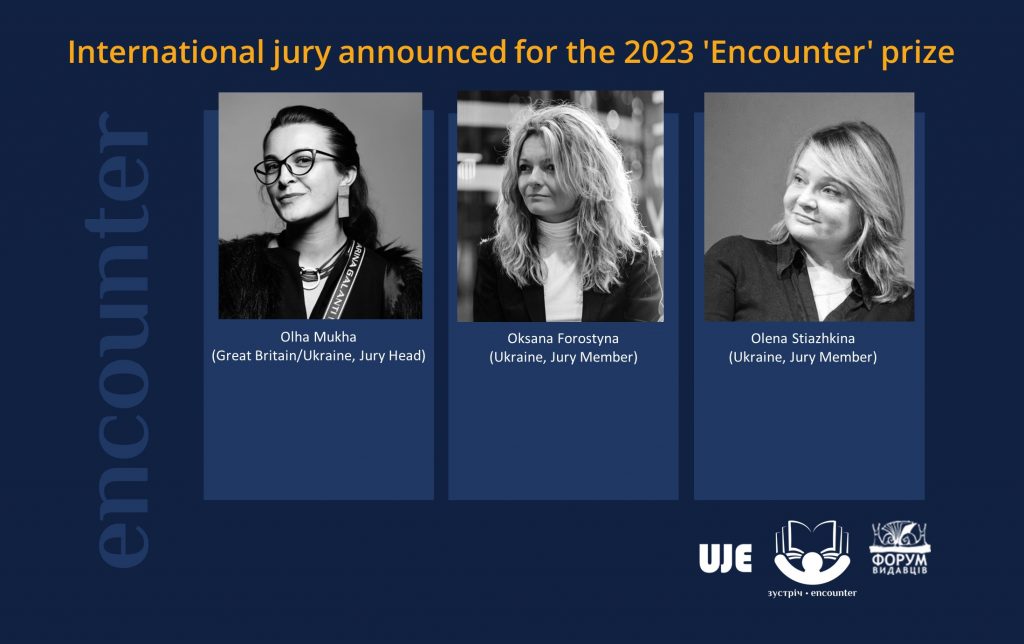 Ukrainians and Jews have lived side-by-side on the territory of modern-day Ukraine for nearly two millennia. Separately and together, they weaved a tapestry that has left an indelible mark on Ukraine's cultural, linguistic, and historical legacy. Long periods of peaceful co-existence were also accompanied by years of tragedy, separating these two peoples through different historical experiences and narratives. Yet as the twenty-first century progresses and as Ukraine and Israel shape their identities as independent states, shared threads remain, giving rise to a new understanding of the past.
In December 2019, the Canadian charitable non-profit organization Ukrainian Jewish Encounter, in cooperation with Ukraine's NGO "Publishers Forum" (Lviv, Ukraine), announced a new initiative entitled "Encounter: The Ukrainian-Jewish Literary Prize ™."
The prize aims to build on the common experiences of Ukrainians and Jews over the centuries, expressed in the written word. The 'Encounter' prize is awarded annually to the most influential work in literature and nonfiction (in alternate years) that fosters Ukrainian-Jewish understanding, helping solidify Ukraine's place as a multi-ethnic society.
The first 'Encounter' prize was awarded in September 2020 in the fiction category (prose, poetry and drama) to Vasyl Makhno for his novel Eternal Calendar (Lviv: The Old Lion Publishing House, 2019). The second year of the award in 2021 was dedicated to the nonfiction category (historical works, biographies, memoirs, journalism, essays), with the winner being Yohanan Petrovsky-Shtern for the Ukrainian-language translation of his groundbreaking work, The Anti-Imperial Choice: The Making of the Ukrainian Jew (Kyiv: Krytyka, 2018).
The 2022 'Encounter' Prize was not awarded in connection with Russia's genocidal war against Ukraine.
In 2023, the 'Encounter' prize returns with judging in the fiction category (prose, poetry and drama). The winner will be named in September 2023 and awarded at the 30 Lviv International BookForum.
The Ukrainian Jewish Encounter and Ukraine's NGO "Publishers Forum" are pleased to announce the 2023 international jury for the 'Encounter' prize in the category of fiction.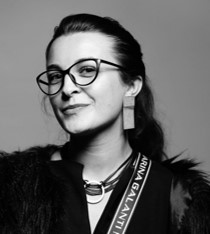 Olha Mukha (Great Britain/Ukraine, Jury Head)
Olha Mukha is an author, philosopher, cultural analyst and manager, and expert on international communications and human rights. Based in London, she holds a Ph.D. in philosophy from the Ivan Franko National University of Lviv.
Mukha has worked for the central office of PEN International in London as Congresses, Committees, and New Centres Manager since 2018, sharing her expertise in artistic, cultural, human rights, and academic projects. She is a member of PEN Ukraine.
Mukha is the host and moderator of the English-language Dialogues on War; author and host of the Ukrainian-language podcast #gentleukrainization. Mukha is Programme Director and co-founder of the Ukrainian Association of Cultural Studies-Lviv; a member of the editorial board of the Religious Essays Journal; and head of the Educational and Informational Department of the "Territory of Terror" Memorial Museum. Mukha is also the former chairwoman of the Lviv City of Literature UNESCO Office, representing Ukrainian literature abroad; and Honorary Ambassador of Lviv (2020-2022). She has curated numerous exhibits and consulted cultural institutions in rebranding and development strategies.
Mukha was an associate professor at Lviv University and the National Pedagogical Drahomanov University in Kyiv, where she taught culture management, legal aspects of the culture market, and philosophical disciplines for over 15 years. In 2007, she defended her dissertation in philosophy on the theme "Category of Human Bodiness in Philosophical and Theological Tradition in the Early West European Middle Ages". Mukha obtained her Master of Law (LLM) degree in 2008.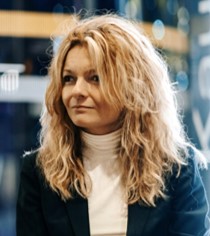 Oksana Forostyna (Ukraine, Jury Member)
Oksana Forostyna is a publisher, editor, author, and translator. She is Europe's Futures Fellow at the Institute for Human Sciences in Vienna (IWM), Opinion Editor at Ukraina Moderna, a Visegrad Insight Fellow, and a contributor to Liberties, The European Review of Books, Krytyka, and Visegrad Insight. She is also an editor of Ukraine! Unmuted, a book of essays on Ukrainian culture penned by several of Ukraine's leading intellectual voices.
Forostyna was named in 2017 as one of the top 100 people in Ukrainian culture by the influential Kyiv-based journal Novoe Vremya; in 2014 she appeared in the inaugural list of New Europe 100, a joint project of Poland's Res Publica, the Visegrad Fund, Google, and the Financial Times that identified outstanding leaders from Central and Eastern Europe.
In her role as publisher, the Ukrainian-language translation of Elon Musk. Tesla, SpaceX, and the Quest for a Fantastic Future by Ashlee Vance won the 'Book of the Year' award in 2016. Her translated books include This Is Not Propaganda: Adventures in the War Against Reality, by Peter Pomerantsev and Jews and Ukrainians: A Millennium of Co-Existence co-authored by Paul Robert Magocsi and Yohanan Petrovsky-Shtern.
Forostyna has served on the board of several institutions, including the Vienna-based Eurozine magazine editorial board (2016-2018), one of the expert boards of the Kyiv-based International Renaissance Foundation, and the supervisory board for the Cultural Strategy Institute, a Lviv-based municipal institution. She is a member of PEN Ukraine.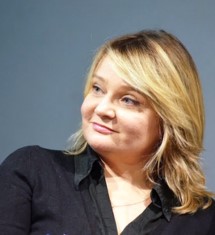 Olena Stiazhkina (Ukraine, Jury Member)
Stiazhkina is a Ukrainian writer, Doctor of Science, Professor of History, Leading Research Fellow at the National Academy of Science's Institute of History of Ukraine, and a member of PEN Ukraine.
Until the Russian occupation of her native city in 2014, Stiazhkina lived in Donetsk, where she taught in the history department at Donetsk National University. After fleeing occupation, she founded the non-profit organization "Deoccupation. Homecoming. Education."
Her recent Ukrainian-language books of prose include The Lion Cecil's Death Was Not in Vain (Lviv: The Old Lion Publishing House, 2021); In God's Language (Kyiv: Dukh i Litera, 2016); and Rozka (Kharkiv: Folio Publishers, 2017). Forthcoming books translated into English include Cecil the Lion Had to Die (Translated by Dominique Hoffman. Boston: Harvard Library of Ukrainian Literature, 2023) and Ukraine, War, Love: A Donetsk Diary (Translated by Anne O. Fisher. Boston: Harvard Library of Ukrainian Literature, 2023).
Stiazhkina's recent Ukrainian-language books in history include A Taste of the Soviet: Food and Eaters in the Art of Life and the Art of Cinema (Kyiv: Dukh i Litera, 2021); Stigma of Occupation: Soviet Women in Self Reflection in the 1940s (Kyiv: Dukh i Litera, 2019); and Minusnyky: Punished by Space (Kyiv: Tempora, 2021), co-authored with Tamara Vronska. The English-language Zero Point Ukraine: Four Essays on World War II was published in 2020 as Volume 10 of Ibidem's Ukrainian Voices series.
She lives and works in Kyiv.