"Israeli Friends of Ukraine": How this organization works
Posted In: Hromadske Radio, Israeli Friends of Ukraine, Sponsored Projects, Audio/Visual Media, Other Programs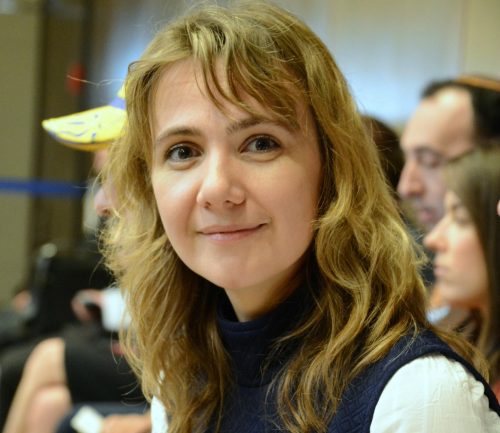 [Editor's note: The non-profit group Israeli Friends of Ukraine and Ukrainian Jewish Encounter recently held a joint conference in Tel Aviv that explored the Ukrainian-Jewish relationship and historical memory. So readers may learn more about the important work of this Israeli organization, we are running an interview with one of its founders, Anna Zharova, that ran on Hromadske Radio's Zustrichi program last year.]
Anna Zharova is one of the initiators of the Israeli Friends of Ukraine, whom we got to know last year. In addition to her civic activities, she is professionally engaged with informal education and organizational development. In her life as a volunteer Anna, together with her like-minded colleagues, organizes care packages for the Anti-Terrorist Operation (ATO) zone, helps provide medical treatment to the people who were wounded on the Maidan as well as Ukrainian soldiers, and organizes fairs, concerts, and other public actions. Anna has come to Kyiv to present a new project, a doctors' exchange program between Ukraine and Israel.
Anna Zharova:  I think that so much has happened this year. We just met in February, I think. Exactly one year has passed. We have grown. We have grown from the point of view of the projects that we are doing. Today we are not just sending humanitarian aid and supporting volunteer organizations here. We are also carrying out various cultural projects and festivals. This year we held two large festivals that were dedicated to Ukrainian culture. Without a doubt, from what we have seen, this is gaining momentum. There is great interest in this. People are coming. Israelis are increasingly interested in Ukraine. Tomorrow there will be a lecture at Moishe House, on Share Israel Square. This is a new project of ours. We started it in January, and this will be our third lecture. The idea is that Israelis come to Ukraine, and they deliver lectures on absolutely diverse topics within their area of expertise.
Iryna Slavinska:  In fact this is a professional exchange, an exchange of information.
Anna Zharova:  Yes. But at the same time we are doing them in the form of open lectures. And anyone who is interested can come and listen. We had a lecture on design between West and East. We had a lecture entitled "A Virtual Tour of Israel," given by Aleksandr Tabak, a well-known guide and photographer. Tomorrow I will be speaking. I will be talking about the world of social entrepreneurship to everyone who may find this interesting.
There was a New Year's project. We were able to visit approximately ninety families whose fathers were killed in the ATO and send New Year's gifts to the children. It can truly be said that literally every day we get ideas about what else we can do. People—volunteers, activists—come, and we examine how various ideas can be implemented.
If we are talking about projects and sharing good news, in February there will be a photography exhibition of Ukrainian and Israeli photographers, which is called "Between War and Peace." This exhibit will feature photographs from the Maidan, the ATO, and from civilian life in both Ukraine and Israel. Unfortunately, at the present time we have many common painful topics, painful points, and the works of Israeli photographers devoted to military operations and civilian life will also be featured. We are expecting Yuri Zhuravel and his works. In general, I can talk without stopping…
Iryna Slavinska:  Yes, there are very many projects, and I would like to talk more about cultural initiatives. That's what interests me most, but I also know that the launch of a very interesting and new project connected with medicine took place recently in Kyiv. As I understand it, this is an offshoot that may be viewed as the result of the start of a program in Israel involving wounded Ukrainians from Instytutska Street and from the ATO zone. Let's talk more about this because this is also a very interesting dimension of the encounter between Ukraine and Israel and the encounter between the medical systems in these countries.
Anna Zharova:  Indeed, this time, during my visit here to Ukraine, we set up the Medical Bridge project. It has existed for six months. During this half-year we were able to host twelve doctors in Israel. We are not the only ones doing this project. Our partners, without whom nothing would have been possible, are the Rotary and ICC clubs. The idea behind this project is that Ukrainian doctors come to Israel for a month-long internship.
Iryna Slavinska:  How do you choose them?
Anna Zharova:  There are a number of criteria. Firstly, all the doctors send us resumes, and we review all these resumes. Above all, what is important to us is that those doctors who come and take up an internship have, one way or another, some kind of experience in the ATO. And these are the people who will be able to offer first aid. These are army doctors, but at last check there were a few civilian physicians. Also, everything depends on what kinds of positions they hold in hospitals. In other words, it is important for us that those doctors who take up an internship in Israel are able, after returning here, to Ukraine, to transmit this experience, be able to teach the people who are around them, and to pass on the achievements of Israeli medicine, so to speak.
At the same time, it is very important for all these doctors to speak English, regardless of the fact that in Israel a very large number of people—and in the clinics as well—speak Russian. All these doctors who completed internships emphasize this, and they are inspired by the fact that you can communicate in Russian. But at the same time, it is nevertheless very important that some consultations and rounds take place in English.
Iryna Slavinska:  This is truly very interesting, because perhaps this criterion, the linguistic one, also allows you to attract junior doctors, who are at the beginning of their careers. And on this note, it is also important to underline the experience around which this exchange is being constructed. If I understand correctly, Israeli doctors can—unfortunately—definitely say a lot more about typical wounds that are sustained in wartime conditions.
Anna Zharova:  Аbsolutely. Indeed, from what we heard from the doctors who completed an internship, [what they need] precisely is experience in treating gunshot wounds, and not just that. Wounds received during wartime are very important. But while the doctors are in Israel, the very large number of operations that they observe, which they attend, are, in any case, planned operations or operations on civilians.
But what I think is significant, one of the more important features of this program, is that the doctors are establishing contacts. In other words, we are building a network of Israeli and Ukrainian doctors. After returning here, they can still ring up their colleagues, communicate via Skype, send film, and consult. And in this respect Israeli physicians are very open. They themselves offer this assistance. They invite the [Ukrainian] doctors to international conferences that are taking place. I think that the creation of this kind of medical community where an exchange of experience takes place is very, very important. And, of course, it is also significant that Israeli doctors are very surprised—in the positive sense of this word—by the training and level of Ukrainian physicians. It is also very important to note both the experience and knowledge with which they arrive from here—it is very significant.
Iryna Slavinska:  Here we can probably mention the building of any medical university in a large Ukrainian city and see how many foreign students there are. That is why in this context I think that such exchanges are a great way, perhaps, to both overcome stereotypes and to perceive another country as a source of important medical knowledge.
I would like to continue our conversation. We have seven minutes left. It is definitely worth talking about cultural projects. We already mentioned them. Let's begin with those two festivals of Ukrainian culture in Israel mentioned earlier. Tell us a bit about them: where they were held, how they took place. The word "festival" is a very big one, and a lot of different things may be hidden in it, of course.
Anna Zharova:  The first festival took place in May. The festival is called "Ethnokhutir" [Ethnofarmstead]. We recruited people to this festival who prepared local foods—not local [i.e., Israeli] cuisine but foods from Ukrainian culture. Everybody worked on a volunteer basis, and a portion of the funds from everything that was sold at this festival were collected later and sent as aid. For the purchase of medicines, for the purchase of some materials for rehabilitation centers here. And various groups performed at this festival. There was a lot of Ukrainian music, varenyky [dumplings], and a lot of things like this. The mood was playful.
We realized that this is interesting, and people had really been anticipating and wanting this. And that's why we already held a second festival in November, in early November, which was called "Ukrainian Style, Vyshyvanka Style." We put on a fashion show. We had models who came dressed in gorgeous embroidered blouses.
Iryna Slavinska:  Did you embroider them yourself or are they some kind of family heirloom? After all, a lot of people of Ukrainian background also live in Israel. Perhaps they are family embroideries from a chest.
Anna Zharova:  I can honestly say that I don't know, but embroidered blouses and shirts are in vogue in Israel today. This is true, it's a trend. People simply put on embroidered clothing, not necessarily for holidays, and for Ukrainian Independence Day, and for the picnic that we organized. You could see this. One's eyes were absolutely delighted by the colors of these embroideries. In other words, people came in their dressy shirts, and there were also many different master embroiderers who displayed their work. And we invited the wonderful band Fraida, which lit up the crowd. They sang songs in the Ukrainian language, unbelievable folk music, such incredible folk music.
The story about us, our organization, and the Fraida group is very revealing. Dima and Alina, activists and volunteers from our organization, came to Kyiv. They were walking along Khreshchatyk Boulevard. They stopped where some guys were playing music on the street. They introduced themselves and exchanged contact info. Afterwards, when we were thinking about what we could do, they said: "Listen, there's a wonderful group. Here are their links on YouTube, let's have a listen." We listened, and the music was truly beautiful. We said: "Okay. Let's bring them to Israel, let's invite them." That's how a lot of things happen. And they performed at the festival, and we received very many positive comments. Again, if we are talking about the number of people who came, I think there were between 350 and 450 people. For us that's a lot.
Iryna Slavinska:  Who are these people? How are they found? Obviously, they are friends and relatives of the volunteer movement Israeli Friends of Ukraine, but certainly not just them.
Anna Zharova:  No, not just them. We work a lot through our Israeli Friends of Ukraine page on Facebook. At the last festival we placed ads on information resources that are well known in Israel. We send out a lot of press releases. Again, as much as we can. We do this in our free time, and we have people who are responsible for this. This is their duty as volunteers. We invite people. We handed out fliers on the street. And it is really very much word of mouth. If people have come one time to our festival or to one of our projects and they liked it, then they continue to follow our activities. They follow the events that we are organizing, and they attend.
Iryna Slavinska:  Do such events help improve the process of acquiring assistance?
Anna Zharova:  Definitely. It is important to say that we would otherwise not be able to realize and create these projects, the cultural ones. Take the exhibit that I talked about. All this is taking place with the support of the non-profit organization Ukrainian Jewish Encounter. It is our partner, our everything. We truly communicate a lot with them, and it is thanks to them that we can implement many interesting new projects this year. [We can implement] these projects because we have some support. First of all, they truly help to gather and spark the interest of a large number of people. Israelis who don't speak Russian came to the last festival, but despite that they came and observed. They liked [what they saw]. An Israeli radio station even came to us. It offered to put out a broadcast and tell people a bit more about the festival. We see that with small steps, tiny-tiny steps, we are reaching the Hebrew-speaking street to some degree—not just the Russian-speaking Israeli one, but the Hebrew-speaking one, and this topic is interesting. Today one hundred percent of the people in Israel can say what is Russia and what is Ukraine. In other words, this was not self-evident earlier.
Iryna Slavinska:  This is a brilliant result, and I am truly enchanted by how much has changed in a year. This is Iryna Slavinska, and you have been listening to the Encounters program on Hromadske Radio. My guest was Anna Zharova, one of the founders and organizers of Israeli Friends of Ukraine.
This program was made possible by the Canadian non-profit organization Ukrainian Jewish Encounter.
Originally appeared in Ukrainian (Hromadske Radio podcast) here.
Translated from the Ukrainian and the Russian by Marta D. Olynyk.
Edited by Peter Bejger.