The "Israeli Friends of Ukraine"
Posted In: Sponsored Projects, Other Programs, Israeli Friends of Ukraine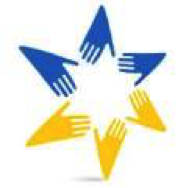 The non-profit organization "Israeli Friends of Ukraine" (IFU) is dedicated to strengthening the relationship between Israel and Ukraine and between Ukrainians and Jews by developing an effective cultural dialog and promoting efforts to raise the awareness of Israelis about the current situation in Ukraine.
The core mission of the IFU is to support the people of Ukraine in this challenging period. The flagship activities of the organization are focused on deepening the sense of national identity, developing Jewish-Ukrainian ties, as well as cooperating with the Jewish and Ukrainian Diasporas worldwide.
Anna Zharova, the head of IFU, notes, "The contribution of the Ukrainian Jewish Encounter philanthropic organization is vital to maintaining and expanding our present and future projects. Your generous support enables "Israeli Friends of Ukraine" to cultivate and nurture an interest in Ukrainian culture and history in Israel and to strengthen relations between the Ukrainian and Jewish communities by providing a diversified series of events for youth and adults. Such opportunities to engage an Israeli audience to the cultural and social realities of Ukrainian life are very important and help us introduce a new vision of collaboration between Israel and Ukraine."
One of the main projects of the IFU is the "Ethno Village" cultural heritage festival.
The festival was designed to increase Israeli awareness of Ukrainian heritage and promote interest in Ukrainian culture and history among both Ukrainians and Israelis. Festival events introduced such cultural elements as ethnic art, music, dance, and cuisine to provide varied experiences. Festival guests have an opportunity to participate in different workshops such as embroidery and wreath weaving. Performances by musical bands, representing different styles such as rock, folklore, and blues, offer a variety of entertainment. One of the most important aspects of the performances is its multicultural and multilingual orientation, giving an opportunity to the broadest range of people to be involved in and enjoy the process. Another bonus is the Ukrainian cuisine prepared by volunteers, who offer guests a wide choice of different and original national dishes.
Another event includes the photo exhibition Between War and Peace. Israel - Ukraine dedicated to the thin and fragile line separating peace from the atrocities of war. Both Israeli children and refugees from the Ukrainian counter-terror operation zone share their experiences in the exhibition. It is striking that both groups fall flat on the ground and put their hands on their heads to the sudden sounds of festive fireworks. This is our common world, and our common reality.
The number of similarities between modern Israel and Ukraine is striking. Both are fighting for their land, defending their independence, resisting an enemy, and craving for peace. Nowadays, Ukraine is being frequently compared with Israel. We can see how the history of our young state inspires the Ukrainians.
We are observing a powerful volunteer movement in Israel helping the Ukrainian wounded, orphans, and refugees from the war zone in Donbas. That is what we call "public diplomacy," a diplomacy based purely on mutual understanding, and one which proves to work much quicker and more efficiently than conventional politics. For this reason, we consider it important to introduce a collection of works by Israeli and Ukrainian photographers to the Ukrainian community.
Additional IFU projects include: seminars, conferences, and meet-ups with Ukrainian volunteers and public personalities; cultural activities, including art meetings, photo exhibitions and film screenings; and vital medical and humanitarian aid for Ukrainians, for example the "Medical Bridge."
A landmark event for 2016 includes Remembrance and the Holocaust, with a Ukrainian-Israeli dialogue specifically about the 75th anniversary commemorations of Babyn Yar.
The IFU enjoys a productive partnership with the Embassy of Ukraine in the State of Israel and a number of other local organizations. Through our various collaborations the IFU works diligently to strengthen and expand ties between the Israeli and Ukrainian people.
Shimon Briman, Journalist, UJE Liaison in Israel