"Israel's Experience of Nation-Building: Lessons for Ukraine"
Posted In: UJE Initiatives, Israel's Experience of Nation-Building: Lessons for Ukraine, Symposia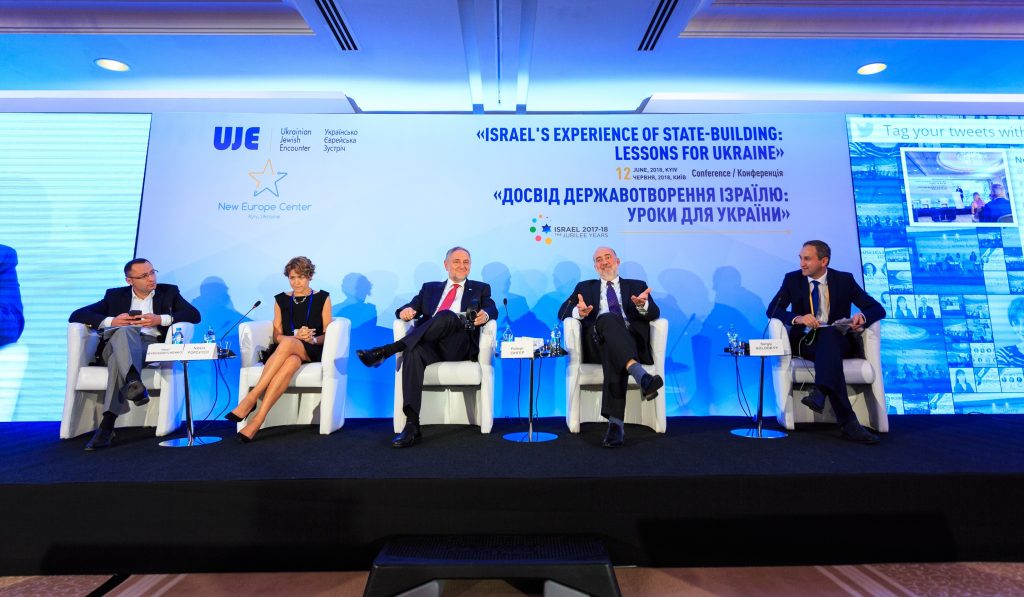 The Ukrainian Jewish Encounter and the New Europe Center held the "Israel's Experience of Nation-Building: Lessons for Ukraine" conference on June 12, 2018 at the Kyiv Hyatt Hotel in Ukraine.  The purpose of the conference was to share the Israeli experience in the various levels of nation-building with Ukrainian civil servants and civil society.
The plenary session was attended by Ivanna Klympush-Tsintsadze, Vice Prime Minister for European and Euro-Atlantic Integration of Ukraine; Eli Belotserkovsky, Ambassador of Israel to Ukraine; Daniel Meridor, President of the Israel Council on Foreign Relations, Deputy Prime Minister of Israel (2009-2013); and Georgii Logvynskyi, Member of Ukrainian Parliament and co-chair of the Ukraine-Israeli interparliamentary cooperation group.
Among the Israeli participants were Ron Prosor, Representative of the State of Israel to the United Nations (2011-2015); Robert Singer, Executive Vice-President of the World Jewish Congress; Dan Mariashin, Executive Vice President of the Jewish human rights organization B'nai Brith International; Rabbi Michael Melchior, former Minister for Diaspora and Social Policy and Deputy Foreign Minister of Israel; Dan Meridor, President of the Israeli Foreign Affairs Council, Minister of Justice (1988-1992) and Vice Prime Minister (2009-2013) of Israel; Major General Yaakov Amidror, Chairman of the National Security Council of Israel (2011-2013); Einat Wilf, public intellectual, Member of the Knesset (2011-2013); Paul Grod, President of the Ukrainian Canadian Congress; and Andrew Srulevitch, Director of European Affairs of the Anti-Defamation League.
Discussion topics included national security and human rights, language and education policies, countering misinformation and promoting the state's image abroad, Israel's experience in defense, innovation, and interaction with the diaspora.
Below is a photo gallery from the conference.