Kontakt TV: Oksana Lyniv Conducts the Babyn Yar Commemorative Concert
Posted In: UJE Initiatives, Sponsored Projects, Babyn Yar Commemoration (1941-2016), Kontakt TV, Audio/Visual Media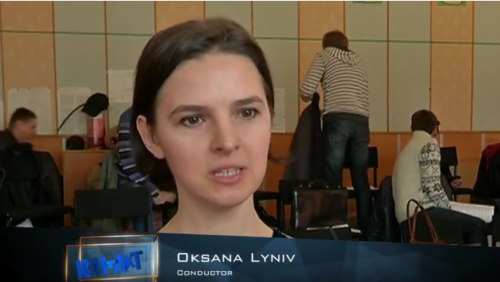 Oksana Lyniv is a graduate of the Lviv Conservatory and in 2002 was the winner of the Gustav Mahler International Conductor's Competition in Germany. She was invited to work in Germany and later was at the Odessa Opera before returning to Germany to assist Kyrylo Petrenko at the Bavarian National Opera in Munich.
She has become a conductor in her own right, working a very full schedule where she has conducted over fifteen different opera productions reflecting all musical periods. She has received two awards from the Munich Opera Festival and her international career is in full bloom. Lyniv considers her work conducting the concert to commemorate the seventy-fifth anniversary of the Babyn Yar tragedy a major moral responsibility.
She believes it is essential to contemplate the significance of the values that humanity lives by, for without culture and spirituality a person loses one's human face and becomes part of a terrible mass that is capable of murder.
The concert featured very powerful and complex musical works that required very special preparation. The concert staging was not static as the singers memorized the works so they could easily move around the stage to create visual images.
Despite her many commitments, Lyniv maintains close ties to Ukraine. It is a matter of creative principle as she sees Ukraine having the most interesting composers and compositions; from a historical and social point of view the country was always in the shadows. Therefore she is glad to have the opportunity to help represent Ukraine's musical heritage to a wider world audience.