Kontakt TV: The Seventy-Fifth Anniversary of Babyn Yar Commemorative Concert in Kyiv
Posted In: UJE Initiatives, Babyn Yar Commemoration (1941-2016), Sponsored Projects, Kontakt TV, Audio/Visual Media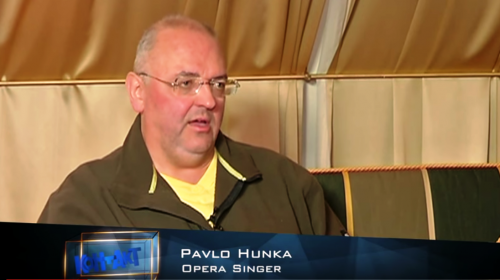 The internationally renowned opera singer Pavlo Hunka developed the concept for the concert held at the National Opera of Ukraine in Kyiv on 29 September 2016.  The concert started with a prayer and then progressed "from autumn to spring" with two requiems. The Babyn Yar Requiem by the eminent Ukrainian composer Yevhen Stankovych features excellent music and presents the facts about Babyn Yar.
A German Requiem by Brahms was chosen because it is a wholly spiritual (but not religious) work that elevates the spirit and promises the deliverance of a better future.  Hunka believes this strong concert program is a landmark event for Ukrainians as it fosters a mature recognition of the tragedy. Furthermore, the program enlisted global musical talents—including the Dutch stage director Annechien Koerselman, a specialist in minimalist staged concert programs; the Principal Guest Conductor of the Bavarian State Opera in Munich Oksana Lyniv; and the Hamburg Symphony Orchestra.
The Ukrainian performers included the National Choir of Ukraine Dumka, which was augmented by additional young singers from the Kyiv Conservatory.