Kurelek's Paintings for the Book Jewish Life in Canada Described in Kurelek's Words
Posted In: Culture, Visual Arts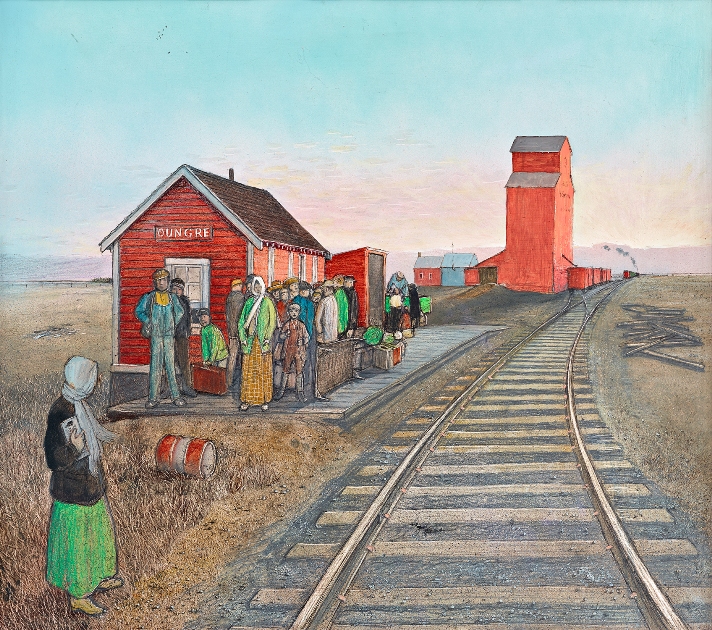 1. Jewish Immigrants Arriving on the Prairies
"Canadian immigration policy gave British and North Europeans prime preference and gave central and eastern Europeans, which included Jews, second class preference. Often, Jews didn't get even secondary treatment.
"When Jews immigrated as farmers they gave farming a try. If it didn't work they were prepared to do something else – peddling, tailoring or various other trades and crafts. Jews usually came with a more varied occupational and cultural background than immigrants from other ethnic groups that were mostly peasant stock….
"In this painting the group on the station platform are heading for the established Jewish farm colony of Sonnenfeld, Saskatchewan (c. 1920). They are somewhat dazed by the emptiness of the new land as they wait for a colony family to come and fetch them by horse wagon. I have put the lady in front … to bring her closer to gallery visitors who would then see the shifskart ("ship ticket") she is clinging to. This was like a passport to freedom and economic opportunity for each new Jewish immigrant in Canada, after the persecution and feeling of being unwanted in Europe….
"I need no proof of Jewish ability to make a living off the land, for I have personally seen the amazing progress the Israelis have made on the kibbutzim and in other projects in greening the deserts in Israel."
William Kurelek & Abraham Arnold, Jewish Life in Canada, (Hurtig Publishers, Edmonton 1976), p. 8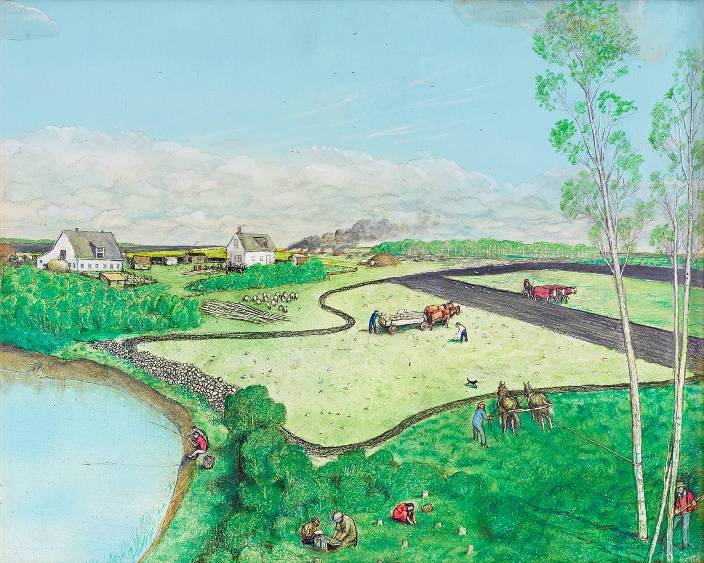 2. Pioneering at Edenbridge, Saskatchewan
"Edenbridge, founded in 1906, was one of several successful Jewish farm colonies in Canada. A group of about twenty Jewish immigrants … rejected the idea of settling on lands near the established Jewish farm colonies at Hirsch and Lipton because these areas had very few trees…. It took years of back-breaking toil and seemingly endless troubles to turn the vision into a reality.
"When the settlement was granted a post office the farmers discussed a possible name for it…. [They] wanted to call it 'Jewish Bridge' … [but] made a quick and unanimous decision that the name … should be 'Edenbridge' … because Yidden in the Yiddish language means Jews.
"The Edenbridge synagogue was built in 1908 and served as a house of worship until 1964. Edenbridge also had a community hall and two public schools …[as well as] a dramatic society and a Jewish newspaper…
"I have tried to incorporate twenty-five years of development into this one picture…. Near the farm house are two small buildings which we wouldn't find at a gentile neighbour's farm, the mikvah, a ritual bathhouse used by Orthodox Jewish women … and the sukkah, a temporary building used during the Sukkot thanksgiving festival in the fall of the year as a reminder of the temporary dwellings used by the ancient Israelites during their forty years of wandering in the Sinai wilderness."
William Kurelek & Abraham Arnold, Jewish Life in Canada, (Hurtig Publishers, Edmonton 1976), p. 10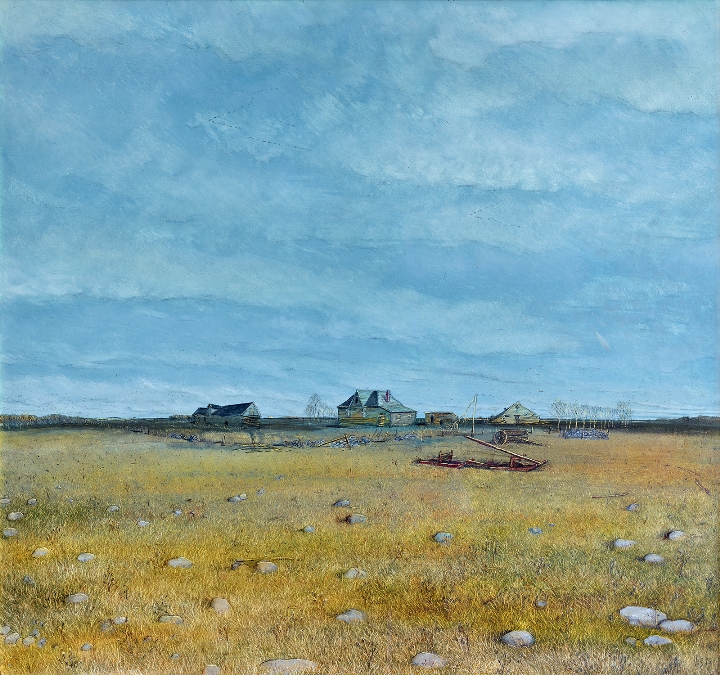 3. Bender Hamlet, the Farming Colony that Failed
"Some Jews tried farming at Montefiore in Alberta and Camper, Pine Ridge and Bender Hamlet in Manitoba, for ten, fifteen or even twenty years but then they gave up and drifted into Winnipeg and other cities.
"Bender Hamlet, the first Jewish colony in Manitoba was started in 1903 in the Interlake district seventy miles northeast of Winnipeg. The settlers soon found that much of the land was stony and short of water.… Those who stuck it out the longest left the area with many memories, both happy and sad ones.
"It is these memories that I have fitted into the panel of the frame as black pen and ink drawings…. I snipped the pages [of the diary of the great-aunt of Abe Schwartz] into convenient pieces and incorporated them in the frame as well. I want to convey the idea that these memories are like voices in the wind as it sighs through the thistles of the overgrown fields and through the chinks of abandoned buildings."
William Kurelek & Abraham Arnold, Jewish Life in Canada, (Hurtig Publishers, Edmonton 1976), p. 12
4. Jewish Scrap Collector Questioned by a Toronto Policeman
"This picture of a Toronto street and a Jewish peddler wagon is a composite of memories gathered during my one year of art school in Toronto back in 1949-1950, and from three scenes from Jewish archives photos …
"To a struggling Jewish immigrant it appeared a step up the economic ladder to have accumulated enough money to purchase a horse and cart for peddling or collecting and selling scrap. Many such new entrepreneurs spoke broken English and were regarded with suspicion … I've even heard cases of mothers who used to frighten their children into obedience by threatening to give them away to the scrap man. These men used to come out to our farm in Manitoba to buy cowhides and rabbit skis to sell in Winnipeg. In this picture perhaps he is being questioned about possession of a peddler's licence."
William Kurelek & Abraham Arnold, Jewish Life in Canada, (Hurtig Publishers, Edmonton 1976), p. 14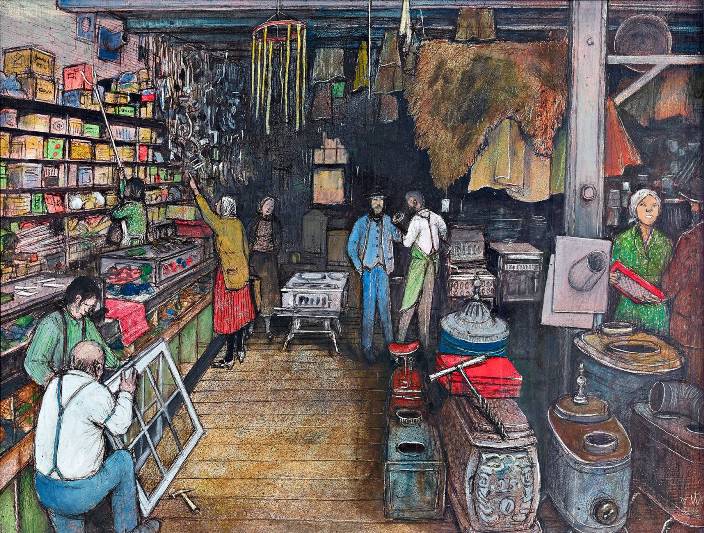 5. General Store in Vancouver Before World War One
"Just as the Chinese in Canada are often thought of as laundry men and restaurateurs, the Jews have usually been regarded as traders…. Today there are few small Jewish stores left if for no other reason than that they, like other small entrepreneurs, have been forced out of business by big chain stores and supermarkets.
"Many Jews pioneered in the commercial development of the West. In towns and villages throughout the prairies the first store was often opened by a Jewish merchant. It was invariably a general store and became an important community institution on the decades hen communication was still fairly primitive. Many general store operators came to play a role in the community sometimes more important than their function as merchants. The Jewish general store proprietor could usually speak several languages of the old country. He therefore served his customers not only with needed merchandise, but as a translator in dealing with the government, as a postmaster, and generally as a centre for the exchange of community news and information."
William Kurelek & Abraham Arnold, Jewish Life in Canada, (Hurtig Publishers, Edmonton 1976), p. 16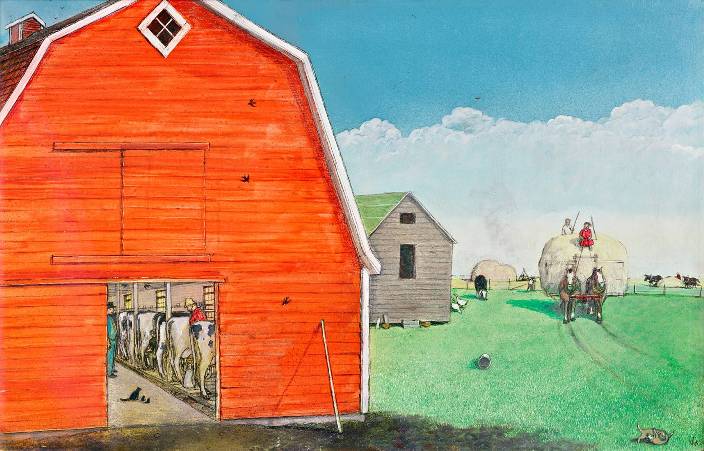 6. Jewish Dairy Farm Outside Winnipeg
"In the Stonewall district north of Winnipeg there is a marginal, partly boggy, farming area more suited to dairying than to grain farming. People from all nationalities settled in it – my father was one – and at least a dozen of the dairymen were Jews. Two that we knew were Goodman Glow and Farmer Steele. (Mr. Steele's daughter, Mira, married Sidney Spivak, the former leader of the Conservative opposition in the Manitoba legislature…."
William Kurelek & Abraham Arnold, Jewish Life in Canada, (Hurtig Publishers, Edmonton 1976), p. 18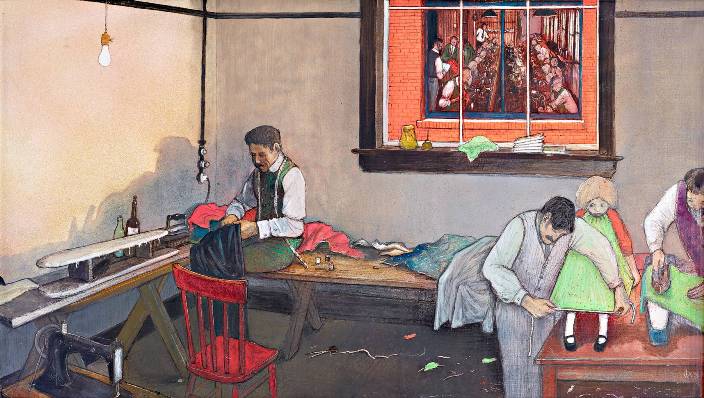 7. Jews in the Clothing Business in Winnipeg
"Many of the Jews settling in Winnipeg's north end were from Poland, Russia and Ukraine where, partly as a result of czarist laws that forbade them to own land, they often went into trades and became tailors, blacksmiths, merchants and tavern keepers. When Jewish tailors left eastern Europe to settle here it was quite natural for them to move to the booming garment centers of Montreal, Toronto and Winnipeg where they worked in, or sometimes were founders of, both manufacturing and retail garment businesses. It might have been a one man tailor shop, or a father-son partnership, or a somewhat larger business, as in this picture. Often a small outfit, following the lead of supply and demand, might develop into what is called a "sweat shop" garment factory such as one seen through the window in this painting."
William Kurelek & Abraham Arnold, Jewish Life in Canada, (Hurtig Publishers, Edmonton 1976), p. 20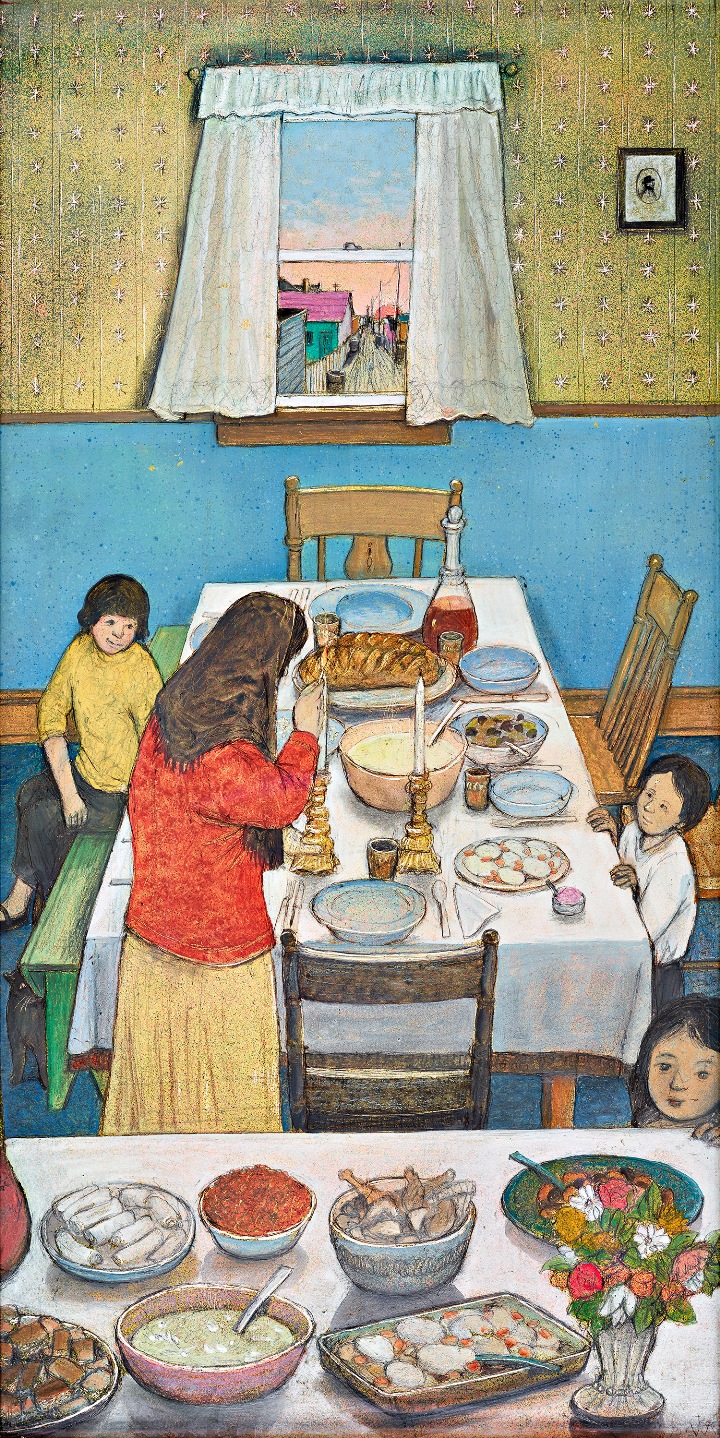 8. Baker's Family Celebrating the Sabbath in Edmonton
"I once worked in Edmonton as a construction worker where I put in sidewalk curbs, so I got acquainted with such western back lanes as the one seen in the light of the setting sun through the window in this painting. A Jewish Sabbath begins at sundown, just as is recorded in Genesis. Father is away at the pre-Sabbath synagogue services, but mother has to have the meal ready …
"Since the father is a baker, the ceremonial bread (challah) will be the best. On the table and the sideboard, which holds the extras, are seen the main dishes: gefilte fish, which are cold fish patties with sliced carrots, served with grated horseradish and beets as Ukrainians make them; chicken soup; boiled chicken; sea shell [shaped] noodles with buckwheat kasha; knishes, which are like Ukrainian perogy, stuffed with potato; and red wine."
William Kurelek & Abraham Arnold, Jewish Life in Canada, (Hurtig Publishers, Edmonton 1976), p. 22
---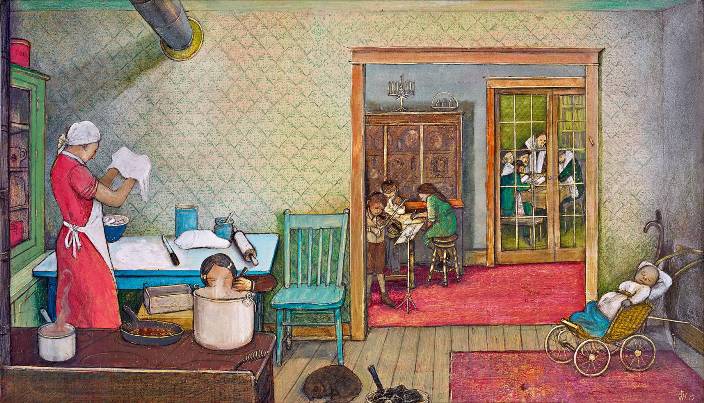 9. Jewish Home Life in Montreal
"This picture depicts a scene from the early twenties. In the foreground the housewife is busy … She is preparing blintzes, a pancake rolled with cheese or blueberry stuffing; or she may be making knishes, stuffed with meat or potato; or strudel, a delicious pastry.
"Past this scene one can see children at various studies. Jews have always been aware of the power of education and encourage their children to shine. They encourage development in the arts, too, as can be seen by the young lad struggling to master the violin. On the dresser cupboard there are ceremonial religious objects … In the study, beyond the children at work, a Torah study group in prayer shawls pores over a sacred text."
William Kurelek & Abraham Arnold, Jewish Life in Canada, (Hurtig Publishers, Edmonton 1976), p. 26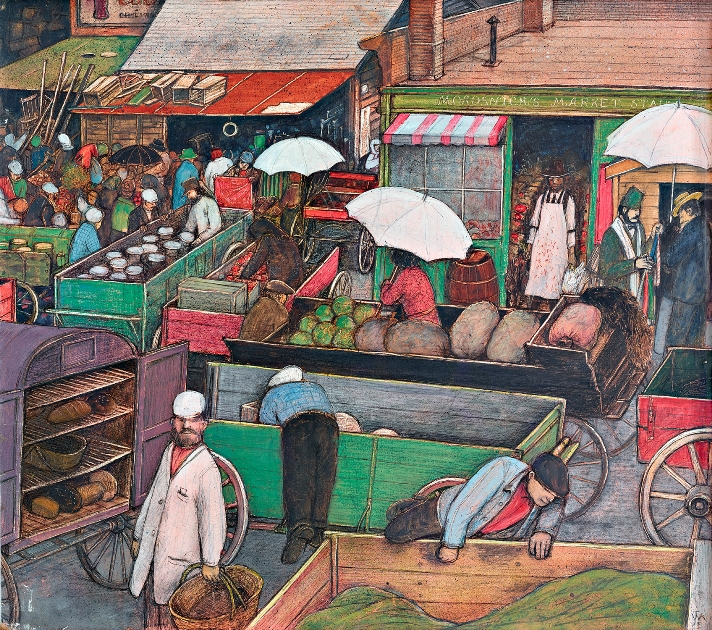 10. Morosnick's Market, Dufferin Street, Winnipeg
Many Jews had a tendency, probably picked up from their European backgrounds, of either originating or involving themselves energetically in indoor-outdoor market areas in big cities. Kensington Market in Toronto is a good example; at one time it was even called Jewish Market. Now Jews have migrated north to the Bathurst and Lawrence areas and their places have been filled by Portuguese, Hungarian and Chinese shopkeepers.
I've already painted Kensington Market; so for a change, here I've painted the old Winnipeg Dufferin Street market, where in the twenties Jewish vegetable peddlers did a lot of trading. However, I've included three stock Jewish market characters from the photos of Toronto markets at the turn of the century: a shochet ("ritual slaughterer"), the one in the white apron carrying out a bunch of chickens; the necktie peddler and the bakery delivery man….
In these markets one would often see the Chasidic Jew, who looked like a direct transfer from nineteenth century Poland with his long beard and black hat and sideburn locks."
William Kurelek & Abraham Arnold, Jewish Life in Canada, (Hurtig Publishers, Edmonton 1976), p. 30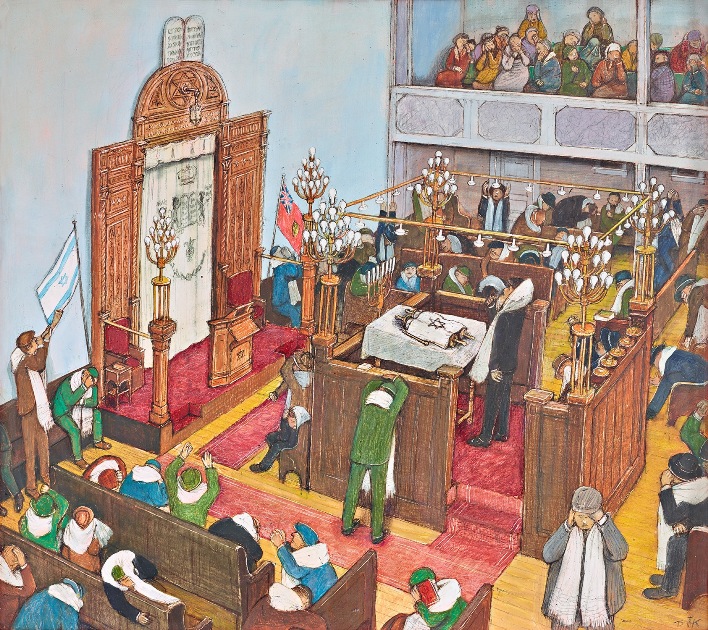 11. Yom Kippur in the Synagogue
"Yom Kippur … the last of the Ten Days of Penitence which begin with Rosh Hashana … is marked by twenty-four hours of prayer and fasting…. All the prayers of Yom Kippur cannot absolve a man from sins against his neighbour, only a forgiving neighbour can do so…. It is the period when Jews sit in judgment over themselves, comparing their personal conduct during the past year with the hopes and resolutions they had cherished. The most important symbol of Rosh Hashana and Yom Kippur observances is the shofar, or ram's horn, which is sounded during worship … It [the shofar] calls upon the faithful to repent for their misdeeds of the past year.
"The synagogue interior used for this painting is the Kiever Synagogue in downtown Toronto…. In the one Sabbath service I attended I noticed Jews are more relaxed than Christians in their house of worship, sometimes walking around or turning to talk to their neighbours as the mood strikes them."
William Kurelek & Abraham Arnold, Jewish Life in Canada, (Hurtig Publishers, Edmonton 1976), p. 32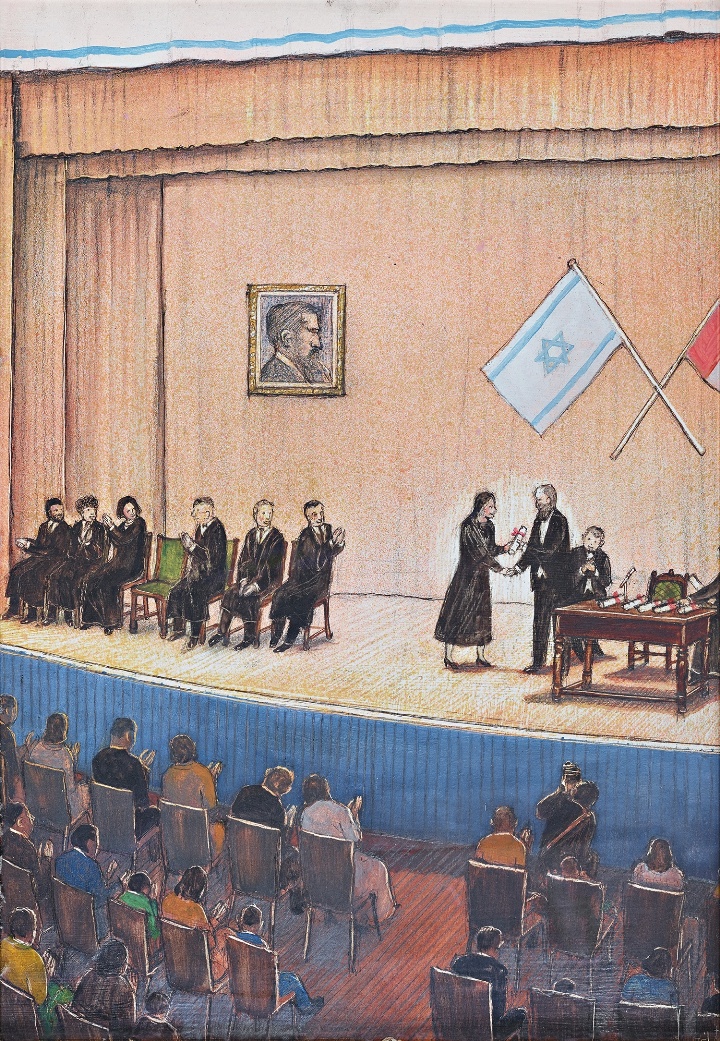 12. A Zionist Society in Montreal Honouring its University Grads
"Jews have always been keen on higher learning and either push or encourage their children to go as far as possible. Fredelle Maynard describes this motivation well in Raisins and Almonds. I have witnessed it myself, in high school and university in Winnipeg and Israel when I visited a professor at the University of Jerusalem and his family.
"To plan this painting I called upon my recollection of a Ukrainian community celebration in Montreal to honour the community's high school graduates. I also used a photograph of Jewish scholars that belonged to a Zionist fraternity on a Montreal campus as they posed in their graduation gowns….
"… when they [Jews] discovered that emancipation had not rooted out the evil of antisemitism, many became disillusioned and gathered around a young Viennese journalist, Doctor Theodor Herzl, who is considered the father of Zionism…. Although its followers were united in general purpose, they differed in their specific interests. Some felt that Palestine was a refuge for the oppressed; others hoped that it would bring about a rebirth of Jewish culture and the Hebrew language. Religious Jews believed that in a homeland of their own they could adhere to the rituals of their faith more fully; still others saw in Zionism a safeguard against assimilation."
William Kurelek & Abraham Arnold, Jewish Life in Canada, (Hurtig Publishers, Edmonton 1976), p. 34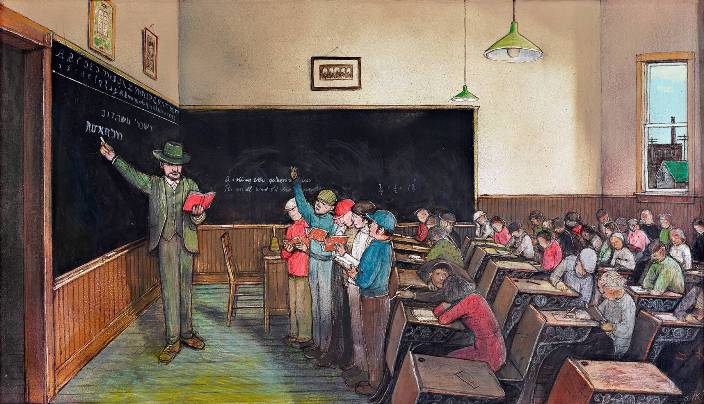 13. Jewish Separate School in Winnipeg
"The painting is based on a photograph taken in 1922 of the Talmud Torah School in Winnipeg and on my experience of our one-room schoolhouse in Manitoba.
"Besides the philosophical difference between a Jewish and a gentile school, there are a few obvious external differences. For example, in most Jewish schools, the teacher, if a man, and each boy wear a skull cap (yarmulkah) … There are Jewish charts and mottos on the walls and Hebrew script is in evidence.…"
William Kurelek & Abraham Arnold, Jewish Life in Canada, (Hurtig Publishers, Edmonton 1976), p. 36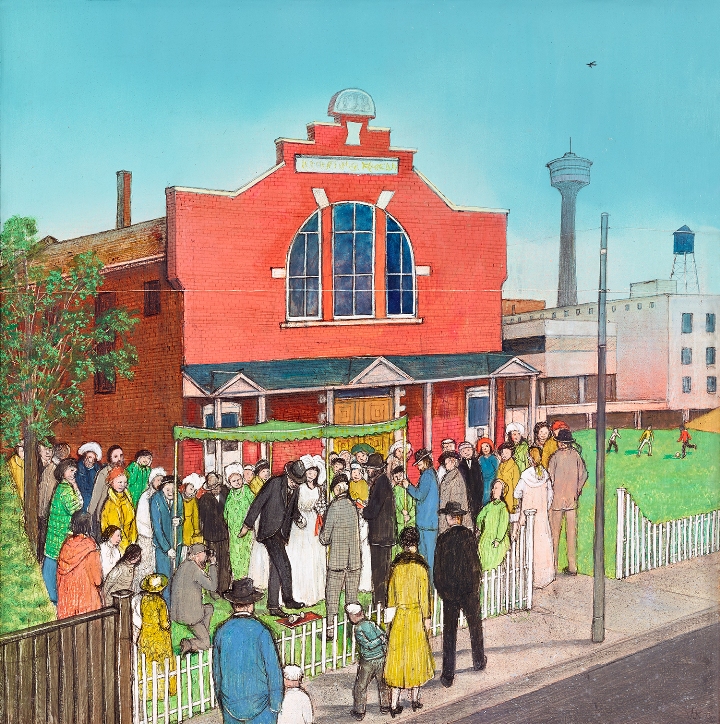 14. Jewish Wedding in Calgary
"The building in the background is the old downtown synagogue. It no longer exists, having been demolished in an urban renewal program. The photograph from which I painted caught my eye because in the background skyline one sees the famed Husky Tower; a revealing juxtaposition of the old and the new. I used artist's license in painting green grass around the synagogue. Wherever and whenever possible a Jewish wedding was preferably performed outdoors so that the only thing between the wedding couple and the open sky would be the canopy called the chuppah."
William Kurelek & Abraham Arnold, Jewish Life in Canada, (Hurtig Publishers, Edmonton 1976), p. 38