Liliana Hentosh: The national concept of history does not exist because there was no history
Posted In: UJE Initiatives, 'Encounter' Literary Prize, Culture, Diverse Voices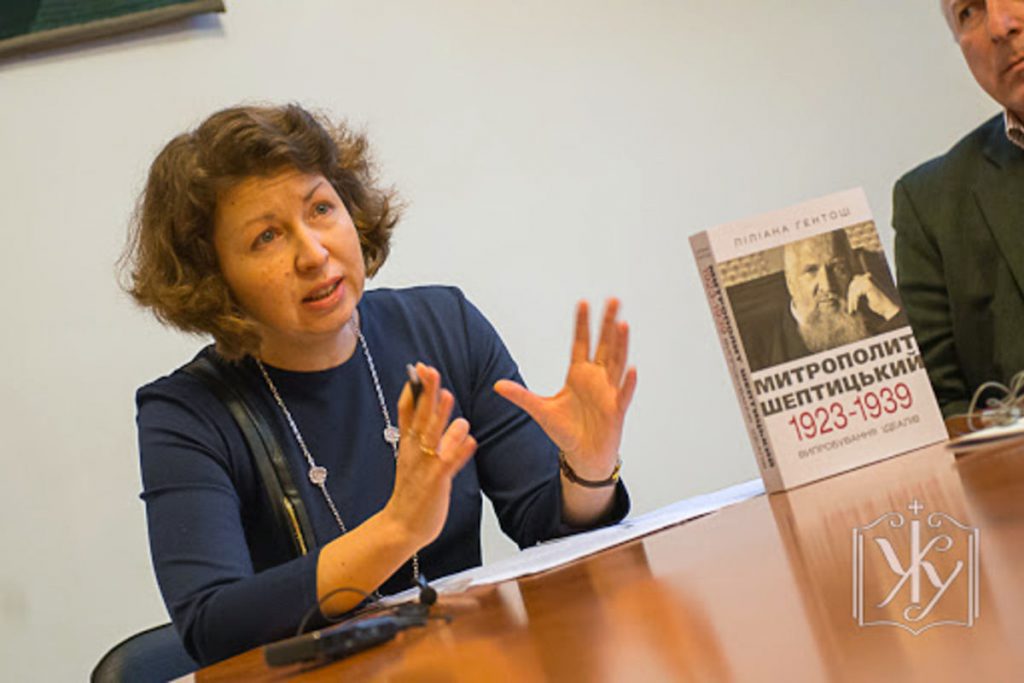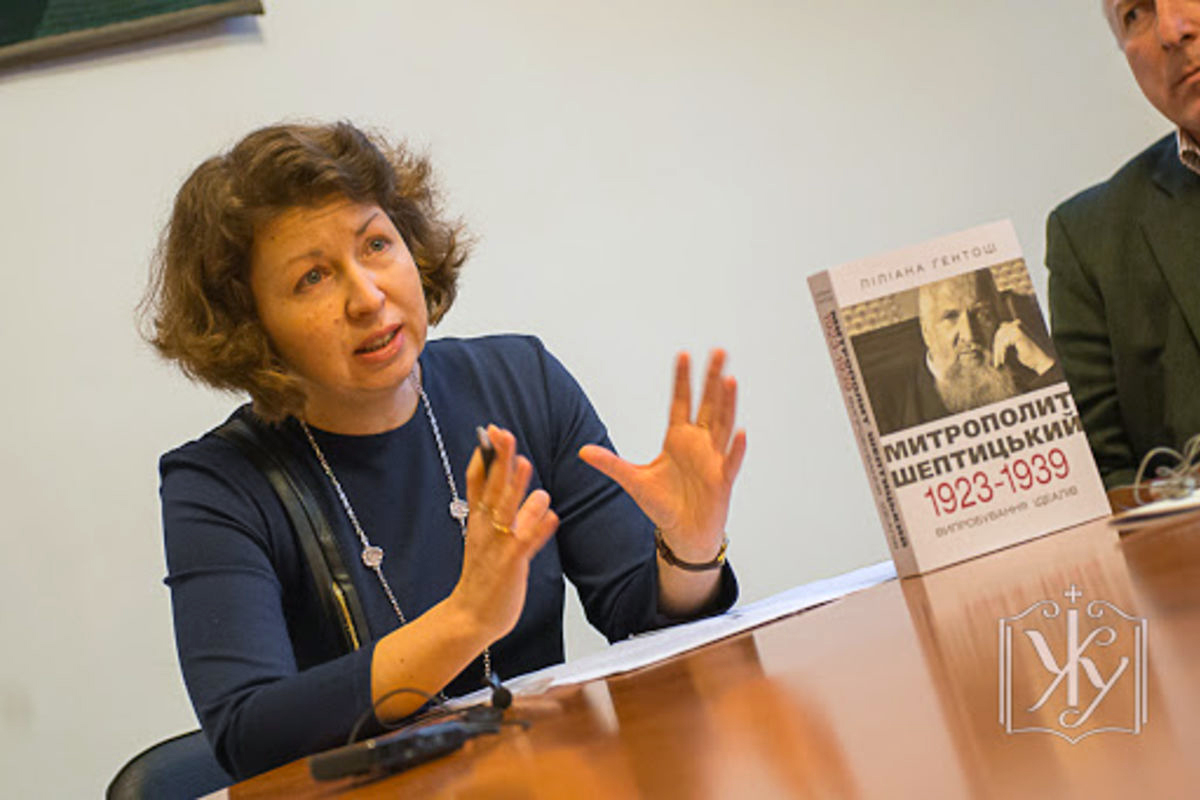 [Editor's note: "Encounter: The Ukrainian-Jewish Literary Prize" ™ was inaugurated in 2020 with the goal of building on the common experiences of Ukrainians and Jews over the centuries, expressed in the written word. The prize is awarded annually to the most influential work in literature and nonfiction (in alternate years) that fosters Ukrainian-Jewish understanding, and helps to solidify Ukraine's place as a multi-ethnic society. This year's category was in nonfiction. The Ukrainian-language translation of The Anti-Imperial Choice: The Making of the Ukrainian Jew by Yohanan Petrovsky-Shtern was named winner of the 2021 "Encounter" prize on 15 September 2021 at the opening ceremony of the 28th Lviv International BookForum.

The "Encounter" prize is sponsored by the Ukrainian Jewish Encounter, a Canadian charitable non-profit organization, with the support of the NGO "Publishers Forum" (Lviv, Ukraine).

In the week leading up to the award, the influential online publication Zbruc ran interviews conducted by journalist Marta Konyk with the three members of the independent international jury for the 'Encounter' prize — Liliana Hentosh, Mykola Riabchuk, and Marko Stech. The first interview is with jury member Liliana Hentosh of Ukraine.]

Originally appeared in Ukrainian @Zbruc.eu

Promoting understanding between Jews and Ukrainians and awareness of each other's historical experiences and narratives is the goal of a new literary award established by the Ukrainian Jewish Encounter, a Canadian charitable non-profit organization, in cooperation with the NGO "Publishers Forum" in December 2019.

The first award winner was the book Eternal Calendar by Vasyl Makhno, a poet, novelist, essayist, translator, literary critic, and regular contributor to Zbruc. This year, the prize is awarded for nonfiction, and who will win is an intriguing question on the eve of the BookForum festival in Lviv. The jury consists of Mykola Riabchuk, Liliana Hentosh, and Marko Robert Stech.

On the eve of the festival's opening, Liliana Hentosh spoke about the award itself and the possible intersections of Ukrainian-Jewish narratives, focusing on Andrei Sheptytsky's ties with the "Friends of Israel" organization, his attitude to racial theory, and his early idea of the integrity of humankind.

Ms. Hentosh, you touch upon the experiences of Jews and Ukrainians in your research. In particular, you note in your book Metropolitan Sheptytsky: 1923–1939. A Test of Ideals that this topic remains poorly studied. Could you explain why this is so?

Metropolitan Sheptytsky's relationship with the Jews is understudied because it is a complex issue, mainly in terms of sources. This kind of research requires a careful reading of the pastoral works of Andrei Sheptytsky and his official speeches and correspondence, especially with the Roman Curia.

The Vatican documents dating to the interwar period in general and in particular to the pontificate of Pope Pius XI until early 1939 were inaccessible for a long time. They became available to scholars as recently as in 2008–2009, and it requires time to study them.

Another factor is that these topics were of little interest to researchers. More attention was paid to the metropolitan's attitude to communism and his participation in the Ukrainian state-building and nation-building processes. The issue of Andrei Sheptytsky's relations with the Jewish people remained marginalized, although it is important as it opens the door to other issues, such as his views on racial theory and the integrity of humanity, i.e., humanity as one living organism, in his words.

When I started writing the book, I saw that there were no studies of precisely these aspects, and I had to read Sheptytsky's works and look for other sources. Then "Friends of Israel," an organization of the Catholic clergy, caught my attention. An invitation from this organization is found in Sheptytsky's archives. Although we do not know his answer, a letter thanking him for his contribution is also there.

"Friends of Israel" were early advocates for removing elements that reinforced antisemitism from Catholic worship, such as blaming the entire Jewish people for killing Christ. The activities of this organization were terminated by an order from the Roman Curia. This must be considered in the context of Sheptytsky's views on fascism and Nazism and their evolution during the Second World War. If we don't know what he wrote and thought and how he viewed these questions in the interwar period, it is more difficult to understand what happened during the war.

In your book, you write that little of what Sheptytsky said about the Jews has survived to our day. Are there any known public speeches of the metropolitan in which he expressed his views on Nazism before World War II?

There are none about German Nazism specifically, but there are some about Mussolini, i.e., fascism. Andrei Sheptytsky believed that this was cheap populism and an ideology that was, in fact, pagan rather than Christian and that it preached ideals unfavorable to the church.

Importantly, Sheptytsky addressed Greek Catholics with a pastoral letter in 1936, strictly forbidding them to become involved in any anti-Jewish actions. This provoked government circles and semi-governmental organizations, which expressed the view that Jews were an alien element in society and had to be driven out of business, while Jewish youth had to be denied access to universities.

In his letter, Sheptytsky warned the Greek Catholic faithful against involvement in any anti-Jewish actions because it was a great evil and because Jews were also their neighbors and had to be treated the way Greek Catholics themselves wanted to be treated. At the time, this was a stern warning.

So, this happened before the Pope issued the communication about anti-racial theory?

Yes, this was two years before this document was distributed across Catholic educational institutions. It criticized racial theory, which was disseminated in 1938 by the German and Italian governments. Sheptytsky issued a warning against anti-Jewish actions in his pastoral letter in 1936. He first wrote about the integrity of humankind even earlier — in 1934. His idea was that all people, all races, and all nations were one living organism. All humanity is one and bears joint responsibility for its actions, good and bad.

Sheptytsky's cooperation with the Jewish people in the interwar period and at the beginning of World War II is increasingly being discussed at various levels in Lviv. For example, the zaxid.net news portal recently reported on a study by the Israeli scholar Shimon Briman who found an interview in which Metropolitan Sheptytsky blessed Zionism and the creation of the Jewish state. Lviv Mayor Andriy Sadovyi and the Chief Rabbi of Ukraine are working to have Yad Vashem recognize Andrei Sheptytsky as the Righteous Among the Nations. Jointly with Shimon Briman and Vasyl Rasevych, you are helping the mayor in this cause as scholars. How is it moving along, and why has it become relevant precisely now?

This cause was probably relevant earlier, but now it is on the agenda because much time has passed since the last Yad Vashem hearings in the 1990s. A certain amount of new research and archival documents from the Vatican, Poland, and Ukraine has accumulated — the things that have not been presented or considered before. The sum of our knowledge about Sheptytsky's actions in this matter has increased.

Moreover, I think there is a new generation of both Ukrainians and Israelis who would like to take a different look at the figure of Sheptytsky and what he has done. There is a reassessment of his activities, which has to do with time and generational change.

We see a phenomenon when the relevance of this issue has increased rather than diminished over the years. The Ukrainian and Jewish communities are looking for ideas and symbolic figures of mutual understanding. By studying and commemorating these figures, we gain very much in terms of understanding ourselves as individuals and as communities — national, ethnic, or religious. A constellation of facts gives prominence to Sheptytsky as this kind of figure.

The Ukrainian Greek Catholic Church organizes events to honor the metropolitan as its leader. Sheptytsky was probably the most significant figure in the history of this church — an all-around public figure and reformer.

We don't know where all the steps and desires will lead us. Of course, we hope Sheptytsky's case will be reviewed. This will require new evidence, documents, interpretations, and new views on sources that would show that earlier allegations against him do not have so much ground to stand on. They can be viewed in a completely different light, rejected, or reinterpreted.

Let me ask a more general question that relates directly to the subject of the "Encounter" prize. What is the quality and quantity of Ukrainian nonfiction works that foster Ukrainian-Jewish understanding?

The prize is open not only to Ukrainian authors; translations have also been selected. This year it is about nonfiction books published in Ukraine, which is a very broad category. Various publications are represented: scholarly and historical works, memoirs, handbooks, and essays.

These works differ in their form, topic, and interests. Some of them focus specifically on the issues of Ukrainian-Jewish understanding, while others partially touch upon them. It was difficult for the jury to produce a shortlist from the longlist by selecting five titles that would compete for the prize.

Some books are written by well-known, established authors, and we know their oeuvre. Meanwhile, others are entirely unknown, and reading them is a kind of revelation, i.e., discovering that they exist.

Have you received submissions from Ukrainian scholars whom you know and who deal with this topic? Is there a sufficient number of such submissions?

I think we have enough submissions. What was published in recent years in Ukraine on Ukrainian-Jewish understanding was selected for the prize. However, it should be noted that the application had to come from the publisher rather than the author. That is, the publishing house had to initiate and complete a special submission for a book by an author or a group of authors. I may know of one or two books that could have competed for the prize, but the publishers did not submit them. This is now a question for the publishers rather than for the organizers of the prize or the jury. They either did not have time to make a submission or were unable to do so for some practical reasons.

The long list is representative. It has ten entries, of which two are handbooks.

When I saw the long list posted on the Internet, I thought I would not want to be on the jury.

Yes, it's difficult, because each book is interesting in its own way. We tried to choose the works that would best meet the objective of the Ukrainian Jewish Encounter and the "Encounter" prize. I mean texts that promote Ukrainian-Jewish mutual understanding.

At the same time, these had to be quality books. If it was a scholarly work, we looked at how well it met the level of scholarly monographs. For example, how it was organized; how the material was presented; whether it was impartial, based on sources, etc.

As far as memoirs are concerned, we have paid attention to those that describe experiences and those that give us eyewitness accounts of specific historical events. Some of them are very emotional and deal with the experience of a particular person or their close ones. Some others also serve as a historical source because they carefully describe certain events and place them in time and space. So, we can use these memoirs.

You mentioned the goal of the organization and the prize itself. Even before the prize was established, the Ukrainian Jewish Encounter formulated its foremost goal — "Comprehend each other's historical experience and narratives."

Yes, the prize is geared towards this goal as it brings these narratives to light and, most importantly, reveals the opportunities when they intersect. It is important how we understand each other's narratives. It is necessary to realize that these narratives cannot exist separately because this would already be tragic. We have to look for points of contact. There are strong passages in works submitted for the prize that show where these narratives interweave and how they cannot exist without each other because they existed in intersections anyway.

How do you see the future of the prize and its role in the Ukrainian literary and scholarly processes?

The "Encounter" prize is the beginning of something that will have a greater impact. We are now taking the first steps, and the "Encounter" prize will be more widely known in the future. Accordingly, more publishers and authors will be interested in submitting their works.

I think that the award is essential for the direction in which we as a society are increasingly moving. After all, we are destined to live in a world that will be multicultural and multinational and where different cultures, histories, and narratives will intersect. Accordingly, society and creative circles will be forced to respond and live in this environment.

We — I mean the organizers of the prize and the jury members who have been involved in the selection of books — invite both society and the creative community to think about crucial issues of Ukrainian-Jewish history. They are painful, at times tragic, but we want to be able to understand each other better by reconsidering them in order to build a common space for future generations — so that they would overcome this pain and the associated problems and view their lives together.

No matter what they say about globalization, it exists, and its positive side is that people will be forced to live as one human organism. Everything is becoming so interconnected in the world that we cannot consider our past as a certain national concept of Ukrainian history or look at a separate concept of Jewish history. It cannot exist because it was not there.

In fact, interpreting our history in a vacuum is such an illusion. Ukrainians or Jews — we have lived together in this land, and our stories have evolved together. The task of my generation is to show this through works of art and historical research. Whether our coexistence has been good or tragic is another question, but it needs to be understood and narrated so that the next generation can build its future with this awareness.

Biographical note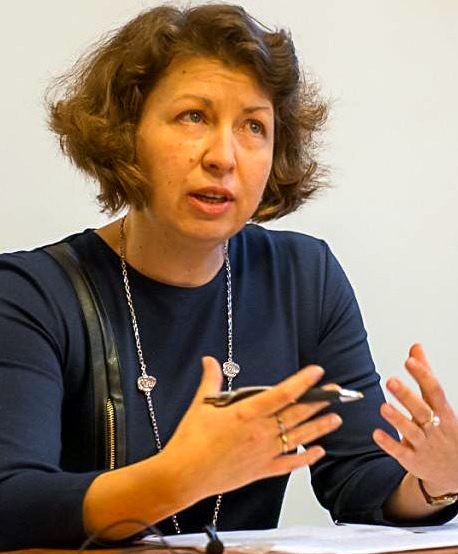 Liliana Hentosh is the author of several dozen articles (published in Ukrainian, Polish, English, and German) on the history of the Catholic Church and the Ukrainian Greek Catholic Church and interfaith relations in the first half of the 20th century. She is also the author of the scholarly book on the Vatican's "Eastern Policy" — The Vatican and the Challenges of Modernity: Pope Benedict XV's Eastern European Policy and the Ukrainian-Polish Conflict in Galicia (1914–1923) (2006). She has studied the life and activities of Andrei Sheptytsky, the metropolitan of the Ukrainian Greek Catholic Church, and published a scholarly monograph on his activities in the interwar period — Andrei Sheptytsky, 1923–1939: A Test of Ideals (2015).
Liliana Hentosh is currently working on a book about the metropolitan during World War II, which will include a section on Andrei Sheptytsky and the Holocaust.
She teaches at summer schools organized by the Ukrainian Catholic University in Lviv, where she speaks about Sheptytsky's socio-political views and his financial and economic activities.
Interviewed by Marta KONYK.