Lviv museum exhibit illuminates Ukrainian-Jewish history and culture
Posted In: UJE Initiatives, A Journey through the Ukrainian-Jewish Encounter, Exhibits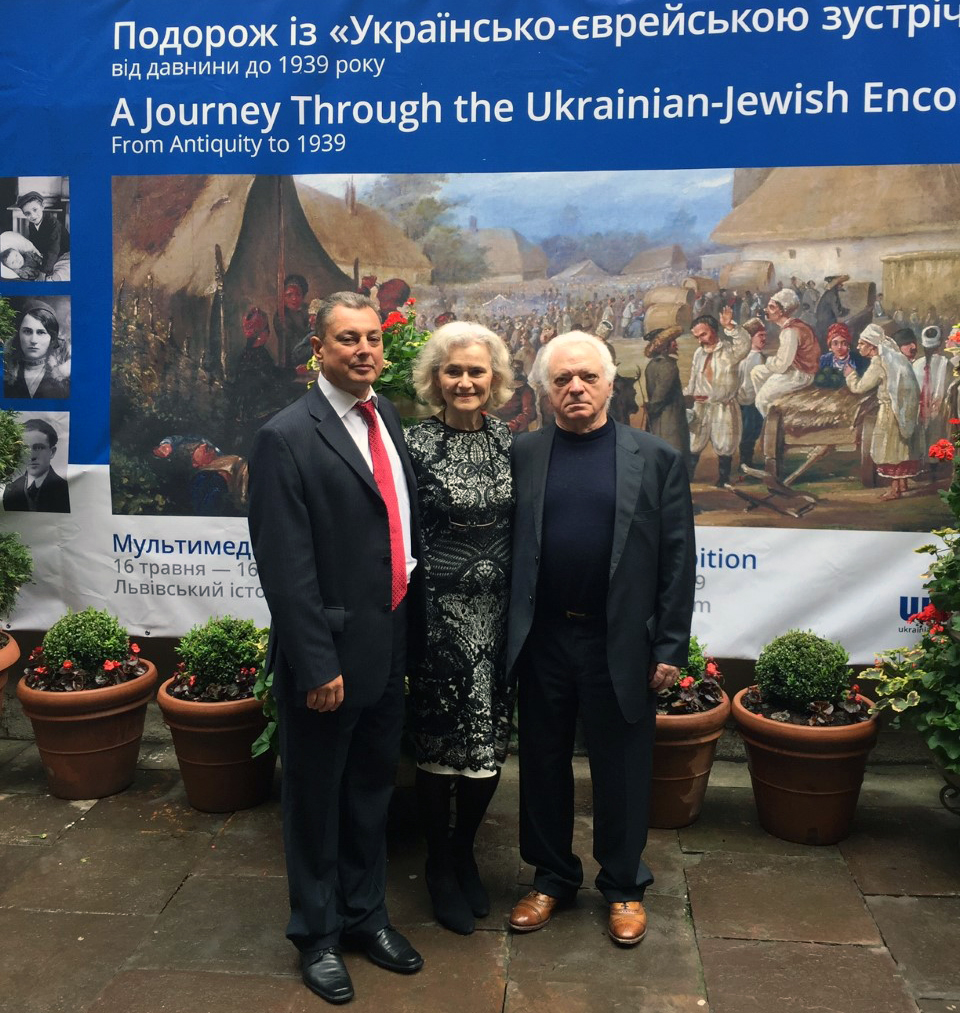 A remarkable exhibit at the Lviv Historical Museum explores the relationship between two of the peoples at the heart of this land. "A Journey Through the Ukrainian-Jewish Encounter: From Antiquity to 1939" focuses on the multi-layered relationship that evolved over centuries, encompassing their experiences in ever-changing political regimes and interactions with other peoples.
The exhibit covers over a millennium of the history of the Ukrainian-Jewish encounter in all regions of Ukraine, from antiquity to the 1930s, with an added special focus on Lviv and several other towns in the Lviv oblast in the two decades prior to World War II.
A thriving community of Ashkenazi Jews created a home for many centuries on the lands that comprise the territory of today's western Ukraine. They lived their distinctive lives connected to their neighbours, mostly Christian Ukrainians and Poles. Alongside other ethnic groups, these peoples collectively created a rich kaleidoscope of societies who left a lasting imprint on Ukraine's cultural, historical, and linguistic legacy.
Curated by Alti Rodal, Co-Director of the Ukrainian Jewish Encounter, the exhibit is being held in cooperation with the Lviv Historical Museum.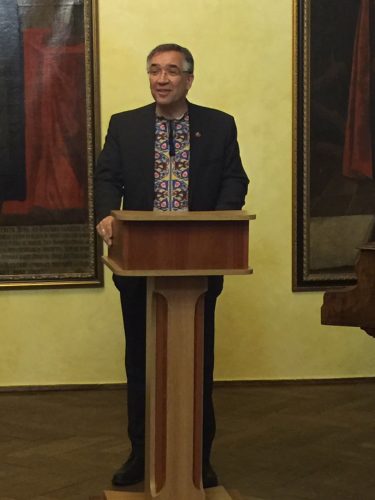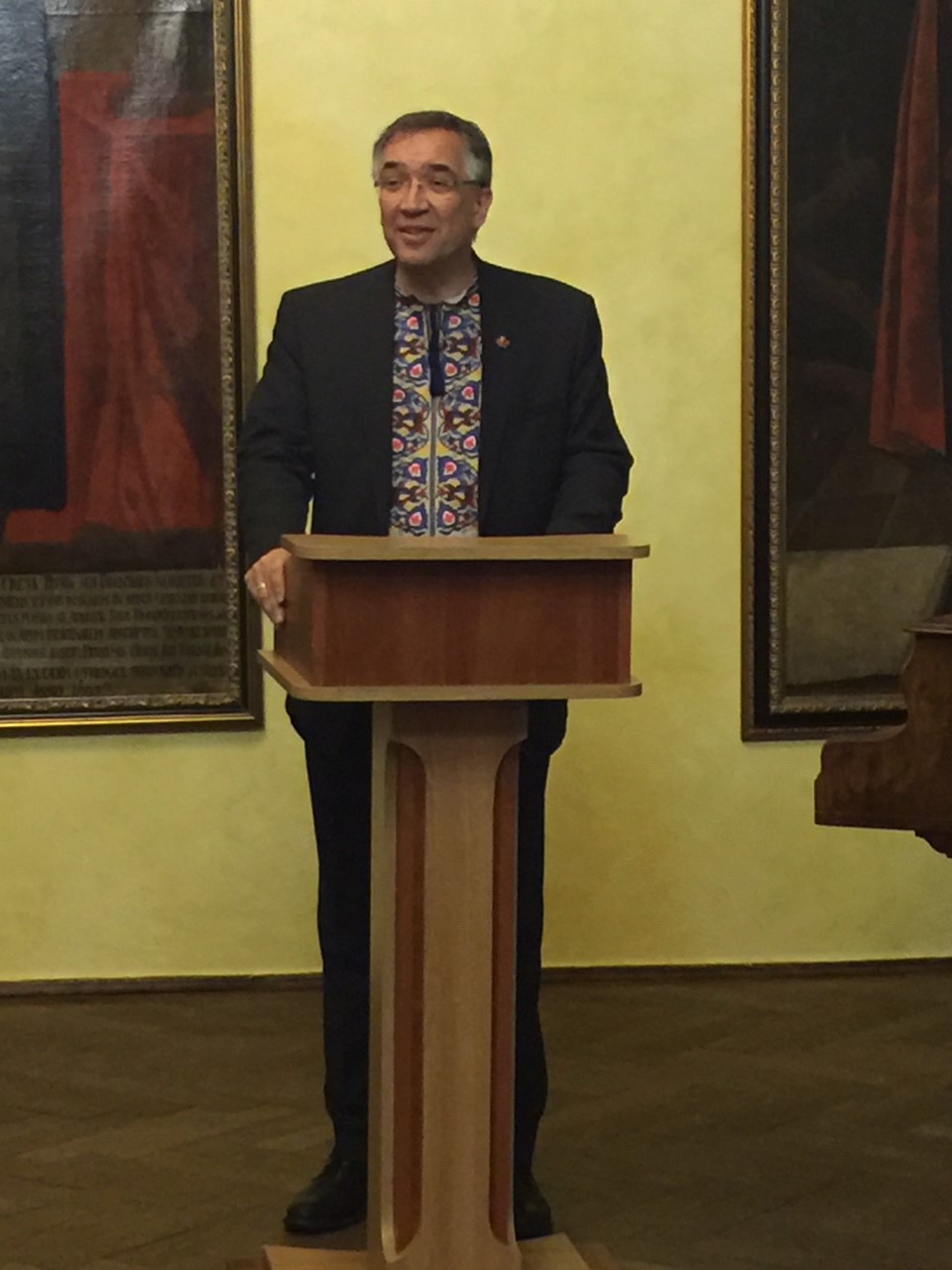 Roman Waschuk, Canada's Ambassador to Ukraine, opened the exhibit, noting the special honour of doing so, as Alti Rodal was his first boss.
"Here now, several years later, our paths have crossed again," he said. "This is a unique synthesis. Ukrainian and Jewish, Lvivian, Galician, but also more broadly Ukrainian."
Noting the growing interest in the rediscovery of Lviv's cultural heritage, the ambassador underlined how it was "very important to see the rebirth" of the relationship between Ukrainians and Jews, peoples whose fates over the centuries were dictated by other powers.
"The difference today is that people who at one time were objects of politics are now agents. Ukrainians today are the subjects of a state and citizens who elect on both a local and national level. Ukrainians, irrespective of their ethnic background, can be elected even to the highest positions of the land," he said, referring to the recent election of Volodymyr Zelenskiy, who is of Jewish background, as Ukraine's new president.
"This is becoming the normality of this land," he said.
UJE board member Berel Rodal observed that the exhibition is in keeping with the organization's goal of advancing empathetic understanding.
"We have to enable empathetic understanding of ourselves and of each other, who we are together," he said.  "History is very important. We don't know our own history well enough. But beyond history, there is also a fascinating present. This is one of the most interesting countries and societies in the world. Every day the new Ukraine is being born."
Alti Rodal noted that a great deal of thought had gone into the various audiences likely to visit this exhibition. "For those who know Ukrainian history and culture very well but know very little about the history and culture of Jews of Ukraine, they will learn from this exhibit that the history of Jews on Ukrainian lands is an integral part of Ukrainian history. For those who know Jewish history and culture very well but know very little about Ukrainian history and culture, they would be very surprised to learn the extent to which Jewish and Ukrainian history and culture are intertwined, the extent to which the two cultures have influenced each other. For those audiences who don't know very much about either Ukrainian or Jewish history and culture, they would be surprised and fascinated by how very interesting the history of each of these two people is, each on their own as well as together."
The exhibition in Lviv builds upon a well-received UJE travelling exhibit that toured Canadian cities in 2015, which was also curated by Alti Rodal. That exhibit, together with an award-winning catalogue it inspired, treats the period from antiquity to 1914. While a second volume is in preparation, which will treat the period from 1914 to the present, the focus on the period to 1914  permitted reflection on the long shared history prior to the terrible, painful events that marked the next three-plus decades, which often overshadow all that came before.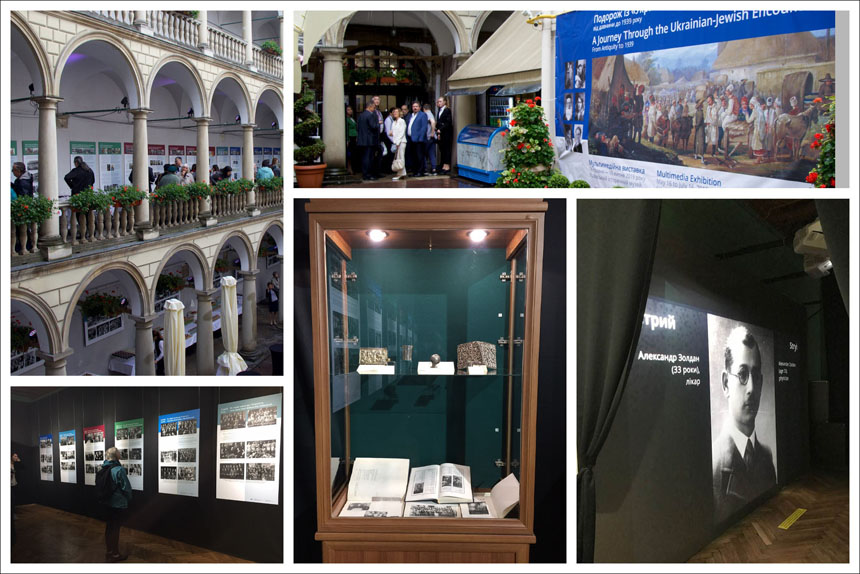 The current exhibition at the Lviv Historical Museum has a number of components. Colourful panels in the long outdoor corridor of the second floor provide an illustrated overview of the long shared history from antiquity to the 1930s. Panels around the ground-level popular Italian Courtyard feature large black and white photos that offer a glimpse into the multi-faceted lives of Lviv Jews in the 1920s and 1930s. A multimedia installation in an interior room on the upper floor of the museum highlights the diversity of Jewish community life in several western Ukrainian towns in the decades leading up to World War II. It also features a video projected in an enclosed space, accompanied by Yiddish folk songs and melodies, which focuses on the faces of individuals from Lviv oblast towns, whose lives were cut short by the Holocaust.
Rare artifacts from the Lviv Historical Museum's collection and private collectors are an additional, important component of the exhibit. These include 18th-century Jewish ceremonial wedding rings and other special Judaica objects from Galicia, including wooden ornaments from Lviv's Golden Rose Synagogue, built in 1582 and destroyed by the Germans in 1942. Also displayed is a collection of Yizkor (memorial) books for towns in the Lviv oblast. These books, assembled by survivors and descendants from the particular towns, are a rich resource for information about local prewar Jewish life, and its destruction. They include numerous group photos, portraits of local personalities, town maps, and images of heritage sites. Most Yizkor books, including over 150 for towns in Ukraine, are now available online, many in English translation.
A final set of panels presents current initiatives by Ukrainians and Jews to protect and restore memory of Ukraine's Jewish heritage.
Berel Rodal noted the appropriateness of having the exhibition in Lviv.
"Lviv is a legendary city," he said. "The history is what makes it legendary. These wonderful buildings and squares have been bequeathed to us. What better place to tell that history than at the Lviv Historical Museum?"
The exhibit is on display until 16 July 2019. The Lviv Historical Museum is located at Rynok Square 6.
"A Journey Through the Ukrainian-Jewish Encounter: From Antiquity to 1939" at the Lviv Historical Museum, 17 May to17 July 2019
Text, video and photos: Natalia A. Feduschak and the Ukrainian Jewish Encounter