Marla Osborn: How a U.S. citizen is saving Ukraine's Jewish heritage
Posted In: Jews on Ukrainian Lands, History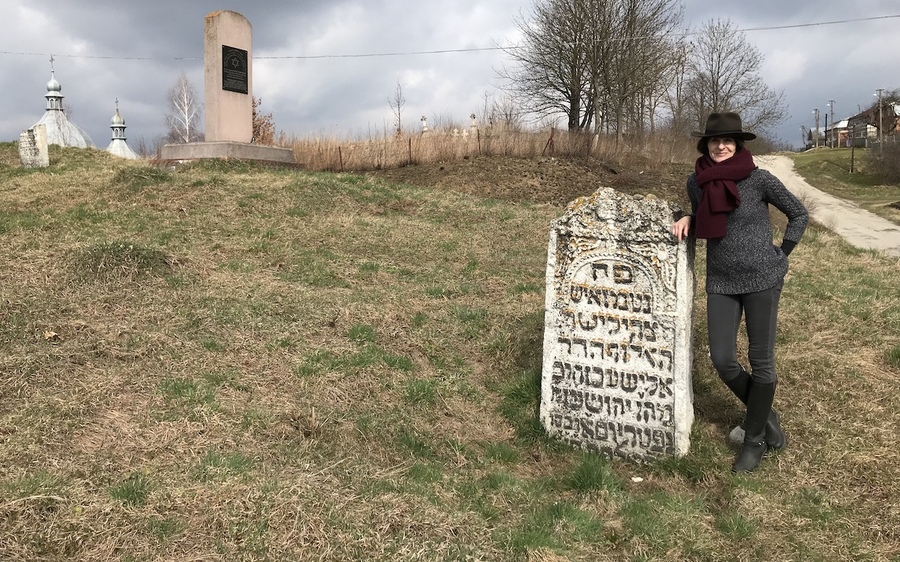 Originally appeared in Russian @jewishnews.com.ua
Marla Osborn is an American citizen who is engaged in the preservation of Jewish heritage in western Ukraine and heads the project Rohatyn Jewish Heritage. Marla actively shares the successes of the project on Facebook, where she talks about recovering Jewish headstones and their fragments and shows Jewish heritage sites in small towns and villages of western Ukraine.
The editorial team of Jewish News spoke with Marla Osborn to learn how the project came about, how things stand with Jewish heritage in Ukraine, and how she is managing the project during the epidemic.
How did the project Rohatyn Jewish Heritage come about?
Rohatyn Jewish Heritage grew out of my lifelong interest in the history of my father's family. They were one hundred percent Galician Jews—Galitzianers. My paternal grandmother, Chaje ("Annie") Horn, was born in Rohatyn, and my paternal grandfather's family (Raucher) was from Przemyśl ([Ukr. Peremyshl], today in Poland). Over the course of many years, I spoke with and collected the reminiscences of elderly former residents of Rohatyn living in America and Israel, some of whom had survived the Holocaust.
These carriers of memory added many new details to the information that I had already gathered from my grandmother and her sister about the Horn family of Rohatyn. This was a large and wealthy family of secular Jewish merchants, who had lived in Rohatyn for many generations and had intermarried with other Jews from middle-class families from neighboring villages and the Galician cities of Lemberg (Lviv), Kozova (Ternopil oblast), and Bolekhiv (Ivano-Frankivsk oblast). Before the First World War, many members of the Horn family attended schools in the large cities of the Habsburg monarchy and Europe, including Lemberg, Vienna, and Cracow, which was typical of Galician Jewish middle-class families in this region in the prewar era. Unfortunately, no one from my family in Rohatyn—except those who had left before 1939—survived the Holocaust. Among the emigrants was my grandmother, her two sisters, and her relatives (they left for New York in 1914), and two aunts (they left for Palestine in 1933 and 1937, respectively).
My grandmother had a long life in America, and after her death, my husband and I made our first trip to Ukraine in 2008 in order to visit Rohatyn. At the time we were living in Paris, and it was winter. It was an exceedingly difficult journey because of the weather and our inability to communicate with people in Rohatyn. We returned in 2011, and it was a much more pleasant visit because we hit the road with our friend Alex Denysenko, a Lviv researcher, who served as our guide and interpreter. In Rohatyn, we were introduced to Mykhailo Vorobets, a retired schoolteacher, who was researching and writing a lot about prewar Jewish Rohatyn. For more than ten years, he has personally cared for two Jewish mass burial sites dating from the war, recovering Jewish headstones, and returning them to one of two cemeteries (both were destroyed during the war).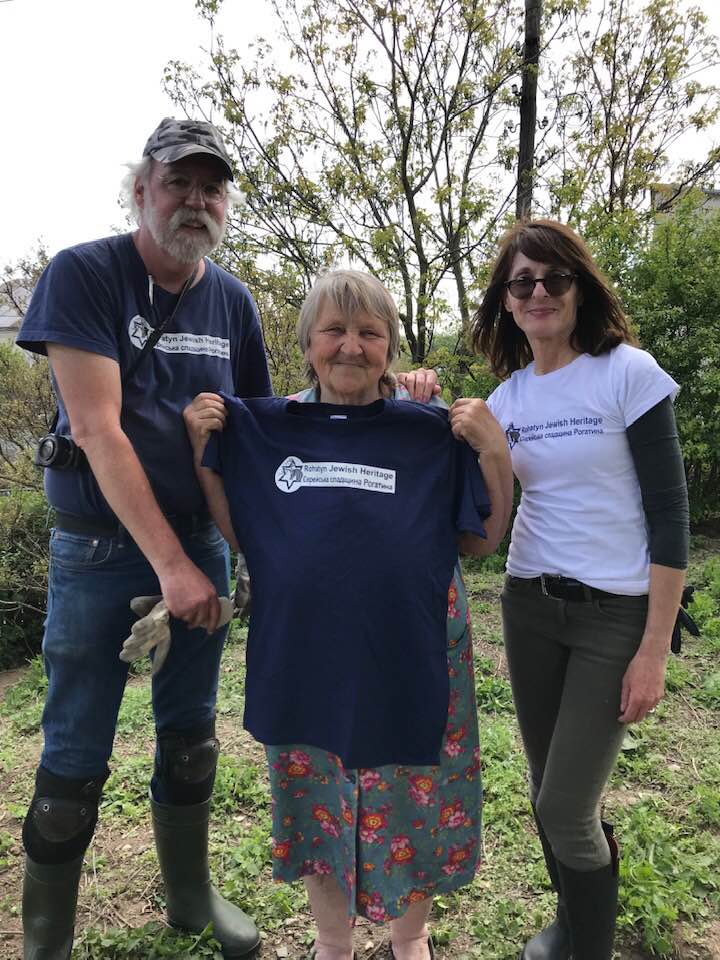 In the many years since Ukraine achieved independence, Vorobets has been the contact person between Jewish emigrants from Rohatyn and the city; an unofficial representative for the small number of tourists who have visited the city from time to time. In 1998 Jewish descendants in America and Israel raised funds to place fences around the two Jewish cemeteries in Rohatyn and erect memorials both at the cemeteries and the mass graves. Vorobets has acted as an intermediary between the Jews and the church. By 2011 the majority of the Jewish activists from the 1998 project had died. Then I showed up.
Vorobets's first question to me was about what I wanted to do with the Jewish heritage! He assumed that I had arrived in Rohatyn as the successor of those who had come before. The question was complicated for me, and I could not reply right away. When I got home, I asked myself who would take care of the two cemeteries and two mass graves if I left, considering my visit to Rohatyn a historical family trip. All four sites were overgrown and neglected, despite the efforts of Mr. Vorobets. Who would continue to preserve the heritage started in 1998 by the surviving families? What about goodwill and building bridges that were created to carry out the project in 1998? This is a big responsibility, and I felt that I could not leave.
Ultimately, the history of my family and genealogy initially brought me to Rohatyn, but the heritage compelled me to stay. That is how the Rohatyn Jewish Heritage project came to be.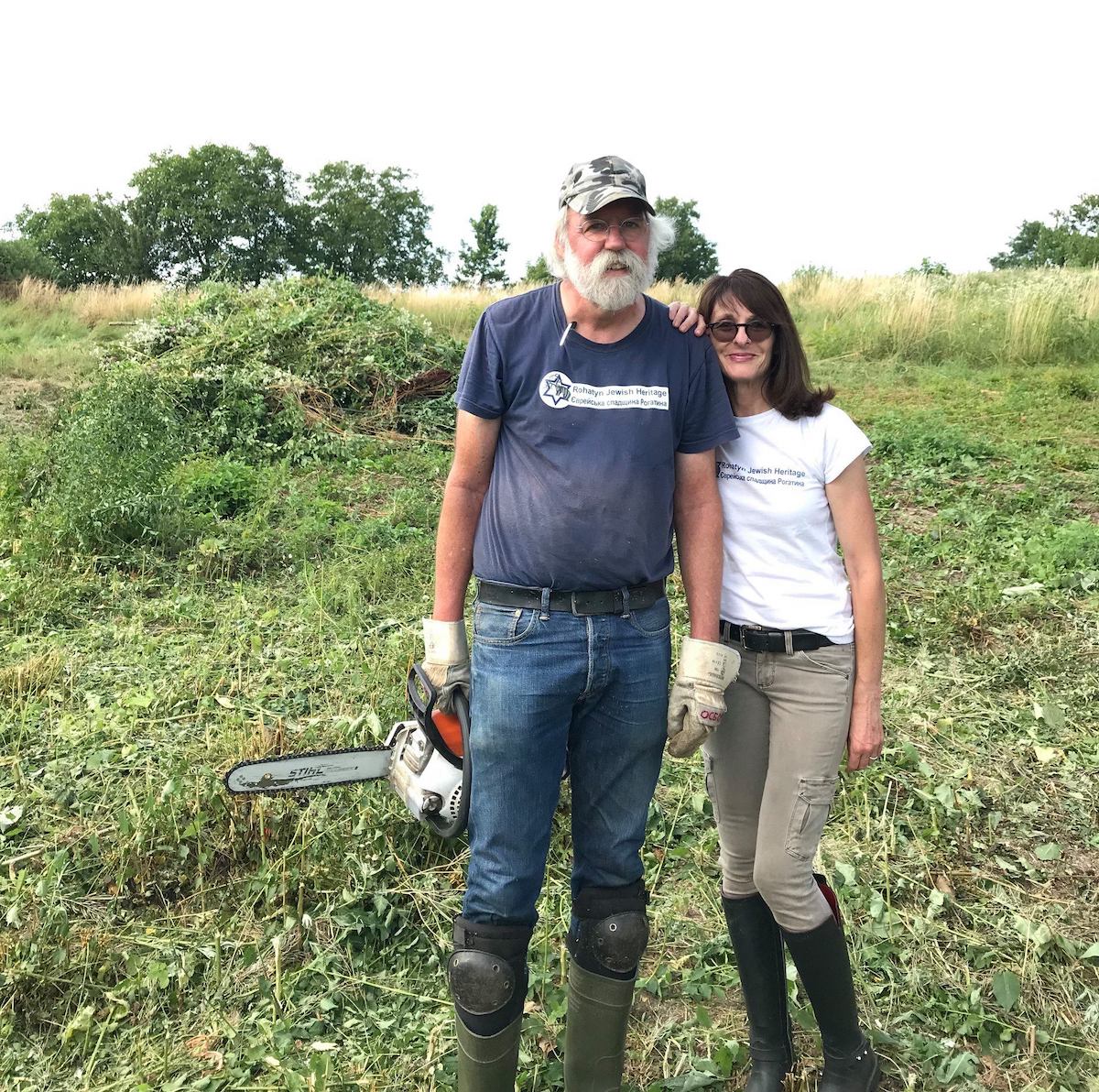 How is the project financed? Do the local authorities support you? 
Our non-governmental organization is financed by me and Jay [Marla Osborn's husband—Ed.]. We are personally financing the RJH project, including hiring professionals to survey the Jewish mass graves of the Second World War; purchasing motorized and hand instruments for heritage preservation; providing room and board for volunteers in summer camps for the clean-up of the cemeteries; paying bills related to the transfer of recovered Jewish headstones to the old Jewish cemetery in Rohatyn; translating memoirs, websites, administrative and legal expenses, etc. We are also lucky to receive small donations from friends, families, and supporters, both Jews and non-Jews, whose numbers have grown in the last few years thanks to the growing visibility on Facebook of our work and to media coverage of our projects. At the end of each year, we post a detailed cost and expense report on the RJH website.
We have had and still have a great relationship with the Rohatyn Municipal Administration. The city is our most important partner. For the time being, it cannot offer us financial support for our work, but the city has already helped with specific projects by providing labor and equipment; for example, preparing the northern and southern mass graves for non-invasive surveying in 2017; and organizing the utilization of vegetation and garbage following work on the cemetery. The mayor's office and the City Council have always been very attentive to our needs and requests by granting permission to access sites and providing us with contacts and local resources to facilitate our work. In 2018 the city invited Rohatyn Jewish Heritage to contribute to the creation of a permanent exhibition about the prewar Jewish community at the new Rohatyn Opillia Museum. We consider this exhibit to be one of the most important projects.
We also have wonderful, long-standing relations with the church, which in the wake of one incident instructed parishioners to notify us of Jewish tombstones that are found, so that we can contact them to restore them.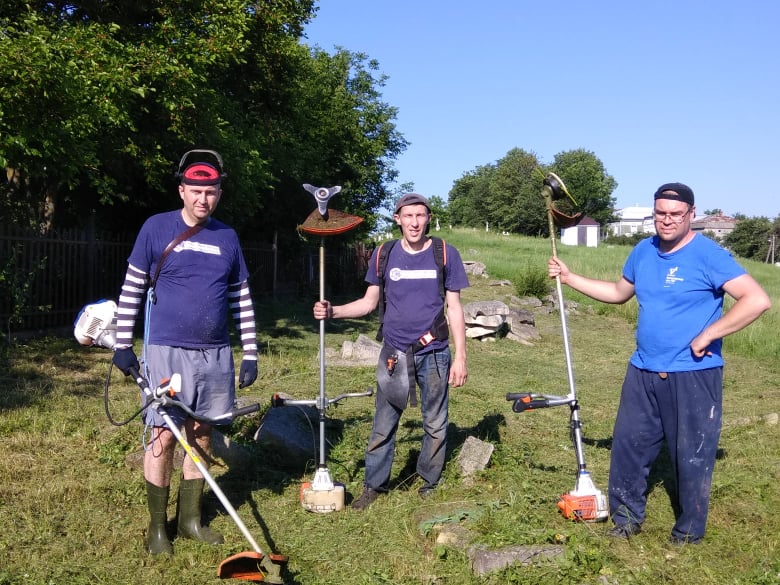 How many people are on the team? Are they volunteers? 
Rohatyn Jewish Heritage is basically my husband, Jay, and I, and, according to the law, the lawyer of our NGO, Wito Nadaszkiewicz.
Apart from the official organization, there are friends who regularly work with us as volunteers, drivers, interpreters, and maintenance people. The most important unofficial member of our team is Vasyl Yuzyshyn, who has been with us for three years and is now helping to maintain the Jewish cemeteries in Rohatyn during the COVID-19 epidemic while we are under quarantine in California. He is a professional driver, and part of his livelihood has dried up because of the global pandemic and the cessation of tourism to Ukraine. The pandemic also took away all of our volunteers and forced us to leave Ukraine, when Fulbright canceled its program in late March 2020 while I was working on a research project. Fortunately, in utilizing the donations to RJH that were raised in 2019 and early 2020, we are able to help Vasyl so that he can help us. We hired him to look after the Jewish cemeteries while we ourselves cannot do this. This is a mutually advantageous collaboration that was sparked by the pandemic and the devastation it brought into the lives of each one of us as well as to RJH projects.
I would also like to add that in the last three years we have gained a lot from the volunteers organized by Sasha Nazar from the Lviv Volunteer Center, a part of the Charitable Foundation "Hesed-Arieh," the more than twenty-five volunteers from the American Peace Corps, the American Christian organization Matzevah Foundation, Fаcebook friends, students, and residents of Rohatyn.
What exactly are you doing on the project? 
Rohatyn Jewish Heritage is developing and carrying out heritage preservation projects aimed at reuniting the lost Jewish community of Rohatyn with people and places in contemporary Ukraine. Our project activities include research, documentation, recovery, rehabilitation, education, memory, and highlighting the links between the history of Rohatyn and its future, as well as between people in the city and abroad. The heritage that we are preserving and promoting includes both physical places in Rohatyn and non-material culture that transcends time and geography. The stories that we are collecting and bringing together are introducing a new dynamic into Rohatyn's multicultural past.
Since its launch in 2011 with the support of current residents of Rohatyn and volunteers from all over the world, RJH's progress has included:
annual clean-up and maintenance of all Jewish graves in Rohatyn;
the recovery of more than six hundred Jewish headstones and their fragments, and their return to the old cemetery;
organizing and financing professional surveying to determine the physical boundaries of Rohatyn's wartime mass graves;
landscape design for the memorial space at a mass grave site;
research and publication of local Jewish and Ukrainian stories, including memoirs and testimonies, as well as the identification of local non-Jewish Righteous Among the Nations;
the development of a multi-component historical chronology of the Jewish community of Rohatyn, including modern descendants around the world;
the joint creation of a permanent exhibition about the Jewish community of Rohatyn at the local history museum;
the documentation of preserved religious and educational buildings of the prewar community.
Our website, which aspires to be 100% bilingual (English and Ukrainian), presents local Jewish history and culture, current historical chronologies, memoirs, and eyewitness testimonies, the status of the project, and news and information about heritage tourism. And we publish reviews of events on our website.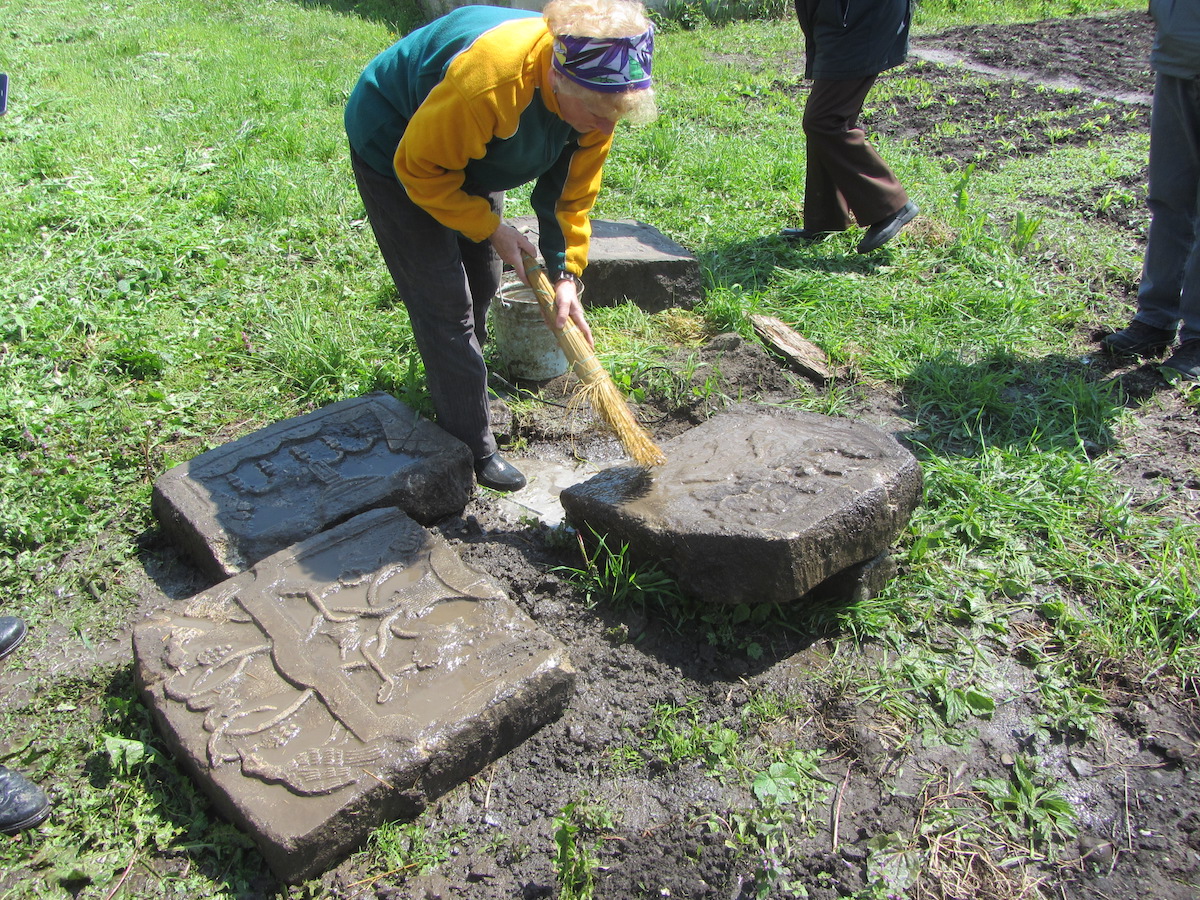 How is the project functioning while you are in the U.S.? Are you planning to return to Ukraine? 
We are continuing to work remotely while we are in California because of COVID-19, and everyone intends to return to Ukraine as soon as this becomes possible. We have an apartment in Lviv, where we keep our clothing, instruments, books, and personal belongings, and we are striving to resume our life there!
While we are in California, we are in daily contact with Vasyl as well as with our lawyer Wito and other friends and supporters in Rohatyn, Lviv, and other cities of western Ukraine. Facebook continues to be a great way to stay connected, thanks to which we learned about Jewish headstones recovered in May and July and were able quickly to organize their safe removal and transfer to the cemetery.
In addition, when we hear that Vasyl will be working at the cemetery, I report this on Facebook, and, because of this, volunteers from Rohatyn and the oblast have already joined Vasyl several times this summer. The more helping hands, the more is done in our absence, and the cemeteries are taken care of.
How many Jewish headstones have you managed to recover and save in Rohatyn?
Of course, it is difficult to arrive at an exact figure because there are few intact headstones; most of them are fragments, but the number is probably around six hundred. They are all at the "old" cemetery.
As a result of my Fulbright project, we are planning to design a new memorial at this cemetery, which will include the six hundred plus recovered fragments of Jewish headstones.
You can also find out about the many, many places in Rohatyn where each of these fragments was found in the last decade. There is an interactive map showing the locations, which is updated with every recovered headstone, including those that were recovered this summer.
We remind you that Ukraine has a map called "Jews of Ukraine" (a project of the United Jewish Community of Ukraine), where you can find 645+ Jewish sites across the country. 
You travel to former Jewish places in Ukraine. What trends are you spotting during these expeditions? 
First of all, tourism undertaken by Jewish descendants from abroad to heritage sites in western Ukraine is at the peak of its popularity, at least that's how it was before the pandemic, the closure of borders, and strict restrictions on international travel.
Second, there is a growing number of local Ukrainians in cities and villages in western Ukraine who are interested in the multicultural history of these places, including Jewish history, and often they want to do something to preserve what is left. Many of these interested people are young people who were born during the period of independence of Ukraine; some are historians and teachers. Some of them have been recognized for their activities in restoring Jewish memory on the ground; for example, by the mayor of Lviv at a ceremony in the fall of 2018.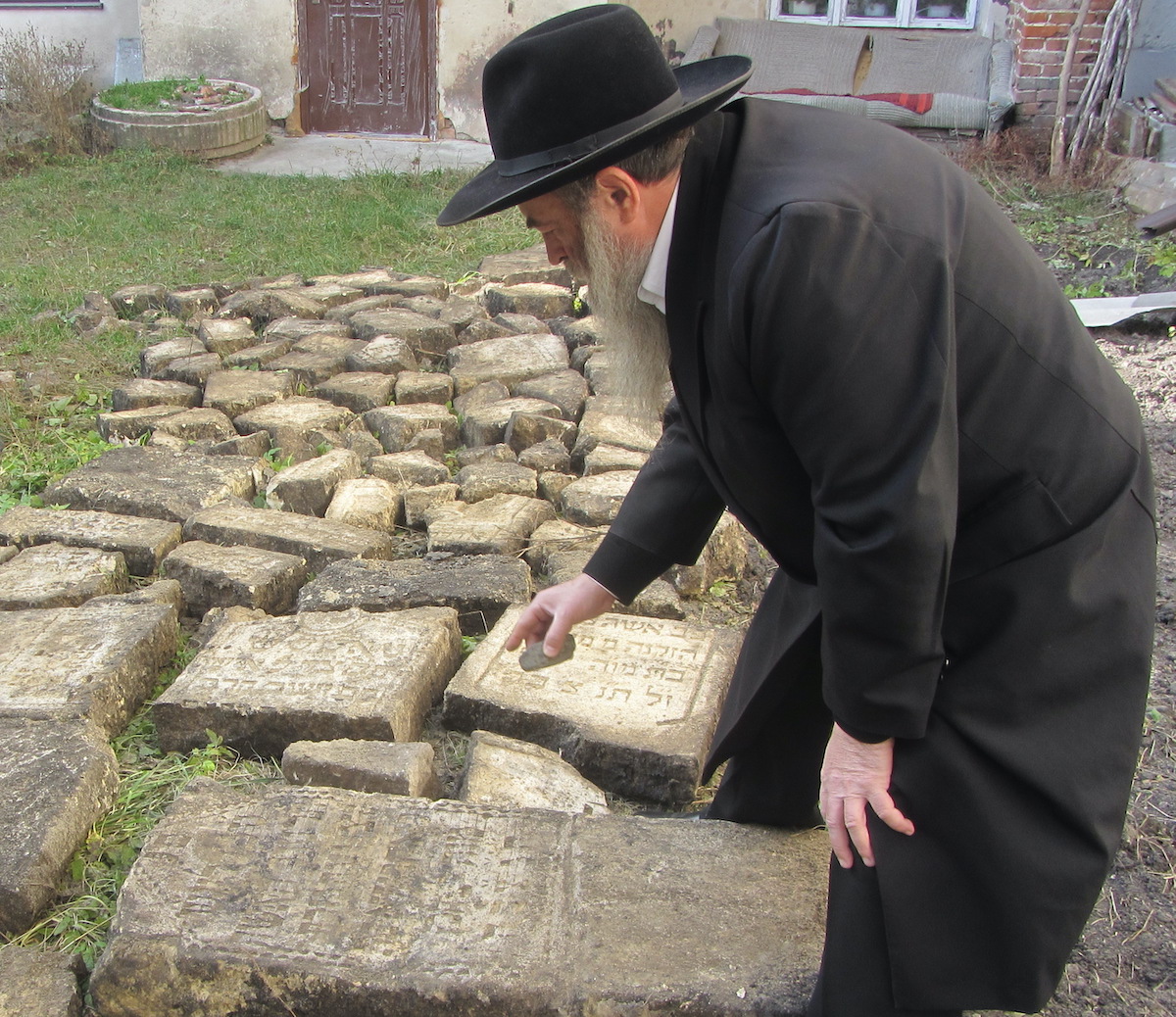 Third, since older Ukrainians who remember the war and the early Soviet years are already passing away and those who are still alive often want to talk to us when we come to their villages, they have memories they want to share: about Jewish friends before the war, about Jewish businesses where their parents shopped, and so on.
And fourth, there are several civic leaders and municipal administrators who see value in protecting a preserved Jewish heritage (cemeteries and synagogues, for example) and developing tourism for their cities and rains. Some of them took part in roundtables on Jewish heritage in Lviv in 2017 together with us.
In your opinion, should the Ukrainian government at different levels of authority devote more attention to Ukraine's Jewish heritage? 
I would phrase this question differently: Is it important for the Ukrainian authorities to devote more attention to Ukraine's Jewish heritage?
And I would answer yes.
First of all, there is cultural value in this: Jewish heritage is also Ukrainian heritage. The history of a city, a village, and its heritage does not belong only to those who created it (Ukrainians, Poles, Jews, Germans, Hungarians, etc.), but also to the city itself, the village where the heritage was found, as well as to the nation of Ukraine. Jewish heritage is part of the history of the country and part of the essence of the Ukrainian people today.
Second, there is also a tourist value. For Ukraine and its heritage sites, it is advantageous to welcome Americans, Israelis, Canadians, and other people who are coming only because they have family roots in Ukraine. The challenge for small cities and villages lies in infrastructure and support for tourism: Are there cafes, restaurants, and hotels for tourists so that they will come, stay, and spend money on the spot? Are heritage sites properly designated and written (in multiple languages) so that foreign visitors can find them? Is there a place for tourists to go and ask questions and be understood, such as a local history museum or visitor center? These are all problems for small towns and villages. This is why it is increasingly thought that regional partnerships between small, rural places can be beneficial for pooling resources and creating heritage routes, in other words, promoting the region. This was the key topic of the Lviv 2017 roundtable on the Jewish heritage, which we attended.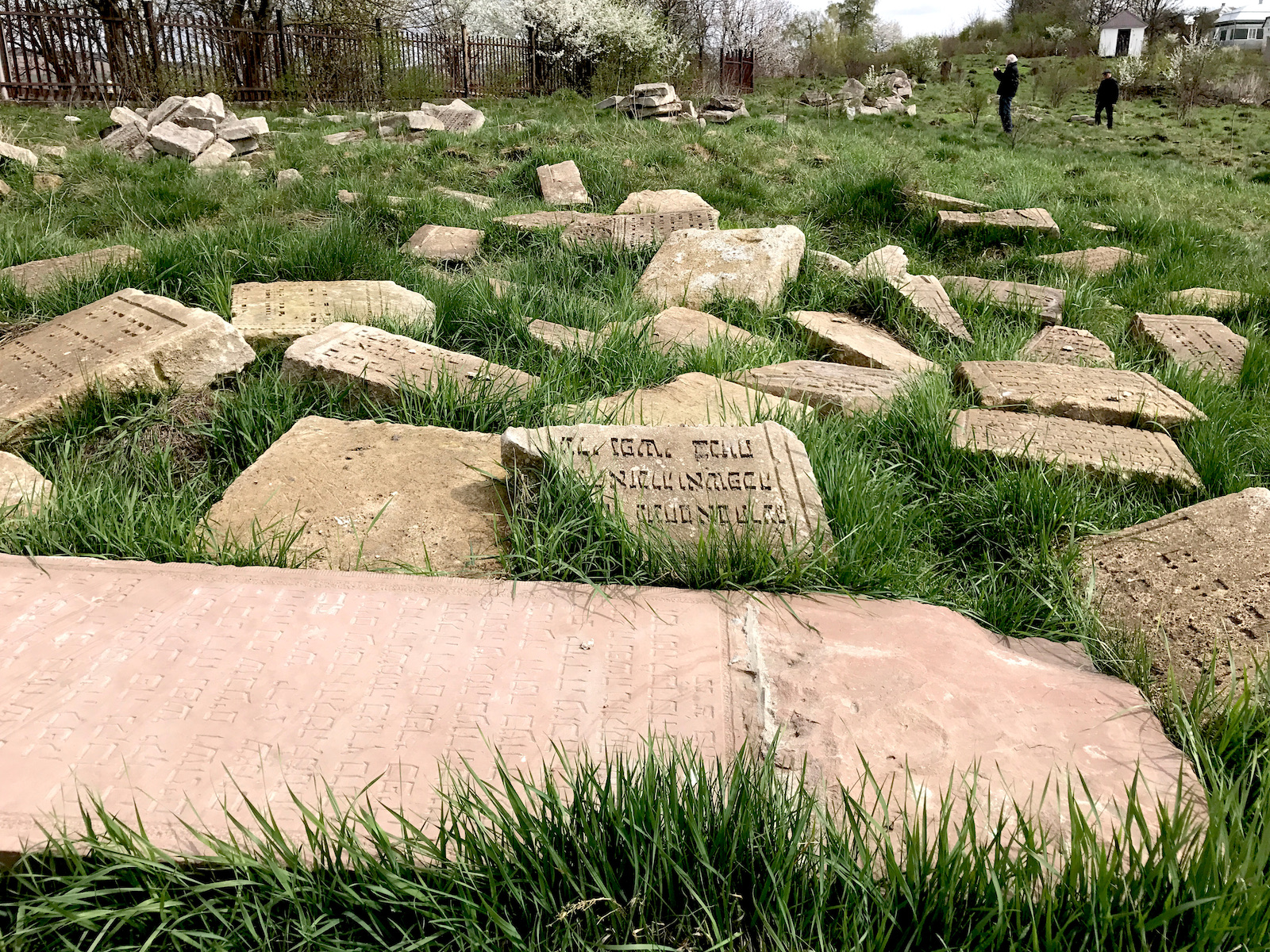 Third, there is also educational value. Ukraine was under the yoke of dominant and repressive regimes, with the (impossible) goal of creating a homogeneous monoculture; a policy of repression and domination required, among other things, the suppression of "Ukrainianness" (language, culture, history).
There are many young Ukrainians who want to know and do something active and constructive. They proudly embrace their "Ukrainianness," and at the same time, they thirst for knowledge of the multicultural past of their country. In the west [of Ukraine], where we live and work, there are many places where you can see that the decades of the Soviet policy of homogenization succeeded: diversity disappeared, and the Jewish presence (if it can be found at all) is only symbolic or virtual. Rohatyn is a typical example of what I am trying to express: In western Ukraine residents or foreign guests can only learn, through the physical culture left behind by Jews—buildings and cemeteries—that Jews ever lived here! In fact, Jews comprised forty percent of the prewar population of Rohatyn and operated the majority of enterprises in the city center, making a significant contribution to the development of the city for more than four hundred years.
Nevertheless, I consider it important to note that many local residents of Rohatyn and the western region are troubled by the disappearance of Jewish "sites of memory": buildings, cemeteries, memorials, and they do not want to stand by passively. These interested individuals often ask me about what they can do to help. My Fulbright project and the creation of a new website A Guide To Jewish Cemetery Preservation in Western Ukraine were inspired for the most part by these potential activists. The guide was created in order to present practical information and instruments for supporting projects aimed at the preservation of Jewish heritage on the local level and in the language in which they can understand everything better: Ukrainian. It is also important to note that the new site is inspired by the Jewish descendants from overseas, who write to me, wanting to do something to help.
Let the two parties, local Ukrainians and the Jewish Diaspora, unite to initiate and support new projects on the Jewish heritage in western Ukraine!
Translated from the Russian by Marta D. Olynyk.
Edited by Peter Bejger.