Nash Holos: Ukrainian Metropolitan Andrei Sheptytsky – "Saviour of the Jews"
Posted In: Sponsored Projects, Nash Holos, Audio/Visual Media, History, Metropolitan Andrei Sheptytsky

Metropolitan Andrei Sheptytsky is known as the `saviour of Jews` during World War II.

Renata Hanynets explains why, in this week's look at Ukraine's Jewish Heritage.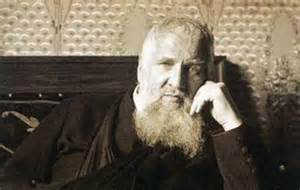 Transcript.
Metropolitan Andrei Sheptytsky is known as the `saviour of Jews` during World War II.
In the words of Rabbi David Kahane: "When I call Andrei Sheptytskyi a saint, I am not exaggerating."
According to Rabbi Kahane, more than 240 Ukrainian priests and nuns risked their lives hiding 200 Jewish children. In his own residence, Metropolitan Sheptytsky sheltered 15 Jews. Among them was Rabbi Kahane, who later became the chief rabbi of the Israeli Air Force.
Metropolitan Andrei Sheptytsky was born Count Roman Alexander Maria Sheptytsky in 1865 in Prylbychi, a Ukrainian village near Lviv, then part of the Austrian Empire. His family was from an aristocratic Ruthenian line which had become Polonized. His maternal grandfather was the Polish writer Aleksander Fredro. One of his brothers, became a Studite monk, while another became a General in the Polish army.
Among his ancestors, however, were two metropolitans of the Ukrainian Greek Catholic Church … in whose footsteps the young count decided to follow. Despite many obstacles created by his father, in 1891 he entered a Ukrainian Basilian monastery, and accepted the monastic name Andrei. In 1900 he was made a Bishop. Shortly afterwards he became the Metropolitan, the ranking hierarch of the Ukrainian Greek-Catholic Church.
Metropolitan Sheptytsky led his flock of some five million faithful through two world wars. He was arrested by Czarist forces in World War I. During World War II, he was kept under house arrest by Polish and Nazi German authorities. He died in 1944, as the Red Army occupied his city of L'viv once again.
Despite the extreme danger, Metropolitan Sheptytsky decided to use the administrative structure of the Ukrainian Greek-Catholic Church to save Jews from the Nazis. Many were involved in the clandestine operation, but his closest collaborators were his brother Klymentii, superior of all Ukrainian monasteries; Josepha, mother superior of all convents; and Father Marko Stek, who provided false documents and safe escort for Jews into the monasteries and convents.
Before his death in 1944, Sheptytsky predicted the annihilation of the Ukrainian Catholic Church by the soviets, and its eventual resurrection. Both predictions came true. Many attribute the church's survival to a miracle worked by Metropolitan Andrei, and a campaign for his beatification and canonization is underway.
Sheptytsky's two great passions were the restoration of authentic Eastern Christian Monasticism in his Church, and the union of Churches. He laboured at Orthodox-Catholic reconciliation decades before it became fashionable. In Canada, an institute has been established in his name which continues his work in this area– The Metropolitan Andrei Sheptytsky Institute of Eastern Christian Studies at St. Paul University in Ottawa.
Metropolitan Sheptytsky is also the inspiration for many working towards reconciliation between Ukrainians and Jews, including the Ukrainian Jewish Encounter Initiative. This private, multinational initiative was launched in Toronto in 2008 to promote stronger relationships between Ukrainians of Jewish, Christian and other faiths. The UJE organizes many academic and ecumenical gatherings to achieve this goal, as well as projects such as this radio series and most recently, a documentary film entitled Saved by Sheptytsky.
It is our hope that the spirit of Metropolitan Sheptytsky will inspire you as well to further the cause of reconciliation and good will.
This is Renata Hanynets, at the Faina Petryakova Scientific Centre for Judaica and Jewish Arts, a branch of the Jewish Heritage Museum in Lviv, Ukraine.
Until next time, shalom!