A great loss to Ukrainian-Jewish heritage
Posted In: Other UJE-Related News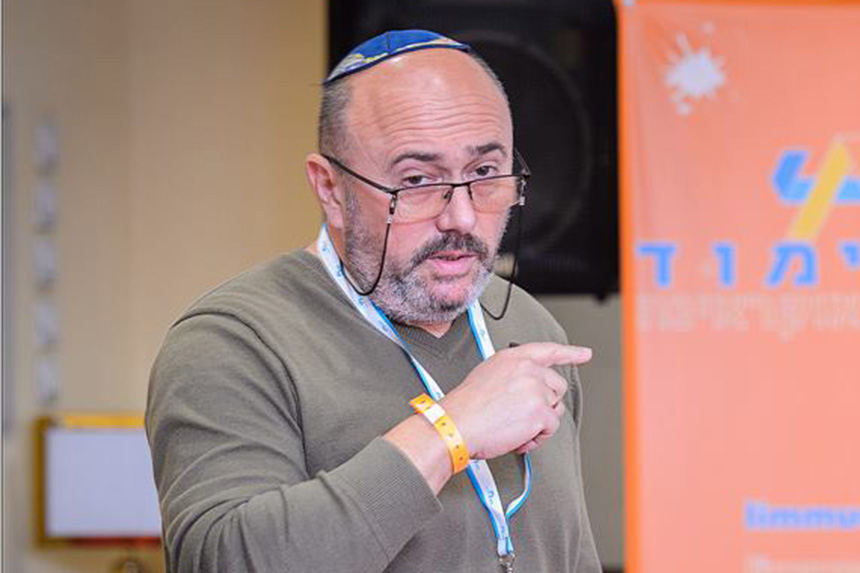 Hryhorii Arshynov, a force for the preservation of Ukraine's Jewish heritage, an engineer, a builder, a businessman, philanthropist, and deputy of the Ostroh City Council in Volyn, has died.

Hryhorii Arshynov contracted the coronavirus on 7 October. Fighting the disease, he posted on social media about the stages and successes of this struggle. But after 24 days, his heart gave out. He was not even sixty years old.
Ostroh is one of the most important Jewish centers of Ukraine and all of Eastern Europe. And in this city, Arshynov was truly a world-class personality.
With the support of the foundation Jewish Heritage Europe and his own funds, he erected monuments to Holocaust victims in various cities in Ukraine. In July 2020 alone, a team of activists in Rivne oblast headed by Arshynov installed four new monuments at sites where mass executions of Jews took place.
Hryhorii Arshynov took part in numerous projects to restore Jewish cemeteries and the recovery of Jewish gravestones (matsevahs) in Ukraine and elsewhere in Europe. In addition, he took care of the Jewish cemetery in Ostroh, where the earliest burials date back to 1445.
A professional builder, Hryhorii's main cause was saving a seventeenth-century historical monument: the Great Synagogue. Hryhorii invested his engineering resources and more than 180,00 dollars into the reconstruction of this unique structure; a significant amount of those funds were his own.
A moving video about Arshynov and his restoration project can be viewed here: https://ukrainer.net/synagogue-in-ostroh/
Wartime destruction and decades of neglect meant that Arshynov's team had to remove 28 tons of garbage from inside and around the synagogue. This was done with the help of the Ukrainian Baptist community in Ostroh. A new roof was installed on the synagogue, and significant progress was achieved in the restoration of the magnificent interior. But Hryhorii never lived to see the completed reconstruction of this Jewish architectural gem.
The first Jews to arrive in the city came at the invitation of the princes of Ostroh in the fifteenth century.
The synagogue in Ostroh was known as the Great Maharsha Synagogue, named after the distinguished Jewish sage and rabbi of Ostroh, Shemu'el Eli'ezer Edels (1555–1631). Edels was famous for his goodness and selfless desire to help his fellow man. Inscribed on the doorjamb of Edels's house was a verse from the Book of Job: "The stranger did not lodge in the street: but I opened my doors to the traveller."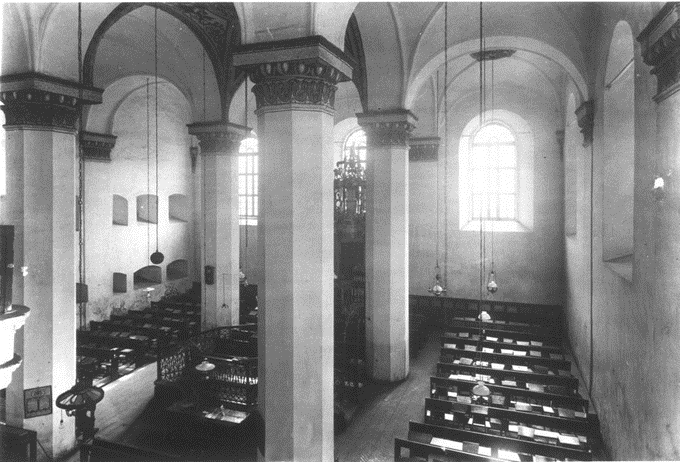 In the following decades, Ostroh was renowned as a city of Jewish scholarship. Great Torah sages lived and taught here. The remarkably productive Jewish printing house of Ostroh printed books for the whole of Eastern Europe.
On the eve of the Second World War, two-thirds of Ostroh's population were Jews. During the Holocaust, more than 9,000 of Ostroh's Jews were shot by the German occupiers and their local helpers.
Professor Wolf Moskovich, member of UJE's Board of Directors: "Hryhorii Arshynov was one of those people of whom others say that they are larger than life. An expert in many fields—an engineer, a builder, a businessman, a man of action—he devoted his life to restoring the memory of Jewish life in Ukraine. We met in 2016 in Ostroh, where I was giving some lectures. UJE had awarded a grant to create a Department of Jewish Studies at Ostroh Academy. Arshynov's role in the functioning and development of this department was considerable. He was a very respected figure who launched the initiative to restore Ostroh's historic center. He will remain in our memories as a warm and charismatic personality. This is a tragic loss."
Alti Rodal, UJE Co-Director: "Pain and grieving on the loss from COVID-19 of our dear friend, Hryhorii Arshynov. He was a civil engineer by profession, a bass player in a local Ostroh band, a promoter of annual chess tournaments in memory of his teacher and father, who mentored an entire generation of Ukrainian chess players. Hryhorii devoted much effort to restoring Ukraine's Jewish heritage and fostering Ukrainian-Jewish solidarity in Ukraine."
Last year UJE accepted Arshynov's invitation to bring to Ostroh its traveling exhibition A Journey Through the Ukrainian-Jewish Encounter: From Antiquity to 1939, which focuses on the long history of Jews on Ukrainian lands. Additional panels were prepared highlighting aspects of Jewish life in Ostroh in the 1920s-30s. The opening of the exhibit, however, scheduled for this past September, was postponed because of the COVIC-19 pandemic.
UJE mourns the great loss of one of its best friends in Ukraine.
Dr. Mordechai Yushkovsky, academic director of the International Yiddish Center at the World Jewish Congress, shared his grief over the loss of a close friend: "My heart aches with pain, and my mind refuses to accept that Hrysha Arshynov is no longer with us. For me, he was a friend, fellow thinker, a person with a fiery heart, and a truly Jewish soul. He was an absolutely unique combination of goodness and sensitivity, irrepressible initiative and civic and national responsibility."
"He considered it better to remain in his native Ostroh and be the last guardian of the centuries-old spiritual and material heritage of this Jewish town. Many people were probably amazed by the enthusiasm and awe with which Hrysha collected and preserved documents, books, and gravestones, bit by bit. With all this, he sought to perpetuate Jewish history in his native city. Four years ago, he initiated and organized a seminar on Yiddish language and culture at Ostroh Academy. This event was widely publicized in academic and cultural circles, and he became one of a kind. May the memory of this person be bright and boundless!" Dr. Yushkovsky said.
Andriy Usach, deputy scholarly director of the museum Territory of Terror (Lviv): "Mr. Arshynov was truly an enthusiast of his chosen cause. A year ago, he helped me greatly in my quest to interview eyewitnesses of the Holocaust in the Ostroh region." 
Vasyl Samolyuk, Lawyer (Lutsk): "Hryhorii Arshynov, the last Ostroh Jew. You did not emigrate when you could have so that you could become an example for every one of us of decency, goodness, and service. Live in a small city filled with the memory of your great people. Your roots grew deeper than you thought. Rest in peace. No one will destroy your synagogue."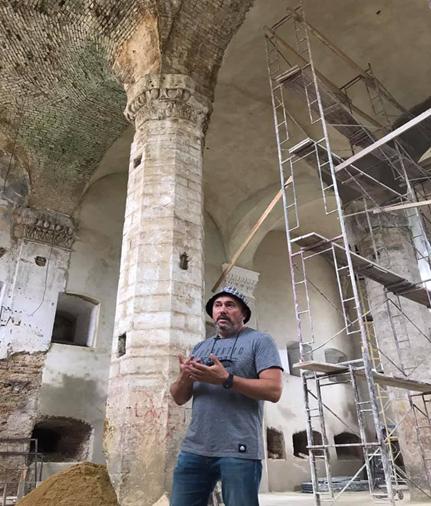 On my part, I would like to add that I helped Hryhorii Arshynov locate and purchase at auctions in Israel ancient books that were published in Ostroh. Hryhorii was prepared to buy rare editions even for large sums of money. For example, I sent him the 1806 two-volume publication Two Tablets of the Covenant. In our communication, I felt that for Arshynov, every such book was the recovery of scattered sparks that he saw as his duty to return to Ostroh, a city that was holy to him.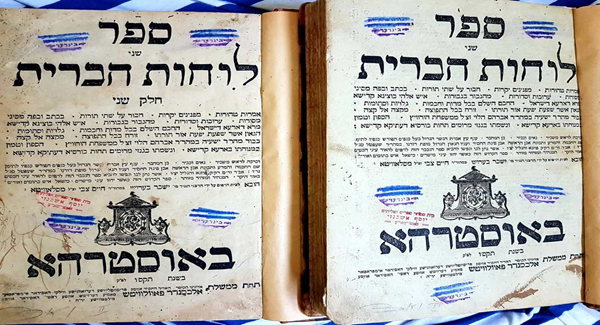 Hryhorii's final Facebook post was on 28 October, three days before his death. He wrote with a sense of optimism: "Regardless of my difficult condition, the restoration work on the Great Maharsha Synagogue continues. Perhaps this is giving me the strength to fight! We are moving forward"!
We laid Hryhorii Arshynov to rest on 2 November 2020 in Ostroh. He was buried at the local Jewish cemetery, for the preservation of which he cared so much.
Arshynov's friends and colleagues say that the work of restoring the Great Synagogue must continue.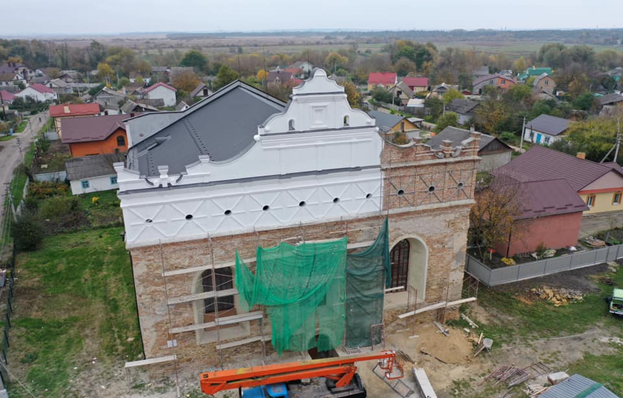 Text: Shimon Briman (Israel).
Photos: Hryhorii Arshynov's Facebook page.
Translated from the Ukrainian by Marta D. Olynyk.