An Israeli hero of the Sobibor death camp uprising was awarded the Order of Ukraine
Posted In: Holocaust Remembrance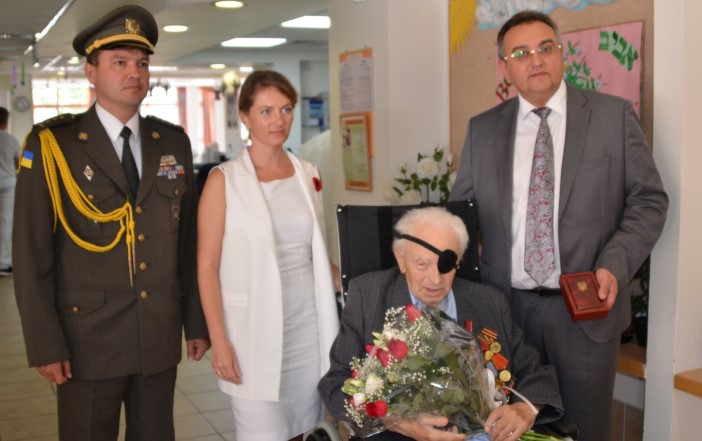 Ukraine's Ambassador to Israel Hennady Nadolenko presented on 16 May 2018 the Ukrainian Order of Merit III degree to the Israeli citizen Semyon Rosenfeld, a participant in the uprising in the Sobibor death camp.
The award was made possible thanks to an appeal by the "Alexander Pechersky Foundation" to the Ukrainian authorities with a request to restore human and historical justice on the 75th anniversary of the heroic uprising by rewarding Semyon Rosenfeld, a participant of the Sobibor uprising, with the Ukrainian state award, the Order of Merit III.
Petro Poroshenko, the President of Ukraine, last year awarded another member of the uprising, Ukrainian Arkady Vaysparira. Vaysparira died in Kyiv in early 2018.
Semyon Moiseyevich Rosenfeld was born 10 October 1922 in the town of Ternovka in the Vinnytsia region. After graduation in October 1940, he was drafted into the Red Army. At the end of July 1941, Rosenfeld was surrounded, wounded, and then taken prisoner by the Germans. He was first in Minsk, at the SS Arbeitslager on Shirokaya Street, and in September 1943, together with Alexander Pechersky, Arkady Vayspapir, and others, was sent to the Sobibor death camp.
On 14 October 1943, he took an active part in the uprising, as a result of which some of the prisoners led by Pechersky managed to kill eleven SS men and storm the wire fences.
After the uprising and until the liberation of Chelm by Soviet troops in the spring of 1944, Rosenfeld, with a small group of prisoners, hid in the woods. He was sent to the 39th Guards Motorized Rifle Division and participated in the capture of Berlin and left on the wall of the Reichstag the inscription "Baranovichi-Sobibor-Berlin." He was demobilized in October 1945 and he lived in Hayvoron, Ukraine.
In 1990, Semyon Rosenfeld left for Israel with his family. In 2013, the President of the Republic of Poland, Bronislaw Komarowski, awarded Rosenfeld with the Order of the Cavalier Cross.
Ukraine's Ambassador to Israel, Hennady Nadolenko, made great efforts to have documents signed by President Petro Poroshenko for the award to the Israeli Semyon Rosenfeld of one of the highest orders of Ukraine.
Text: Shimon Briman (Israel).
Edited by Peter Bejger.
Photo: Embassy of Ukraine to Israel.