How Russian fake news about Ukraine is created and exposed in Israel
Posted In: Russia–Ukraine War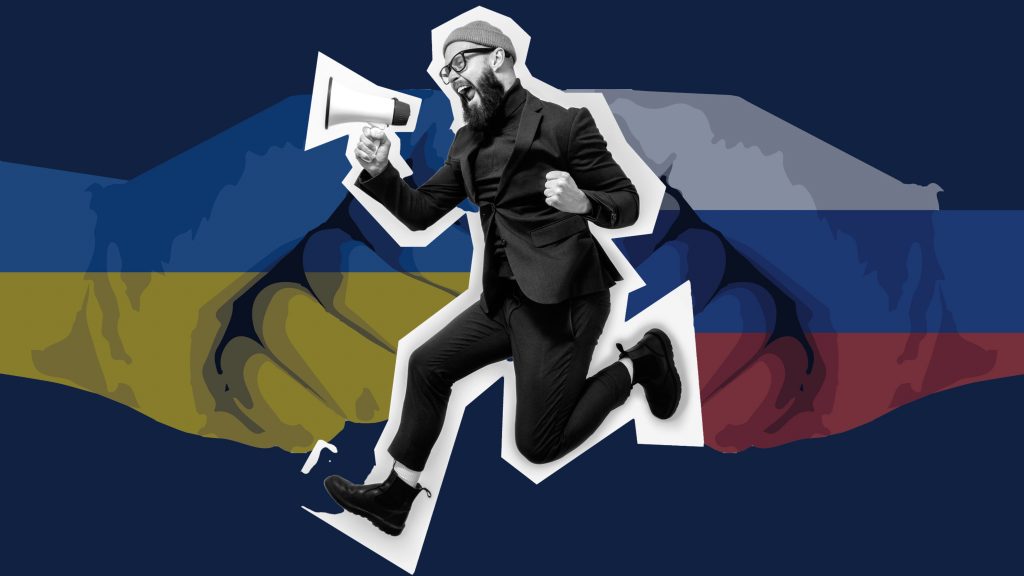 In early March 2023, fake information about an alleged "ban on the Ukrainian flag in Israel" began to spread throughout Russian media, pro-Russian media in various countries, and social media groups.
According to this fake news, the display of Ukrainian symbols, including the Ukrainian flag, is now punishable by a fine of 10,000 shekels (appr. 2,900 US dollars) after a new law was supposedly introduced in Israel.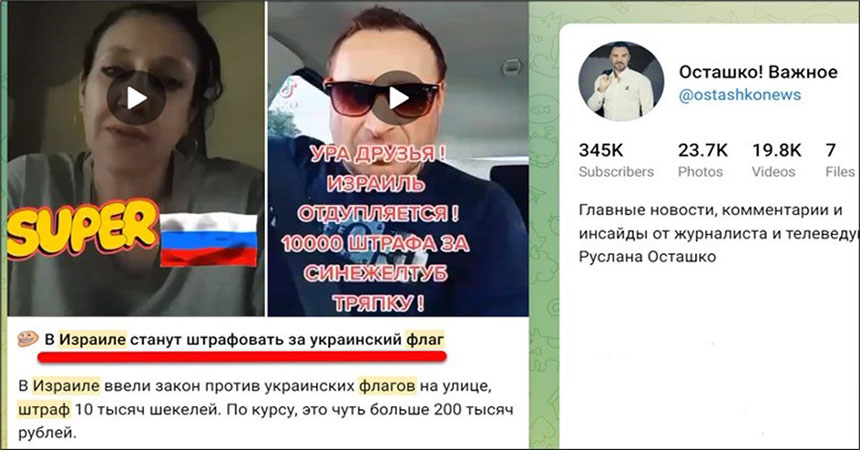 My information reveals that this fake was created and uploaded to the Internet via TikTok by one Vlad (Vladimir), a Russian-speaking Israeli whose channel, Vlad the Russian Jew, has 1,500 followers. In his video, he calls himself "Vlad, the cleanser of Nazism."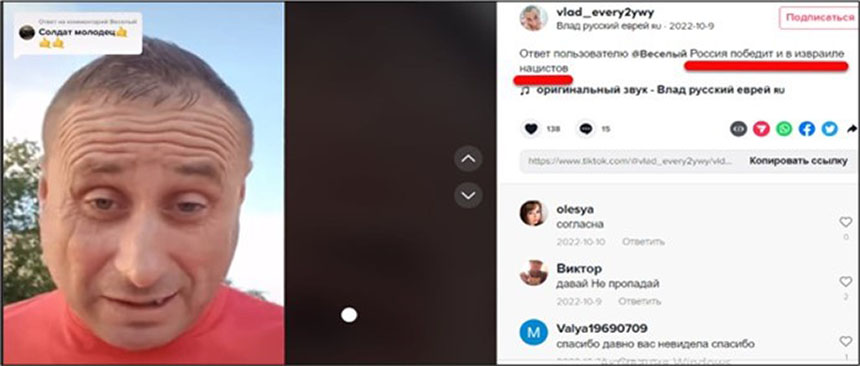 Among émigrés from the former USSR living in Israel, this Vlad is known as a hater of everything Ukrainian. To date, he has uploaded over twenty short videos against Ukraine in support of Russia's aggression.
In a new video released on 4 March 2023, Vlad, sitting at the wheel of a car, informs his viewers that he "heard and verified on a site" the news about the ban on the display of Ukrainian flags in Israel and the fine for displaying the flag of Ukraine and any other Ukrainian symbols.
The same day this fake news was published on the minor pro-Russian propaganda sites Tavriia-Kherson and ZOV Kherson. These websites announced the "news" that "any use or display of Ukrainian symbols has been banned in Israel on the legislative level."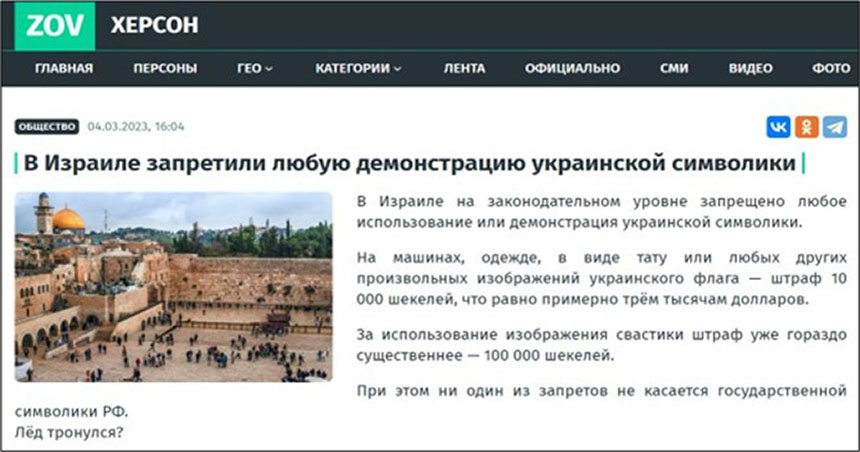 Then the "heavy artillery" of Russian propaganda was brought out. The state Russian periodical Russkaia gazeta, the mouthpiece media of the Russian government, published this false information on its website.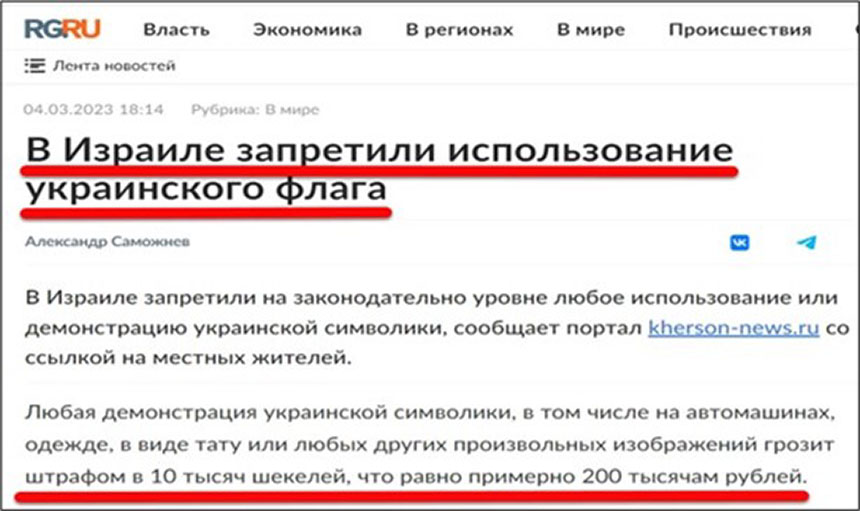 Later this fake news moved to the website Pravda.ru, which, according to the classification established by the Federation of American Scientists, is considered Russia's left-nationalist media resource.
The peak of the dissemination of this falsehood was a report aired on the Russian television channel First Channel. Ruslan Ostashko, the host of this main mouthpiece of Putinist propaganda, posted this "news from Israel" on his own Telegram channel, which has 150,000 followers.
Viktor Bondarev, Chair of the Federation Council Committee on Defense and Security, did not neglect to spread this fake news.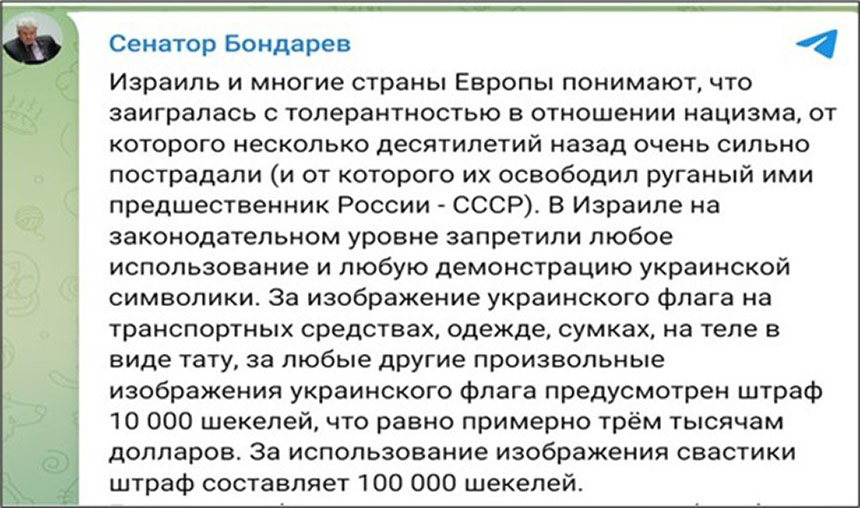 After this wave of publications, reports on the "ban" returned to social media in Israel and other countries, this time featuring quotes from Russia's leading media. Dozens of pro-Putin groups in a variety of countries happily posted this "wonderful news from Israel."
I received a message from a long-time acquaintance who has been living in Germany for many years. He supports Putin and his war against Ukraine, despite the fact that he spent his childhood in Kharkiv. This Russian-speaking resident of Berlin sent me links to Russian media and a video of an unnamed woman in Israel talking about the "ban on Ukrainian flags." His message was filled with joyful commentaries along the lines of "Well, Israel finally decided to ban Ukrainian Nazism!"
When this avalanche of fake news hit Israel, dozens of Israeli supporters of Ukraine, as well as the largest Russian-language news portal in Israel, Newsru.co.il, published the news that Israel has not passed any law banning the display of Ukrainian symbols, including the Ukrainian flag, and that no fine exists.
Neither Ostashko, the TV propagandist of the First Channel, nor Senator Bondarev removed this fake news from their media channels, even a week after the fake news was completely exposed and debunked.
According to recent public opinion surveys, approximately 70 percent of Israelis support Ukraine, approximately 20 percent are neutral, and only 10 percent support Russia's war.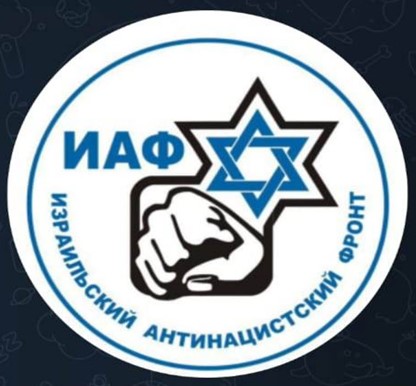 In Israel, there are groups consisting of several hundred members who are active supporters of Russia and Putin, and who regularly organize various protest actions against Ukraine. The most strident one is the so-called "Israeli Anti-Nazi Front."
Among its founders, there have already been several splits and conflicts over leadership and access to funding from sources close to the Russian Embassy in Israel and the Russian special services. The number of people who have taken part in actions organized by this and other groups of "Russian compatriots" in Israel is no higher than 150 to 200. Usually, fewer than a hundred people attend any given event.
For the purpose of comparison, the Israeli NGO Israeli Friends of Ukraine has held numerous mass events in support of Ukraine, which have been attended by 5,000 to 20,000 Israelis.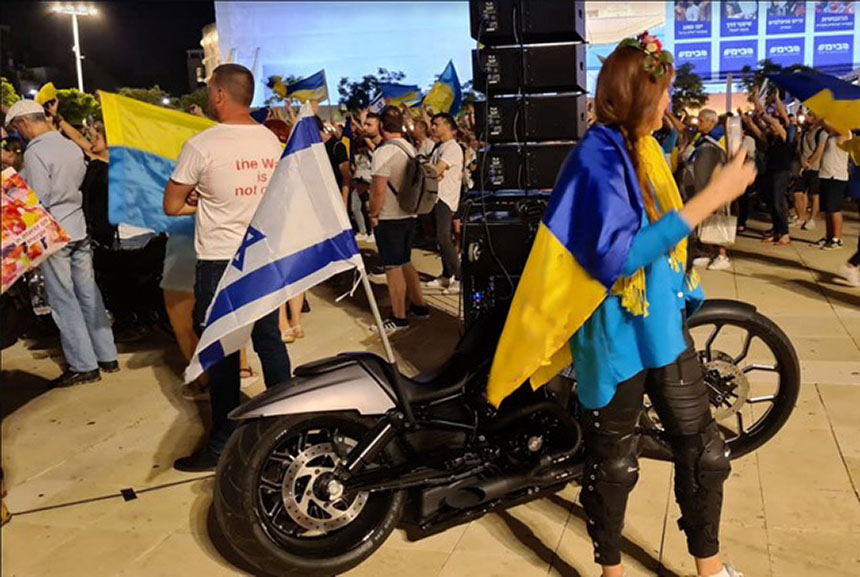 After the fake news about the "ban on Ukrainian flags" was debunked, I noticed an interesting trend. In my neighbourhood alone, I spotted three new Ukrainian flags hanging from balconies, where there had been none before.
This Russian-propaganda provocation thus triggered the opposite reaction among Israeli citizens, who not only were not intimidated by the mythical "fine of 10,000 shekels," but began to display even more Ukrainian flags.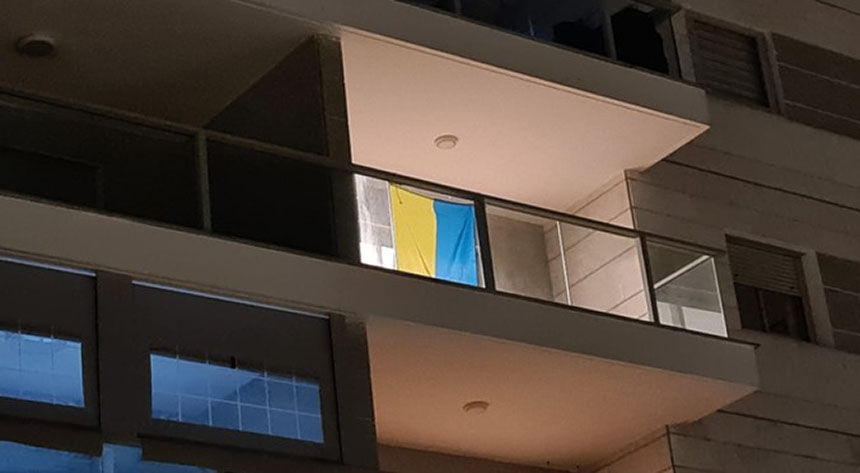 Text, photos, and screenshots: Shimon Briman (Israel).
Translated from the Ukrainian by Marta D. Olynyk