"I give a blessing in the synagogue, then I go out and catch Russian saboteurs": The account of a Zaporizhian Jewish defender
Posted In: Russia–Ukraine War

My recent (October 2022) conversation with officer-reservist Dmytro Kahanovsky (57), a Jewish community activist and chief of staff of the Miska Varta (Municipal Guard) in Zaporizhia, the Cossack capital of Ukraine. Daily missile and Iranian drone strikes sow death and destruction in this city on the Dnipro River. Why did this successful Jewish businessman not leave Zaporizhia but, instead, took up arms to defend his city?

"My mother and mother-in-law cannot be moved, so we stayed in the city. And since we have decided to stay, we must prevent a second Bucha and Borodianka in our city," he explains.

Before the war, Kahanovsky's business dealings were in real estate and energy-saving technologies. "One of my grandfathers, a front-line soldier, reached Berlin; another was in charge of evacuating the aviation plant from Zaporizhia during the Nazi invasion. They would be very surprised if they knew from whom I am protecting our city right now," he says.

When the Russian invasion began, this Master of Sports candidate in hand-to-hand combat and trainer of many athletes, went to the military enlistment office. But because of his age, he was told that it would be better for him to help the police because it was not coping well with the situation; there are many displaced persons and many outsiders in the city, and among them are always enemy agents who have been sent in. That is how Miska Varta, part of the Territorial Defense of Zaporizhia, came into existence.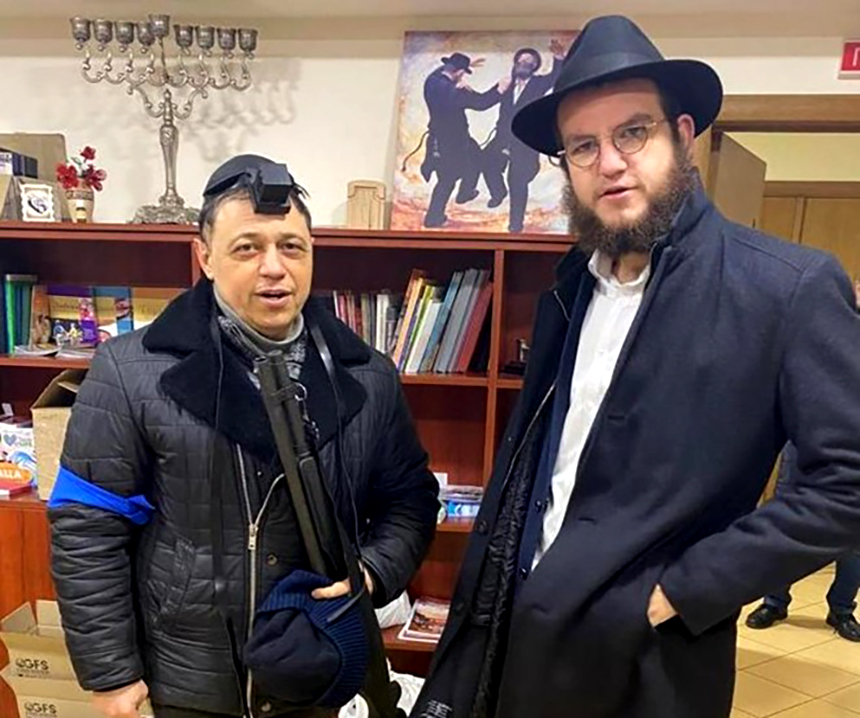 "We are an auxiliary police force combating looters and intelligence-sabotage groups. We are responsible for roadblocks and the city at night; we are fighting against artillery spotters, placers, and drones," Kahanovsky says.
Artillery spotters working for the enemy photograph specific urban installations and place geo-location markers, thus directing Putin's missiles to their targets.
Placers are people who place devices in secret places, "beacons" for missile strikes and explosives. As a rule, they are criminal, anti-social elements frequently recruited by the enemy.
"We catch them red-handed; sometimes, we receive tips from ordinary citizens. We are constantly patrolling the city and carefully inspecting anything that looks suspicious. As much as we can, we prevent crime. The lights are shut off, and in the dark city, criminal elements can take advantage of this. Our mission is to prevent our defenders from being struck in rear line areas."
And that is entirely possible because, according to Kahanovsky, at a textile plant in occupied Tokmak, Zaporizhia oblast, the Russians have organized the sewing of Ukrainian army uniforms. Pretending to be Ukrainian soldiers, they are trying to penetrate Zaporizhia.
Miska Varta supports itself with its own funds and is not financed by the state. "We don't accept just anybody into our ranks. We buy our own uniforms. First-aid kits have been sent to us from the warehouse of the Israeli logistics center MARLOG, which receives medicines and humanitarian aid from the nonprofit organization Israeli Friends of Ukraine. They have also sent us tourniquets and bandages — we thank them for this."
Kahanovsky places special emphasis on the assistance of the Israeli public. "I have many friends and relatives in Israel. If Russian troops are being withdrawn from Syria, then this makes it easier for Israel," he says.
"I am a kohen (also spelled cohen, a descendant of the Temple of Jerusalem priesthood — Sh. B.). I take part in all Jewish community events. I am friends with a rabbi's family; we have a beautiful synagogue with cladding made of Jerusalem stone. During prayers I give a blessing as a kohen, I carry the Torah scroll together with the rabbi," Kahanovsky clarifies.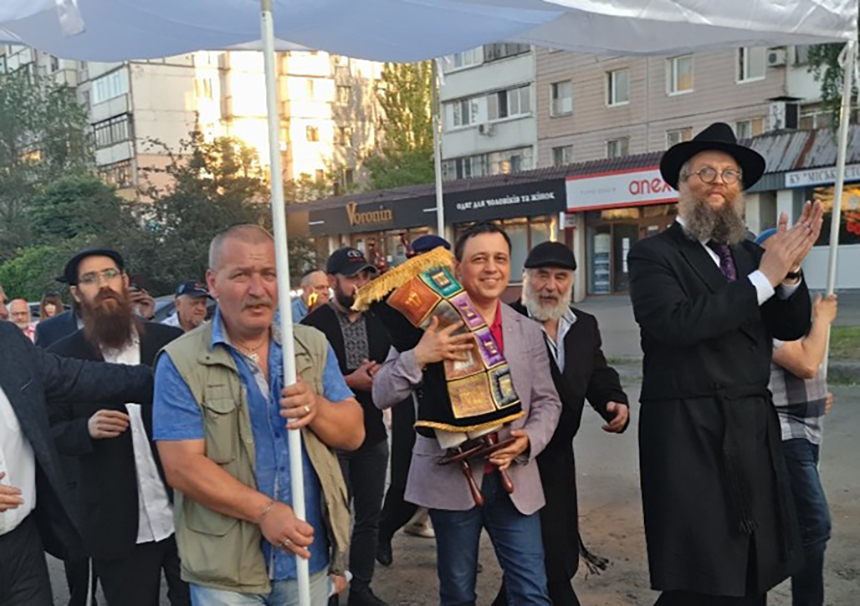 The commander of the Miska Varta unit is Colonel of the Ministry of Internal Affairs Oleksandr Diachenko, a Ukrainian combat officer and participant of Ukraine's Anti-Terrorist Operation. Throughout the war, Kahanovsky has been serving as chief of staff of the Miska Varta headquarters. "A Ukrainian and a Jew are successfully commanding this unit. Such is the real friendship of nations in our city," he smiles.
According to Kahanovsky, several other very worthy members of Zaporizhia's Jewish community — his friends — are engaged in some serious volunteer work. They travel to the front line, deliver uniforms and food, and take away wounded people and refugees.
His adult son, Oleksii, is also a volunteer, helping the Armed Forces of Ukraine, the National Guard of Ukraine, children's hospitals, and orphanages. His wife, Olena, is an Honored Worker of Culture, a lecturer, and musician. Today she works as a volunteer in the system that takes care of elderly Jews living alone in Ukraine.
I asked Kahanovsky about the danger posed by the new Russian offensive against Zaporizhia. He replied: "There is no panic, but there is worry. There is a clear understanding that we cannot let them in here. In our city, every plant is like a mini-Azovstal. Wherever they creep into Zaporizhia, there are fighting Cossacks together with fighting Jews!"
What is most emotionally complicated for Kahanovsky during the war?
"I had never before experienced things on the human level so much as when I began dealing with the barbaric consequences of Russian strikes. When we were pulling the crushed and torn bodies of women, old people, and children out of the rubble. At such moments, a lump forms in your throat, you are suffocated by tears, and you are filled with hatred. We will never forgive them for this — the earth will burn beneath the occupiers' feet."
As the end of October 2022 approaches, the Miska Varta unit is helping to move infirm, elderly people and the belongings of those who have been affected, board up smashed windows, and clean up the glass from blown-up buildings.
"With souls that have become petrified, we head out to fulfill our combat missions. And they will be carried out a thousand percent so that this will never happen again," promises the Jewish fighter Dmytro Kahanovsky, chief of staff of Miska Varta, and kohen of the Zaporizhia synagogue.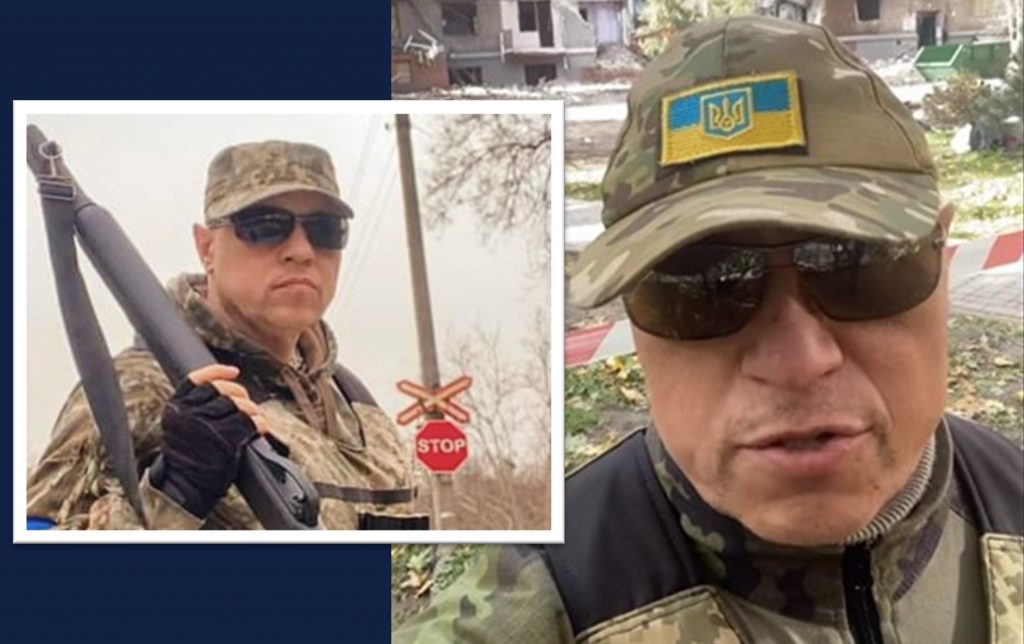 Text: Shimon Briman (Israel).
Photos: From Dmytro Kahanovsky's private archive
Translated from the Ukrainian by Marta D. Olynyk