International conference on Russian war crimes in Ukraine held in Berlin
Posted In: Russia–Ukraine War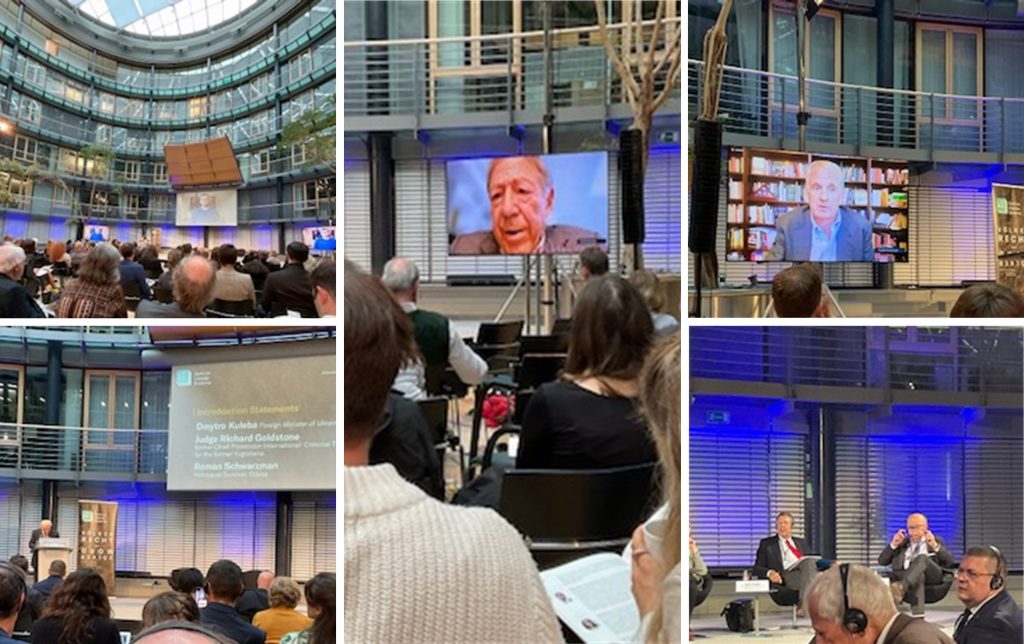 On 20-21 October 2022, the Ukrainian Jewish Encounter joined the Atlantic Council and the Raoul Wallenberg Centre for Human Rights as co-sponsors of an international conference in Berlin called "Russia's War Against Ukraine." The event was hosted by Germany's Institute for Liberal Modernity (LibMod-Zentrum Liberale Moderne) and was held at the Allianz Forum, located next to Berlin's famed Brandenburg Gate.
Discussions pointing to Russia as responsible for war crimes and genocide in Ukraine dominated the conference, which called on the international community to fulfill its obligation to defend the country and its citizens. Attendees made a strong case for increased German armaments for Ukraine and confiscating $380 billion in Russian hard currency reserves frozen by Europe, including Germany and the United States. The meeting provided an opportunity for experts and human rights monitors, who often work in isolation from one another, to deepen ties.
Conference speakers from Europe and North America addressed participants in person and online. Particularly moving was an address by Roman Schwarzman, a 92-year-old Holocaust survivor from Odesa, who spoke eloquently about Ukraine's respect for its Jewish minority. He declared he was twice the victim of fascist threats to his life, first from the Nazis and then the Russians.
Speakers included Timothy Snyder, Richard C. Levin, Professor of History at Yale University and a permanent fellow at Vienna's Institute for Human Sciences; John Herbst, former US ambassador to Ukraine who is Senior Director of the Atlantic Council's Eurasia Center; Irwin Cotler, International Chair of the Raoul Wallenberg Centre for Human Rights; Sir Adam Roberts, Professor Emeritus at the University of Oxford; and British human rights lawyer Wayne Jordash, QC.
Delegates from Ukraine included Deputy Justice Minister Valeria Kolomiets; Oleksandr Merezhko, head of the Ukrainian parliament's foreign relations committee; and Russian war crimes monitor Maryna Sloboyanyuk.
Ukrainian Foreign Minister Dmytro Kuleba addressed the conference online. Other participants were Richard Goldstone, the former chief prosecutor for war crimes in Yugoslavia and Rwanda; Tobias Lindner, the German State Minister for Foreign Affairs; Andrius Kubilius, former Prime Minister of Lithuania; Katrin Goring-Eckhardt, Vice President of the German Bundestag; and Anton Korynevych, the Ukrainian foreign ministry's Ambassador-at-Large, focused on international justice.
UJE Co-Director Adrian Karatnycky addressed conference speakers and guests at a dinner on 20 October. He explained the organization's efforts in the war, discussed the return of the Bloodlands to the territory of Ukraine, and called on the gathered war crimes experts to work in a coordinated fashion for a more profound impact in building the case for genocide by Russia.
Below are several videos from the international conference.
International Conference on Russia's War Against Ukraine, 21 October 2022, Berlin:
Opening Remarks: Dmytro Kuleba, Foreign Minister of Ukraine (online, in English, with German subtitles)
Incitement to Genocide: Timothy Snyder and Sir Adam Roberts (in English)
0:00 Introduction by Marieluise Beck, Senior Fellow, Zentrum Liberale Moderne
2:54 Prof. Timothy Snyder, Richard C. Levin Professor of History at Yale University and a permanent fellow at Vienna's Institute for Human Sciences (online)
23:23 Sir Adam Roberts, Emeritus Professor of International Relations, University of Oxford and Senior Research Fellow, Centre for International Studies
35:19 Discussion