Israelis convey unique greetings on the 30th anniversary of Ukraine's independence
Posted In: Ukraine-Israel Relations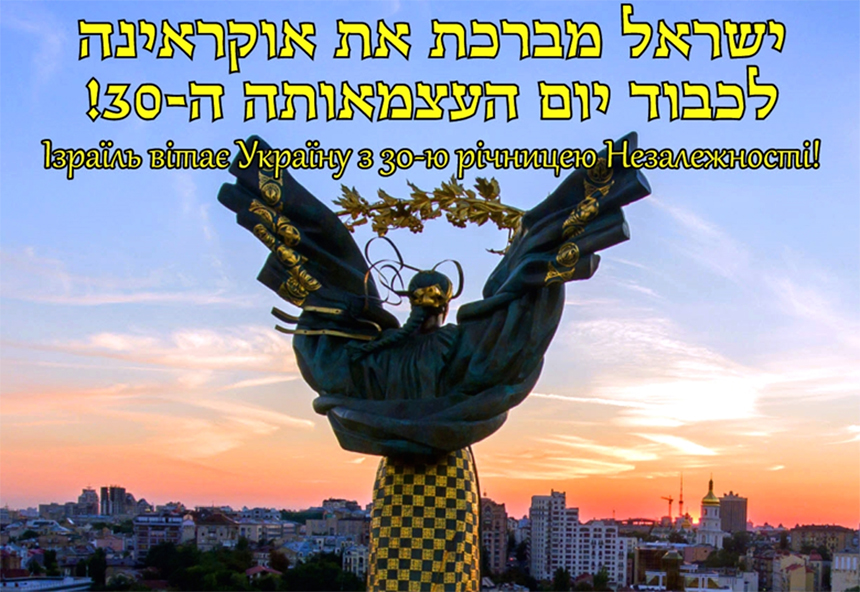 On the eve of Ukrainian Independence Day, bus stops in the Israeli city of Rishon LeTsiyon have been decorated with posters displaying views of several Ukrainian cities and best wishes for the holiday in Hebrew and Ukrainian.
The initiator of this unusual action was the organization Israeli Friends of Ukraine with support from the Canadian charitable non-profit organization Ukrainian Jewish Encounter (UJE).
The posters also display information about distinguished Jews who were born in Rishon LeTsiyon's sister cities — Kharkiv, Lviv, and Kremenchuk — as well as in Kyiv, Dnipro, Odesa, and Chernivtsi.
For example, the Kyiv poster shows Prime Minister of Israel Golda Meir and President Ephraim Katzir; the Dnipro poster features the poetess Zelda Schneurson Mishkovsky, while the poster of Odesa highlights the Hebrew-language poet Hayim Nahman Bialik and Ze'ev Jabotinsky.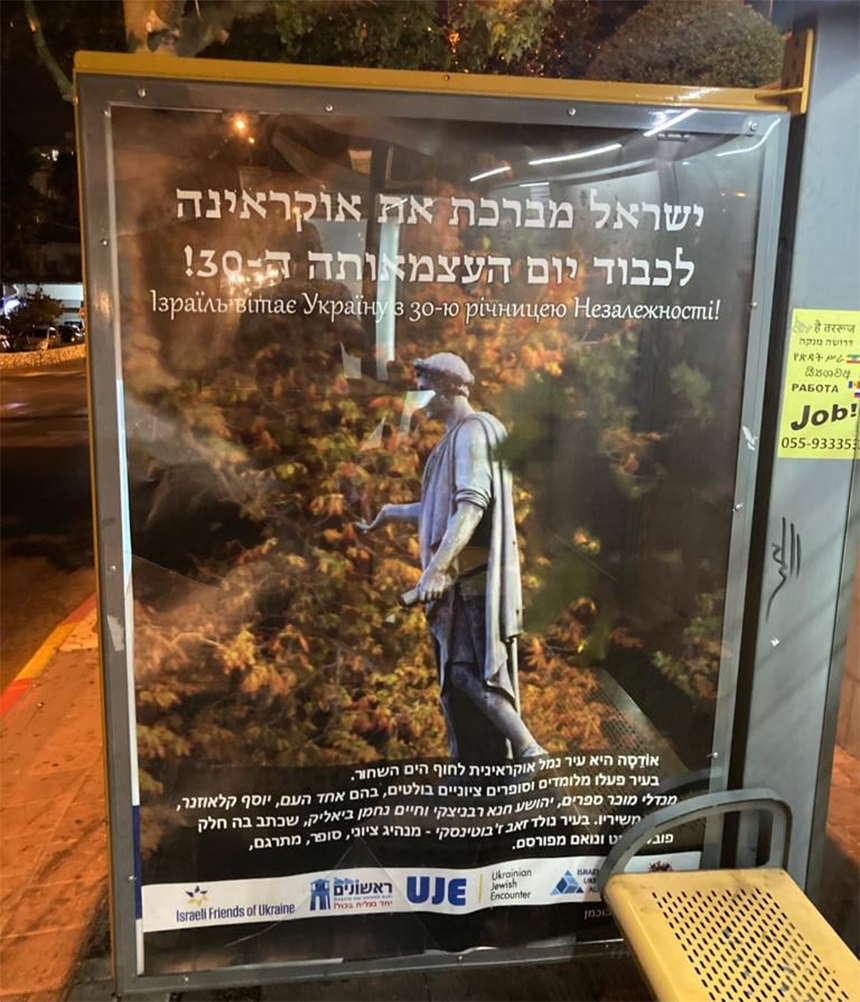 The poster of Kharkiv focuses on three Jewish Nobel Prize winners as well as Soviet Navy submarine commander Israel Fisanovich; poet-satirist Igor Guberman; and Israeli minister Ze'ev Elkin — all of whom were born in this city.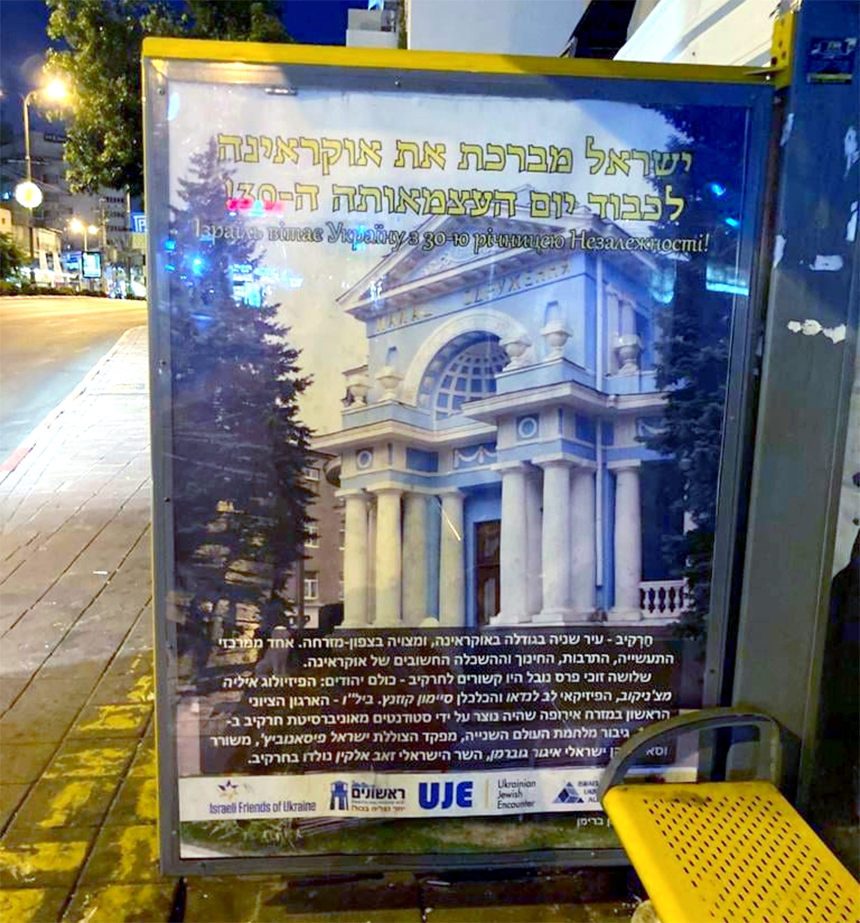 The Chernivtsi poster provides information about the Hebrew-language writer Aharon Appelfeld, the Hollywood actress Mila Kunis, and the Israeli diplomat Naomi Ben-Ami. The Lviv poster features the Hebrew-language poet Uri Zvi Greenberg.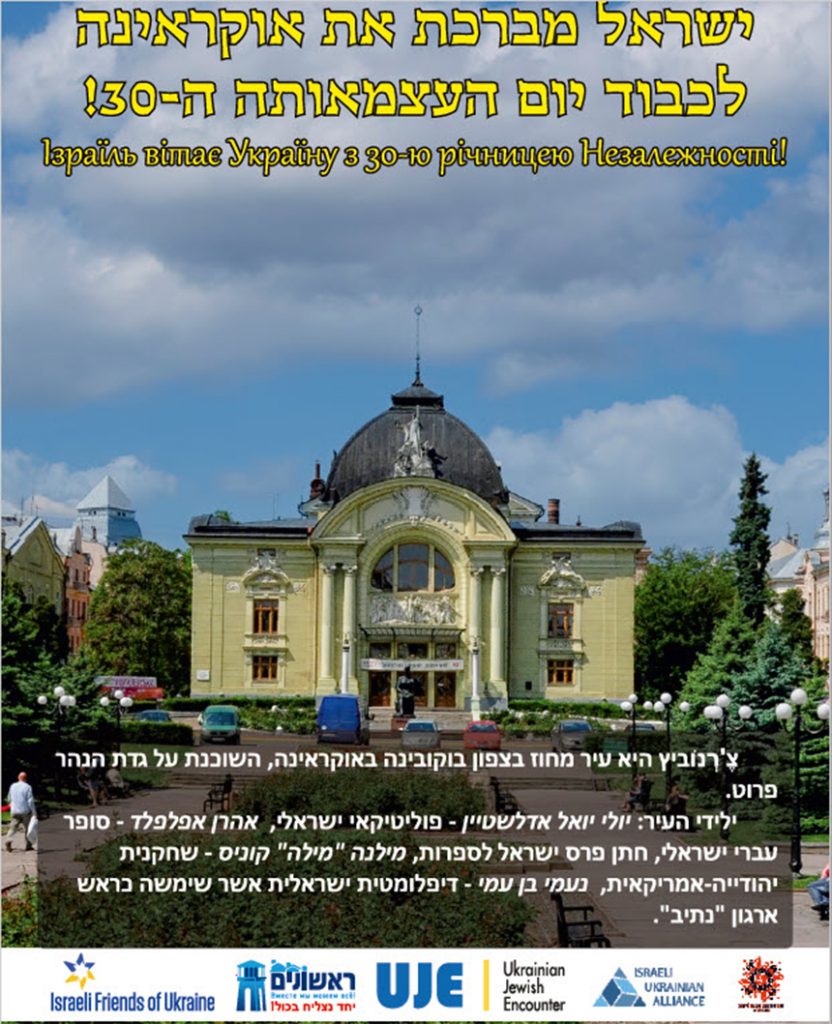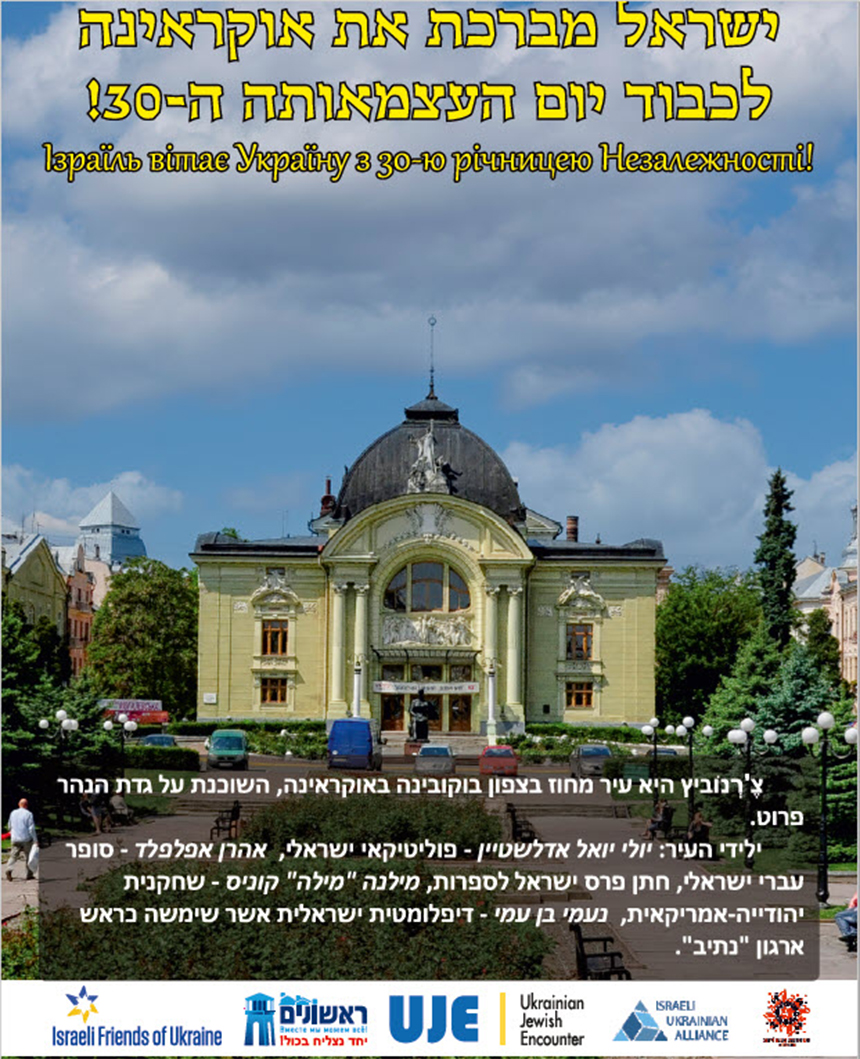 Mayor of Lviv Andriy Sadovyi and Mayor of Dnipro Borys Filatov immediately responded to the Israeli initiative and quickly sent high-quality photographs of views of their respective cities for publication in Israel.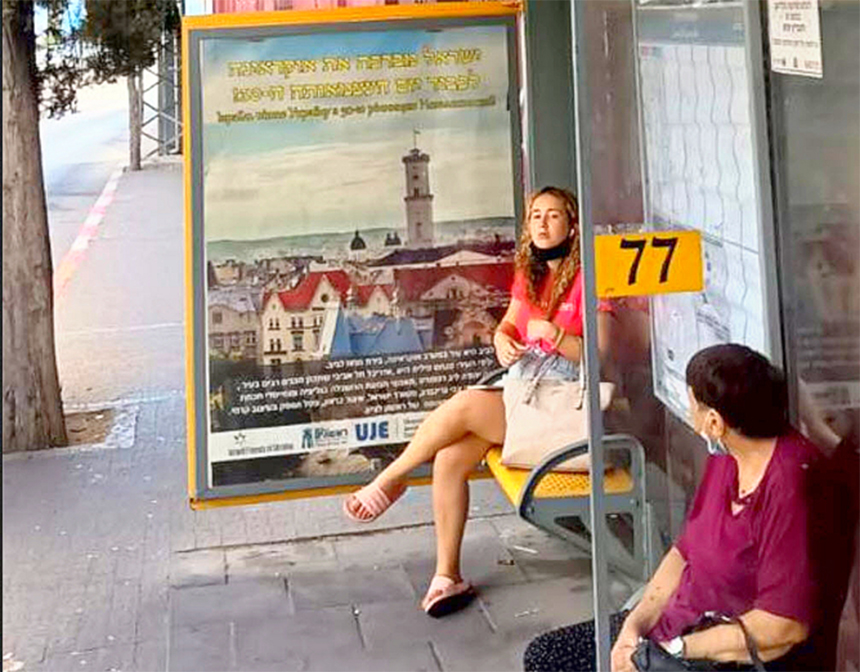 Viacheslav Feldman, the co-head of Israeli Friends of Ukraine, invited the residents of Rishon LeTsiyon to take part in the quest dedicated to the anniversary of Ukrainian independence. "The first person to find and photograph the largest number of bus stops and post them with the hashtag #ia zvidsy [I'm from here] will win a souvenir! Hint: Most of the posters are located downtown — but not just there!" Feldman announced.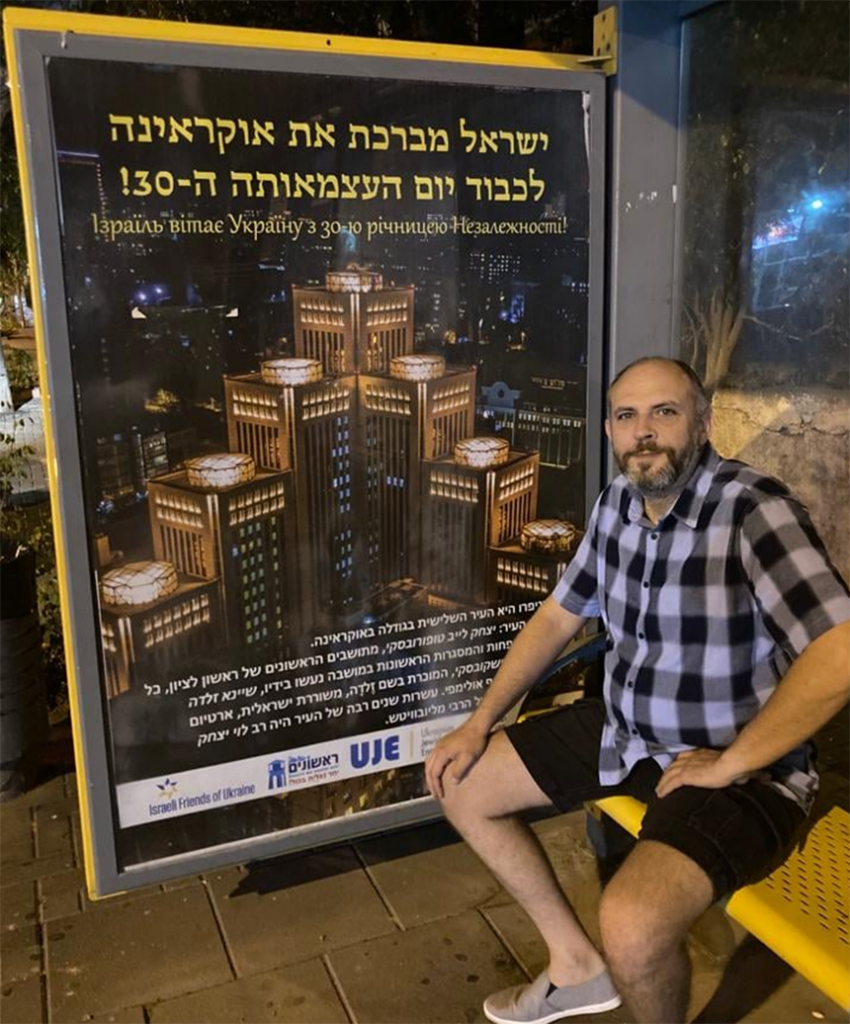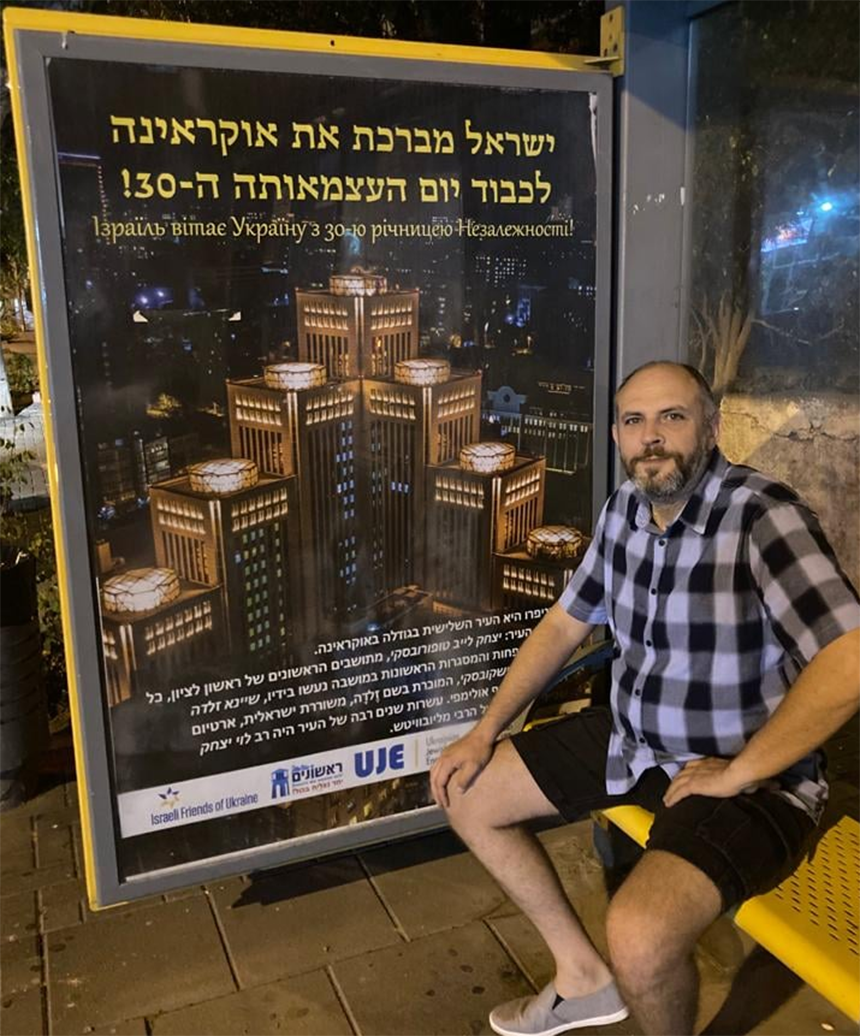 Text: Shimon Briman (Israel).
Photos: Israeli Friends of Ukraine.
Translated from the Ukrainian by Marta D. Olynyk.