Sabotage and raids into the enemy rear areas: How an Israeli officer is fighting for Ukraine
Posted In: Ukrainian-Jewish Relations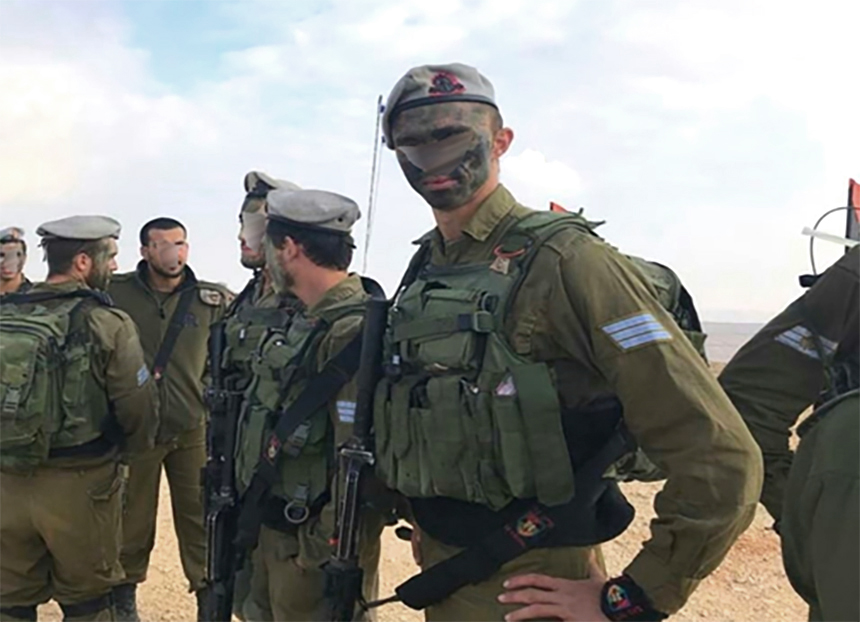 Maksym P., Senior Lieutenant of the Israel Defense Forces (Tzahal), had one and a half months left on his contract when Russia's invasion of Ukraine began. He had served for five years, and immediately considered the early termination of his contract so that he could leave as quickly as possible for the country where he was born. 
Maksym recounted his life path, which found him fighting against the Russian occupiers on the Kherson sector of the front, starting on 7 April 2022.
Maksym was born in the town of Bar in Ukraine's Vinnytsia oblast. In July 2015, he repatriated to Israel at the age of 22. Today he is 29 years old, unmarried. His Jewish mother lives in Ramat Gan, and his father lives in Bar.
Before his repatriation, Maksym graduated from the Yaroslav Mudryi National Law University in Kharkiv. "For me, Kharkiv is a special city," he says.
He was called up to the Tzahal in April 2017 and did officer training, obtaining the rank of Senior Lieutenant of the Combat Engineering Corps (Handasa Kravit). In 2019 and 2021, he took part in the Golani Division's combat operations in the vicinity of the anti-Hamas- terrorist fence in the Gaza sector.
"I have a lot of acquaintances from the Ukrainian cities that have been bombed, many Ukrainian officer friends who are now serving in hot spots. It is obvious that almost 90 percent of the time, the Russians are firing at civilian infrastructure, and many women and children are suffering because of this," Maksym said, explaining his decision to go fight for Ukraine.
In the IDF, the question of the early termination of his contract was not resolved quickly. "No one told me 'Don't go!' But they appealed to my common sense, asking me, 'Why do you need this?' But at the same time, no one put up any obstacles," the young officer says. He ended up being released from the army only two weeks before his contract ended.
Getting ready to leave for Ukraine, the officer spent his own money on all his equipment: helmet, plates for a bulletproof vest, and medications. He said that by the end of March, stores selling Israeli military gear were already half-empty. Store owners said that a lot of people are going to Ukraine and buying entire kits, emptying store shelves.
"I will say one thing about our military equipment stores. When they found out that I was heading to Ukraine, they offered me great discounts. People responded and tried to help when they learned that I was going to Ukraine," he says.
At first, Maksym searched online on how a foreigner could end up at the front. At the Embassy of Ukraine, he was told that the assignment would be done on the spot; all he had to do was come to Ukraine. Ultimately, he made his arrangements through several volunteer acquaintances. He flew through Warsaw. On the way, he drove a vehicle across the border loaded with medications from Poland.
His assignment to a specific combat unit happened this way: "I spoke with some acquaintances, wrote my CV. It was sent to the headquarters; one evening, they called me in for a one-on-one conversation. They asked me: Can you do this, this, and this? I replied: Yes, I can, but I need some assistance. Do you agree to help us? Yes. So, the departure is at 7:00 a.m. Be ready."
As a result of this conversation, he was sent south to the Kherson sector of the front, in keeping with his military occupational specialty, as a specialist who will teach troops what to do.
"The steppes of the Kherson region and the desert districts near the Gaza sector are somewhat similar. For shooting, this is a very open area, although there is less sand here," Maksym says.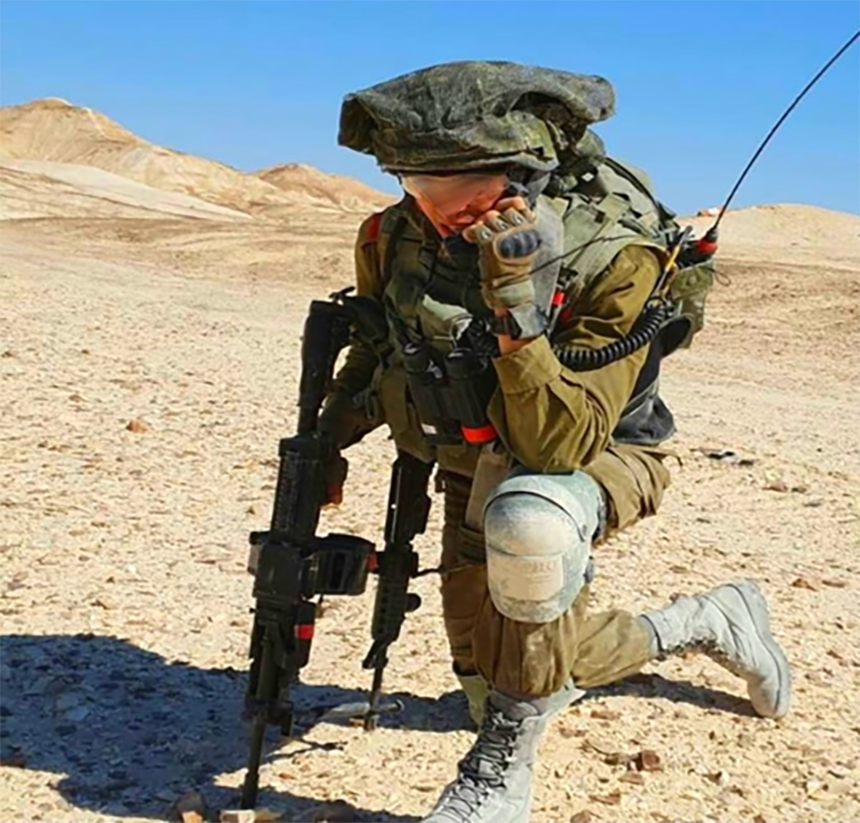 "There is a hotter direction for artillery here. The steppe and a lot of open areas do not permit a good advance. But wherever we could sneak in and play a dirty trick on them [Russian troops — Sh.B.], we did this. But they (Ukrainian Army – Sh.B.) don't get into trouble; they protect people; they work a lot with their heads."
According to Maksym, he noted a difference from the Israeli army: "Here the command is more worried about its guys. We went on one raid [into an enemy rear area—Sh.B.], and when we returned, we were met personally by the battalion commander. He had crossed the contact line on a vehicle in order to welcome us back from the raid. They take care of people. No one rushes a tank with a bayonet knife between his teeth; everything is done intelligently in order to safeguard the personnel and inflict the maximum possible damage on the enemy."
"I am here to do a very specific job. My Israeli army training is the equivalent of special-forces skills: sabotage and reconnaissance work and engineering ambushes with explosives. My Israeli experience and Israeli mental training are very helpful.
We are trained very well in Israel. On the officer level, the training is punishing. There is a two-week-long simulation of combat operations to the point that when you are sleeping, you feel something 'flying' over you. According to regulations, after a 'white night' like that, you're supposed to sleep at least nine hours, but we were given only six or seven. We were pushed to the limit in order to prepare us mentally for a real war.
How did my comrades-in-arms treat me? Here I was, a person without any obligations to anyone, coming to help in this situation. I simply said: Boys, give me some work to do. Let's finish this war faster and return to normal life. There is no racism; everyone treats me with great respect.
I communicate with the military here, and people are beginning to understand that they have to do things like in the Israeli army. We have to be so strong and independent, like Israel. We need the same kind of airpower as Israel has, we need the same kind of training. They understand that Israel is the standard toward which they must strive. Everything else is nicely dressed people in a fine uniform, but in Israel, it's done right. Israel is respected and valued for its training, its possibilities.
In the political sphere, people are somewhat angry at Israel because they were waiting for stronger support from the political leadership. But they understand that people in Israel are helping however they can, both with regard to refugees and humanitarian aid. All of Israel wants to help Ukraine, but the political component is 'dragging its feet.' But I see that even here, Israel is changing its rhetoric."
For understandable reasons, Maksym refused to provide details of his work in the Ukrainian army, but he agreed to mention one example.
"There was a sortie one night together with marines, on the level of Israel's Shayetet 13 (marine commandos). In other words, a marine incursion into enemy-controlled territory, arrival in the rear, and an attack on an enemy column — difficult movement in unfavorable marching conditions. Everything took place very quickly, even by Israeli standards. The entire system is running next to you and trying to arrive at the designated spot.
The disembarkation was from the Black Sea, in the Russians' deep rear. Assembly was done in three hours. In fact, we did not know whom we were going to be 'billeted' with, along with additional equipment necessary to carry out our combat mission. We didn't even know them personally and had not established radio contact with them. But in the process, and thanks to great motivation, we carried out the mission.
The sortie, the march through swamps, the arrival at the designated site, we placed the 'present,' and waited. They [the Russians—Trans.] drove up, we hit them. We blew up their equipment and are pressing them."
According to Maksym, there were other night raids to help gunners cover certain areas more accurately.
I asked him whether he had taken part in the Ukrainian artillery's frequent strikes at the Russian troop airfield in famous Chornobaivka. No, he says with a laugh, "They have enough people to do that without us. All the field artillery is aimed at that area. It is so flattened that it's funny," says the Senior Lieutenant of the Tzahal.
According to Maksym P., there is a strict ban on storing photographs. All the photos that he takes for work he is under orders to delete every few days.
At the end of our conversation, Maksym sent me photos of his stint in the IDF, but asked me to blur his face. "I don't know how the State of Israel will react to such volunteer actions. And I don't want my relatives living in Ukraine to suffer."
Maksim stressed that he does not receive financial reward for his service in Ukraine because he is a volunteer.
"Israel and Ukraine are equally dear to my heart," says Maksym.
Moshe Reuven Azman, the Chief Rabbi of Ukraine, estimates that nearly 200 Israeli citizens are fighting in the ranks of the Armed Forces of Ukraine. Maksym's account is one of 200 Israeli stories about this war for Ukraine's freedom and independence.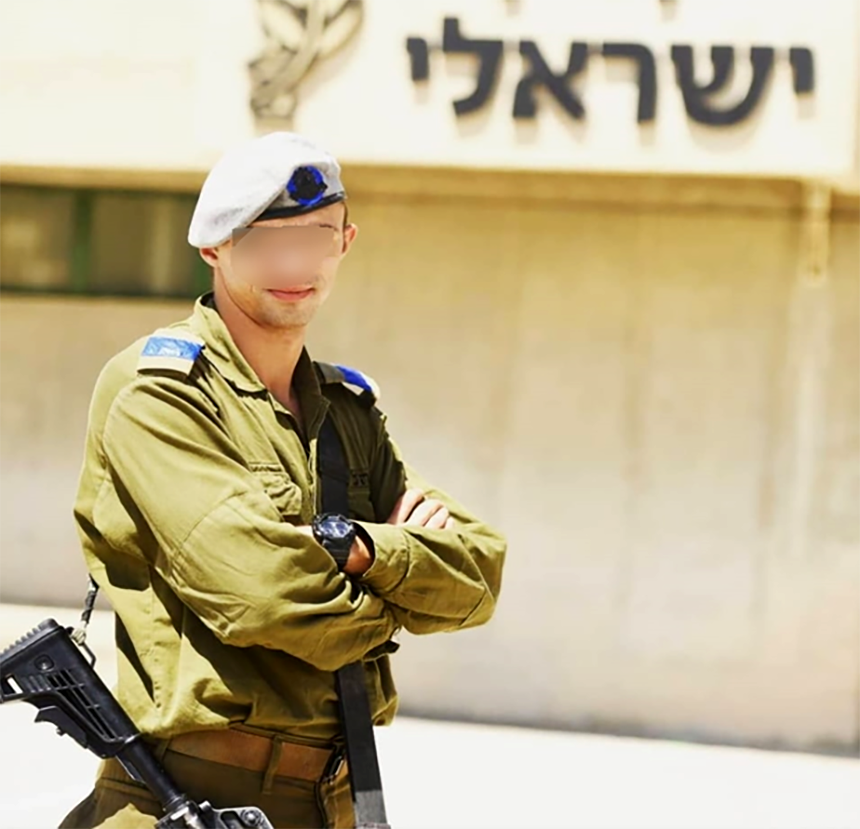 Shimon Briman (Israel).
Photos: Maksym P.
Translated from the Ukrainian by Marta D. Olynyk.