Ukraine-Israel: The Way to Freedom through Business Partnership
Posted In: Ukraine-Israel Relations

Ukrainian Ambassador in Israel Gennady Nadolenko granted an exclusive interview to the Ukrainian Jewish Encounter. The interview was conducted by Shimon Briman, UJE's Israeli liaison.

Shimon Briman: Mr. Ambassador, what place does Israel hold in the order of Ukraine's foreign policy priorities?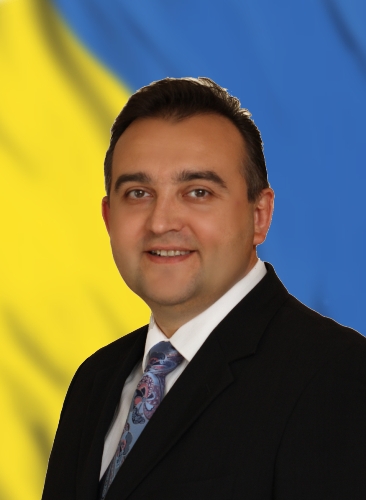 Ambassador of Ukraine in Israel Gennady Nadolenko: The State of Israel plays a special role among the partners of Ukraine. It is our good friend in the Middle East. There is no doubt that Israel is our very important partner both politically and economically. During the 23 years of contemporary diplomatic relations, both sides have expressed mutual interest and political will to strengthen and expand bilateral cooperation.
In fact, Israel is one of our strategic partners. And this aspect is mutual. The Israeli Foreign Ministry acknowledged Ukraine as a priority partner. Our Israeli colleagues are expanding embassy staff in Kyiv and are allocating additional funds for various programs.
We enjoy political accord in the international arena, mutual support in UN voting, and, most importantly, mutual trust and openness. All these fuel confidence in a sustainable future of relations between the two countries. It is important to note that the President of Ukraine Petro Poroshenko, the Ministry of Foreign Affairs, and the Government of Ukraine as a whole stand for allocating a qualitatively new dimension and dynamics to this collaboration.
Shimon Briman: How did the war affect economic relations between Ukraine and Israel?
Gennady Nadolenko: Ukraine has experienced a very difficult year defending itself against an aggressive neighbor. Yet, we have achieved very good results in almost all areas of bilateral relations with Israel. Despite all the difficulties, I am pleased to say that the level of bilateral trade for three consecutive years goes beyond $1 billion. Metal exports from Ukraine to Israel dropped slightly because of the events in the Donbas. Even so, in 2014, the bilateral trade volume between the two countries amounted to $1.075 billion.
Shimon Briman: Do you expect any changes in bilateral relations after the formation of the new government of Israel?
Gennady Nadolenko: After the March elections to the Knesset, we plan to intensify contacts with the new government and the renewed Parliament of Israel. This year, it is important to fill our dialogue with practical actions in order to implement joint programs and projects. Both countries, Ukraine and Israel, believe that trade and economic relations can be enhanced by signing a free trade agreement, which we expect to actualize in the current year.
Shimon Briman: The free trade agreement has been discussed for three years, so why hasn't it been signed yet?
Gennady Nadolenko: There were some bureaucratic delays and a slight pause due to objective reasons. There were two elections in Israel. There was a revolution, the outbreak of the war, and also two elections in Ukraine. To date, the agreement is being finalized by specialists who are setting up goods groups. I cannot see any problems for a prompt ratification. We do not have any trade disputes with Israel, and there is hardly any competition. I am confident the agreement will enhance trade by introducing bilateral duty-free import without restrictions.
Shimon Briman: Actually, does Ukrainian industry see Israel as a consumer market?
Gennady Nadolenko: Due to the loss of the Russian market, Israel is now becoming very attractive for Ukrainian manufacturers. For example, we are seeing an incredible growth in the production of kosher products in Ukraine, in collaboration with the rabbis. I think that Ukrainians have to pay more attention to the Israeli market and Israeli leading developments. Once good conditions are created in Ukraine, Israeli technologies in manufacturing, high-tech, and agro-industry can create a stir in Ukraine.
Shimon Briman: What is going on in the military field?
Gennady Nadolenko: In the military trade field, we may not buy lethal weapons, but no one restrains us from buying means of defense in Israel. I would like to express my special gratitude to the Israeli government for their help in the treatment of our soldiers in Israeli hospitals. I see great prospects for military-technical cooperation between our countries. If the armored personnel carriers, battle tanks, and planes available and produced in Ukraine are equipped with Israeli electronic, avionic, and communication facilities, they will turn into one of the most powerful weapons in the world, which, being produced in Ukraine, will be in demand in other countries.
Shimon Briman: To what extent is bilateral investment secure?
Gennady Nadolenko: We are interested in the further extension of investment cooperation with Israel, and we have a reliable legal basis for such cooperation, which includes an agreement on the encouragement and mutual protection of investments. In addition, active joint work is being actively carried out to create credit mechanisms of bilateral trade. I strongly hope that the new impetus to our economic relations will be given at the next meeting of the Joint Ukrainian-Israeli committee for trade and economic cooperation, which is scheduled this fall in Kyiv.
Shimon Briman: What business fields in Ukraine are Israelis most interested in?
Gennady Nadolenko: There are many successful examples: the construction of commercial and residential real estate, health care, developments in agro-industrial, and military-technical spheres. With the participation of Israeli companies, a number of shopping and entertainment centers, hotels and residential complexes, and offices and logistics centers were built in Kyiv and other major cities of Ukraine.
Many successful projects have been implemented in the field of medicine. Today, among other tasks, we are interested in cooperation in establishing a rehabilitation center, a unified system of phone psychological services, and improving the efficiency of emergency services.
The particularity of our two countries' economies encourages a focus on the agricultural sector as a priority for bilateral relations, especially in the food industry. I want to mention an interesting fact. Today, more than fifty percent of Israeli bread is baked from Ukrainian grain. I might as well say that half of the matzah that the Israelis are eating now, during Passover, is of Ukrainian origin.
Shimon Briman: Is there something unique in Ukrainian-Israeli relations?
Gennady Nadolenko: I believe it is the unique human touch—the active personal contacts between people who create good prospects for cooperation. Almost 400,000 immigrants from Ukraine play a significant role in the development of the State of Israel. We feel whole-hearted support from Israeli citizens. For instance, volunteers from the Israeli Friends of Ukraine organization today provide substantial assistance in the treatment of wounded Ukrainian soldiers and in sending humanitarian aid to war victims in Ukraine.
And in Kyiv, the work of the Ukraine-Israel Business Council led by Alexander Pavlov, a true professional in the field of Ukrainian-Israeli business cooperation has been very fruitful.
Israel these days is celebrating Passover, commemorating the escape from slavery to freedom. During our Revolution of Dignity, the people of Ukraine also chose the path to freedom. And this is another factor that unites Ukraine and Israel today.
Shimon Briman, Tel Aviv, Israel
The Ambassador's Biography: http://israel.mfa.gov.ua/ua/embassy/ambassador/cv
Translated from Russian by Miriam-Feyga Bunimovich, UJE Research Assistant