Ukrainian Jewish Encounter (UJE) recognized with prestigious web award
Posted In: Press Releases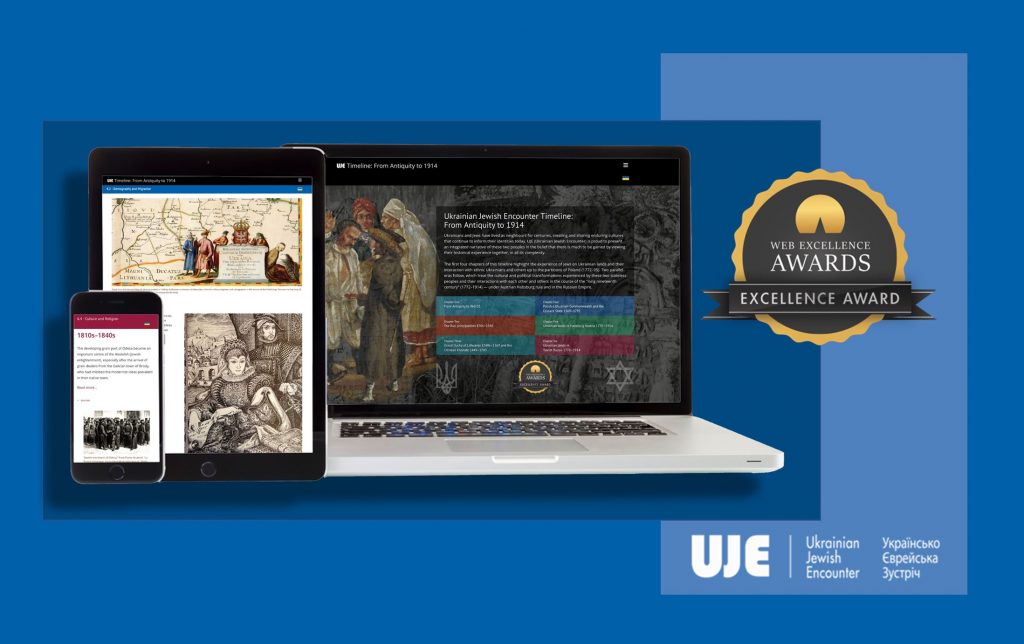 UJE wins at the 8th Web Excellence Awards Competition
The Web Excellence Awards, a leading international interactive web awards competition, recently announced winners highlighting last year's "best of the best" in web design and development.
UJE was recognized with the Excellence Award for the Ukrainian Jewish Encounter Timeline in the website/history category.
"We are delighted that the UJE Timeline received this prestigious award. It is a testament to the hard work of creating an online resource that informs the public about Ukrainian-Jewish relations," said Natalia A. Feduschak, UJE's Director of Communications.
"The UJE Timeline is graphically vivid with accessible information that can be visited frequently. Particularly when falsehoods about the Ukrainian-Jewish relationship have appeared in media, both mainstream and social, we hope the "Excellence Awards" recognition will encourage others to explore the Timeline to glean truthful information about the relationship."
The 8th Web Excellence Awards competition saw over 1,200 entries from 39 countries worldwide, including 47 US States and other countries such as Australia, Canada, Italy, the UK, Slovenia, Switzerland, India, Ireland, and Germany. The Web Excellence Awards winners are selected by marketing leaders, advertisers, communications specialists, and web experts. These experts base their evaluation on the innovation, creativity, implementation, and impacts of all the projects submitted.
The UJE's winner's page can be accessed here.
Ukrainians and Jews have lived as neighbours for centuries, creating and sharing enduring cultures that continue to inform their identities today. Ukrainian Jewish Encounter produced this integrated narrative of these two peoples in the belief that there is much to be gained by viewing their historical experience together, in all its complexity.
The UJE Timeline takes the viewer on a journey from Antiquity to 1914, through the thousand-year encounter of Jews and Ukrainians, in a complex tableau of changing political regimes and intense interactions with other peoples. It is the story of the interwoven trajectories of two peoples, both committed to preserving their distinctive identities, neither of them self-governing during this period. It is a story that includes traumatic times, revolution, and war, reflecting and entrenching stereotypes and shaping memory. It is a story of long periods of normal coexistence and cross-cultural influences, giving rise to a vibrant Jewish culture on Ukrainian lands, side-by-side with the rich and distinctive Ukrainian culture.
As Ukraine defends its very existence against Russia, the Ukrainian Jewish Encounter Timeline serves to counter the malicious and false narratives about Ukraine and its history. The Timeline demonstrates that Ukraine is home to diverse peoples and, for centuries, one of the world's oldest and largest Jewish communities.
UJE is a Canadian charitable non-profit organization founded to deepen understanding of the breadth, complexity, and diversity of Ukrainian-Jewish relations over the centuries, with a view to the future. Its work engages scholars, civic leaders, artists, governments, and the broader public in projects and initiatives to strengthen mutual comprehension and solidarity between Ukrainians and Jews. As stated in UJE's motto: "Our stories are incomplete without each other."