"With the help of Ukrainians, I realized my national existence as a Jew"
Posted In: Ukrainian-Jewish Relations

Mikhail Heifets, a great friend of Ukrainian-Jewish understanding, is no longer with us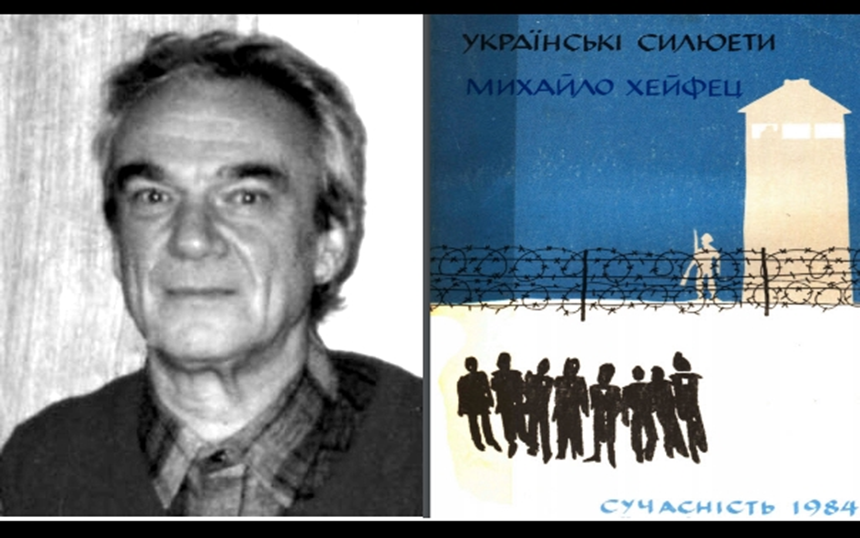 Mikhail Heifets, the renowned Soviet human rights activist, dissident, historian, and writer, died at the age of 85 on the evening of 25 November 2019.
Heifets was born in Leningrad in 1934. In the late 1960s, he joined the movement to distribute self-published dissident literature and was the author of a preface to the overseas publication of poems by the future Nobel laureate Joseph Brodsky. Heifets was criminally charged under the article "Anti-Soviet propaganda and agitation" and was sentenced to four years in prison and two years of exile following a sentence by a Soviet court in 1974.
Paradoxically, it was precisely through the barbed wire of a Soviet concentration camp and in exile that he became acquainted with Ukraine and its best sons.
Heifets discovered Ukraine as follows: "As a historian, I suddenly saw an extraordinarily talented people. And I was interested in the country from which these talented people originated. Suddenly, I discovered that this country is larger than France, I saw that its population is about the same as in France, and the level of culture and influence in world history is absolutely incomparable to a country like France. You could think that these people are not talented—but I saw that they are very talented, judging by the individual Ukrainian personalities whom I studied. Here I understood the tragedy of this nation, which was artificially limited in its development by historical conditions. And of course, these people and this country interested me. "
Heifets wrote: "When I ended up in the zone, I suddenly saw nationalists of all stripes, as they said at the time.  And the largest group were the Ukrainians. They taught me that every nation needs God, that there are no unworthy nations and no great nations. And I seemed to realize myself as a member of my own people. My first book, Place and Time, was born of this, and with the help of Ukrainians, I became conscious of my national existence as a Jew. Hence, of course, my gratitude to these people who opened my eyes to my own roots."
Heifets was released from exile in January 1980 and repatriated to Israel in March of that year. He was published in Russian and Ukrainian emigre publications, including the journals Kontinent, Kolo, Posev, Tribuna, and Suchasnist.
From 1982 to 1990 he worked as a research fellow at the Center for the Study of Eastern European Jewry at the Hebrew University of Jerusalem. In the 1990s, he became one of the most noted journalists of the Russian-language newspaper Vesti in Israel. He remained a true friend of Ukraine and Ukrainian culture until the end of his life.
While in Israel, Mikhail Heifets wrote the book Ukrainian Silhouettes (1981), profiling the many wonderful people he knew and who shared his fate in the prison camp, including Vyacheslav Chornovil, Mykola Rudenko, and Vasyl Ovsiyenko.
Vasyl Stus was one of the most influential people whom Mikhail Heifets met in the gulag. Heifets wrote: "To my mind, Stus is a mastermind in creating new directions in poetry, the creator of new harmonies. First of all, he expanded the boundaries of poetic language, he looks for words to express a new poetic consciousness from the nation's language reserves—in the verbal cellars, barns, and storehouses of national word-creation. Moreover, he, in my opinion, affects even the national style of the soul, seeking a broad, free, and endless poetry with a clear and restrained European form of verse."
"A courageous and unyielding people, the Ukrainians were still defeated. The defeat in the national battle created around them an aura of tragedy, a hypersensitivity to everything that touched the national nerve of the soul," as Heifets emphasized in his book, which became one of the most striking works in the name of Ukrainian-Jewish understanding.
Vasyl Ovsiyenko, one of Mikhail's Ukrainian friends who was imprisoned with him in one of the camps, recalled in his memoir Mordovian Union: "Heifets was keenly interested in Ukraine and asked me to speak with him in Ukrainian, as he had previously done with Zoryan Popadiuk. I read Shevchenko and other poems to Heifets and shared with him our national problems: the language issue, culture, and the moral problems of a subjugated people. Heifets was interested in Ukrainian affairs, and I was interested in his vision 'from the side.' He tried to read in Ukrainian and would sometimes ask me the meaning of individual words."
Vasyl Ovsiyenko was struck by the phenomenal awareness and memory of Heifets: "We Ukrainians were able to endure a lot in concentration camps but could not write about it. Thanks to Heifets the Jew: no one has ever written better about us."
Even after the collapse of the USSR, Ovsiyenko met with Heifets again—this time in Jerusalem in 1993. Here's what a Ukrainian guest recalled: "We sat in the garden near the university dormitory, the former co-conspirators Yevhen Sverstiuk, Zinoviy Antonyuk, Yevhen Pronyuk, Oleksa Riznykiv, Bohdan Rebryk, Mykhaylo Horyn, Yakiv Suslensky, Arye Vudka, Semen Mogilever, and Mikhail Heifets. They read the poems of Vasyl Stus. They remembered not so long ago, when they were starving and having tea together, when they were at great risk preparing information and statements, for which we were punished again, when Ukrainian (or rather anti-Ukrainian) newspapers and magazines in the USSR hissed about the "union of the Tryzub (trident) and the Star of David." Indeed, this is what we are—our alliance against the Evil Empire."
Text and Photo Collage: Shimon Briman (Israel).
Edited by Peter Bejger.