Yatseniuk in Israel: "Our past must not be used against our future"
Posted In: Ukraine-Israel Relations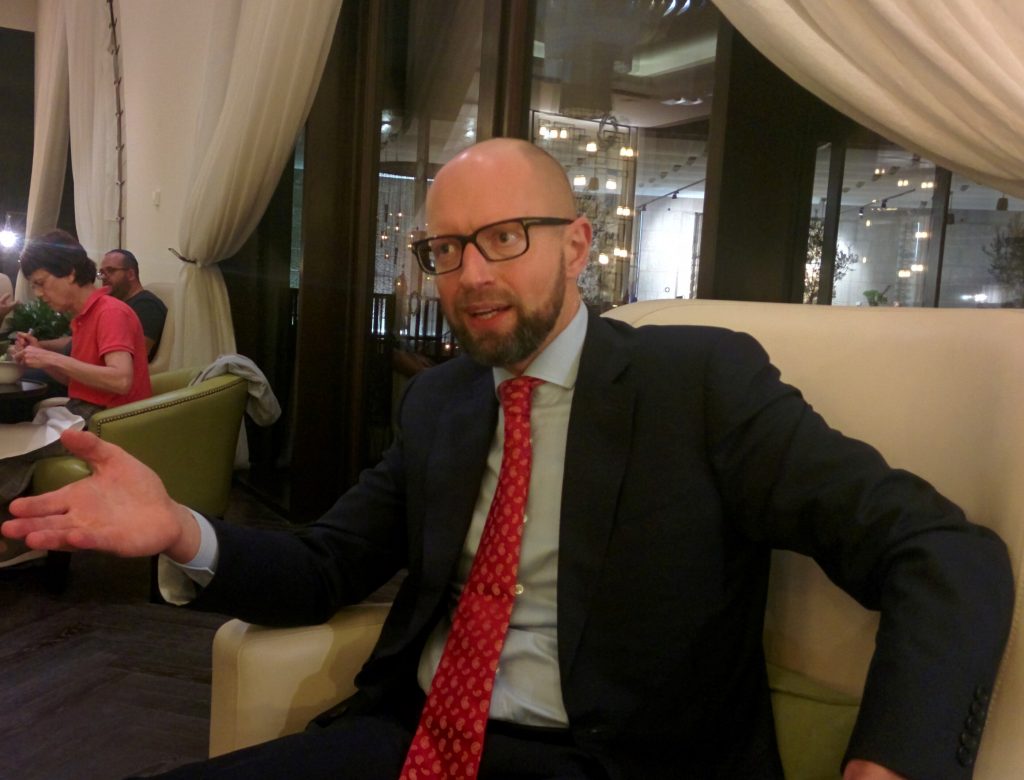 Ex-prime minister of Ukraine and leader of the People's Front party Arsenii Yatseniuk, whose unofficial visit to Israel ended on 26 October 2017, was given a warm welcome. The politician, who does not currently hold any official government posts, was welcomed in Jerusalem by Prime Minister Benjamin Netanyahu, Minister of Defense Avigdor Lieberman, and Minister of Environmental Protection Ze'ev Elkin.
Arsenii Yatseniuk summarized his visit to Jerusalem, shared his impressions of Israel, and commented on topical issues of Ukrainian-Jewish relations in an interview with the Ukrainian Jewish Encounter (UJE).
Shimon Briman: Can contemporary Ukraine learn anything from Israel? How do you perceive the utility of the Israeli experience for Ukraine?
Arsenii Yatseniuk:  We have a tragic history. Both you and we have experienced challenging ordeals. Our fundamental priority is the independence and integrity of the state, the security of the country and its citizens, as it is yours. It so happened that in this historical period both our goals and your goals are generally identical. You have difficult neighbors, and we have aggressive neighbors. Only a 2-hour and 40-minute flight separates our two countries. And there is much to learn from you. Ukrainians rising to the defense of their state is the same thing that happened during the creation of Israel.
Shimon Briman:  Experts say that the Ukrainians' post-Maidan fervor is waning and that disillusionment is growing after three years of war. Do you sense this in Ukrainian society?
Arsenii Yatseniuk:  This happens. Take you or me. Imagine that everything is being dumped on you all at once: war, economic problems, the loss of territory, the post-revolutionary period, and complex social decisions. It is natural that this kind of pressure on a person leads to a loss of energy.
And everything is happening the same way in our life: fluctuations from "top" to "bottom." But trials are granted to those who can endure them, and I am certain that we will withstand them. It is a difficult period today, but we have survived this difficult period.
Shimon Briman:  What topics did you raise during your conversation with Prime Minister Netanyahu?
Arsenii Yatseniuk:  I cannot reveal everything. But I can comment that among other things we discussed the expeditious signing of a free trade agreement between Ukraine and Israel.
Shimon Briman: For big Israeli business it is important to see a signal from Kyiv that it is being awaited in Ukraine. But lately, machinations have started against the largest Israeli defense contractor Elbit Systems, aimed at giving the billion-dollar order to reequip the Ukrainian army with radio communications not to the Israelis but to a Turkish company. Do you think that this agreement with the Israelis can take place or will it be decided in favor of the Turks?
Arsenii Yatseniuk:  This is a question for the defense department and security services. But on my part, I consider it essential to open doors as widely as possible for Israeli business, including private companies in the sphere of national security and defense, because I believe that Israeli technology is tops. And Israeli companies should definitely bid on those defense orders that we will have in the future.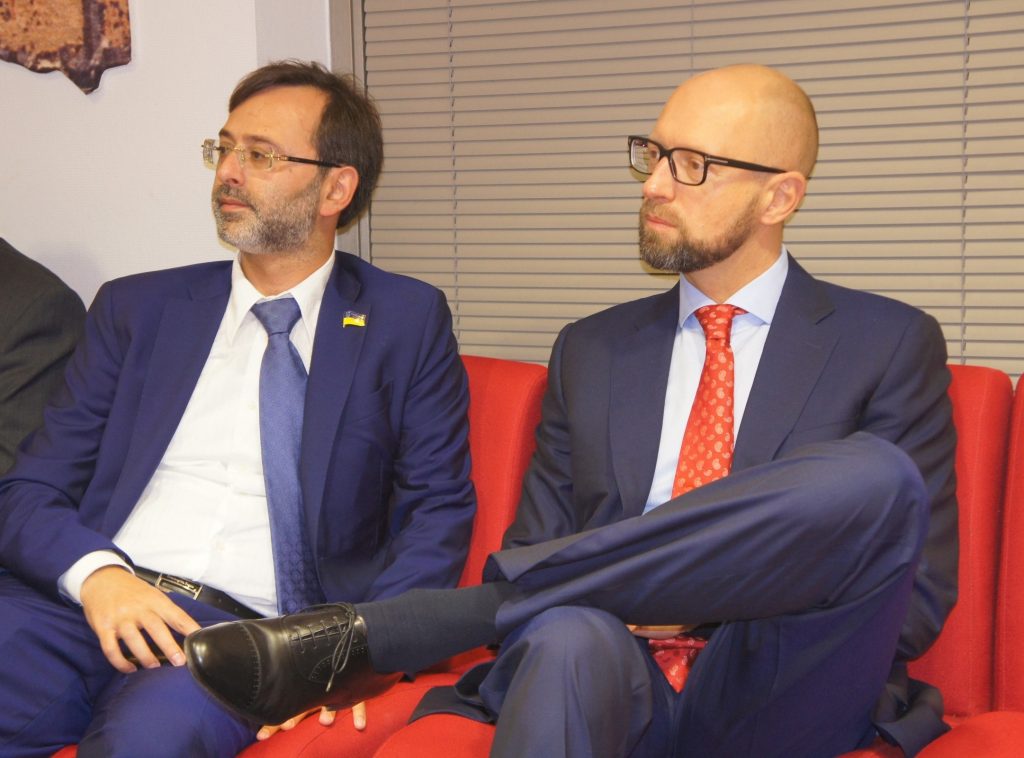 Shimon Briman: Do you see yourself holding higher positions than you occupied earlier?
Arsenii Yatseniuk:  You must understand that this is not just a political but also a philosophical question. I had the honor of serving the Ukrainian state, beginning with the post of Minister of the Economy of the Crimea, and I was prime minister twice. This is a supreme honor that not everyone receives. Did I finish my political career? Of course not. I am only forty-three. Will I continue to fight? Yes. How will that go? Everything depends on the will of God and the people of Ukraine.
Shimon Briman: What are relations like between the government of Ukraine and the Jewish community?
Arsenii Yatseniuk:  We have a great relationship with the Jewish community. I headed a state committee to organize the preparations for marking the seventy- fifth anniversary of the Babyn Yar tragedy, and holding these commemorative measures in a worthy manner was a question of my national honor.
The Ukrainian Righteous Among the Nations, who rescued Jews during the years of the Holocaust, are part of our national pride. We lived alongside Jews for hundreds of years, and we have immense respect for the Jewish people.
Shimon Briman:  In your view, how serious a threat is radical ultra-nationalism in Ukraine?
Arsenii Yatseniuk:  You know where I think it exists? In Western Europe. I started worrying that radical nationalism has spread throughout the European Union.
Look at what's happening in Ukraine. The nationalists get one to two percent of the vote during elections and on surveys. And right now Mr. Rabynovych has nearly six to seven percent. Besides Israel, the only country in the world with a Jewish prime minister is Ukraine. Mr. Groysman is of Jewish background. He is proud of this, and we are proud of this. And this is the best sign, if we are talking about facts.
Shimon Briman: But how does the rest of the population see this? For example, the names of "Valtsman" and "Groysman" are bandied about on social media [Translator's note: According to the popular Russian television channel Russia-1, the father of President Petro Poroshenko was a Jew named Alexei Valtsman from the Odesa region.]
Arsenii Yatseniuk:  Social media are crawling with Russian trolls; these are thousands of people who spread fake news and disinformation. We are in a state of information war, and they are also trying to lie on these social media sites. But there is only one cure for falsehood: truth.
Recently the police in Ukraine arrested a group responsible for organizing provocations targeting synagogues. There is no doubt that the Russians are behind this type of provocation. They want to spoil our relations with Israel and the Jewish community.
Shimon Briman:  I have a question about heroes. Right now controversy is raging around the unveiling of a monument to Petliura in Vinnytsia. There is great dissatisfaction on the part of Jewish organizations that say: "How can a monument be erected to a person who was responsible for mass pogroms and the killings of Jews?"
Arsenii Yatseniuk:  I am not a historian. There are historians on all sides who are able to figure this out. But I have seen a historical document dated 1921, in which Petliura speaks out against the pogroms…
Shimon Briman: But this was two years after the pogroms…
Arsenii Yatseniuk:  I say again: I am not a historian. But it is a historical fact that Petliura issued a manifesto in defense of the Jews. I would like it if the time comes when we recognize the truth. The truth is not a version of the truth. Truth is only facts that should confirm one historical truth or another.
Shimon Briman:  But what can be done in a situation where those who are killers in the eyes of Jews are presented as heroes to another people? How are we to coexist with this?
Arsenii Yatseniuk: Murderers of Jews have never been heroized in Ukraine. There have been various difficult periods in history, and they must be acknowledged. And we have reached important conclusions with regard to these dramatic lessons. It is very important that our past not be used against our future.
I can answer your question by quoting John Paul II: "Forgive and be forgiven." He said this about Ukrainian-Polish relations. These are great words, and they can also serve as the basis of the relationship between our peoples.
Postscript
After our conversation in Jerusalem, Arsenii Yatseniuk presented me with a souvenir: a Ukrainian magazine devoted to Ukrainian-Jewish dialogue, inscribed with the following words: "May God grant happiness, wisdom, health, and prosperity to you and the great Jewish people."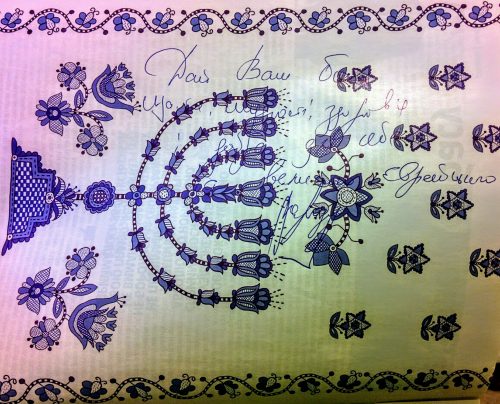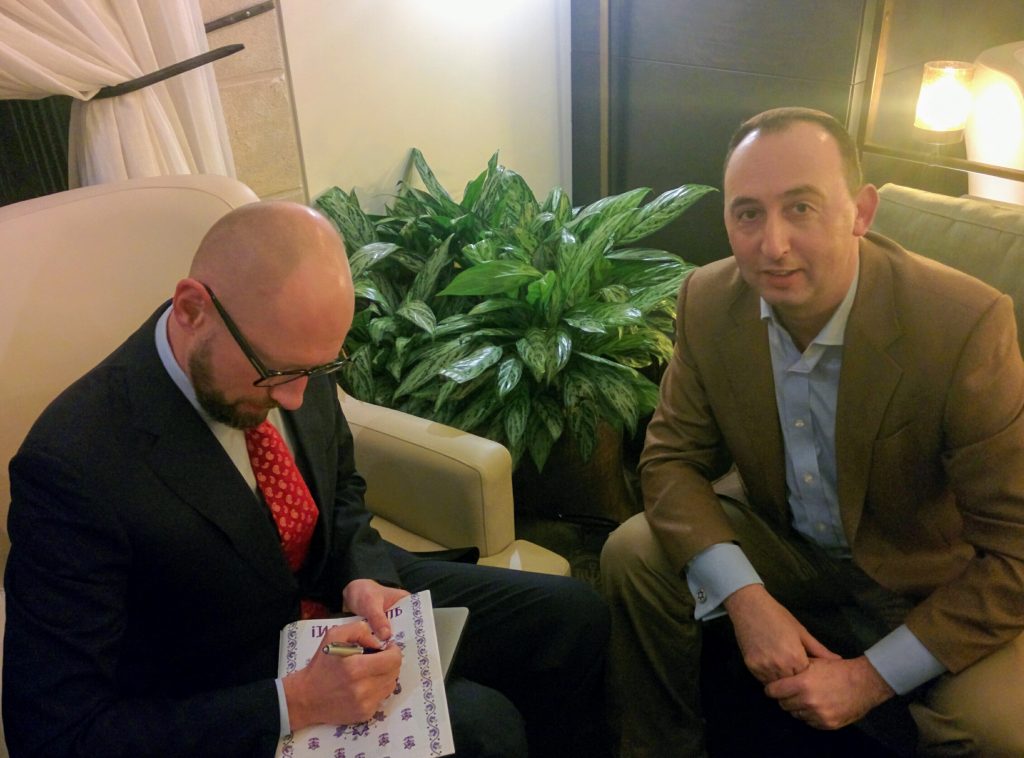 Interview and photos: Shimon Briman (Israel)

Translated from the Ukrainian by Marta D. Olynyk

Edited by Peter Bejger

 

 

Posted On: October 27th, 2017