Our society perceives the arrival of Hasidim in Uman as the influx of a foreign culture to the land of Ukraine, but this is a mistaken belief": Marharyta Yehorchenko
Posted In: Jews on Ukrainian Lands, Hromadske Radio, Sponsored Projects, Audio/Visual Media, History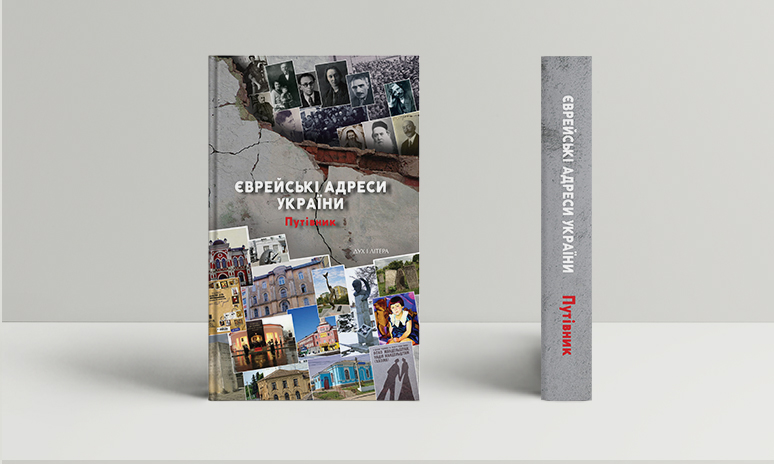 Our guest on the show is the literary specialist Marharyta Yehorchenko, editor and compiler of the publication Jewish Addresses of Ukraine (Dukh i Litera, 2020).
Vasyl Shandro: Are we talking about these addresses exclusively in the past tense?
Marharyta Yehorchenko: No, not just in the past tense. I would like to clarify that this is first of all a travel guide, after all. We tried not to include places with no exact address so that it would be as easy as possible for people to use this book to locate them as they travel around Ukraine. The book ended up growing to 650 pages, becoming an excursion into Jewish history. Sometimes these are places that are absolutely forgotten and abandoned, like some synagogues and cemeteries. Sometimes they are places where Jewish religious, civic, and cultural life exists to this very day. All this is very different, depending on the region to a great extent and the efforts of a specific local community.
Vasyl Shandro: So, this can be considered a work of research?
Marharyta Yehorchenko: Yes, this is a work of research but not mine. My job as compiler was as follows. We structured this travel guide according to the regional principle because this is not in a primary sense historical research but a practical book that contains the fruit of many years of work done by many regional historians. This is, first of all, their work. And yes, research.
Vasyl Shandro: We can go from West to East. Let's begin with Transcarpathia [Zakarpattia]; it cannot be said that this topic of the Jews in Transcarpathia is well researched. In one of our recent programs, we spoke with the Transcarpathian historian Yuri Slavik about the twentieth century, particularly about the Second World War and the horrific tragedy of the Holocaust, as this affected the lives of Transcarpathian Jews. What did you write about if you began this journey with Transcarpathia?
Marharyta Yehorchenko: I had to translate some years ago the work The Jewish Diaspora of Transcarpathia or something similar. That is why for me, this topic is an obvious one. When we come to Uzhhorod, the first thing to which we draw attention is the synagogue.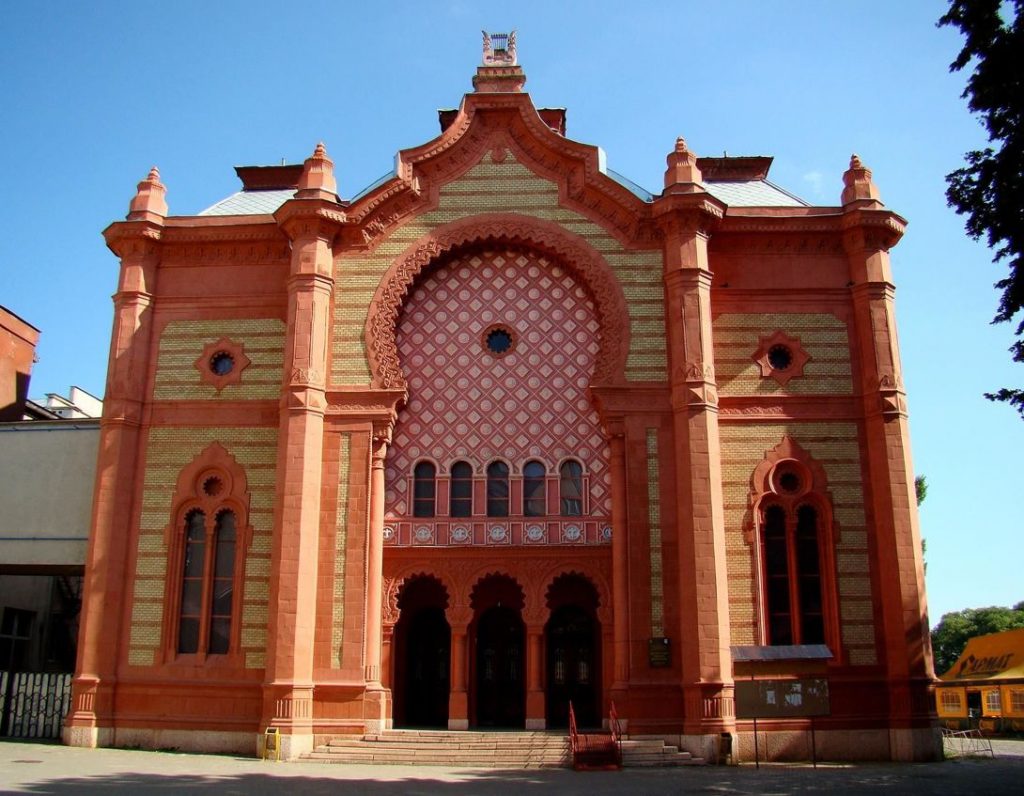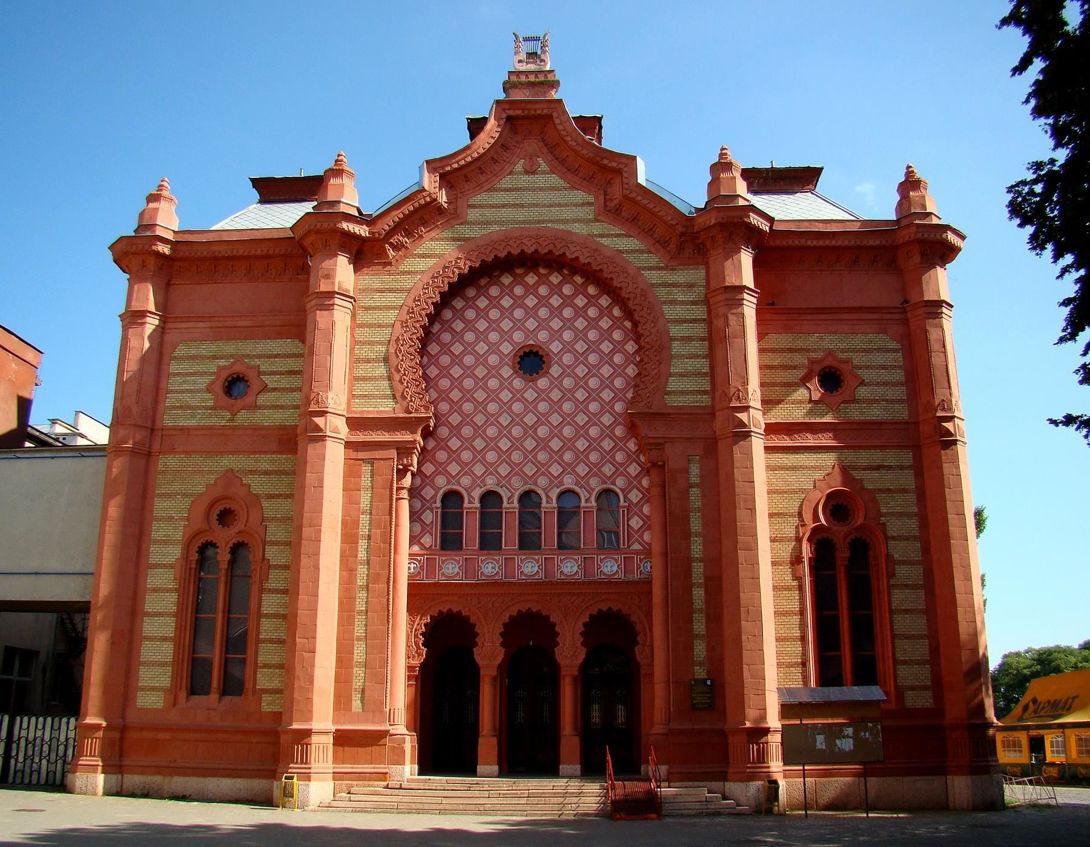 This is a striking building that is difficult not to spot, and everyone local knows that it is a synagogue. What special thing about it did we notice? First of all, we wrote about the fact that on the Uzhhorod embankment, we see many buildings connected with Jewish life, which was extraordinarily rich and varied in Transcarpathia prior to the well-known tragic events of the Holocaust. Besides the Orthodox synagogue, there is a synagogue of Neolog Judaism. In Uzhhorod, there is also a beautiful modernist building that houses a Jewish school.
Among the personalities connected with Uzhhorod, one can mention the well-known Swedish diplomat Raoul Wallenberg, who is one of the Righteous Among the Nations for having rescued Hungarian Jews from the Holocaust by issuing them Swedish passports. There is quite a large Jewish cemetery in Uzhhorod as well.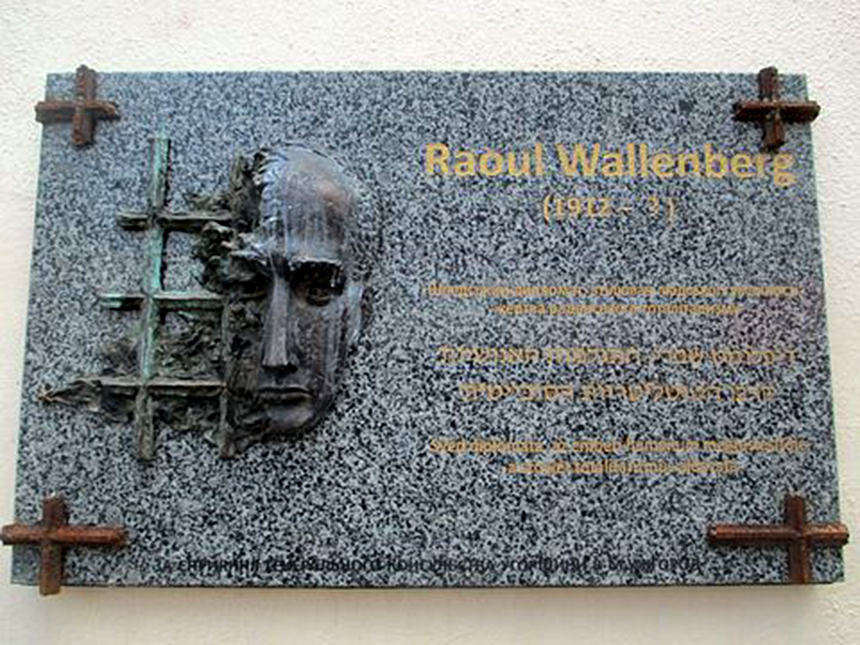 Besides the oblast center of Uzhhorod, in Transcarpathia, there is a city called Berehove, where the large former synagogue is now a building of culture. Mukachevo is, I would say, a larger center of Jewish life than Uzhhorod. It has a functioning synagogue that was restored in our day with funds provided by a Jewish American patron.
Vasyl Shandro: What struck you personally? What hurt you? Were there any surprises for you in this research when you were compiling these texts of the history of Jewish life in Ukraine?
Marharyta Yehorchenko: There was nothing personally striking for me, but that's because I am interested in and have been engaged in Jewish Studies for a long time. However, when I discussed this topic with my friends and acquaintances, I told them that right now I am working on this project, and I noticed that almost everyone expressed amazement when I said that the physical fatherland of Hasidism is Uman.
For example, an event that is widely known to everyone is the arrival of Breslov [Bratslav] Hasidim in Uman to visit the grave of Tsadik Nachman, which our media and society perceive as the influx of an absolutely foreign culture to the Ukrainian lands, but this is quite a mistaken belief.
This tradition belongs to our territories, our history, just like Christian pilgrimages to monasteries. This always surprises people because everyone thinks that Hasidim are people who live in New York or Israel and come here from time to time.
What really astonished me, for example—and this is something that I had never thought about—is that I never thought that the descendants of Sigmund Freud were from Ivano-Frankivsk oblast. There is nothing about this in the travel guide, but it was a surprise to me.
Vasyl Shandro: What about Jewish addresses in eastern Ukraine: the Donetsk and Luhansk regions?
Marharyta Yehorchenko: For me, as the compiler of this book, gathering information for this book, these were touchy points. Obviously, the Jewish history of the Donetsk and Luhansk regions cannot be as rich as the history of Galicia. For understandable reasons, we barely know anything about the status and condition of the monuments that remain in Donetsk. It must be said that until the war [the current conflict between Ukraine and Russia—Ed.] contemporary Jewish life in Donetsk was quite active, but after the onset of military actions, some members of the community moved here, to Kyiv, while some remained there, as often happens.
The arrival of the Jewish population in this region was closely connected with industrialization. Jews settled in places mostly to engage in trade and administration. Jewish communities there were never as large as in western Ukraine. I hope that a few synagogues have been preserved, as well as monuments to Holocaust victims. There is supposed to be a synagogue that functioned until the [Russo-Ukrainian] war; I think it is still in operation. There are several synagogues in Bakhmut. A large Jewish center, Bakhmut was on the same level as Donetsk (called Yuzivka from 1869 to 1924). As for the city of Luhansk and Luhansk oblast, we did not manage to locate much of what could be shown there.
Vasyl Shandro: Who were the people involved in creating this travel guide? The texts were written by contemporary researchers and authors. But did you also include texts written by well-known writers who were born in one area or another and describe them?
Marharyta Yehorchenko: We thought of including passages from the works of Sholem Aleichem and Ḥayim Naḥman Bialik, both of whom were born in Ukraine and are closely connected with Ukraine. But because of the volume of information, we simply had to shorten the text; otherwise, we would have ended up with a multi-volume travel guide, which is unacceptable. Thus, all the authors whose texts we used to create our travel guide are written by contemporary researchers.
Yevhen Shnaider, who does research on small Jewish towns, helped us a lot to create this publication. He has his own website, where he has posted his impressions of his trips to Ukraine's Jewish towns. He helped us with photographic materials and proofread texts for accuracy. We had absolutely unique researchers. It was quite difficult with the history of Jewish Poltava, and the only person who could help with this was Boris Tristanov.
Help with Khmelnytsky oblast was provided by Serhii Yesiunin, a well-known regional historian and staff member of the oblast regional history museum. With regard to Vinnytsia, we obtained assistance from Oleksandr Fedoryshyn, director of the Vinnytsia History Institute. There were many other researchers. For example, for help with Transcarpathia, we called on the young researcher Pavlo Khudish, who studies the Jewish history of Uzhhorod and Transcarpathia.
This travel guide is not exhaustive. If we had presented Lviv or Kyiv in a comprehensive fashion, there would have been several volumes, and we would have had to shorten some things. We compensated for this partially by providing a list of sources at the end of the book for the interested reader. In addition, you can always expand your knowledge by going on the Internet.
Vasyl Shandro: As I understand it, you did not have to hunt down a number of locations. Can you say how many addresses there are?
Marharyta Yehorchenko: I cannot say how many; hundreds, I think. I can only say which oblasts had the largest number of small towns or small cities. One is Vinnytsia oblast. This region is extraordinarily rich in Jewish monuments, but they are not always in a desirable condition. This is a very saturated region, as are Lviv, [Ivano-]Frankivsk, Ternopil, Khmelnytsky, and Chernivtsi oblasts. Western Ukraine.
Vasyl Shandro: And the southern region?
Mykolaiv is also a Jewish city. We used a source entitled Jewish Addresses in the City of Mykolaiv, by Volodymyr Shchukin; he is a local, regional historian. The Jewish community of Mykolaiv existed since the city was founded, that is, from the end of the eighteenth century. I can also mention that the Schneerson family of Hasidic rabbis is connected with Mykolaiv. We all know about the Chabad-Lubavitch movement. So, the Schneerson family is the head of the Chabad-Lubavitch movement, which is tied to the city, not to mention the various synagogues that are in Mykolaiv.
This program is created with the support of Ukrainian Jewish Encounter (UJE), a Canadian charitable non-profit organization. 
Originally appeared in Ukrainian (Hromadske Radio podcast) here.
Translated from the Ukrainian by Marta D. Olynyk.
Edited by Peter Bejger.
NOTE: UJE does not necessarily endorse opinions expressed in articles and other materials published on its website and social media pages. Such materials are posted to promote discussion related to Ukrainian-Jewish interactions and relations. The website and social media pages will be places of information that reflect varied viewpoints.