Pinsel was one of the first to portray Abraham as a Jew: Klochko
Posted In: Hromadske Radio, Sponsored Projects, Audio/Visual Media, Culture, Religion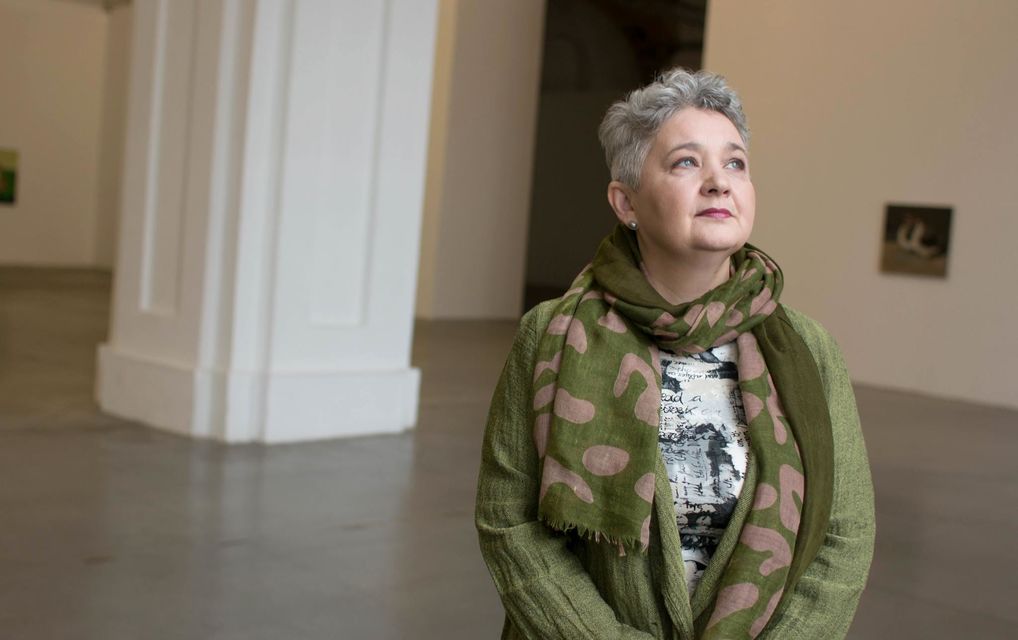 [Editor's note: Ukrainians will celebrate Easter on 24 April 2022. We are running an interview that aired on Ukraine's Hromadske Radio Zustrichi program last year to highlight Ukraine's deep cultural and religious history. Ukraine is not Russia.] 
We talked about iconography connected with Easter, through the prism of interethnic relations. Are Jews present in depictions of the Crucifixion, the Annunciation, and other important subjects from the Old and New Testaments?
The lecturer and art historian Diana Klochko helped us sort this out.
Iryna Slavinska: Is there some special cycle of images, united by common subjects, which has to do with all the spring holidays, like Easter and Passover?
Diana Klochko: It can be said with certainty that it is not so much Passover as Easter and Holy Week. It is what is spelled out with incredible liberality in the visual art of Europe. It is understandable that, for the most part, these are interpretations of what is written about in the Bible, not what took place directly in the environment.
In paintings dating to the fifteenth and sixteenth centuries, we can see indirectly some kind of element of the arrival of modernity. For example, next to the Crucifixion, we sometimes see (especially in Italian paintings) people from that epoch who seem to be present in the Holy Scriptures.
Iryna Slavinska: If we are generally talking about this visual background, is it possible, in the Ukrainian dimension, to see a dialogue between the Ukrainian and Jewish communities?
Diana Klochko: Sometimes, it is possible, but not much. Much less than in scenes of the Last Judgment, although to a great extent, the Last Judgment was also present in those days, because they are also days of repentance. On Holy Friday, Maundy Thursday, Jerusalem is recalled; accordingly, the Jewish community of Jerusalem of that time is recalled.
To a great extent, these depictions convey a historical bias toward Jewish contemporaries. Jews were regarded as the betrayers of Christ, despite the fact that Christians were often Jews. There are differences in the understanding of historical guilt.
Iryna Slavinska: All these spring dates are united by the theme of sacrifice. Easter is resurrection following self-sacrifice. There is a considerable number of such subjects. What is the sacrifice here?
Diana Klochko: This is an especially important moment since the Old Testament contains a point that is considered important both to the New and the Old Testaments. This was when God commanded Abraham to kill his only son, and he obeyed. In the Ukrainian visual heritage, there is a phenomenal artifact that has no analogues in the entire European heritage. This is Pinsel's composition Abraham's Sacrifice. It features neither a ram nor an angel. In the majority of renderings, they are present.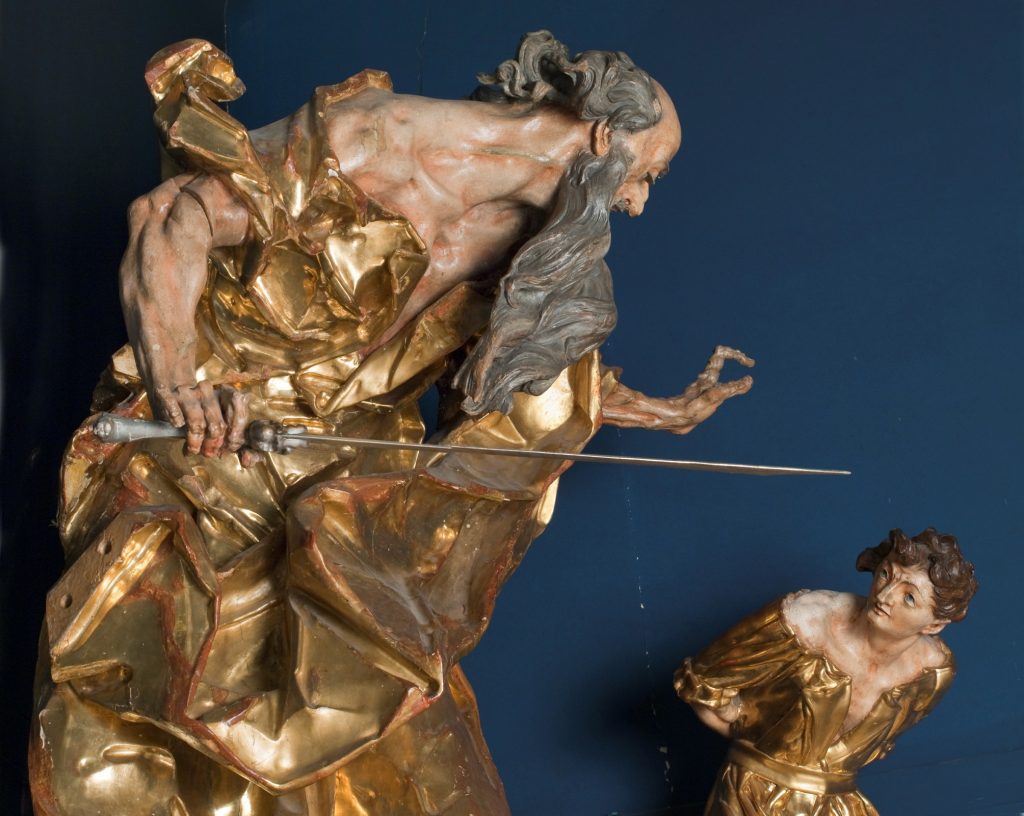 In a paradoxical way, Johann Georg Pinsel took all this away in the mid-eighteenth century. This is precisely why you get the impression that Abraham either hears the voice of the angel or some unexpected thought occurs to him. He thinks about what a sacrifice is, about the fact that he does not have the right to kill the entire human race.
Pinsel's composition was in a church; now it is in a museum. Perhaps if it were in a church, we would see what Abraham is looking at. Perhaps this gaze would be directed at the Crucifixion. Here, Abraham, in contemplating sacrifice, is thinking not so much about the one that he must make as about Jesus's self-sacrifice.
These two events, Easter and Abraham's sacrifice, are linked. They seem to be looking at each other in the Old and New Testaments.
Iryna Slavinska: Is it possible to recall in Ukrainian art other works on this subject that are similar to Pinsel's sculptures by their intensity?
Diana Klochko: Pinsel is also unique in that he portrayed Abraham as a Jew, which did not exist in world history. We know that Rembrandt and other artists portrayed Abraham simply as an old man. Pinsel specifically portrayed all the ethnic traits of Jews who lived in Buchach. He is probably one of the first to show that Abraham was a Jew. This is an important moment in European art. Ethnicity became an important element of images starting already in the late nineteenth century. In earlier Ukrainian art the subject of sacrifice is present. However, it is clear that wall paintings are not so well preserved. Certainly, there is significantly less tension present in Pinsel's sculpture and wall paintings. They reveal a different aspect: There are landscapes, which is also remarkably interesting.
Iryna Slavinska: If we are talking about Easter and Easter iconography, can one generalize which subjects Ukrainian artists love to paint the most?
Diana Klochko: We have an immense invention: the Passion icons. These are several boards nailed together, on which all the events are depicted in large rows: sometimes the raising of Lazarus, sometimes [Jesus's] entry into Jerusalem. You can see by the days; it is like the film The Passion of the Christ. It is remarkably interesting because this is truly a characteristic of western Ukrainian art. There, you can see how these artists thought. You can see the very development of events, you can see how dramaturgical thought took place, how they manage space. It is fascinating to examine this because in medieval manuscripts, artists sometimes allowed themselves to depart from canonical depictions. The same thing with Ukrainian icons. Sometimes they inserted motifs that are difficult to imagine in canonical depictions, definitely not without an agreement with the customers.
There are very many examples. One of these cycles is in the Church of the Holy Spirit in Potelych [a village in Zhovkva raion, Lviv oblast—Ed.] and in the Church of the Holy Spirit in Drohobych. In Potelych, there is an entire wall of paintings. You can see the sixteenth-century Passion in the National Art Museum. There are several such famous Passions at the Sheptytsky National Museum in Lviv.
Iryna Slavinska: If we are talking about depictions of the Crucifixion, do the people who crucified Christ, who have pronounced features of Jewish origin, appear?
Diana Klochko: Here is a problem. If we look, for example, at the works of the renowned etcher Rembrandt, a person who knew Jews well and saw them, then we will not see this accent there. Although he was good at noticing naturalistic moments, it was rather a generalized rendering of Eastern people dressed in some kind of colorful clothing. In other words, this suggests that ethnicity was most likely transmitted in the sixteenth and seventeenth centuries by ethnographic details, not by physiognomic features. Strangely enough, people did not distinguish greatly between a Ukrainian, a Pole, or a Jew.
If we generally look at Ukrainian paintings, we see that no one imagines Mary as a Jewess. She is simply a beautiful, young woman. Furthermore, remember the Crucifixion, how she is standing there. This is also one of the phenomena of consciousness in the sixteenth–seventeenth centuries.  There, Mary is also young. How can Mary be the same young woman who is giving birth to Jesus and standing next to the Crucifixion when Jesus is already 33 years old? She does not age. This is not a specific feature of the Ukrainian mentality. Remember Michelangelo's Last Judgment: Mary is young there too.
This program is created with the support of the Canadian philanthropic fund Ukrainian Jewish Encounter.
Originally appeared in Ukrainian (Hromadske Radio podcast) here.
Translated from the Ukrainian by Marta D. Olynyk.
Edited by Peter Bejger.
NOTE: UJE does not necessarily endorse opinions expressed in articles and other materials published on its website and social media pages. Such materials are posted to promote discussion related to Ukrainian-Jewish interactions and relations. The website and social media pages will be places of information that reflect varied viewpoints.