Posters in support of Ukraine on display in Rishon LeTsiyon, Israel
Posted In: Israeli Friends of Ukraine, Sponsored Projects, Other Programs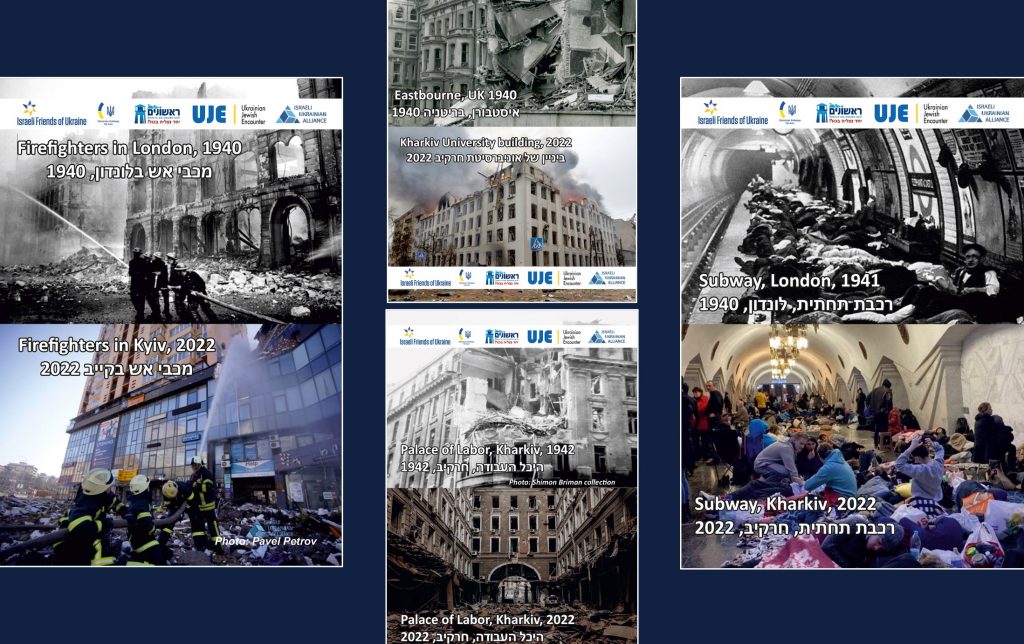 On the eve of Israel's Independence Day in May 2022, twenty large posters were installed at bus stops in the city of Rishon LeTsiyon, which express support for the Ukrainians' struggle for their freedom and independence and serve as reminders of the bloody war in Ukraine,
The decision to remind Israelis about the Russian Federation's aggression was made by volunteers from Israeli Friends of Ukraine, the leading non-profit, pro-Ukrainian organization in Israel that was founded in 2014. The initiative received support from the Embassy of Ukraine in Israel, the Canadian charitable non-profit organization Ukrainian Jewish Encounter, and the Rishonim movement headed by Maxim Babitsky, deputy mayor of Rishon LeTsiyon.
The goal of this media campaign is to draw Israelis' attention to the fact that 77 years after the bloody war and such a costly victory over Nazism, the world is seeing once again a blatant display of brutality and mass destruction.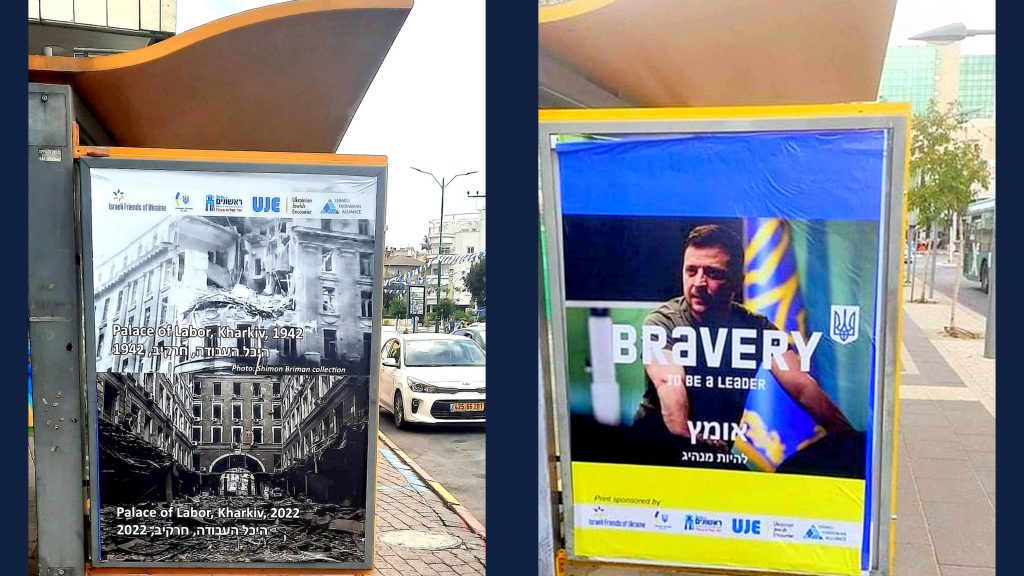 The posters include photo collages comparing the horrific events that unfolded in Europe in the early 1940s with the military actions that are taking place in Ukraine today.
Some of the images used were part of an international campaign called #braveukraine (www.brave.ua), dedicated to the strength and courage of the Ukrainian people, who are fighting against Russian aggression.
On the eve of Independence Day, Israel honored the memory of fallen soldiers and victims of terror. The theme of the struggle for independence and brave defense of one's country is very close to Israelis, which is why Ukraine's pain is understandable to many in this country.
Rishon LeTsiyon, the fourth-largest city in Israel, is known for its strong relationship with Ukraine, particularly with its twin cities, Kharkiv, Lviv, and Kremenchuk. The members of Israeli Friends of Ukraine have conducted many a campaign aimed at supporting Ukraine and raising Israelis' awareness of the life, culture, and difficulties of that country; one such event took place to mark Ukrainian Independence Day in August 2021.
Text: Shimon Briman (Israel).
Photo: Israeli Friends of Ukraine. 
Translated from the Ukrainian by Marta D. Olynyk.