How a Religious Jew Aids the Ukrainian Army
Posted In: Diverse Voices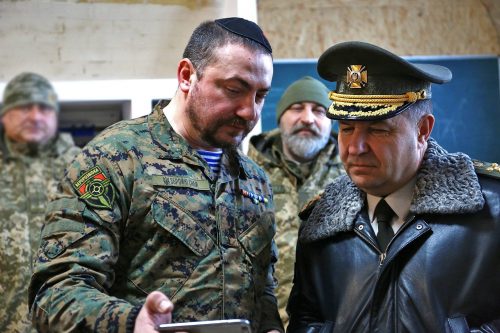 The Minister of Defense of Ukraine Stepan Poltorak published on his Facebook page a rare photo of a young Ukrainian officer in a black Jewish kippah.
The photo featured Natan Khazin, one of creators and commanders of the "Aerorozvidka" (aerial reconnaissance) unit. Khazin became one of the symbols of Jewish support for Ukraine during and after the "Revolution of Dignity" in 2014-2016.
Khazin is a religious Jew, well known in the Central Brodsky Synagogue in Kyiv. After the beginning of the events on the Маidan in January 2014, Khazin managed one of the "hundreds" ("sotnya") units of the Maidan. In particular, he managed an operation to release the "Ukrainian House" on Khreshchatyk. After the victory of the Maidan, Khazin left for the АТО (anti-terrorist operation) zone and participated in the liberation of the city of Mariupol from Russian-backed separatists in the spring of 2014.
When military operations began in Donbas, Khazin and his friends Yaroslav Gonchar, Volodymyr Kochetkov-Sukach, and Dmytro Lisenbart created the volunteer "Aerorozvidka" unit. At the time they did not have either sufficient technical equipment or support from the Ministry of Defense.
The "Aerorozvidka" unit is now an official Ukrainian subdivision that conducts reconnaissance by means of pilotless flying vehicles and video monitoring complexes. Similar units are used in the armies of the U.S., Great Britain, and Israel. Currently the "Aerorozvidka" unit monitors on-line around the clock three fourths of the battlefront by video cameras that are co-ordinated into one system, and this increases the efficiency of military operations considerably. The "Aerorozvidka" unit has saved the lives of hundreds of Ukrainian fighters.
For this very reason Ukraine's defense minister visited Khazin's unit and rewarded many soldiers.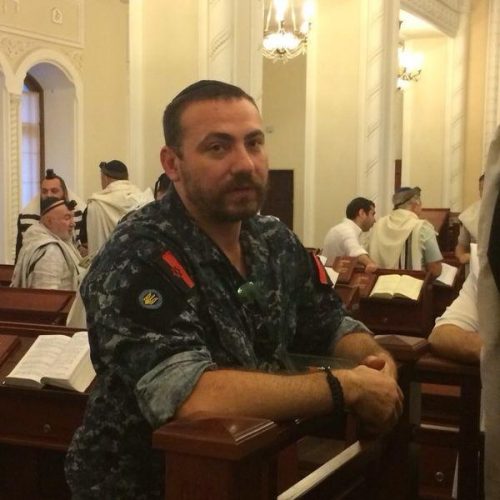 After this meeting Poltorak wrote in his Facebook page: "Pleasantly staggered by those results that they have already succeeded in attaining. During the meeting rewarded servicemen and volunteers. Ready to render all-round support of the unit. They work for the sake of a extremely important goal, and I am, in turn, ready to work with them!"
In response to my question about what he exactly showed Stepan Poltorak, Khazin answered: "I showed the Minister a video that, because of unit, enabled a hostile target to be struck from the air."
Khazin, who received adviser status to the chief of the general staff of the Ukrainian army in November 2016, constantly advocates the strengthening of collaboration between Ukraine and Israel, and between the Ukrainian and Jewish peoples.
Text: Shimon Briman