Sholem Aleichem's Creative Encounters in Lviv (In Commemoration of the 100th Anniversary of his Departure into Eternity)
Posted In: Literature, Culture

One hundred years ago, on 13 May 1916, the great Jewish writer Sholem Aleichem passed away in New York. He spent most of his life, beginning from birth, in Ukraine. A part of his personal and professional life story is associated with Lviv, then the capital of the Kingdom of Galicia and Lodomeria within the democratic Austro-Hungarian Empire.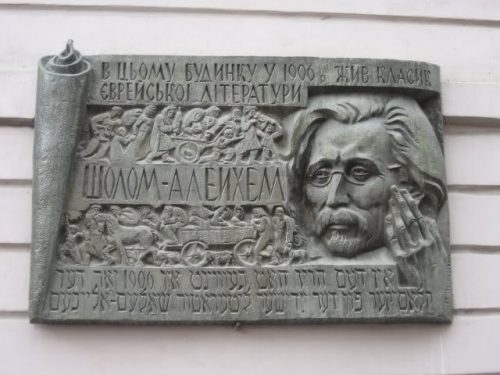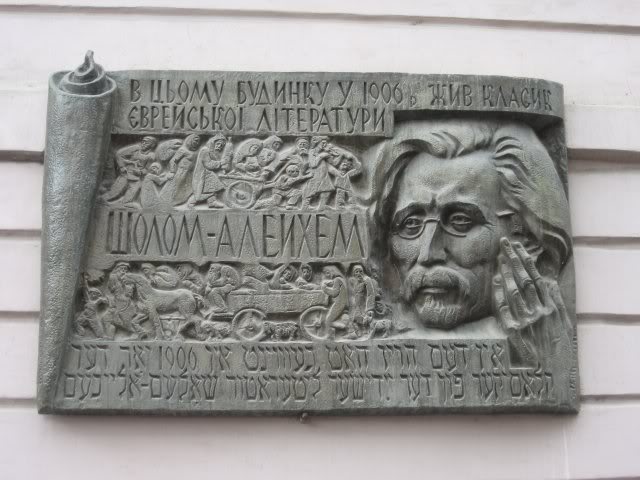 "The city of Lviv offers a picture of order,
breadth, and beauty! A sight to feast the eye...
In the heart of the city there unfolds a park
where everyone is allowed to walk,
even goats. The land of freedom!
On Saturdays Jews are strolling
along all the streets, and no one
pays attention. And such people
who live in Lviv! Pure gold!"
(Sholem Aleichem, Lviv, 1906)
It is worth reminding the reader of some paragraphs of the great writer's biography and the circumstances of his arrival to the city together with his family in 1905.
Sholem Aleichem's real name is Sholom Rabinovich, son of Nokhem (Nakhum). He was born on 2 March 1859, in the town of Pereyaslav in the Poltava region (today's Pereyaslav-Khmelnytsky), to a family of a small shopkeeper. He spent his early years in the town of Voronkiv, not far from Boryspil. He studied at a cheder, a Jewish religious elementary school. Later, under the influence of Jewish enlightenment literature, Sholom Rabinovich took up general education and studied at the district school. After graduating from school, he worked as a resident teacher at the wealthy landowner Elimelech Loyev's house. In 1880–1882 he worked as a crown rabbi in Lubny. In 1883–1887, after having married Loyev's daughter, he worked in Bila Tserkva. In 1887–1890 and 1893–1905, he lived in Kyiv (in his literary works, this city was called "Yehupets"), where he was involved in trade. After the outbreak of pogroms sweeping through the Russian Empire, including Kyiv, that were provoked in 1905 by the Synod of the Russian Orthodox Church, Aleichem was forced, for the sake of the family, to leave his beloved Kyiv.
Having arrived with his family to Lviv, Sholem Aleichem was overwhelmed by an absolutely different way of life. Here the Jews—rich or poor—felt much more secure, and were not limited in their rights for spiritual and cultural development, as opposed to the powerless Jews of the Russian Empire driven into a kind of ghetto that was "the Pale of Settlement." Having settled at 1 Kotelna Street (today Kotlyarska Street) in the heart of the former Krakivske suburb, he started getting acquainted with the spiritual and cultural life of the Jews of Lviv and Galicia.
In Lviv, Sholem Aleichem was quite impressed with everything that had to do with the implementation of opportunities that the Jews of the Austro-Hungarian Empire received after the adoption of the Constitution in 1867. In Lviv, there were 27 synagogues—of any kind one wanted: Orthodox, Progressive, for craft unions, and brotherhoods. But above all, Aleichem was overwhelmed by the large number of buildings in Lviv erected at the expense of the city's Jewish community, which served as headquarters for various Jewish cultural and educational organizations, and even a Jewish theatre. On the second day of his stay in Lviv, Sholem Aleichem came to 11 Jagiellońska (Hnatyuk) St. where the Jewish theatre was situated. There he soon met the entrepreneur Jacob Ber Gimpel and the outstanding Lviv graphic artist Ephraim Lilien, who sought to maintain the spirit and traditions of religious and national Jewish festivals on stage. Lilien presented Sholem Aleichem a book he had illustrated which featured on its pages pictures of the Menorah and pious Jews in tallits [a fringed garment traditionally worn by religious Jews—ed.]. Aleichem kept this book to the day of his death.
After these first impressions from encounters with the theatre staff, Sholem Aleichem continued to get acquainted with other Jewish troupes and the activities of Jewish community associations devoted to enlightening and educating Jews.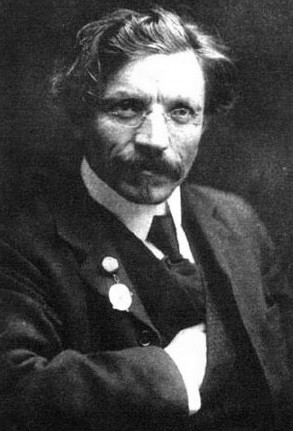 He also visited the Jewish Academic House built by the Jewish community in 1903 on St. Teresa Street (now Metropolitan Anhelovych Street), which served as a center for Jewish culture. It hospitably hosted the Union Society, the Stuk (Art) Association, and the Kinor choir, founded and directed by the gifted musician Jan Gall. There was also a Jewish Chamber Orchestra.
In his walks around Lviv, Sholem Aleichem could not help but stumble upon the remarkable building of the Yad Haruzim Jewish craftsmen association, located not far from the suburban center on Berstein Street (now Sholem Aleichem Street). Built in 1904, it had a hall featuring a stage and a large number of rooms that hosted various unions and associations. But most importantly, Yad Haruzim was the home for the world-famous Jewish Theatre Corporation founded by the prominent Jewish playwright Abraham Goldfaden.
The more Sholem Aleichem was exposed to Jewish life in Lviv, the more amazed he grew. Here, next to the house where he lived, was the Hassa hall. There, at 38 Szpitalna Street, petty merchants—Jews from the suburbs—attended lectures and musical evenings. And Aleichem visited the place not only as a grateful listener, but also by invitation to speak.
Not far from the house where Sholem Aleichem lived was the Jewish educational society Toyinbiyihala, where he was constantly invited to speak. The longer he lived in Lviv, the more he was astonished to discover that in the center of such a major city as Lviv Jews supported educational clubs, where professors and renowned Jewish writers lectured. After discovering the Jewish Intellectual Club at 21 Sykstuska Street (now Doroshenko Street), Sholem Aleichem regularly attended its meetings. There he found new friends—the admirers of his work.
After almost fifty years of living in conditions of humiliation and psychological pressure under Russian imperial antisemitism and chauvinism, he discovered here in Lviv a completely different world. In multinational Lviv, various national communities coexisted peacefully. Ukrainian Greek Catholic temples, Roman Catholic churches, and synagogues were sometimes adjacent to each other. Sholem Aleichem had a special interest in the cultural life of the Ukrainian community in Lviv. The writer was quite fluent in Ukrainian.
The two prominent writers Ivan Franko and Sholem Aleichem could not but meet in Lviv. Their first encounter took place in a cafe at Mariacki Square (Mickiewicz Square), next to the newly established (in 1905) monumental column to Adam Mickiewicz and the statue of the Virgin Mary. After a performance in Gimpel's Jewish theatre, the famous philanthropist Levius invited the actors and the theatre's honorary guest Sholem Aleichem to the Cafe Monopol. This prestigious cafe was the hub of the city's bohemian life. It featured three Viennese billiard tables, a reading room with books in various languages, and newspapers from various countries. The visitors could not only have a cup of coffee or tea with dessert. The most important thing about Cafe Monopol was the opportunity for patrons to communicate one-on-one at greater length. It wasn't just a café. It was a club that played a major role in the artistic and intellectual life of the city.
At their first meeting, Sholem Aleichem and Franko surprised each other. The Jewish writer had a great command of the Ukrainian language, and the Ukrainian writer and poet Franko could speak Yiddish no worse than Sholem Aleichem. Sholem Aleichem told Franko about his literary work and about the tsarist government's oppression in Great [Russian imperial ruled—ed.] Ukraine against Jews, Ukrainians, and Ukrainian culture. Franko described the activities of Ukrainian educational organizations such as the Shevchenko Scientific Society and Prosvita, where he was an active member, and about Ukrainian publishing in Galicia. Throughout 1906 they repeatedly met in Cafe Monopol and beyond. The giants of two notably different cultures were brought together by a mutual respect and shared attitude on the rights of impoverished "little people." Franko translated a number of Sholem Aleichem's stories into Ukrainian and promoted their placement in the popular Ukrainian Lviv newspaper Galician Star.
However, Sholem Aleichem's major passion in Lviv was attending the performances of various Jewish travelling theatres, which toured successfully in Lviv. It was here, in Lviv, that Sholem Aleichem, the great satirist with his ironic and sharp eye on Jewish theatre artists, began working on a remarkable novel about theatrical life entitled Wandering Stars. Thus, one of the novel's chapters begins with the words: "In Lviv, Jewish theatre has existed since olden times..."
Interestingly, in the same novel there is a wonderful description of the Cafe Monopol, where Sholem Aleichem had unforgettable encounters and conversations with Franko and many leading Jewish and Ukrainian cultural figures.
In early 1907 Sholem Aleichem was invited to the United States and departed from hospitable and tolerant Lviv for good, leaving behind favorable memories among Galicians. That same year he returned again to Europe and went to Geneva, where the first part of his novel Mottel the Cantor's Son was published. From 1908, the writer lived and worked in Russia, Switzerland, Austria, Italy, and Germany. During these years, he was actively involved in literary and social activities. However, the incurable disease of the time—tuberculosis—had a progressively worse effect on him. Despite this, Sholem Aleichem worked enthusiastically on his new writings and continuously toured with public readings.
With the outbreak of the First World War in 1914, Sholem Aleichem, as a Russian citizen, was interned in Germany and deported to neutral Denmark. He eventually moved to New York, where he spent his last years.
Sholem Aleichem passed away after a serious illness on 13 May 1916, having left to humanity a great legacy: ten novels, twenty plays, hundreds of short stories, and numerous articles.
The writer's creative legacy is permeated with local Ukrainian color, and his texts feature descriptions of Ukrainian nature, Ukrainian words, and folklore. Most of the events in his works take place in Ukraine. Many tragic events occurred in Europe, Ukraine, and in Lviv in the last century. Through the efforts of two bloody dictators, Hitler and Stalin, a large Ukrainian Yiddish-speaking Jewish community virtually ceased to exist. Hitler exterminated the Jews physically, and Stalin both physically and spiritually, laying the foundations of Soviet state antisemitism by destroying all the writers who wrote in Yiddish and closing all the Jewish schools and synagogues in the USSR.
The revival of Jewish culture and identity began just after Ukraine became independent. Societies for Jewish culture appeared, and an interest in Yiddish, both among Jews and among Ukrainians, developed. The Sholem Aleichem Association of Jewish Culture, one of the first in Ukraine, has been active in Lviv for over twenty-five years. It publishes the bilingual Ukrainian-Yiddish newspaper The Shofar.
In recent years, Lviv, upon the initiative of Ukrainian intellectuals and with the support of local authorities, has been aiming to overcome negative stereotypes among Ukrainians towards Jews imposed on Ukrainians by totalitarian regimes and hosts "Jewish Days at City Hall," "Ukrainian-Jewish Encounters," the Limmud [FSU] Jewish festival, academic conferences, and museum exhibitions devoted to the great spiritual and material heritage of Galician Jews. Once again one can hear Jewish music and songs in Yiddish on the streets of the city during the annual LvivKlezFest.
This is exactly the vision of a creative and cultural mutual respect and cooperation between the two peoples, the Jewish and the Ukrainian, that the two great writers Ivan Franko and Sholem Aleichem, two spiritual leaders of their respective nations, once nurtured and discussed in Lviv. This year [2016] we will commemorate a century since they have passed away.
Building a peaceful and prosperous Ukraine, where all the negatives of the past will be overcome and there will be a continued development of Jewish culture on hospitable Ukrainian land and an understanding among all the peoples of Ukraine, will be a better tribute to the great writer Sholem Aleichem than any bronze monuments and memory plaques in his honor.
Sholem Aleichem's works have been translated into many languages of the world, including Ukrainian, and published in print runs of millions of copies. The great Ukrainian Jewish writer Sholem Aleichem will continue to live on in memory as long as people of different nationalities read his books and attend performances of his plays.
The article, written by Lviv-based journalist Mark Simkin, originally appeared in Ukrainian and is reprinted with the author's permission.
Copyright
Original article
Translated by: Miriam Feyga Bunimovich, MF Language Services Platform
Edited by Peter Bejger