Tel Aviv: Run for Ukraine
Posted In: Israeli Friends of Ukraine, Sponsored Projects, Other Programs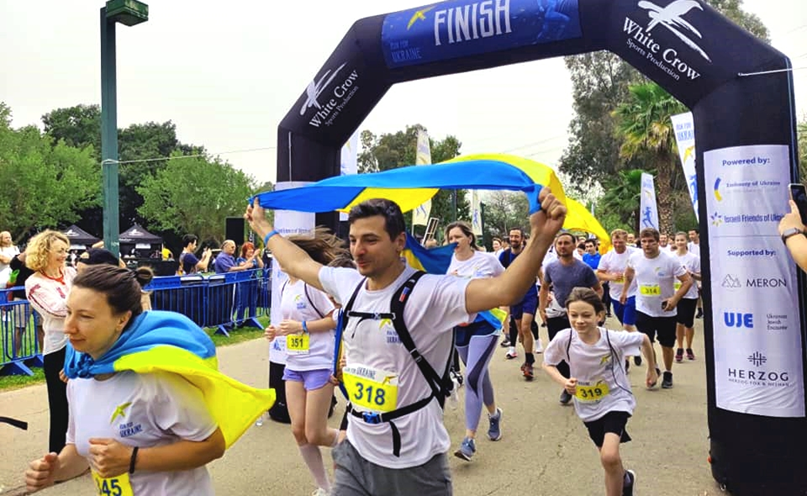 Israelis held a marathon race in support of Ukraine. This very successful sports event took place in Hayarkon, Tel Aviv's largest park. Over 600 people took part in the charitable action.
The Run for Ukraine marathon was organized by the civic organization Israeli Friends of Ukraine with the support of the Canadian non-profit charitable organization Ukrainian Jewish Encounter and the Embassy of Ukraine in Israel. Ambassador Yevhen Korniychuk presided over the opening of the run.
"To those who live in Israel, this war in Ukraine has long ceased to seem far away. Each one of us has a friend, a partner, a colleague, a neighbor whose relatives are now under bombardment in Ukraine. Each one of us can help stop the war and save innocent people: the elderly, women, and children," said the marathon organizers Anna Zharova and Vyacheslav Feldman.
One of the marathon runners was a 17-year-old Ukrainian named Serhii Kondratsky. For nearly three years, he has been battling an illness. In 2020 the boy, in serious condition, was flown to Israel for medical treatment. Like no one else, he knows that medications administered in a timely fashion offer a chance for life. In taking part in the marathon, Serhii wanted to help those who are fighting two wars: against their disease and against the enemy in Ukraine.
Sergei Auslander, an Israeli journalist and author of the book Tsikavyi patsiient (An Interesting Patient), came to show his support to the boy. Auslander himself had battled a serious disease and won, and thus became an example of perseverance, courage, and willpower for the boy.
Depending on their physical training, Israelis were able to express their solidarity with Ukraine by choosing the 1.5-, 3-, or 5-kilometer run. Running or sports walking were the ways to help save lives.
Families, couples, and solo runners took part in the marathon. There were also several groups representing big companies and educational institutions.
The marathon was preceded by a yoga session for both runners and visitors. The organizers held a raffle of prizes in the form of tradesmen services. Recreation, including animation and master classes, was organized for children, and visitors could purchase Ukrainian flags and other souvenir symbols.
When the war against Ukraine began, the volunteers of Israeli Friends of Ukraine collected and sent to Ukraine over 40 tons of humanitarian aid and medicines.
The Run for Ukraine showed that Ukraine's and Israel's security problems are similar.
On the eve of the run, on the evening of 7 April, Moshe Asman, Rabbi of Kyiv, spoke at the Tel Aviv stadium to mark the 120th anniversary of the birth of the Lubavitcher Rebbe Menachem Mendel Schneerson. Speaking to the 30,000 guests gathered in the stadium, Rabbi Asman said that the city of Mykolaiv, where Rabbi Schneerson was born in 1902, is being struck by Russian missiles every day. During Rabbi Asman's speech, a report came in about a terrorist act in downtown Tel Aviv, in which an Arab terrorist shot people at a café.
Special forces and army troops launched a city-wide manhunt for the terrorist. He was finally neutralized by 5:00 a.m. on 8 April. Until the very last minute, the Run for Ukraine in Hayarkon Park, scheduled to start at 9:00 a.m., was at risk because of the anti-terrorist operation unfolding in Tel Aviv. But everything ended well, and the Run for Ukraine was a success.
The funds raised will go to the Tina Karol Foundation, whichhelpschildrenwithcancerandhospitalsinUkraine
Text: Shimon Briman (Israel)
Photo: Israeli Friends of Ukraine (Harold Silver) and the Embassy of Ukraine in Israel.
Translated from the Ukrainian by Marta D. Olynyk