The choice to be a human being
Posted In: Zahid.net, Sponsored Projects, Other Programs, The Holocaust in Ukraine, History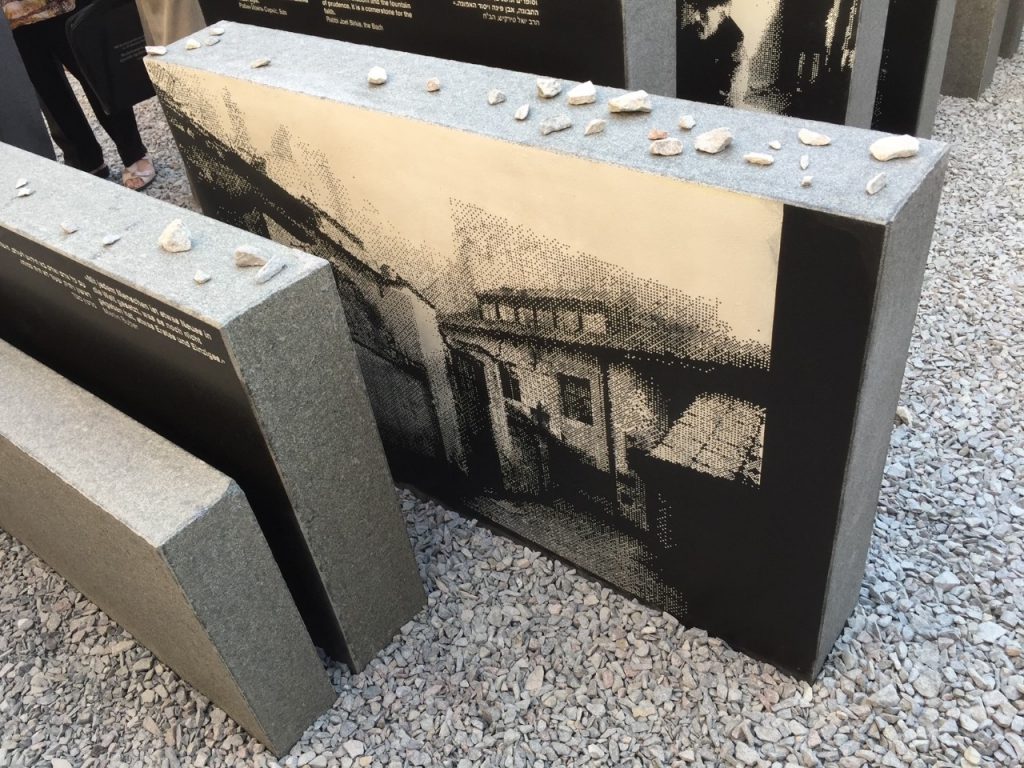 [Editor's note: Russia's unprovoked and criminal war against Ukraine suspended the regular work of many organizations, reorienting their efforts. So it is with the Ukrainian Jewish Encounter. We continue to run interviews and articles done before the beginning of the war, which reflect the myriad of interests undertaken by Ukrainian journalists, scholars and writers.]
There were different actors — not just culprits, observers, and victims — in the pogroms that swept through Galicia in the summer of 1941. There were people who took on the role of rescuers, despite fear and doubt, despite possible condemnation and pressure from their loved ones and friends who excused the anti-Jewish violence, or who themselves took part in it. Quite a few local non-Jewish women, mostly Ukrainians and Poles, were among those who showed mercy and sympathy to the Jews during the pogroms. Most of them had been acquainted with the victims before the war and maintained personal, economic, professional, or family relations with them. Thus, personal acquaintance played a key role in the desire to help, even though there were cases where gentile women, likely guided by humanist and religious motives, helped Jews whom they did not know. The methods of rendering assistance varied, starting with the sudden announcement of danger and ending with the concealment of people in their homes for several days.
Female (dis)informants
Spotting the first harbingers of the threat, gentile women sought to warn their Jewish acquaintances. Sarah Shoven, who was born in Ternopil, recalled that when a pogrom began in the city, a Ukrainian woman came to her father and said that "Jewish blood is flowing on the market square." She advised him to flee with his family, but he ignored this warning and soon after was killed during the pogrom. Golda Birger, a resident of Boryslav, emphasized that a Ukrainian woman visited her husband out of the blue and told him that they should all hide because "they are killing the Jews." Golda sent her husband and son to the woods, where they spent two days. She herself remained at home, expecting that she would not be touched because "I looked like a Polish woman." Netka Reisher recalled the Lviv pogrom: "I wanted to go see my mother; she lived on the other side of the city. Along the way, an elderly woman came up to my husband and said: 'Do not go there because they are seizing people.' We went back home."
The role of female informants lay not only in warning about danger but in informing women about their husbands' whereabouts and their condition. Karl Berkovitz, a resident of Chortkiv, recalls that his father was grabbed and brought to the local jail. The mother and daughters remained at home, unaware of the visit from that stranger. "A wonderful woman came to our house, a Christian woman dressed very elegantly, and said: 'Are you Mrs. Berkovitz?' 'Yes' [my mother replied]. 'Your husband has been arrested. He is in jail. Don't fret. He will be home in a day or two.'" Soon after, Leon Berkovitz returned to his family.
A special role in providing information about the situation outside of private homes or about the fate of various individuals was played by women who worked in Jewish homes. They not only recounted what they had seen and heard on the streets; they also tried to provide psychological support to their employers. Anna Ulraikh recalled that during the pogrom in Zolochiv, she and her child stayed at her brother's house, together with his wife, his sister, and his sister's children. The husbands had been taken away by the pogromists. Anna recalls: "The old nanny, a Polish woman, whom we sent to the city, came back home crying, and for a long time she could not utter a word, only repeating 'terrible judgement.' She would not let go of me. Then she talked about how the Germans were killing Jews. We, women, sat there petrified."
Typically, it was women who tried not only to report danger, but also to deceive the instigators who were persecuting their victims. The story of Leonid Manna from Zabolotivka, in Ternopil oblast, speaks volumes. As an eight-year-old boy, he spent several nights hiding with some neighbors, and his mother and grandmother hid in the woods. One morning all of them decided to flee to Tovste, where it was safer. Along the way, they passed a field where a peasant woman was working: "We said — there was this expression: 'May God grant you health.' She replied: 'And to you.' But the fugitives were spotted by a young man; he went to the village to report what he saw. Then two men armed with rifles rushed to catch up with their Jewish neighbors. They asked that peasant woman about them. She said: 'They are already in the city.' She lied to them," Leonid emphasized in his memoirs.
Female providers of shelter
One of the most common forms of assistance rendered by gentile women was providing hideouts. Women often initiated the organizing of a temporary refuge without waiting to be asked. Serafina Strasser from Boryslav recalls: "My Ukrainian girlfriend took me into her house, and I hid with them…. They were Ukrainians. Her brothers were running around killing Jews, but their sister hid me in the house." At the time of the pogrom, another inhabitant of Boryslav, Anelia Kappelner, was living with her family near the local jail, which became the epicenter of anti-Jewish violence. Jews were brought there by force to exhume and wash the bodies of prisoners killed by the NKVD. This was accompanied by abuse and beatings. Anelia recalls: "I went out to the garden, and the wife of our coachman called out to me to come to her house. 'Please come here, madam.' Later she summoned my husband…. Nothing happened to us." A native of Drohobych recalled how his sister-in-law was saved during the pogrom. "Roza went out on the street. She was lucky because her neighbor, a Christian girl, said: 'Come with me.' And she brought her to her home. And she saved her. She saved her life." This is how Tova Shtok described being saved during the pogrom in Drohobych: "I hid in the barn of a female Ukrainian acquaintance. I hid my children with a neighbor woman. I remember how that woman shouted to me: 'Madam, they're coming!" Sofia Khendel from Sambir recalled: "We had a neighbor, a Ukrainian woman. [Last name of] Dudko. She was a good, decent woman. When the Germans entered the city, she brought us to the attic. Hiding in the Ukrainian woman's house, we heard shouts and screams for help."
Some women reacted positively to their neighbors' requests to hide them. Bernhard Schulz, who lived in Sambir, recalls that at his father's request, a neighbor, an "old Polish woman," hid them both in the loft and took care of them for several days. Tsylia Dzhehed recalled that when a group of people burst into their house in Bibrka, her mother decided to flee with her and her two little brothers. They requested shelter of a female Ukrainian acquaintance, who hid them for three days. Aaron Weiss emphasized: "My mother turned to our neighbor. Our houses stood next to each other; wall next to wall. A Ukrainian woman [named] Yulia Matchyshyn. She asked her, saying: 'Hide us.' And she agreed. We went through the courtyard and entered her house. And she [brought] us to the attic…. We look out of our attic at our house, and we see these pogromists entering our house; they were looking for us…. They went to her [the neighbor woman] and asked her loudly: 'Where are the Weisses?' And she stood on the doorstep and replies to them: 'Where the Weisses are is not important. Whether they are at my house or not, you will not cross this doorstep!'"
This case, like similar ones, demonstrates that occasionally female rescuers not only had to communicate with pogromists, who were often armed and dangerous, but also to stand their ground against them. This attests to the fact that their desire to help the threatened Jews did not coincide with the interests of other members of the communities to which they belonged. Occasionally, this conflict of interest acquired the forms of a family drama, where the members of one family differed sharply in their attitude to Jews during the pogroms. Samuel Wander recalled that when a pogrom began in Sasiv, in the Lviv region, he left the village and roamed the surrounding area for a long time. Toward evening he was tired and exhausted: "I walked around a village four times and was afraid to enter a hut. Then night came. Sitting on the pryzba [a bank of earth abutting the walls of a peasant house, used for sitting — Trans.] of a house was a peasant woman with a beautiful face and three children. I asked for a night's lodging. She gave me water to wash myself and food. I was supposed to spend the night in the stable. In the evening, the housewife's son returned. He learned that a Jew is spending the night in the stable. He takes an axe in order to kill me. [The son says:] I will not allow Jews, who murdered our brothers in Lviv, spend the night in my home.' To this, his mother said: ''I will not let you kill him. He arrived alive, and he will leave here alive. If you kill him, I will drown myself in the river,'" Samuel recalled. At dawn, the woman brought food to Samuel again: "bread, butter, sausage," apologized that she could no longer keep hiding him, and brought him to the road leading to Zolochiv. It is important to note that the woman's decision at the time was supported by her husband, which probably eased her negotiations with her son.
As these above-cited examples indicate, the rescue strategies employed by women had special features. They are connected above all with private space. Women offered shelter in their homes, or they went to the homes of their Jewish friends to render assistance. Meanwhile, men had more opportunities to act in the public space. They helped their Jewish acquaintances to leave places where violence was especially intense, for example, prisons or Jewish neighborhoods. These roles were often played by the participants of pogroms themselves. Women did not act so explicitly, probably because they were afraid of aggressive male pogromists. Despite this, they managed to save the lives of at least some proportion of Jews during the pogroms. By their acts, they showed that the choice to be a human being exists even in the most extreme conditions.
Marta Havryshko, 20:00, 28 July 2021
This article was published as part of a project supported by the Canadian non-profit charitable organization Ukrainian Jewish Encounter.
Originally appeared in Ukrainian@Zaxid.net
Translated from the Ukrainian by Marta D. Olynyk.
Edited by Peter Bejger.