"The Encounter Prize was created so that Ukrainian writers will focus on the problems of Ukrainian-Jewish relations"—Pavlyshyn
Posted In: 'Encounter' Literary Prize, UJE Initiatives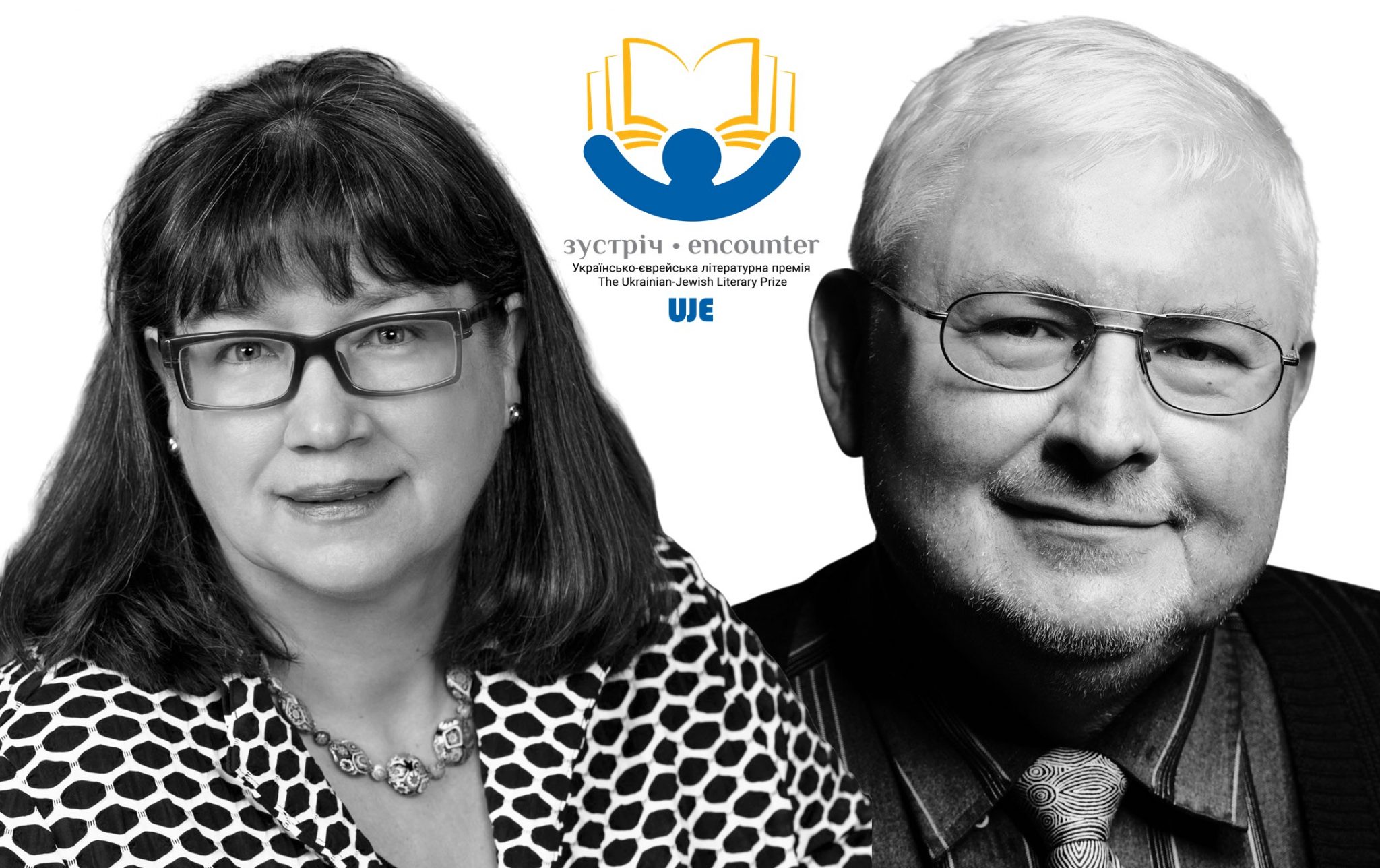 [Editor's note: This interview aired on Ukraine's Hromadske Radio before Eternal Calendar by Vasyl Makhno was named winner of "Encounter: The Ukrainian-Jewish Literary Prize"™ on 16 September 2020 at the 27th Lviv International BookForum. The prize is sponsored by the Ukrainian Jewish Encounter with the support of Ukraine's NGO "Publishers Forum" (Lviv, Ukraine).]
The shortlist for Encounter: The Ukrainian-Jewish Literary Prize 2020 has been announced. What is this prize?
Natalia Feduschak, Director of Communications of the Ukrainian Jewish Encounter, and Andriy Pavlyshyn, a translator, historian, and coordinator of the Ukrainian Jewish Encounter program at the Lviv Bookforum, explained.
Natalia Feduschak: The "Encounter" prize is designed to build on the common, centuries-old experience of Ukrainians and Jews. This prize is for fiction and non-fiction, and is awarded every year to the most influential published work. This year we look at fiction, and next year we will be looking at non-fiction. The idea behind the prize is for us to examine the relations of these two peoples, who have lived for a long time on the territory of Ukraine, and to show their place in Ukrainian literature.
Iryna Slavinska: Are only Ukrainian-language works eligible for this prize, or is translated literature eligible as well?
Natalia Feduschak: Translated works are eligible as well, but priority is given to original literature in the Ukrainian language.
Andriy Pavlyshyn: I was the coordinator of the previous jury that selected 12 out of the 27 competing works. They had already been read by the jury headed by Andrey Kurkov, and he will announce the final decision. The goal of this prize is to support publications dedicated to the development of Ukrainian-Jewish relations—to this set of problems in the past and today. The prize also supports Ukrainian publishing. A book has to be published no later than early 201[9], and should also be available on the book market.
Iryna Slavinska: How unusual in general is the topic of Ukrainian-Jewish encounters for the Ukrainian literary market?
Andriy Pavlyshyn: Launching this kind of prize presented a certain challenge for me. I was afraid that there would not be enough books like this and that we would competing in a circle of three texts. However, it did not turn out like this and there were numerous entries. We shifted a number of books to next year, when writers will be competing in the genre of non-fiction.
The prize was created in order to stimulate the appearance of more books like this, so that the range of issues pertaining to Ukrainian-Jewish relations will become the focus of attention for poets, dramatists, screenwriters, novelists, and journalists. So that this set of problems continues to be addressed on the Ukrainian book market.
Iryna Slavinska: Five books are on the shortlist for the Encounter Prize. Which ones?
Natalia Feduschak: Babyn Yar: Holosamy (Babyn Yar in Voices) by Marianna Kiyanovska (Kyiv: Dukh i Litera, 2017); Vichnyi kalendar (Eternal Calendar), by Vasyl Makhno (Lviv: Old Lion Publishing, 2019); Istoriia, varta tsiloho iablunevoho sadu (A Story Worth an Entire Apple Orchard) by Maksym Dupeshko (Chernivtsi: Publishing House 21, 2017);  Mii did tantsiuvav krashche za vsikh (My Grandfather Was the Best Dancer of Them All) by Kateryna Babkina (Kyiv: Komora, 2019); Uchytel′ka nimets′koї (The Teacher of German) by Iryna Vlasenko (Kyiv: Universe, 2019). This is a wonderful list of books. I thank all the finalists and the people who submitted books for this award.
Andriy Pavlyshyn: It's unfortunate we have to exclude some texts during every competition, even though they deserve distinction. These five texts differ not only in terms of their geography but also genre. For example, Marianna Kiyanovska's book, Babyn Yar: In Voices, is a collection of poetry. This book is well known; it has been on the book market for several years and has won many prizes.
There is also Kateryna Babkina's book, My Grandfather Was the Best Dancer of Them All. These are linked short stories; they are stories about a few friends who started school the year that Ukraine became independent. They grew up but maintained their friendship even though they scattered to all points of the globe. I very much recommend reading this collection, as it is a very original blend of plot points that seem impossible to connect with anything else.
There are also three novels. One is Vasyl Makhno's great epic Eternal Calendar, which recounts a story that starts in the seventeenth century and ends in the present day. Then you have the book by the young writer Maksym Dupeshko, A Story Worth an Entire Apple Orchard. This novel recounts the fate of the city of Chernivtsi. The last book is a novel by the writer Iryna Vlasenko, The Teacher of German. This is a story about two little girls, the children of Spanish revolutionaries, who during the [Spanish] Civil War were sent to the Soviet Union, where they grew up in a Ukrainian-Jewish family. The selection was difficult.
Iryna Slavinska: With regard to the literary prize, we're talking first and foremost about purely literary qualities or will the themes and how the story is told also have an impact on the jury's choice?
Natalia Feduschak: There has to be a story, and it has to have literary quality. Both conditions are important.
Andriy Pavlyshyn: These awards are particularly important. It is important that they be preserved and that they continue to function. Even a nomination for such a prize is a mark of distinction to a certain degree.
This program is created with the support of Ukrainian Jewish Encounter (UJE), a Canadian charitable non-profit organization. 
Originally appeared in Ukrainian (Hromadske Radio podcast) here.
Translated from the Ukrainian by Marta D. Olynyk.
Edited by Peter Bejger.