The largest pro-Ukrainian rally in the history of Israel took place in Tel Aviv
Posted In: Israeli Friends of Ukraine, Sponsored Projects, Other Programs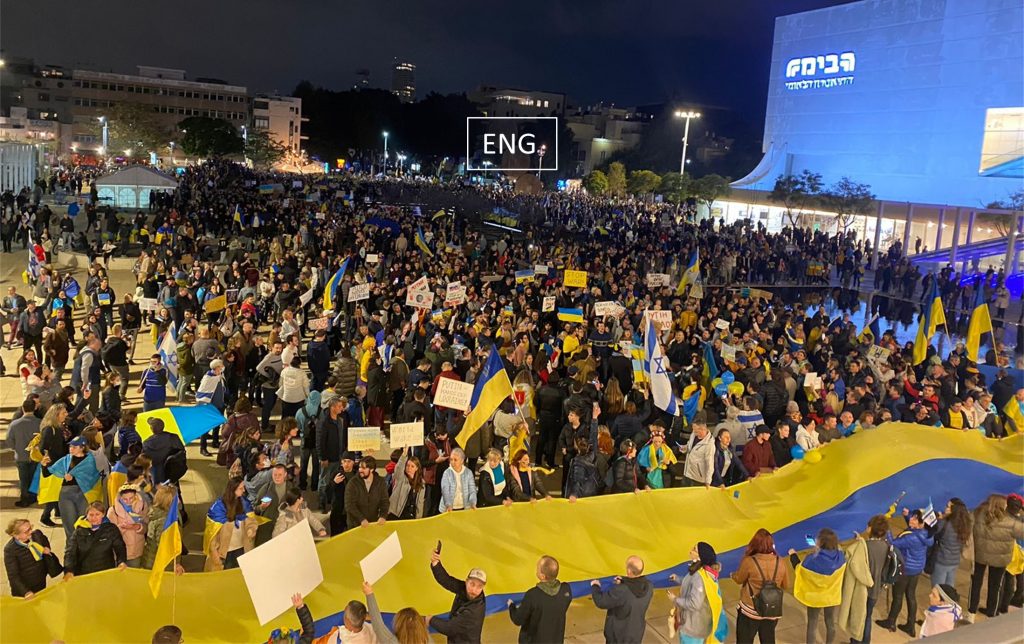 The largest pro-Ukrainian rally in the history of Israel took place on the evening of Saturday, 26 February, in the center of Tel Aviv, on the square in front of the Habima National Theater. There were between 17-20,000 participants!
The event was organized by a long-term partner of Ukrainian Jewish Encounter — the nonprofit organization "Israeli Friends of Ukraine."
After the rally on the square, thousands of people continued to protest near the Russian embassy, which was blocked by the police.
Text: Shimon Briman (Israel)
Photo: Israeli Friends of Ukraine
Photo: Igor Vaizner

Statement by Israeli Friends of Ukraine to Israeli Prime Minister Naftali Bennett
We Israeli Friends of Ukraine, the largest non-governmental organization in Israel that unites dozens of thousands in the Ukrainian community in Israel and Israelis who make significant contributions for promoting friendly and fruitful relations between Israel and Ukraine, make a statement to the Government of Israel.
Russia has become a terrorist state and an international pariah.
The entire civilized world unequivocally condemned Russia's aggression and provided the Ukrainian people with strong political, financial and military support.
Russia will not stop the aggression and will continue to destabilize Europe and the Middle East.
We, Israelis, understand and support the efforts of the Government of Israel to ensure the security of our country and in the Middle East.
But right now, it's crucial — and for Israel in particular — to gather efforts to stop the aggression and to continue living in peace and prosperity.
Russian aggression has united Israeli society. There is now a "Ukrainian Street" in Israel.
Therefore, Israel's neutrality in the current situation equals indulging Russia in its aggression and ignoring the position of a significant part of our society.
We demand that the Government of Israel reaffirm its commitment to democratic principles and do the following:
To unequivocally condemn the Russian leadership for military aggression against Ukraine;
To provide Ukraine with political, diplomatic support, and military aid;
To join the anti-Russian sanctions;
To support the resolution in the UN General Assembly condemning Russia;
To ban broadcasting in Israel of Russian propaganda mass media.