Two Israels: When will they converge regarding their relations with Ukraine?
Posted In: Diverse Voices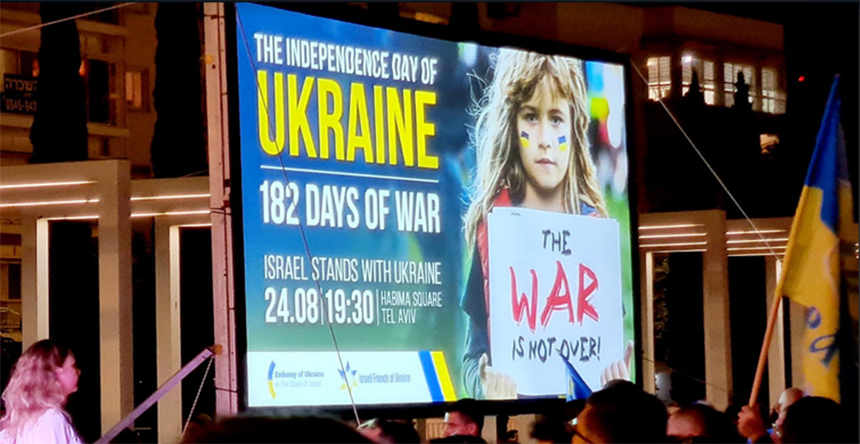 Over the course of one week, I witnessed two different Israels where Ukraine is concerned. The first one sizzled on a huge square in Tel Aviv, where thousands of friends of Ukraine gathered to mark the 31st anniversary of Ukraine's Independence and the six-month mark of the war. The other Israel expressed itself in the government's cold indifference and in Israeli Prime Minister Yair Lapid's pleasant but empty greetings that are not backed by any real assistance to Ukraine.
On the evening of 24 August 2022, the square in front of the Habima Theater, located in downtown Tel Aviv, was packed with over five thousand Israelis attending a rally/concert in honor of Ukrainian Independence Day. At the urging of Israeli Friends of Ukraine, the leading pro-Ukrainian organization in Israel, hundreds of people came dressed in white T-shirts emblazoned with the slogan, "The war in Ukraine is not over!"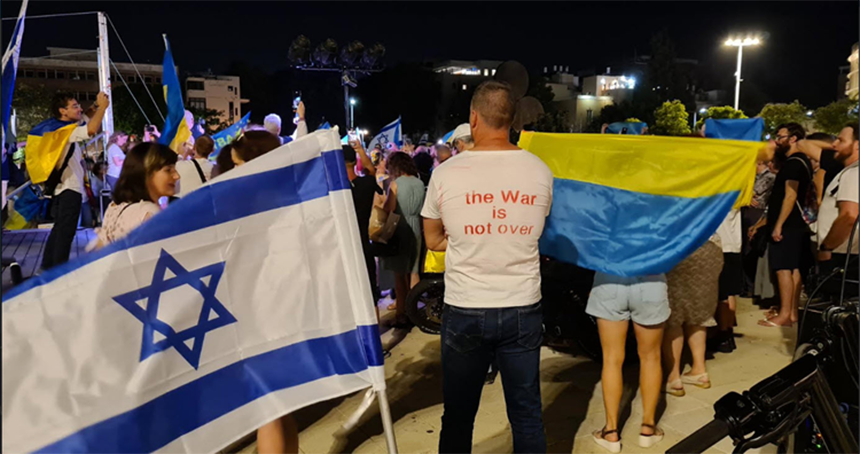 The aim of the event was to celebrate the anniversary of Ukraine's independence and to remind Israelis that the terrible war being waged against Ukraine is still ongoing, even though reports on military actions and accompanying human tragedies have disappeared from newspaper headlines and are barely featured in televised news feeds.
Habima Square was teeming with crowds of people expressing their staunch pro-Ukrainian stance. The thousands of young and beautiful people, smiles, the joy of communicating with like-minded people, the flags of Ukraine and Israel, Ukrainian songs, and the Hebrew language—all electrified the atmosphere of this pro-Ukrainian holiday.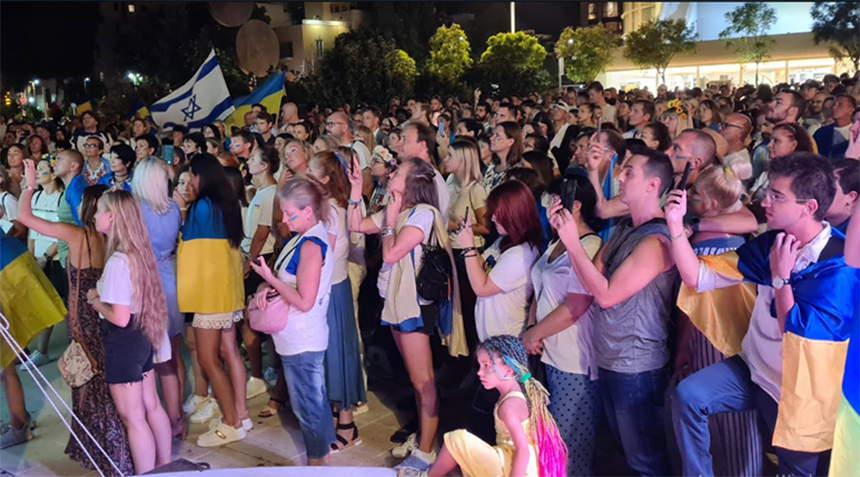 The roll call of Ukrainian cities revealed that the square was filled with thousands of people who were born in practically every city of Ukraine.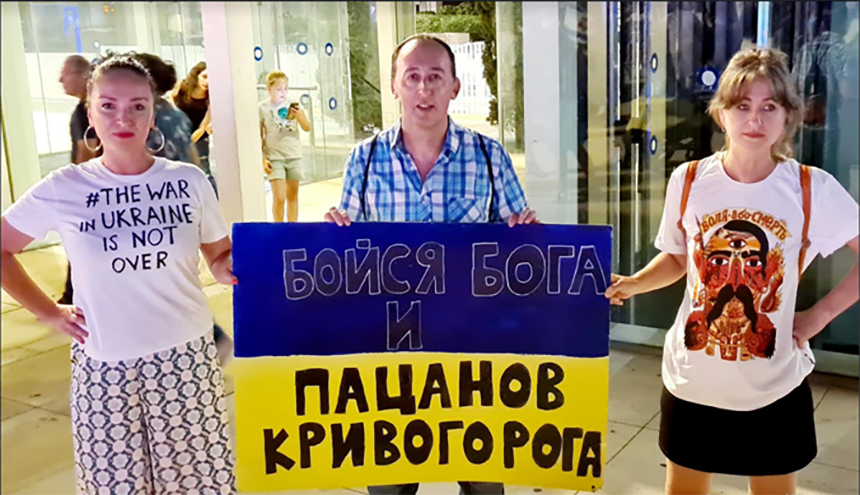 Before the rally started, two huge flags of Ukraine and Israel were driven through eight Israeli cities spanning north to south, and in each city, people wrote their good wishes and greetings to Ukraine on them. Shortly afterwards, the flags were delivered to Ukraine.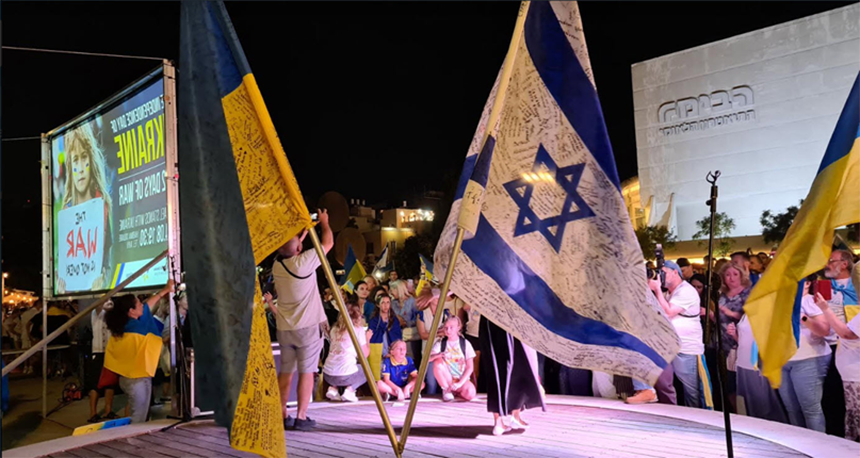 The residents of Tel Aviv, tourists, and customers in nearby cafes and restaurants, as well as theatergoers, gazed with great interest at the exhilarating concert taking place on the square. Israeli passersby smiled, signaled from passing cars, and greeted attendees standing underneath the blue-and-yellow and white-and-blue flags.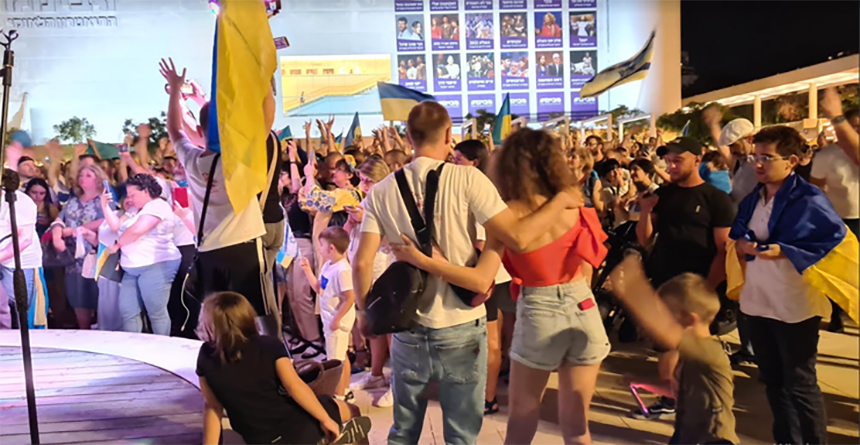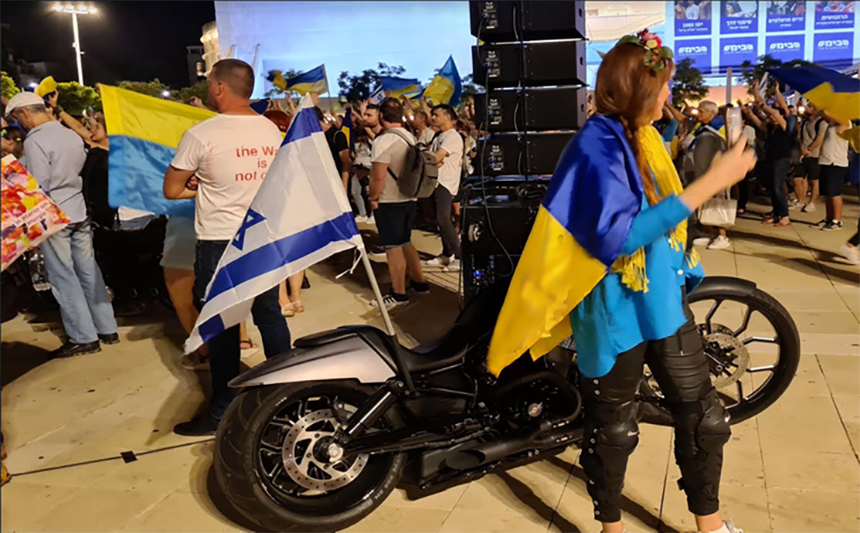 I was in the thick of this event, but I was thinking about something else. Why is the government of Israel not paying attention to these people, their fellow countrymen? Why is the government not hearing the voices and demands of the majority of their citizens, who, according to public opinion, support Ukraine in its war against Russia and are in favor of increasing Israeli aid to Ukraine?
It is all the more strange because the new elections to the Israeli parliament are less than two months away (1 November 2022).
On 23 August, one day before the rally in Tel Aviv, not a single high-ranking Israeli took part in the diplomatic initiative called Crimea Platform, which was organized online by Ukraine's foreign ministry. This was a demonstrative refusal on the part of Israeli leaders to state publicly what dozens of Western leaders have already said: the Crimea is Ukraine.
This, despite the fact that since the spring of 2014, Israel's foreign ministry has repeatedly stated that "Israel does not recognize the annexation of the Crimea and advocates the restoration of Ukraine's territorial integrity." But for some reason, Israeli politicians lack the determination to express this stance again in 2022.
This noncommittal position of the Israeli government is one of the reasons why President Zelensky refused to speak by telephone with Prime Minister Lapid on 24 August.
Their conversation took place only on 1 September 2022, when Lapid congratulated Ukraine in connection with its Independence Day and expressed "support for the Ukrainian people," adding that ending the war "by diplomatic means" is desirable.
According to my sources in Kyiv, Lapid's conversation with Zelensky was interrupted. For the first time in thirty years, a conversation between the leaders of Israel and Ukraine was stilted and cut off in mid-word.
Why? Probably because one side is sick of empty words and nice greetings, while the other side really does not want to continue the conversation about practical assistance.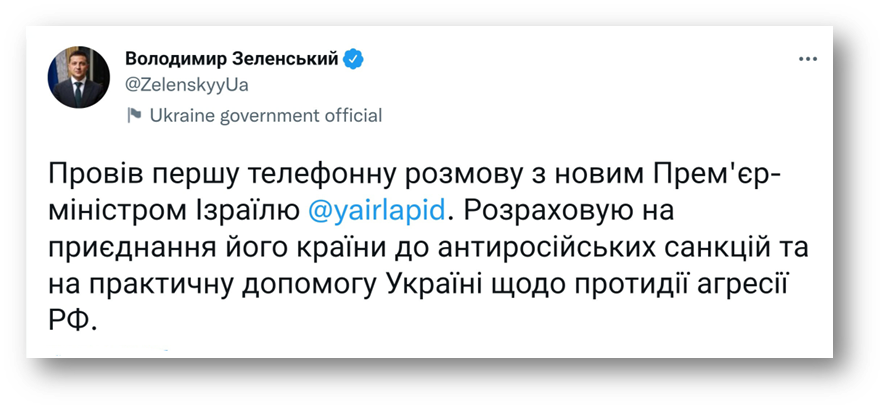 I have been forced to acknowledge a painful fact: In all these past six months of the terrible war against Ukraine, the government of Israel and the leading parties in the Knesset, both from the coalition and the opposition, consider it better to adopt the position of neutral observer.
This observer sometimes expresses fine words in support of Ukraine, which is dripping with blood and facing a humanitarian catastrophe of gigantic proportions. And sometimes, he is surprised, like Israel's defense minister Benny Gantz, that Ukrainians are not hearing enough nice words.
This observer occasionally sends shipments of food, bandages, canisters of water, small batches of helmets and bulletproof vests, as well as two generators slated for hospitals in Lviv. Under the patronage of the First Lady of Israel, Michal Herzog, the training of Ukrainian psychologists has been set up in Israel to help provide rehabilitation for victims of the war in Ukraine.
This is not to say that these efforts mean nothing. They are all wonderful, helpful gestures that are solving problems on the micro level.
Here are some plain figures: Out of 850 tons of humanitarian assistance that Israel has provided Ukraine, only 200 tons came from government institutions. The rest was provided by members of the public, for example, the NGO Israeli Friends of Ukraine and others.
But the government is blocking three important moves that are not even connected with the direct supply of Israeli weapons to Ukraine: First, the Ukrainian government's request for a $500-million loan has not received a response and is being blocked by the Israeli finance ministry. Kyiv is requesting a loan with interest, not a gift.
Second, the Ministry of Defense is forbidding even private Israeli companies from selling Ukraine defensive weapons and equipment, even at full price. In addition, the defense ministry is prohibiting third-party countries from delivering weapons to Ukraine that were sold to them in recent years.
Third, the head of Israel's Ministry of Health has still not kept his promise to treat wounded Ukrainian soldiers in the country's clinics. Minister Horowitz's promise was publicly announced back on 18 May, over a hundred days ago, but this issue has not seen even a millimeter's worth of progress.
If you combine just these three situations, Kyiv's weariness from hearing Israel's fine words becomes clear.
Israel can provide a lot more help, and the main thing is that its citizens want this. So, I am waiting for quantity to switch to quality once official Israel hears its citizens. I am waiting for the Israel that demonstrates the cold neutrality of its ministries and high-ranking offices to join up with the passionate and vital pro-Ukrainian Israel that was gathered at Habima Square.
Ukrainian Independence Day 24.08.2022 — Tel Aviv, Israel, cities

Ukrainian Independence Day 24.08.2022 — Tel Aviv, Israel — song

Text, photos, and video: Shimon Briman (Israel).
Translated from the Ukrainian by Marta D. Olynyk