UJE announces new project "War is…" in cooperation with Ukraine's Krytyka magazine
Posted In: Krytyka, "War is…", Literature, Sponsored Projects, Culture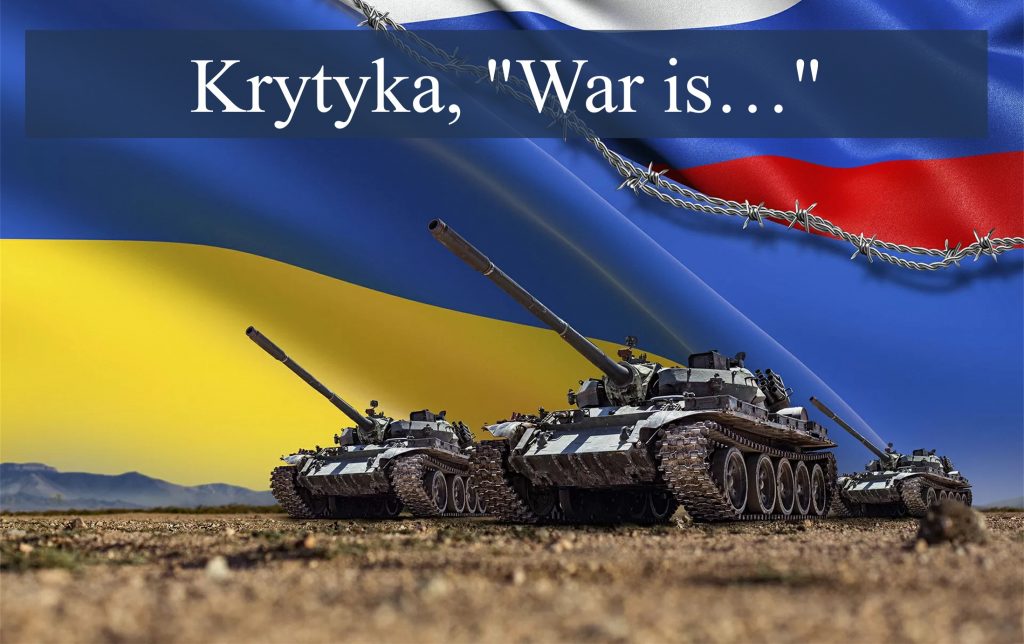 Russia's invasion of Ukraine on 24 February 2022 shocked the world. For months, Western governments had warned of the impending criminal war — "absurd," the world responded. In the 21st century, larger powers invading smaller peaceful neighbors seemed a thing of the past.
A year later, the world has witnessed the depth of Russian depravity. Countless innocent Ukrainian civilians, who only wanted to live peaceful lives while their country aspired to become part of the democratic world, have died in Russia's genocidal war against Ukraine — a war that, by all objective accounts, the majority of Russia's citizenry supports. The killing grounds of Bucha, Irpin, and Bakhmut are seared into the world's consciousness. Millions of Ukrainians have been displaced, finding refuge in other parts of their homeland or abroad. The country's infrastructure is devastated.
Despite the tragedy, Ukraine has become the example by which the world will judge all future democratic struggles. Ukrainians, civilian and military alike, have shown an inspiring resolve to fight tyranny and end centuries of Russian domination. Everyone in this struggle has a story; collectively, those stories will form the larger narrative of a new, post-war Ukraine.
Krytyka, a Ukrainian intellectual journal, and Ukrainian Jewish Encounter, a Canadian charitable non-profit organization, are honored to present "War Is… Ukrainian Writers on Living through Catastrophe". Featuring essays by some of Ukraine's most prominent writers, we aspire to provide a platform for their stories. We also hope their commentaries will provide context to better understand Ukraine's struggle for freedom during an unprovoked and brutal 21st-century war.
Credit @Krytyka