"Ukraina Moderna": Online seminar "Overcoming the past", with guest Dariusz Stola
Posted In: Sponsored Projects, The Holocaust in Ukraine, Ukraina Moderna, History, Other Programs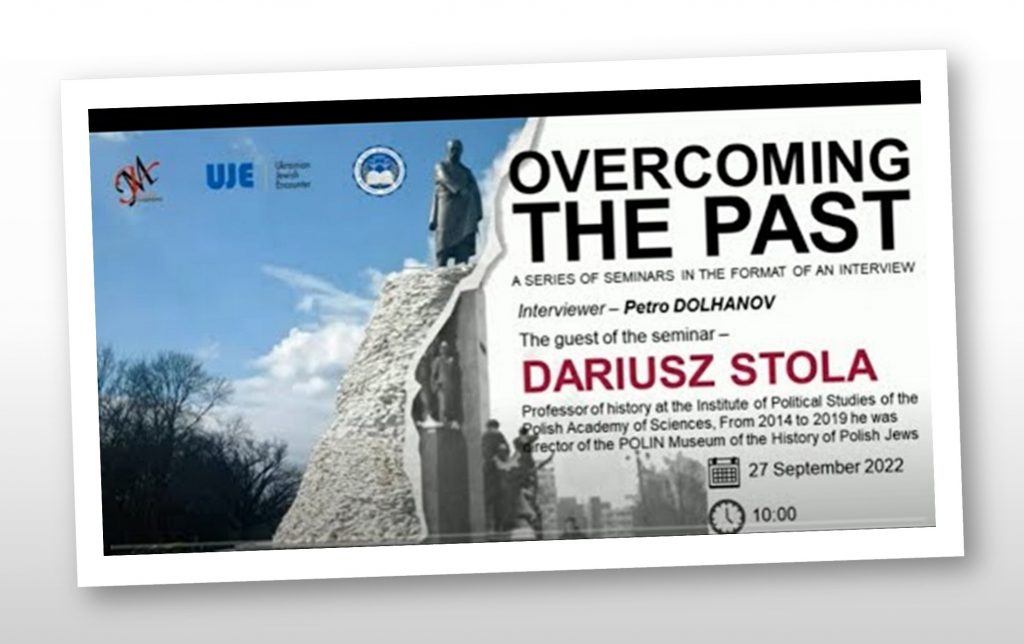 For hundreds of years, Ukraine fought for independence and built plans for a free future. It made sense of its complicated past, in which one of the most important aspects was resistance to conquest, division, and integration.
After thirty years of independence, this past caught up with us; Ukraine again became the arena of geopolitical confrontation and opposition to Russian aggression. This expansion identified not only Russia's sempiternal aggressive intentions. It revealed many pages of the past that remained undeveloped and unsolved by scientists, intellectuals, and society.
One of the central questions is the "long shadow" of the Second World War. Nowadays, expressions "worse than the Germans", "fascists", "Nazis", and the occasional "rashysty" are often used to characterize the aggressor and his actions.
Quite often, we come across stories of Holocaust survivors who are revictimized, this time because of Russian aggression. At the same time, the discourse of the Second World War and the Holocaust has such deep roots that it remains invisible without professional optics. To paraphrase Pericles: "If you are not interested in history, it does not mean that history is not interested in you."
When our "after the war" comes, we will once again have to rethink our past seriously. We can already start such work (as well as plans for economic reconstruction). This would help avoid the anecdotal situation that Tony Judt describes in conclusion to his seminal work Postwar: A History of Europe Since 1945: "… we know exactly what the future will be like. We have a problem with the past: it changes all the time."
Today we are confident that we will win. However, what should we do with our past? Ukrainians remain in its captivity. How do we overcome the past, and do we need to do it? Will rethinking the legacy of World War II and the events of the Holocaust help in this? How exactly should one interpret the complex and ambiguous past?
We will seek answers to these questions during a series of interviews with renowned historians working in the field of Eastern European studies. The seminars will take place in the format of interviews and discussions with the audience.
"Overcoming the Past" is an initiative of the international intellectual journal Ukraina Moderna. International seminars are a continuation of the journal's rubric "Overcoming the Past" (in a modified format), devoted to the history of genocidal violence on the territories of Ukraine.
The project partner is the Rivne Regional Institute of Postgraduate Pedagogy Education. It is implemented with the support of the Canadian charitable non-profit organization Ukrainian Jewish Encounter (UJE).
Online seminar "Overcoming the past", with guest Dariusz Stola. Moderated by Petro Dolhanov (in English)