Ukrainian Jewish Encounter at the 2022 Frankfurt Book Fair
Posted In: UJE Initiatives, Book Fairs/Festivals, Outreach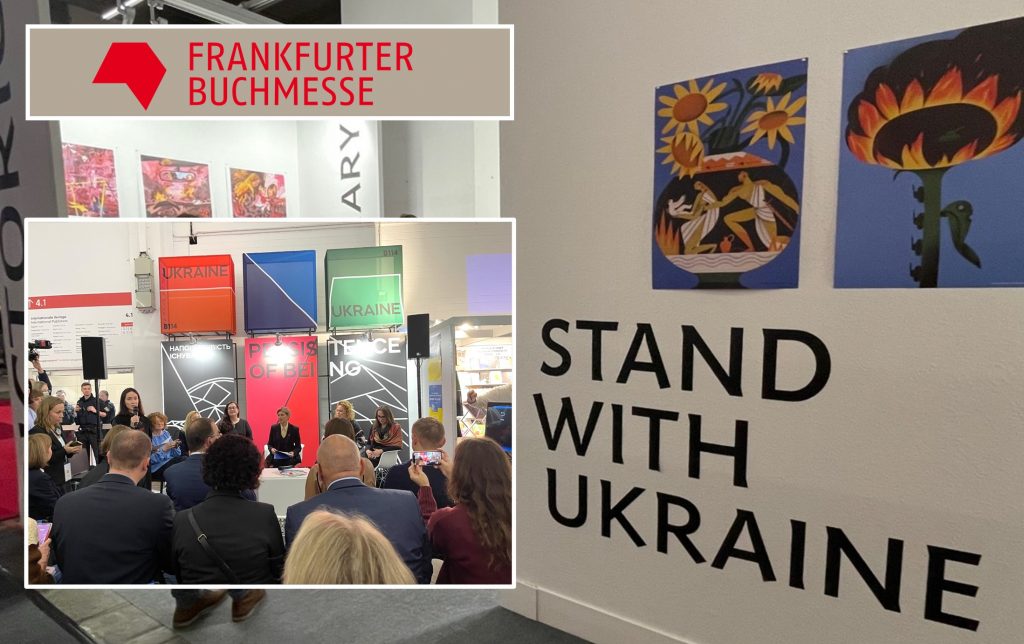 Ukrainian Jewish Encounter was a sponsor of the Ukraine country booth and its program at the 2022 Frankfurt Book Fair. Held 19-23 October, the book fair is the world's largest, drawing publishers from around the globe. Germany's Goethe Institute worked with the Ukrainian Book Institute to ensure the war-torn country was represented at this important forum for publishers.
Ukraine was at the center of many discussions. Prominent Ukrainian writers, activists, and musicians spoke passionately about Russia's genocidal war against Ukraine and its effect on the Ukrainian people. Ukrainian President Volodymyr Zelensky addressed international publishers in an online statement. Ukraine's First Lady, Olena Zelenska, made a surprise appearance at the fair, promoting Ukraine-related reading projects.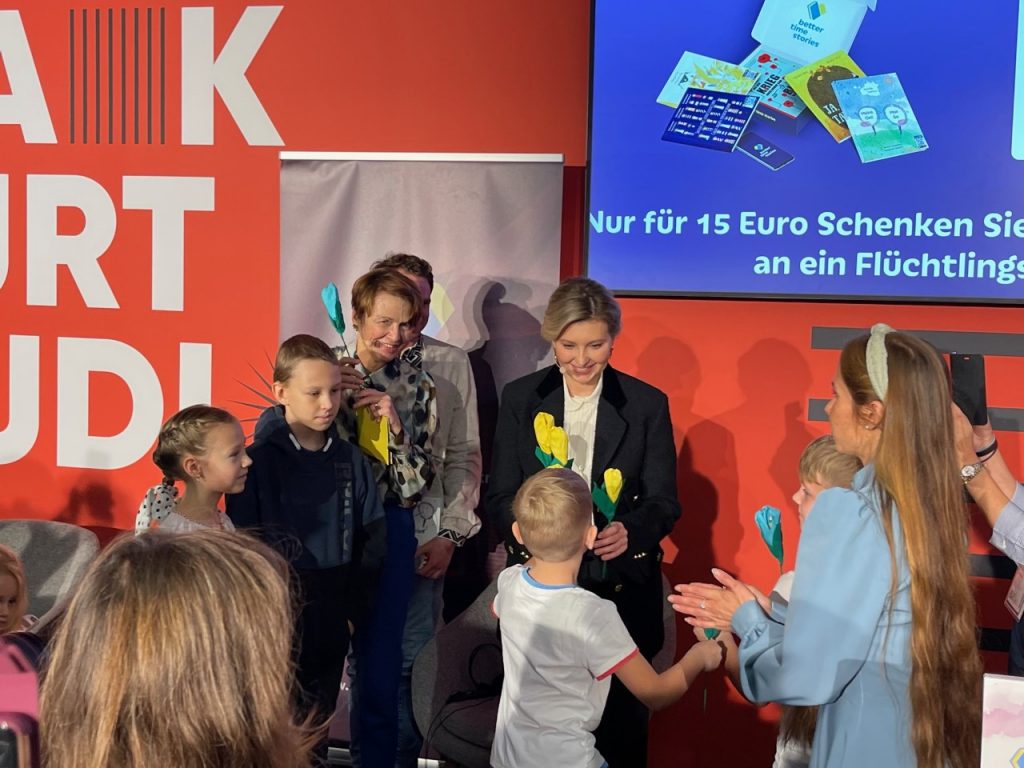 At one session, she said it was vital for her to be present at Frankfurt, so attendees could hear her speak "in her native language" — Ukrainian.
The fair concluded with the presentation of the prestigious Peace Prize of the German Book Trade to Ukrainian writer Serhiy Zhadan for "his outstanding artistic work, along with his humanitarian stance."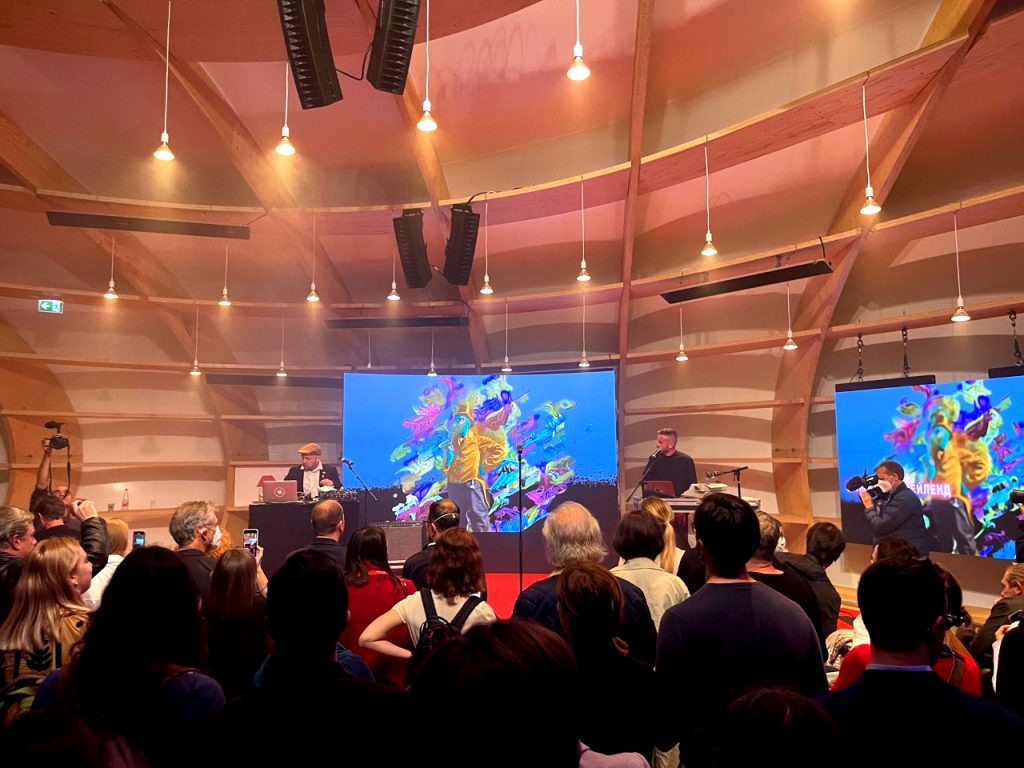 Ukrainian publishers, large and small, were present in Frankfurt. The industry has suffered severe setbacks because of Russian bombing campaigns; many printing houses have been destroyed or damaged. Even so, the number of Ukrainian publishers wanting to participate in this year's book fair meant shelf space was highly coveted, noted Olexandra Koval, head of the Ukrainian Book Institute.
All books displayed by Ukrainian publishers will be donated to institutions that have set up libraries for Ukrainian refugees to ensure they maintain a literary connection to their homeland.
Russia, which launched its criminal war against Ukraine on 24 February 2022, was absent at the fair, as was Iran. That country has supplied Russia with deadly drones used against Ukrainian civilian infrastructure. Official China was also not present.
We will treat the representation of Ukraine in literature, art, and music in a series of essays published in this space in the new year. Those essays will delve into many of the topics raised in Frankfurt.
Meanwhile, several Ukraine-related videos and photos from this year's Frankfurt Book Fair are below.
FEP Rendez-Vous: Ukrainian President Zelensky speaks to international publishers, 20 October 2022 (In Ukrainian with English subtitles)
Meet the "European Prize for Literature 2022" writers, 20 October 2022 (in English, includes commentary by EUPL special mention 2022 awardee, Eugenia Kuznetsova)
13:48-16:41: Commentary by EUPL special mention 2022 awardee Eugenia Kuznetsova, author of Ask Miechka, Old Lion Publishing House, 2021. Excerpts of novel in English and Ukrainian available here.
Better Time Stories - Brighten up the lives of Ukrainian refugee children, 22 October 2022 (In German and English)
Olena Zelenska, First Lady of Ukraine; Princess Laurentien of the Netherlands (virtual); Elke Budenbender, Spouse of the Federal President Frank-Walter Steinmeier; Doris Schmidauer, First Lady of Austria (virtual); Andriy Shmyhelskyy, Initiator, Better Time Stories; Reinout Wissenburg, Chairman, Better Time Stories.
BRIGITTE LIVE, with Olena Zelenska, First Lady of Ukraine (in German voiceover) 22 October 2022.
Interview available here.
The Protoliterary: Women's Voices at War, 23 October 2022 (in German)
With Olesia Ostrovska-Liuta, Director General, National Art and Culture Museum Complex "Mystetskyi Arsenal" (Art Arsenal); Olexandra Matviychuk, Human Rights Lawyer, The Center for Civil Liberties; Yevgenia Belorusets, Author and artist
Serhiy Zhadan — Peace Prize of the German Book Trade
View the Ukraine Program at the 2022 Frankfurt Book Fair here.