Ukrainian Jewish Encounter at Uman State Pedagogical University
Posted In: UJE Initiatives, Outreach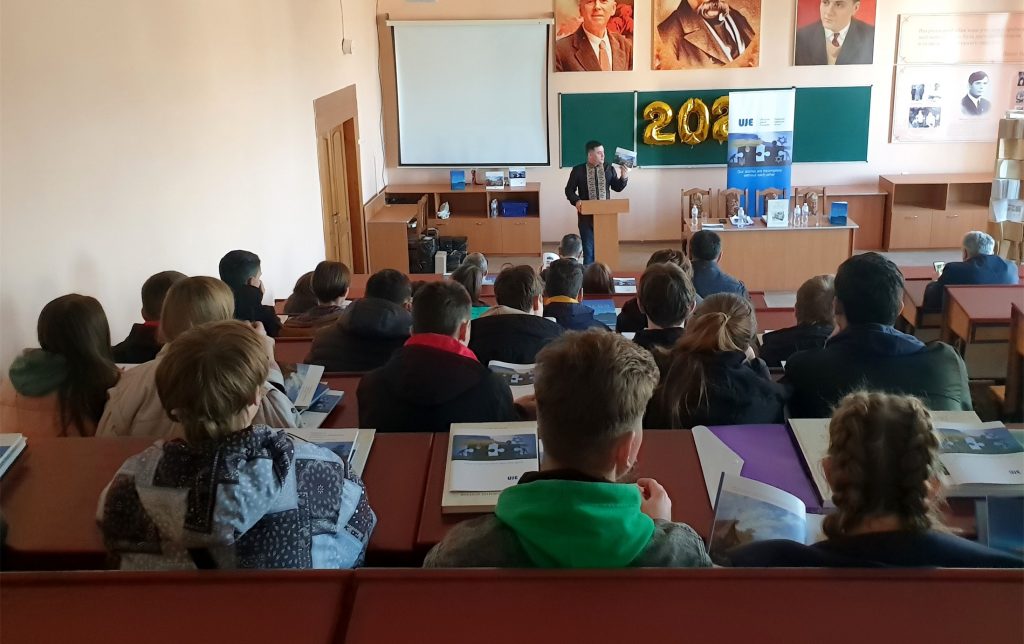 Thanks to its long-term cooperation with UJE, the Pavlo Tychyna Uman State Pedagogical University (UDPU) has once again opened its doors hospitably to guests attending interesting events geared to the students and faculty of this university.
On 14 March 2023, a public discussion was held at the History Department of UDPU entitled "Ukraine: Outpost of Freedom in the World; The Potential for Cooperation with International Cultural and Educational Organizations," which was followed by a presentation of books published with UJE's support.
Dr. Zinaida Sviashchenko, dean of the History Department at UDPU, welcomed the guests, noting the crucial need for civic organizations and educational institutions to unite during this difficult and significant period of history.
Vladyslav Hrynevych, UJE Regional Manager, Ukraine, spoke about UJE's structure and mission, directions of international cooperation, and his own experience of cooperation with higher educational institutions, museums, etc.
Ihor Kryvosheia, professor in the Department of World History at UDPU, highlighted the primary and secondary factors behind the formation of the national identities of Ukrainians and Jews, and described the current state of Ukrainian-Jewish relations in the city of Uman and the prospects for their further development.
The guests attending the event — students from the history and world history departments at UDPU and professors — showed great interest in the topic under discussion and asked a lot of questions, to which the speakers offered detailed answers. Each guest received a set of books published with UJE's support.
Vladyslav Hrynevych,
Regional Manager,
UJE Ukraine
Translated from the Ukrainian by Marta D. Olynyk.