Ukrainian Literature Breaks Through into the Hebrew-speaking World
Posted In: Book Fairs/Festivals, Publications, Sponsored Projects, Literature, Outreach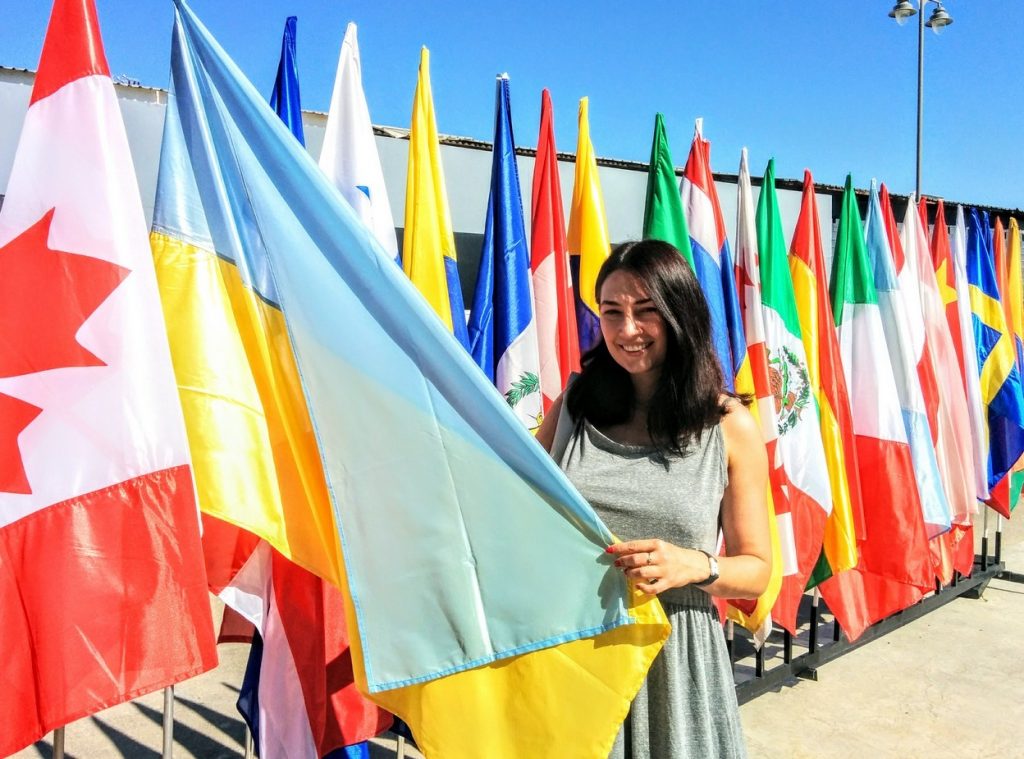 The author and poet Kateryna Babkina represented Ukraine at the Jerusalem International Book Fair 2017.
Babkina presented her book of poetry Dlia vsikh odnakove poprosy [Ask the Same for Everybody], translated by Anton Paperny into Hebrew and issued by the Khaver Laet publishing house on the initiative of the young publisher, Yoav Itamar.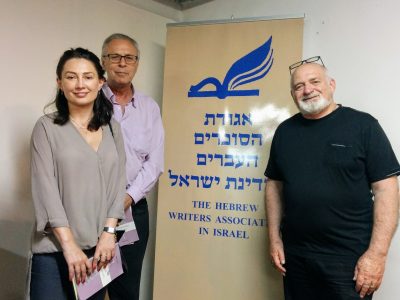 For the first time in history, poems in Ukrainian were read from the main stage of the Jerusalem International Book Fair. After Babkina read her poetry in Ukrainian, the audience heard its Hebrew-language equivalent, which very profoundly and accurately reflected the rhythm and sense of the Ukrainian original.
The Hebrew-language publication of Babkina's poetry was made possible with the support of the Ukrainian Jewish Encounter; its publication marks the beginning of a breakthrough in the presentation of Ukrainian literature and culture to a Hebrew-speaking Israeli audience.
Also represented at the fair were books financially supported by UJE: The Ukrainian-Jewish Encounter: Cultural Dimensions; Jews and Ukrainians: A Millennium of Co-Existence; Babyn Yar: History and Memory; and Babyn Yar: Memory Against History's Background.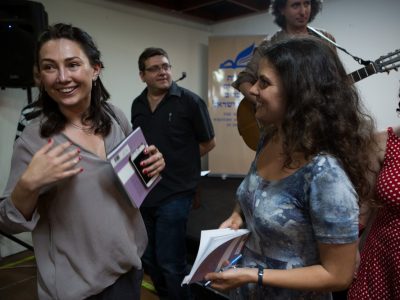 A very warm and emotionally positive reception for the young Ukrainian poet was arranged at the presentation of her book at the Tel-Aviv premises of the Hebrew Writers Association in Israel.
At of the beginning of Babkina's artistic evening, Association chairman Zvika Nir underscored that many prominent figures from the "first wave" of new Hebrew literature in the twentieth century were natives of Ukraine. Many of them utilized Ukrainian motifs and personages in their works.
Babkina was highly praised by the Israelis. Hebrew songs based on her poems were performed, and in honor of the Ukrainian guest, Hebrew University Professor Izi Hod sang in Hebrew the Ukrainian nineteenth century classic song "Vzyav by ya banduru" by Mykhaylo Petrenko.
In past decades, the verses of Taras Shevchenko and Ivan Franko have been translated into Hebrew. Now Babkina has joined this honored group. In the eyes of Israelis, she has become the young face of the new post-Maidan Ukraine.
Babkina's success is only the beginning of a long process. It is necessary to continue the creation and publication of books of translations of Ukrainian poetry into Hebrew, and also Hebrew poetry into the Ukrainian language, those attending Babkina's performances said.
In addition, Babkina and and Hromadske Radio journalist Iryna Slavinska met with representatives of the local Ukrainian and Jewish communities at the Jabotinsky Institute in Tel-Aviv. The non-profit Israeli Friends of Ukraine, together with the Ukrainian Jewish Encounter, were the organizers of this cultural event, which included the participation of the Ambassador of Ukraine to Israel, Hennady Nadolenko.
Kateryna Babkina & Yoav Itamar in Hebrew book presentation, Parts 1 and 2:
Israeli poet Yonathan Berg speaks about Kateryna Babkina's poetry.
Ukrainian song "Bandura" in Hebrew by Professor Izi Hod
Kateryna Babkina's song "A Long Summer" performed in Hebrew

Text, photo and video: Shimon Briman (Israel).
Edited by Peter Bejger.