Victor Pinchuk was presented with the Metropolitan Andrei Sheptytsky Award
Posted In: UJE Initiatives, Sheptytsky Award

KYIV, UKRAINE – On Tuesday, November 18, 2014 in Kyiv, Ukrainian businessman and philanthropist Victor Pinchuk was presented with the Metropolitan Andrei Sheptytsky Award – 2014 for his work in fostering Ukrainian-Jewish relations and advancing his homeland's European aspirations.

Mr. Pinchuk is being recognized for his philanthropic endeavours -- principally through the Victor Pinchuk Foundation and the Yalta European Strategy -- in support of Jewish cultural life in Ukraine, major research projects and exhibits related to the Holocaust, documentary films that have forthrightly examined the crimes committed during the Holocaust as well as advancing Ukraine's European path based on the values of inter-ethnic and inter-faith tolerance.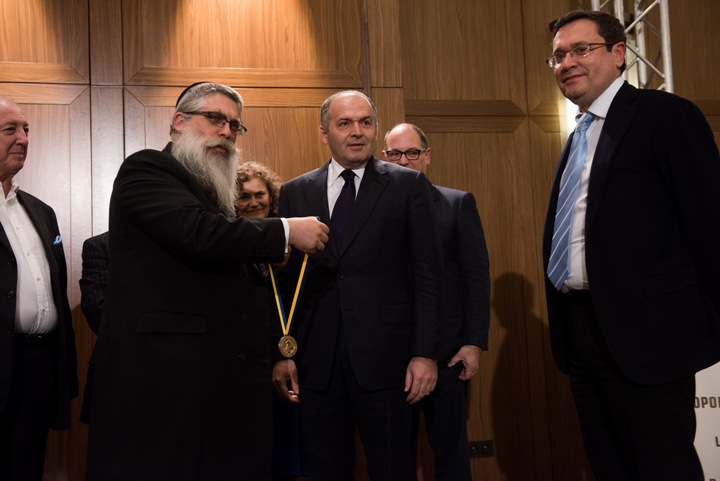 Rabbi Yaakov Dov Bleich, of the Jewish Confederation of Ukraine presents the Metropolitan Andrei Sheptytsky Award to Victor Pinchuk
The Sheptytsky Award is conferred by the Jewish Confederation of Ukraine and the Ukrainian Jewish Encounter, a Canadian charitable organization based in Toronto, on an annual basis to an individual in Ukraine, Israel, or from the diasporas who has made important contributions to Ukrainian-Jewish understanding and cooperation.
Alti Rodal, UJE Co-Director said it was appropriate that Mr. Pinchuk was presented with the Sheptytsky Award: "In both times of crisis and normalcy, Sheptytsky and Pinchuk aspired towards and concretely contributed to interfaith and interethnic harmony on Ukrainian lands. As men of substantial means and culture, both were not satisfied to simply enjoy art and culture, but made special efforts to bring these human gifts to the people by establishing museums and educational programs," she said. "By granting the Sheptytsky Award to Mr. Pinchuk, post-Maidan and at this time of crisis, we are acknowledging not only Sheptytsky's extraordinary compassionate and courageous actions in saving Jews during the war, but also the compelling aspirations of contemporary Ukrainians to build a tolerant and just society for all its citizens."
Receiving the award Victor Pinchuk stated: "For Ukrainians tolerance has a greater meaning than for the majority of other people. Ukrainians must remain tolerant towards each other. Intolerance should only be practiced in respect of discrimination, corruption, totalitarianism, aggression, annexation and chauvinism. And this, I believe, is the main lesson of the Metropolitan Andrei Sheptytsky: one must tolerate everything except evil."
"The Sheptytsky award has a particular significance for me. For many years I have been doing everything for rapprochement and integration of Jewish and "non-Jewish" parts of the Ukrainian people. And today I can see that they are united within Ukrainian civil society. And I, a Russian-speaking Ukrainian of Jewish descent, not only see myself as an integral part of a modern, open, tolerant Ukrainian nation, but also feel really proud of it, " he added.
Three of the world's leading voices in support of Ukraine came to Kyiv to speak at a ceremony honoring Victor Pinchuk, including French philosopher and writer Bernard-Henri Levy, former Polish president Aleksander Kwasniewski and U.S. scholar Timothy Snyder. Other dignitaries speaking at the event included Arseniy Yatsenyuk, Prime-minister of Ukraine; Sviatoslav Shevchuk, the Major Archbishop of the Ukrainian Greek Catholic Church; Rabbi Yaakov Dov Bleich, of the Jewish Confederation of Ukraine; Patriarch Filaret, Ukraine Ukrainian Orthodox Church, Kyiv Patriarchate; Vitali Klitschko, Mayor of Kyiv, and others. More than 100 Ukraine's political, business and cultural leaders attended the event.
Mr. Pinchuk is the second winner of the Sheptytsky Award. In 2013, it was presented by the Jewish Confederation of Ukraine to James Constantin Temerty, Canadian-Ukrainian businessman, philanthropist, and founder of the Ukrainian Jewish Encounter.
In 2014, the Ukrainian Jewish Encounter agreed to join with the Jewish Confederation of Ukraine to administer the Sheptytsky Award.
Born in 1865 to a prominent family, Metropolitan Andrei Sheptytsky was the spiritual leader of the Ukrainian Greek Catholic Church from 1901 until his death in 1944. During World War II, he helped save more than the 150 Jewish lives. The Metropolitan sheltered Jews in his own residence at great personal risk, and arranged for Church monasteries to protect well over one hundred Jewish children, not one of whom was betrayed or lost. Metropolitan Sheptytsky protested against Germany's murderous policies towards Jews, alerted Pope Pius XII in personal reports about the mass murders taking place on the territory of what is now Ukraine and issued a pastoral letter in November 1942 on the theme Thou Shalt Not Kill, urging his parishioners not to participate in Nazi atrocities.
Throughout his life, the Metropolitan was dedicated to preserving Ukraine's cultural heritage. He collected icons and objects of art, and as a patron of the arts and philanthropist, supported many prominent Ukrainian artists. Today, his collection is the basis of the Andrei Sheptytsky National Museum in Lviv.